Advanced Therapy Medicinal Products (ATMPs) Consulting Market Analysis & Research Report 2027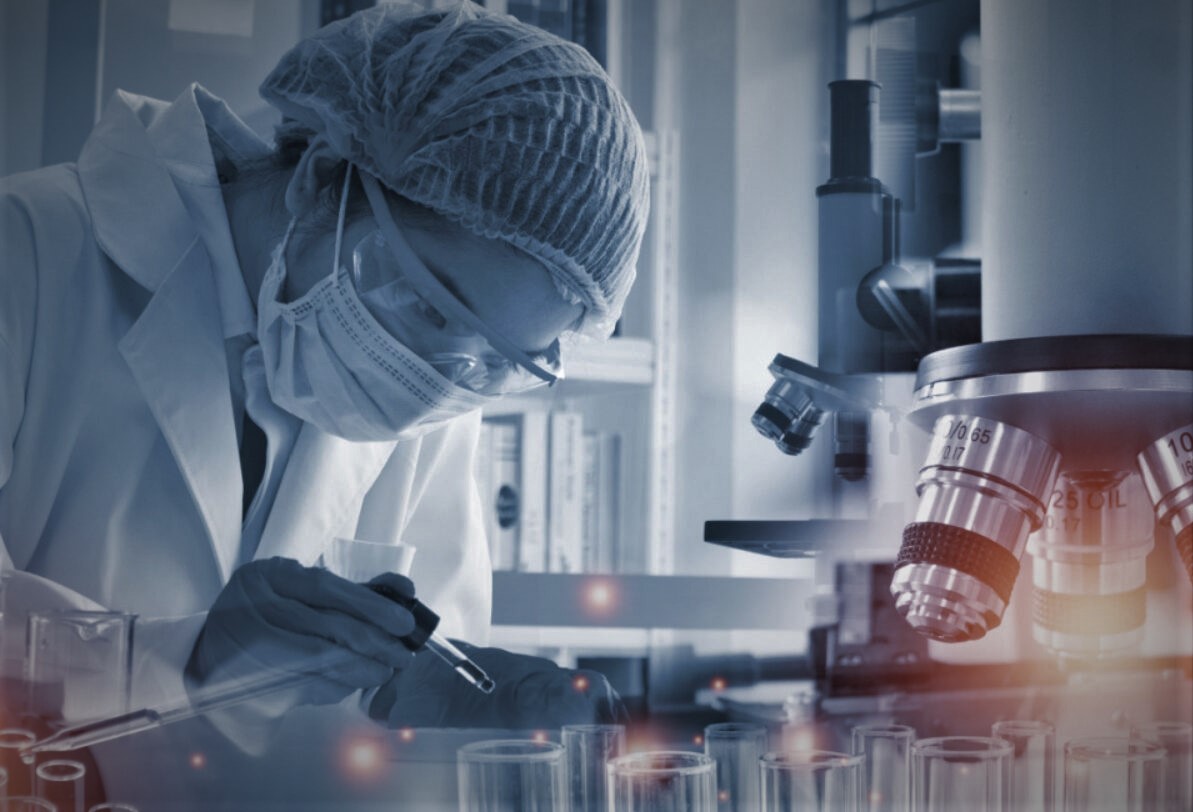 The global ATMPs Consulting Market is expected to witness a healthy and a double-digit growth rate by 2027. The key factors driving the growth of the global advanced therapy medicinal products market are high regulatory requirements, development costs, complex manufacturing processes, and favorable government support for ATMPs in key markets.
Advanced therapy medicinal products (ATMPs) are medicines for human use that are based on genes, tissues, or cells. They offer revolutionary novel opportunities for the treatment of diseases and injuries. ATMPs mainly target diseases with high unmet medical needs. It has extensive therapeutic potential for treating various types of diseases such as cancer, neurodegenerative diseases, and cardiovascular diseases.
ATMPs are broadly classified into the following three main types:
Gene Therapy Medicines: These work by inserting 'recombinant' genes into the body, which in turn is used to treat a variety of diseases such as genetic disorders, cancer and long-term diseases.
Somatic-cell Therapy Medicines: These contain cells or tissues that have been manipulated to change their biological characteristics or cells or tissues not intended to be used for the same essential functions in the body.
Tissue-engineered Medicines: These contain living cells, or tissues intended for implantation in the human body in order to replace an impaired function of tissue or organ or to maintain same function in case it is present already.
Development Complexities and Regulatory Adaptations Triggers the ATMPs Consulting Market Growth
The development of ATMPs is a complex manufacturing process resulting from handling living tissues or generating GMOs. The broad variety of ATMPs and their inherent complexity offers different analytical development challenges. Specific characterization, potency, purity, and identity assays are required for each product. Evolving regulatory requirements for ATMPs in key market regions such as the EU and U.S. and the need to meet increasingly demanding regulatory expectations pose significant regulatory hurdles. There is elaborate regulatory, non-clinical, clinical, clinical, and chemistry, manufacturing, and control (CMC) documentation required during the development, registration, and lifecycle of ATMPs. To overcome the challenging environment involving ATMPs, pharma, biotech, and CROs are increasingly seeking services of ATMP consulting companies.
"Due to development challenges and regulatory requirements involving ATMPs, the demand for specific ATMP consulting services such as CMC consultancy, preclinical and clinical regulatory advice, GMO submissions, support in clinical trial applications to regulatory bodies, and analytical services have grown manifolds in recent years."-Business Development Director, ATMP Consulting Provider, U.S.A
Government Support in Key Market Regions Drives the Development of Advanced Therapy Medicinal Products Consulting Market 
In key markets such as Europe, the European Medicines Agency (EMA) provides a broad range of advisory services (scientific advice and protocol assistance) and incentives to support the development of ATMPs. The European legislation provides scientific and financial incentives to encourage R&D in the area of advanced therapies. Developers of ATMPs can obtain reductions in the fees payable to EMA.
For instance, developers can get a 65% fee reduction for a request for scientific advice for ATMPs (90% for SMEs) and a 90% fee reduction for the certification procedure. EMA's Innovation Task Force (ITF) provides a forum for the informal exchange of information and guidance in the development process of ATMPs and their planned regulatory strategies between EMA and developers.
The UK is at the forefront of realizing the potential of advanced therapies. Over the years, there have been significant investments in the UK (£3.8bn since 2012) to support ATMP development. The number of ATMP clinical trials in the UK increases every year (20% increase in 2020) and approximately 12% of all ongoing global ATMP trials are conducted in the UK.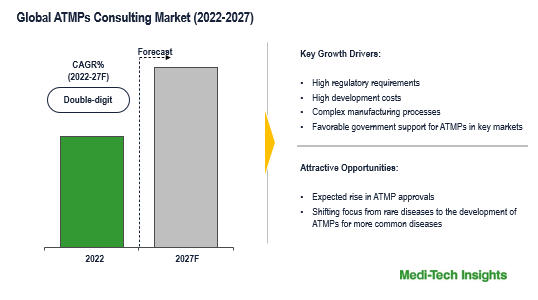 Competitive Landscape Analysis: Global ATMPs Consulting Market
Some of the key and established players operating in the ATMPs consulting market are Dark Horse Consulting, PharmaLex (Acquired by AmerisourceBergen), ProPharma Group, QbD Group (Michor Consulting/EUDRAC), Alacrita Life Science Consulting, Voisin Consulting Life Sciences (VCLS), Advanced Cell & Gene Therapy, Kinesys Consulting, Clarkston Consulting, Validant/DataRevive, Asphalion, Putnam, etc.
Organic and Inorganic Growth Strategies Adopted by the Leading Market Players to Establish Their Foothold in the ATMPs Consulting Market
Players operating in the global advanced therapy medicinal products consulting market are adopting both organic and inorganic growth strategies such as launching new services, acquiring related firms, and entering into mergers & collaborations with other stakeholders to garner a higher market share.
For instance,
In May 2023, The QbD Group acquired Michor Consulting to enhance its regulatory affairs services (including advice and support for ATMPs) across Europe.
In January 2022, PharmaLex Group announced its merger with MAP Group to expand its reach in Italian market and broaden its market access expertise. MAP Group is Italy's leading provider of market access services and specializes in highly innovative products, including advanced therapeutic medicinal products (ATMPs) being developed for rare diseases and oncology.
The global ATMPs consulting market is expected to gain a consistent momentum and set to witness a healthy growth in the upcoming years due to the expected growth in ATMP approvals, shifting focus from rare diseases to the development of ATMPs for more common diseases, and aggressive organic and inorganic growth strategies followed by the worldwide market players.
Key Strategic Questions Addressed in this Research Report are as follows:-
What is the market size and forecast for the ATMPs consulting market?
What are the historical, present, and forecasted market shares and growth rates of various segments and sub-segments of the ATMPs consulting market?
What are the major growth drivers, restraints/challenges impacting the worldwide ATMPs consulting market?
What are the opportunities prevailing in the ATMPs consulting market?
What is the investment landscape of the global ATMPs consulting market?
Which region has the highest share in the market? Which region is expected to witness the highest growth rate in the next 5 years?
Who are the major players operating in the advanced therapy medicinal products consulting market? What is the competitive positioning of key players?
Who are the new players entering the worldwide ATMPs consulting market?
What are the key strategies adopted by players working in the global ATMPs consulting market?
1. Research Methodology
1.1. Secondary Research
1.2. Primary Research
1.3. Market Estimation
1.4. Market Forecasting
2. Executive Summary
3. Market Overview
3.1. Market Dynamics
3.1.1. Drivers
3.1.2. Restraints
3.1.3. Opportunities
3.2. Industry Speaks
4. Advanced Therapy Medicinal Products (ATMPs) Consulting Market - Size & Forecast (2019-2027), By Phase
4.1. Early Stage Development
4.2. Clinical Development
4.3. Commercialization
5. Advanced Therapy Medicinal Products (ATMPs) Consulting Market - Size & Forecast (2019-2027), By Type
5.1. Gene therapy medicinal products
5.2. Somatic cell medicinal products
5.3. Tissue-engineered medicinal products
6. Advanced Therapy Medicinal Products (ATMPs) Consulting Market - Size & Forecast (2019-2027), By Region
6.1. North America (U.S. & Canada)
6.2. Europe (UK, Germany, France, Italy, Spain, Rest of Europe)
6.3. Asia Pacific (China, India, Japan, Rest of Asia Pacific)
6.4. Rest of the World (Latin America, Middle East & Africa)
7. Competitive Landscape
7.1. Key Players and their Competitive Positioning
7.1.1. Competitive Positioning of Key Players (2022)
7.1.2. Service Offerings Assessment, By Players
7.2. Key Strategies Assessment, By Player (2021-2023)
7.2.1. New Service Launches
7.2.2. Partnerships, Agreements, & Collaborations
7.2.3. Mergers & Acquisitions
7.2.4. Other Developments
8. Key Companies Scanned (Indicative List)
8.1. Dark Horse Consulting
8.2. PharmaLex (Acquired by AmerisourceBergen)
8.3. ProPharma Group
8.4. Clarkston Consulting
8.5. Alacrita Life Science Consulting
8.6. Kinesys Consulting
8.7. Voisin Consulting Life Sciences (VCLS)
8.8. QbD Group (Michor Consulting/EUDRAC)
8.9. Advanced Cell & Gene Therapy
8.10. Validant/DataRevive
8.11. Asphalion
8.12. Putnam
8.13. Other Players
The study has been compiled based on the extensive primary and secondary research.
Secondary Research (Indicative List)

Primary Research
To validate research findings (market size & forecasts, market segmentation, market dynamics, competitive landscape, key industry trends, etc.), extensive primary interviews were conducted with both supply and demand side stakeholders.
Supply Side Stakeholders:
Senior Management Level: CEOs, Presidents, Vice-Presidents, Directors, Chief Technology Officers, Chief Commercial Officers
Mid-Management Level: Product Managers, Sales Managers, Brand Managers, R&D Managers, Business Development Managers, Consultants
Demand Side Stakeholders:
Stakeholders in Pharma and Biotech Companies, CROs, among others.
Breakdown of Primary Interviews

Market Size Estimation
Both 'Top-Down and Bottom-Up Approaches' were used to derive market size estimates and forecasts.
Data Triangulation
Research findings derived through secondary sources & internal analysis was validated with Primary Interviews, Internal Knowledge Repository and Company's Sales Data.