Advanced Wound Care Market – Delivering Next-Gen Healing Solutions
written by Medi-Tech Insights, Monday, January 23rd, 2023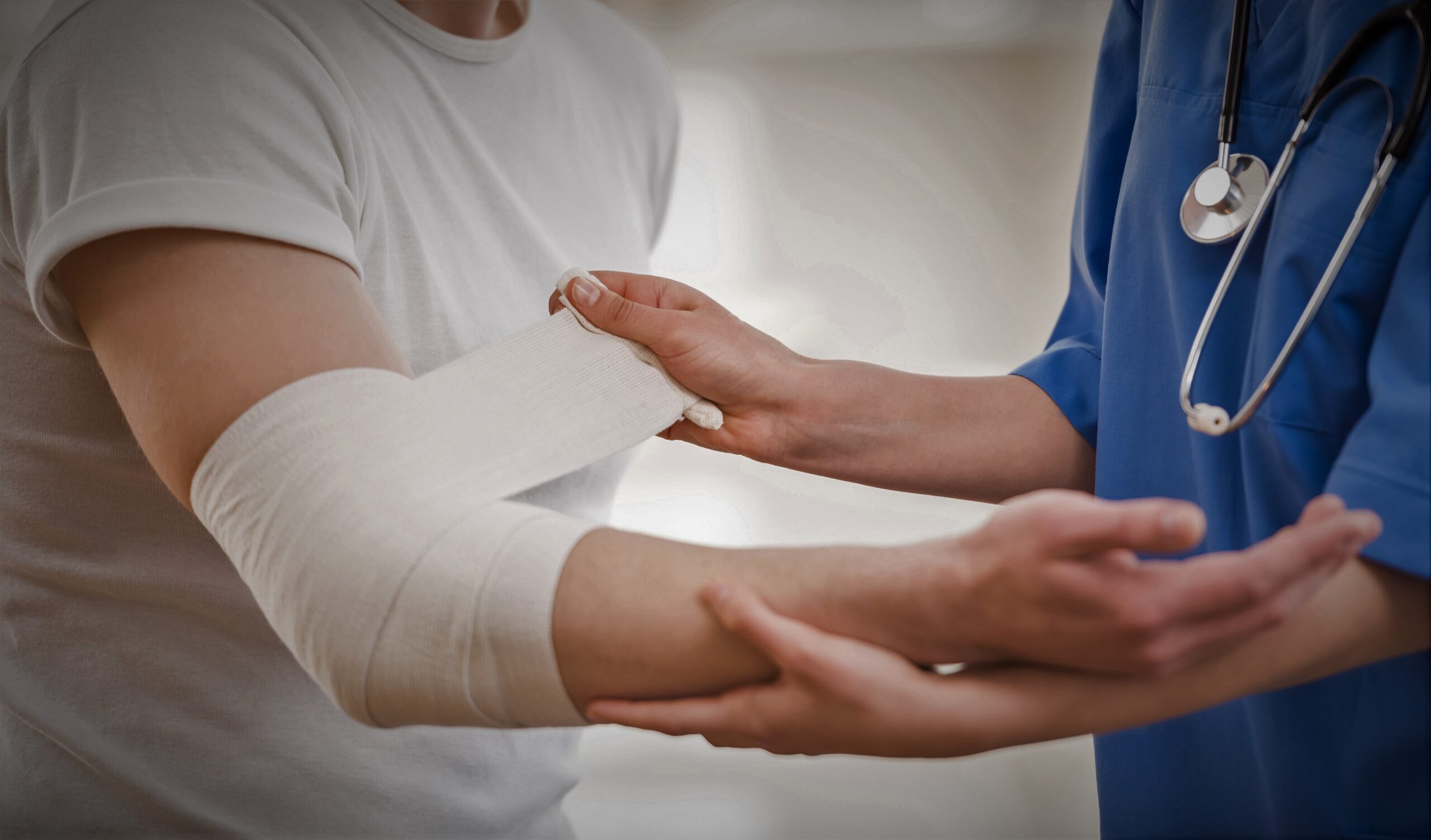 The Global Advanced Wound Care Market was valued at US$ ~8.5 billion in 2022 and is expected to grow at a rate of ~4% by 2027. Increase in the prevalence of chronic and surgical or traumatic wounds, benefits offered over traditional products, especially for hard-to-heal wounds, the aging population, adoption of advanced wound care products, and the increased life expectancy of patients suffering from these conditions are some of the key factors driving the global advanced wound care market. However, the high cost of treating chronic and active wounds and the non-availability of best practice guidelines for using remote advanced wound care pose a minor hurdle for the advanced wound care market.
DESCRIPTION
Advanced wound care provides specialized treatment for chronic or non-healing wounds, which are defined as sores or wounds that have not significantly healed during the course of conventional treatment. Globally, around 100M advanced wounds per year require advanced wound care.
A Shift towards Advanced Wound Care Products Over Traditional Wound Care Products
Traditional wound care products are used most often as primary or secondary dressings to protect the wound from contamination. Traditional wound care product involves the use of gauze, lint, and cotton dressings.
Advanced wound care products and devices facilitate oxygen flow to the wound while also providing a moist environment to help prevent necrosis (the death of cells and tissues surrounding the wound). Some of the best-advanced wound care products include hydrogels, films, foams, hydrocolloids, alginates, sponges, and fabrics. The benefits of using advanced wound care products include shortened healing time, optimized drainage, and reduced risk of infection.
Technologically Advancements in the Management of Chronic Wounds
It is estimated that there are around 1.5 to 2 million people living with a chronic or complex wound, some of them for a period longer than six months. Advanced wound care products help prevent these wounds from developing, reduce patient pain and discomfort, stop wounds from becoming infected and promote faster more effective healing. Leading innovations in negative pressure wound therapy (NPWT), surgical incision management, infection prevention, advanced wound care, near-infrared spectroscopy technology, and skin integrity are further expected to fuel the advanced wound care market growth.
For instance,
In August 2022, 3M Health Care's Medical Solutions Division announced the advancement in its delivery of 3M Veraflo Therapy. A new 3M Veraflo Cleanse Choice Complete Dressing Kit and a software upgrade for the 3M™ V.A.C.® Ulta Therapy Unit. These new offerings help simplify the care delivery processes for clinicians using Veraflo Therapy (negative pressure wound therapy with instillation) and help make dressing changes easier, faster, and less painful for their patients as compared to previous Veraflo Therapy dressings.
In August 2022, Organogenesis announced that they have received U.S. Food and Drug Administration (FDA) 510k Clearance for PuraPly MZ, a brand extension to the PuraPly product portfolio. PuraPly MZ leverages the innovative properties of PuraPly technology engineered into a micronized (powdered) form to provide surgeons with an option for complex surgical wounds.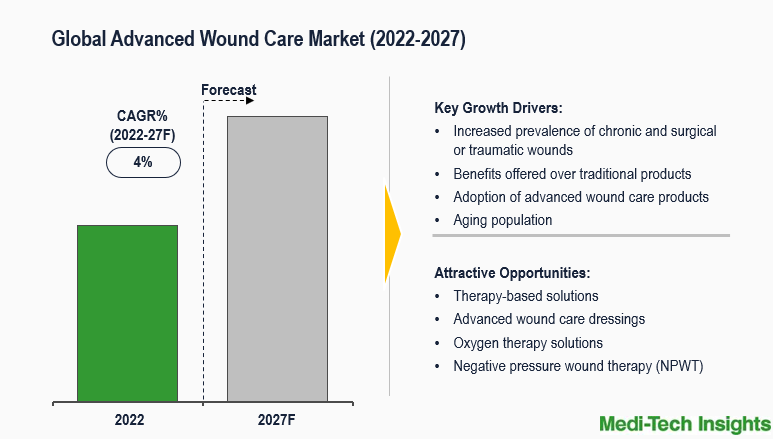 Advancements in Advanced Wound Care Therapies Boosts the Growth of the Advanced Wound Care Market
Non-healing wounds require advanced treatments to enable wounds to progress through the different stages of the healing process. Advanced wound care therapies are used after standard wound care has failed. Even with the introduction of advanced wound therapies, including dressings, negative pressure wound therapy (NPWT), and cellular and/or tissue-based products, less than half of wounds heal after 12 weeks of treatment. Some of the commonly used therapies are as follows:
Cellular and Tissue-Based Therapies
Topical Oxygen Therapy: It can be used as an adjunctive, advanced modality to treat chronic wounds that have failed to respond to conservative management.
Bioactive dressings: Bioactive dressings deliver substances active in wound healing, either bioactive compounds or materials with endogenous activity.
Negative Pressure Wound Therapy: This therapy involves creating a tightly sealed dressing around a wound and using a suction pump to apply negative pressure evenly across the surface in a continuous or intermittent manner.
Hyperbaric Oxygen Therapy: This therapy requires specialized compression chambers capable of delivering increased concentrations of oxygen (usually 100% oxygen) under elevated atmospheric pressures.
North America is Expected to Continue to Hold a Major Share in the Advanced Wound Care Market
From a geographical perspective, North America holds a major market share of the advanced wound care market. This can be mainly attributed to the growing prevalence of chronic diseases, increasing awareness of proper wound care management, technological advancements in wound care products, the rising incidence of burn injuries and an increase in the number of diabetic patients in the region. However, the Asia-Pacific region is expected to witness a strong growth in the upcoming years due to new developments in the dressing product lines, a growing aging population and a growing prevalence of pressure ulcers in the region.
Competitive Landscape Analysis: Advanced Wound Care Market
Some of the leading and established players operating in the advanced wound care market are as follows:-
3M
Smith & Nephew Plc.
Convatec Group Plc
Braun
Molnlycke Health Care AB
Cardinal Health
URGO Medical
Medela
Coloplast Corp.
Organogenesis
Medtronic
Medline Industries
MiMedx, among others.
Organic and Inorganic Growth Strategies Adopted by the Leading Market Players to Establish Their Strong Foothold in the Global Advanced Wound Care Market
All key players operating in the global advanced wound care market are adopting both organic and inorganic growth strategies such as collaborations, acquisitions, and new product launches to garner a higher market share. For instance,
In March 2022, Convatec Group Plc announced that they have completed the acquisition of Triad Life Sciences Inc ('Triad'). The Triad team, current portfolio, and product pipeline will now transit to Convatec's Advanced Wound Care (AWC) business and be known as Convatec Advanced Tissue Technologies.
In July 2021, Axio Biosolutions, a Boston, and Bengaluru-based medical device company that has been developing proprietary medical products for advanced wound care for surgical, trauma, and emergency settings raised $6 Mn in Series B2 led by TrueScale Capital.
The global advanced wound care market is a growing market and is expected to gain further momentum in the upcoming years due to a strong emphasis on building therapy-based solutions for chronic and acute wounds, the introduction of technologically advanced products, and aggressive organic and inorganic growth strategies followed by the market players.
Key Strategic Questions Addressed in this Report
What is the market size & forecast for the advanced wound care market?
What are the historical, present, and forecasted market shares and growth rates of various segments and sub-segments of the advanced wound care market?
How has Covid-19 impacted the advanced wound care market?
What are the major growth drivers, restraints/challenges impacting the market?
What are the opportunities prevailing in the global market?
What is the investment landscape of advanced wound care market?
Which region has the highest share in the global market? Which region is expected to witness the highest growth rate in the next 5 years?
Who are the major players operating in the advanced wound care market? What is the competitive positioning of key players?
Who are the new players entering the global advanced wound care market?
What are the key strategies adopted by leading players in advanced wound care market?
TABLE OF CONTENTS
1. Research Methodology
1.1. Secondary Research
1.2. Primary Research
1.3. Market Estimation
1.4. Market Forecasting
2. Executive Summary
3. Market Overview
3.1. Market Dynamics
3.1.1. Drivers
3.1.2. Restraints
3.1.3. Opportunities
3.1.4. Market Trends
3.2. Industry Speaks
3.3. Technology Trend
4. COVID-19 Impact on Advanced Wound Care Market
5. Looming Recession (2023) – Key Challenges & Impact
6. Technological Advancements in Wound Care Therapies
7. M&A Landscape Assessment
8. Global Advanced Wound Care Market- Size & Forecast (2019-2027), By Product
8.1. Advanced Wound Dressings
8.2. Wound Care Devices
8.3. Active Wound Care
9. Global Advanced Wound Care Market- Size & Forecast (2019-2027), By Wound Type
9.1. Chronic Wounds
9.2. Acute Wounds
10. Global Advanced Wound Care Market- Size & Forecast (2019-2027), By Region
10.1. North America (U.S. & Canada)
10.2. Europe (UK, Germany, France, Italy, Spain, Rest of Europe)
10.3. Asia Pacific (China, India, Japan, Rest of Asia Pacific)
10.4. Rest of the World (Latin America, Middle East & Africa)
11. Competitive Landscape
11.1. Key Players and their Competitive Positioning
11.1.1. Market Share Analysis (2022)
11.1.2. Segment-wise Player Mapping
11.2. Key Strategies Assessment, By Player (2020-2022)
11.2.1. New Product & Service Launches
11.2.2. Partnerships, Agreements, & Collaborations
11.2.3. Geographic Expansion
12. Key Companies Scanned (Indicative List)
12.1. 3M Company
12.2. Smith & Nephew Plc.
12.3. Convatec Group Plc.
12.4. B. Braun
12.5. Molnlycke Health Care AB
12.6. Baxter International
12.7. URGO Medical
12.8. Coloplast Corp.
12.9. Medtronic
12.10. Medela
METHODOLOGY
The study has been compiled based on the extensive primary and secondary research.
Secondary Research (Indicative List)

Primary Research
To validate research findings (market size & forecasts, market segmentation, market dynamics, competitive landscape, key industry trends, etc.), extensive primary interviews were conducted with both supply and demand side stakeholders.
Supply Side Stakeholders:
Senior Management Level: CEOs, Presidents, Vice-Presidents, Directors, Chief Technology Officers, Chief Commercial Officers
Mid-Management Level: Product Managers, Sales Managers, Brand Managers, R&D Managers, Business Development Managers, Consultants
Demand Side Stakeholders:
Stakeholders in Hospitals, Ambulatory Surgical Centers, Wound Care Centers, Home Care Settings, and Other End Users.
Breakdown of Primary Interviews

Market Size Estimation
Both 'Top-Down and Bottom-Up Approaches' were used to derive market size estimates and forecasts.
Data Triangulation
Research findings derived through secondary sources & internal analysis were validated with Primary Interviews, Internal Knowledge Repository, and Company Sales Data.
SAMPLE DELIVERABLES