African Pharmaceutical Market – Set to Witness Double-Digit Growth by 2027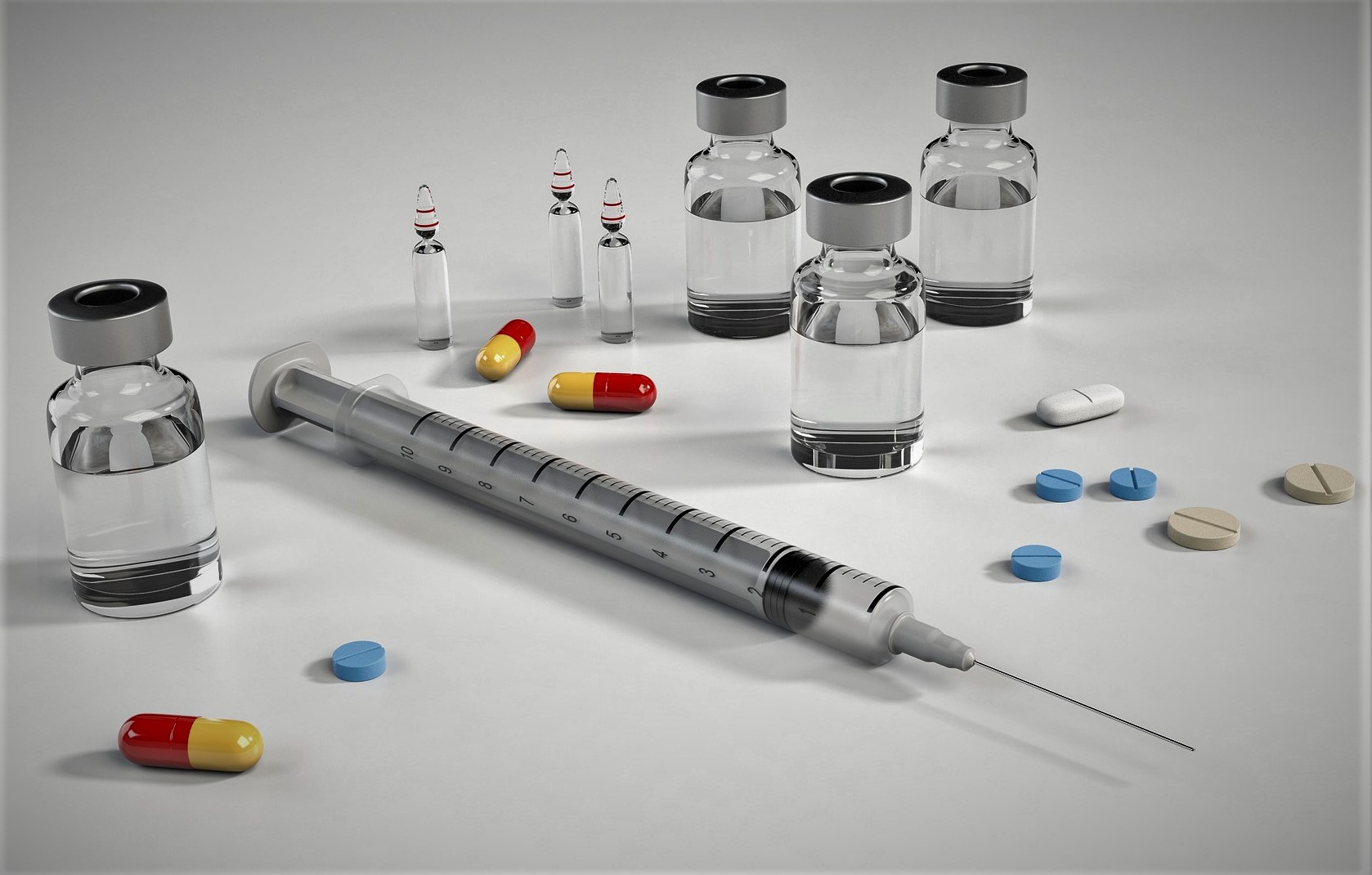 The African Pharmaceutical Market is expected to witness a healthy and double-digit growth by 2027. An increasing population and urbanization, growing prevalence of chronic diseases, and an increasing healthcare spending's are some of the major factors driving the growth of the African pharmaceutical market. However, lack of infrastructure and the higher costs of producing pharmaceuticals is expected to impede the growth of the African pharmaceutical market.
The pharmaceutical market is a complex and constantly evolving industry that plays a critical role in the healthcare sector. The pharma market refers to the market for pharmaceutical products, which includes prescription drugs, over-the-counter medications, and other healthcare products. It is a highly regulated industry that is focused on the research, development, manufacturing, and distribution of drugs and other medical treatments.
Rapid Growth and Expansion in the African Pharmaceutical Market
The pharmaceutical market in Africa is less developed compared to other regions, which makes it an attractive sector for investment and growth. The market is rapidly expanding, creating significant investment and growth opportunities for global corporations.
Africa's rapid urbanization is driving the growth of pharmaceutical companies. With the emergence of big cities and growing awareness of health disorders such as diabetes, ADHD, and malaria, there has been an increase in the purchase of terminal disease medications and healthcare costs. Governments are revising policies to attract foreign investors and global corporations which is leading to a constantly evolving commercial landscape in Africa.
The tropical environment in Africa is conducive to the spread of diseases due to the constant introduction of new disease-transmitting organisms. As a result, there are various infectious illnesses prevalent in the African population, such as Cholera, TB, Influenza, Hepatitis, and AIDS. The continent also experiences frequent outbreaks of diseases like Polio, Meningitis, Cholera, Influenza, Yellow Fever, Measles, Hepatitis, Malaria, And Tetanus.
For instance, Malaria remains a primary cause of childhood illness and death in sub-Saharan Africa. Annually, more than 260 000 African children under the age of five die from malaria. Recently, in October 2021, WHO approved the use of the RTS,S/AS01 (RTS,S) malaria vaccine among children in sub-Saharan Africa and in other regions with moderate to high P. falciparum malaria transmission. The growing prevalence of infectious illnesses and associated product approvals is expected to fuel the African pharmaceuticals market.
The shift towards a Western lifestyle in Africa has caused an increase in non-communicable diseases (NCDs), leading to a higher demand for chronic prescription drugs. Governments in many African countries are making efforts to improve healthcare infrastructure and access to medicines, which is expected to further boost the growth of the pharmaceutical market. The increasing adoption of generic drugs and the growth of e-commerce in the region are also expected to contribute to the growth of the African pharmaceutical market.
"This is a historic moment. The long-awaited malaria vaccine for children is a breakthrough for science, child health, and malaria control. Using this vaccine on top of existing tools to prevent malaria could save tens of thousands of young lives each year."-WHO, Director-General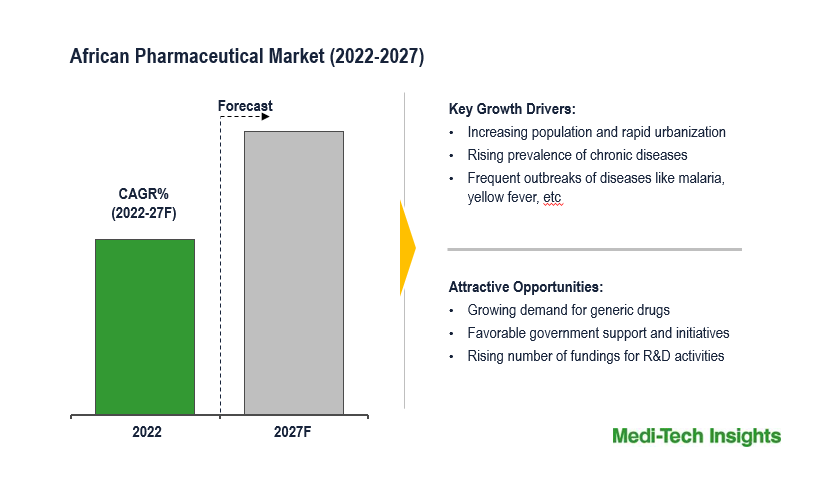 Favorable Market Dynamics and Growth Prospects of Pharma Companies in African Pharmaceutical Market
The Covid-19 Pandemic has brought to light the vulnerability of global healthcare systems and emphasized the importance of countries ensuring a basic level of supply security for medical products. Critical drugs and medicines were not readily available in Africa as it depends heavily on imports, with up to 70% of pharmaceutical products being imported. Local vaccine production can only meet less than 1% of the local demand in value.
For instance,
In November 2022, African Development Bank established a foundation 'The African Pharmaceutical Technology' to boost the continent's pharmaceutical and vaccine manufacturing sector. The goal of setting this foundation is to ensure the continent has greater independence regarding basic medical goods, highlighted by the difficulties in procuring vital supplies during the COVID-19.
The pharmaceutical industry in Africa is divided into three categories: prescription drugs, generics, and over-the-counter drugs. Generics have experienced the largest growth. The production of generics provides a significant chance for the private sector to concentrate their investments and enhance their capability.
Global corporations need to partner with local enterprises and governments to increase their probability of success in the pharma industry. Working together on research, public awareness campaigns and medical equipment provision can help sway the market in their favor.
For instance,
In November 2021, NTC (Novelty Technology Care based in Italy) and Aspen (based in South Africa) received approval from SAHPRA (South African Health Products Regulatory Authority) for the first-ever fixed combination of a quinolone antibiotic (levofloxacin) and an anti-inflammatory steroid (dexamethasone) in an ophthalmic eye drop solution. The two companies are both based in Italy and South Africa respectively, and NTC is known for their focus on research and development in the pharmaceutical industry.
In July 2021, Biovac a Cape Town-based South African biopharmaceutical company entered into an agreement with Pfizer and BioNTech to produce and distribute the Pfizer-BioNTech first mRNA COVID-19 Vaccine within Africa.
Key Market Challenges: African Pharmaceutical Market
Africa's pharmaceutical sector faces several challenges, including small and fragmented markets, weak regulatory frameworks, and inadequate human resource capacity. Poor procurement and supply chain systems, as well as policy incoherencies across trade, industry, health, and finance sector, and inadequate funds for R&D also impedes the growth of the African pharmaceutical market.
Competitive Landscape Analysis: African Pharmaceutical Market
Some of the key players operating in the African pharmaceutical market are Adcock Ingram, F. Hoffmann-La Roche, Pfizer Inc., Novartis AG, Johnson & Johnson (Janssen Global Services LLC), Sanofi, Bayer, Aspen, Cipla, and Merck and Co. Inc., among others.
Organic and Inorganic Growth Strategies Adopted by the Key Market Players to Establish Their Foothold in the African Pharmaceutical Market
Leading players operating in the African pharmaceutical market are adopting both organic and inorganic growth strategies such as securing funding, launching new products, entering into collaborations, and acquiring companies to garner a higher market share.
For instance,
In April 2023, WHO and South Korea signed an agreement to create a global training center for biomanufacturing. WHO, along with partners, launched the mRNA Technology Transfer program with the opening of the Hub facility in South Africa. The center will help low- and middle-income countries produce biologicals such as vaccines, insulin, monoclonal antibodies, and cancer medicine.
In December 2022, Aspen Pharmacare Holdings Limited received USD30 million from the Bill & Melinda Gates Foundation ("the Gates Foundation") and the Coalition for Epidemic Preparedness Innovations ("CEPI"). The new funding will enable Aspen to manufacture lifesaving routine and outbreak vaccines in Africa and establish sustainable manufacturing capacity for African-produced vaccines that can combat future epidemics and pandemics.
The African pharmaceutical market is expected to gain a further momentum in the upcoming years due to an increasing population, growing demand for generic drugs, rising cases of chronic diseases and government initiatives to improve access to medicines & healthcare infrastructure, and aggressive organic and inorganic growth strategies followed by the key market players.
Key Strategic Questions Addressed in this Research Report:
What is the market size & forecast for the African Pharmaceutical Market?
What are the historical, present, and forecasted market shares and growth rates of various segments and sub-segments of the African Pharmaceutical Market?
How has Covid-19 impacted the African Pharmaceutical Market?
What are the major growth drivers, restraints/challenges impacting the African pharmaceutical market?
What are the opportunities prevailing in the African pharmaceutical market?
What is the investment landscape of the African pharmaceutical market?
Which region has the highest share in the African market? Which region is expected to witness the highest growth rate in the next 5 years?
Who are the major players operating in the African pharmaceutical market? What is the competitive positioning of key players?
Who are the new players entering the African pharmaceutical market?
What are the key strategies adopted by leading players in the African pharmaceutical market?
1. Research Methodology
1.1. Secondary Research
1.2. Primary Research
1.3. Market Estimation
1.4. Market Forecasting
2. Executive Summary
3. Market Overview
3.1. Market Dynamics
3.1.1. Drivers
3.1.2. Restraints
3.1.3. Opportunities
3.1.4. Key Market Trends
3.2. Industry Speaks
4. African Pharmaceutical Market - Size & Forecast (2019-2027), By Product Type
4.1. Branded Drugs
4.2. Generics
4.3. Over-the-counter (OTC) Drugs
5. African Pharmaceutical Market - Size & Forecast (2019-2027), By Therapy Areas
5.1. Oncology
5.2. Immunology
5.3. Diabetes
5.4. Cardiovascular
5.5. Respiratory
5.6. Central Nervous System (CNS)
5.7. Others
6. African Pharmaceutical Market - Size & Forecast (2019-2027), By Country/Region
6.1. South Africa
6.2. Algeria
6.3. Nigeria
6.4. Morocco
6.5. Rest of Africa (Tunisia, Tanzania, Kenya, Ghana, and other African countries)
7. Competitive Landscape
7.1. Key Players and their Competitive Positioning
7.1.1. Competitive Positioning of Key Players (2022)
7.1.2. Offerings Assessment, By Players
7.2. Key Strategies Assessment, By Player (2021-2023)
7.2.1. New Product & Service Launches
7.2.2. Partnerships, Agreements, & Collaborations
7.2.3. Mergers & Acquisitions
7.2.4. Geographic Expansion
8. Key Companies Scanned (Indicative List)
8.1. Adcock Ingram
8.2. Aspen
8.3. F. Hoffmann-La Roche
8.4. Pfizer Inc.
8.5. Novartis AG
8.6. Cipla
8.7. Johnson & Johnson (Janssen Global Services LLC)
8.8. Merck and Co. Inc.
8.9. Sanofi
8.10. Other Key Players
The study has been compiled based on the extensive primary and secondary research.
Secondary Research (Indicative List)

Primary Research
To validate research findings (market size & forecasts, market segmentation, market dynamics, competitive landscape, key industry trends, etc.), extensive primary interviews were conducted with both supply and demand side stakeholders.
Supply Side Stakeholders:
Senior Management Level: CEOs, Presidents, Vice-Presidents, Directors, Chief Technology Officers, Chief Commercial Officers
Mid-Management Level: Product Managers, Sales Managers, Brand Managers, R&D Managers, Business Development Managers, Consultants
Demand Side Stakeholders:
Stakeholders in Hospitals, Clinics and Other End Users.
Breakdown of Primary Interviews

Market Size Estimation
Both 'Top-Down and Bottom-Up Approaches' were used to derive market size estimates and forecasts.
Data Triangulation
Research findings derived through secondary sources & internal analysis were validated with Primary Interviews, Internal Knowledge Repository, and Company Sales Data.