Ambulatory Surgery Center (ASC) Services Market – Revolutionizing Surgical Care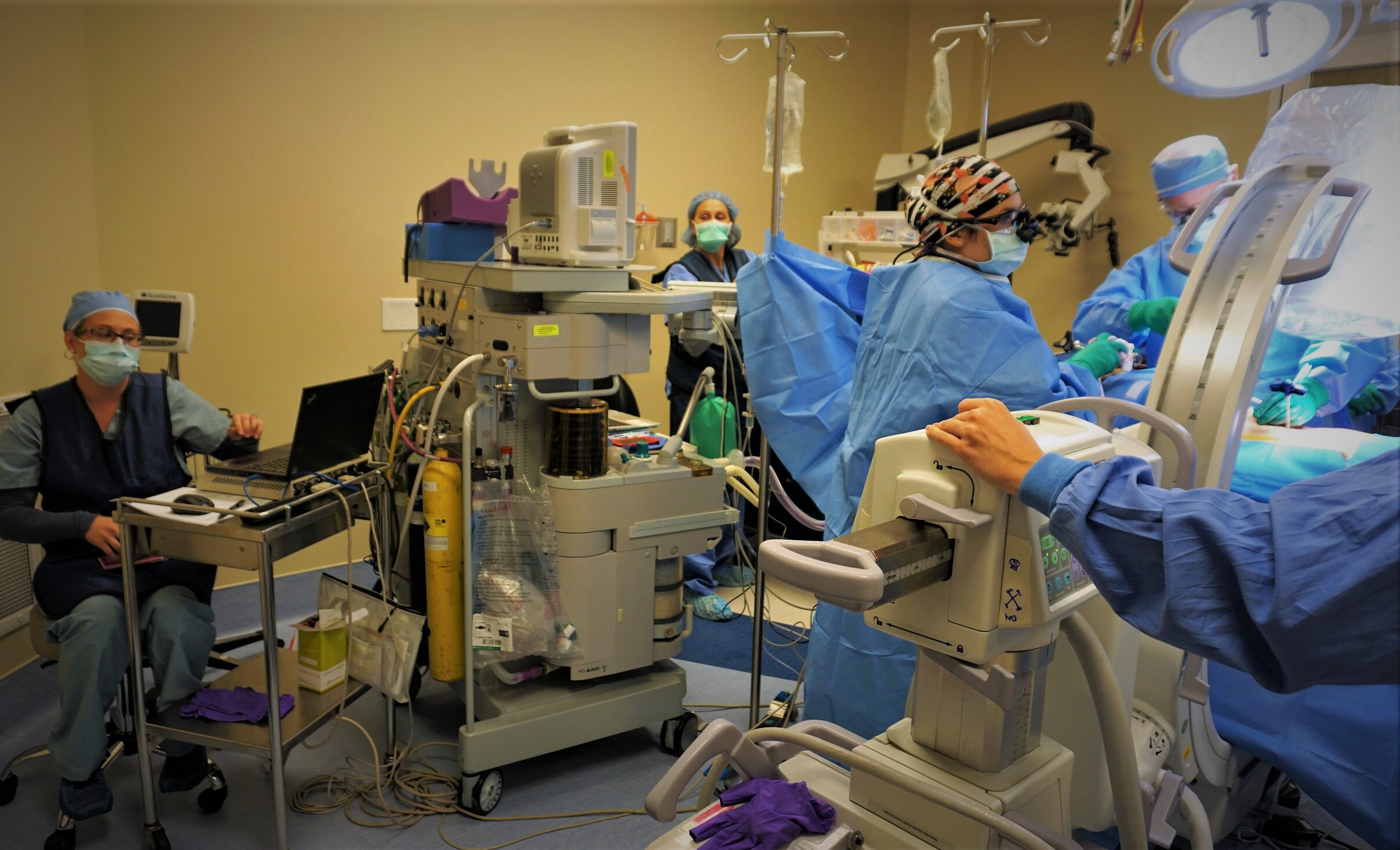 The Global Ambulatory Surgery Center (ASC) Services Market is expected to grow at a rate of 6-7% by 2027. The rising demand for minimally invasive procedures, increasing prevalence of chronic diseases, and growing shift towards outpatient services to reduce healthcare expenditures are some of the key factors driving the growth of the global ASC services market.
Ambulatory surgical centers (ASCs) are state-of-the-art outpatient surgical facilities specializing in a wide range of same-day procedures, including diagnostic and preventive surgeries. ASCs represent an excellent option for individuals seeking to manage healthcare costs effectively. These centers predominantly serve individuals whose medical conditions don't require them to stay overnight in a hospital. Medical care is provided in settings other than conventional hospitals, and patients are usually able to leave shortly after their procedure has been completed.
Evolving ASC Services Market Trends & Dynamics
Cost efficiency plays a pivotal role in the ASC market's expansion, as these centers often deliver high-quality care at a lower cost compared to hospitals, making them an attractive choice for patients and insurance providers. The aging global population has also contributed to the ASC services market's growth, as there is an increasing need for surgical procedures, and ASCs are well-suited to cater to the needs of this demographic.
For instance,
In November 2021, Effingham Ambulatory Surgery Center, in affiliation with United Surgical Partners International (USPI) and Sarah Bush Lincoln Health System (SBLHS), entered into a joint venture agreement and introduced a new total joint program. This program will ensure personalized patient support from pre-surgery scheduling through post-operative recovery
Government support through regulatory measures and reimbursement policies has been instrumental in fostering the growth of ASCs. Furthermore, the patient experience at ASCs, characterized by personalized and comfortable care, has led to higher levels of patient satisfaction. The COVID-19 pandemic underscored the significance of maintaining separate, efficient healthcare settings for elective surgeries, bringing ASCs into the spotlight due to their focus on outpatient procedures. A growing trend of partnerships between providers and surgery center management and development companies is further expected to fuel the growth of the ASC services market.
For instance,
In October 2019, Universal Health Services, Inc. and Regent Surgical Health (Regent) entered into an agreement to establish a nationwide collaboration. Under this new joint venture, they planned to create and manage Ambulatory Surgery Centers (ASCs)which will provide patients in their local areas, with convenient access to high-quality outpatient surgical services while simultaneously offering physician practices with more streamlined outpatient facilities for performing relevant medical procedures.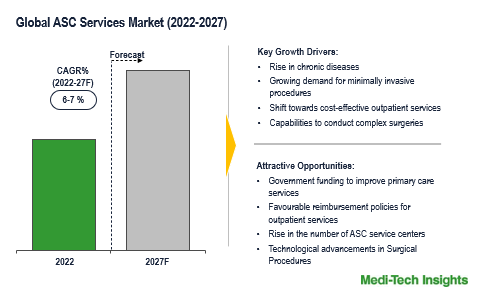 Soaring Demand for Outpatient Care, Capabilities to Conduct Complex Surgeries, Convenience and Cost-Effectiveness of ASCs – Key Factors Fuelling the Growth of the ASC Services Market
The ambulatory surgery center (ASC) services market has witnessed a substantial growth in recent years, driven by several key factors. First and foremost is the escalating demand for outpatient care, with ASCs offering a convenient and cost-effective alternative to traditional hospital-based surgeries. Additionally, advancements in medical technology have broadened the scope of procedures that ASCs can undertake, including more complex surgeries, further enhancing their appeal.
The advancement of minimally invasive surgical techniques has led to a rise in the variety of procedures that can be conducted within ambulatory surgical centers. Ambulatory surgical centers are especially suitable for less invasive and minor surgical interventions. To enhance patient convenience, ambulatory surgical facilities are equipped with fully operational on-site operating rooms to accommodate a wide range of surgical procedures ensuring accessibility and flexibility.
For instance,
In August 2022, St. Mary's Ambulatory Surgery Center (SMASC), an affiliation of United Surgical Partners International (USPI) and Bon Secours, achieved a significant milestone by launching the first ambulatory surgery center in Virginia to employ an intelligent knee implant during total knee replacement surgery. This innovative technology aims to enhance the patient's recovery period, with a particular focus on improving postoperative physical therapy and mobility
Key Market Constraints/Challenges: ASC Services Market
The substantial costs associated with select medical devices, the scarcity of skilled healthcare professionals, and inadequate healthcare infrastructure in emerging economies are some of the major factors that might hamper the growth of the global ASC services market.
North America Accounts for the Largest Share of the Global ASC Services Market
The expansion of the ambulatory surgical center market in the North American region is significantly driven by increased government backing for primary care services, increasing accessibility and coverage of outpatient services, and the presence of strong key players in the region.
The Asia-Pacific region is anticipated to experience a rapid growth during the forecast period. The proliferation of outpatient facilities can be attributed to the increasing healthcare expenditures prompted by a higher incidence of chronic diseases, an ageing population, substantial healthcare spending, and rising hospitalization rates. These factors are likely to fuel the ASC services market growth in this region.
Competitive Landscape Analysis: ASC Services Market
Some of the key players operating in the global ASC services market are AMSURG, United Surgical Partners International (USPI), Tenet Healthcare, Surgery Partners, Surgical Care Affiliates (SCA), and Regent Surgical Health.
Organic and Inorganic Growth Strategies Adopted by the Market Players to Establish Their Foothold in the ASC Services Market
Players operating in this global market are adopting both organic and inorganic growth strategies such as collaborations, and acquisitions to garner a larger market share.
For instance,
In November 2021, Tenet Healthcare Corporation and its subsidiary United Surgical Partners International (USPI), announced that they have entered into an agreement with SurgCenter Development (SCD) to acquire SCD. Under the terms of the agreement, Tenet/USPI will purchase SCD's ownership stake in 92 ambulatory surgery centers (ASCs) and other related ambulatory support services.
The global ASC services market is a growing market and is expected to gain a further momentum in the coming years due to an increase in demand for cost-effective outpatient services, favourable reimbursement policies and aggressive organic and inorganic growth strategies followed by the leading market players.
Key Strategic Questions Addressed in this Research Report are as follows:-
What is the market size & forecast for the Global ASC Services Market?
What are the historical, present, and forecasted market shares and growth rates of various segments and sub-segments of the Global ASC Services Market?
How has COVID-19 impacted the Global ASC Services Market?
What are the major growth drivers, restraints/challenges impacting the ASC Services Market?
What are the opportunities prevailing in the ASC Services Market?
What is the investment landscape of ASC Services Market?
Which region has the highest share in the global market? Which region is expected to witness the highest growth rate in the next 5 years?
Who are the major players operating in the ASC Services Market? What is the competitive positioning of key players?
Who are the new players entering the ASC Services Market?
What are the key strategies adopted by players in the ASC Services Market?
1. Research Methodology
1.1. Secondary Research
1.2. Primary Research
1.3. Market Estimation
1.4. Market Forecasting
2. Executive Summary
3. Market Overview
3.1. Market Dynamics
3.1.1. Drivers
3.1.2. Restraints
3.1.3. Key Market Trends
3.2. Industry Speaks
4. Global ASC Services Market - Size & Forecast (2019-2027), By Speciality Type
4.1. Multi-speciality
4.2. Single-speciality
5. Global ASC Services Market - Size & Forecast (2019-2027), By Modality
5.1. Hospital-Based ASC
5.2. Freestanding ASC
6. Global ASC Services Market - Size & Forecast (2019-2027), By Application
6.1. Endoscopy
6.2. Ophthalmology
6.3. Neurology
6.4. Dental
6.5. Others
7. Global ASC Services Market - Size & Forecast (2019-2027), By Region
7.1. North America (U.S. & Canada)
7.2. Europe (UK, Germany, France, Italy, Spain, Rest of Europe)
7.3. Asia Pacific (China, India, Japan, Rest of Asia Pacific)
7.4. Rest of the World (Latin America, Middle East & Africa)
8. Competitive Landscape
8.1. Key Players and their Competitive Positioning
8.1.1. Competitive Positioning of Key Players (2022)
8.1.2. Offerings Assessment, By Player
8.2. Key Strategies Assessment, By Player (2021-2023)
8.2.1. New Service Launches
8.2.2. Partnerships, Agreements, & Collaborations
8.2.3. Mergers & Acquisitions
8.2.4. Geographic Expansion
9. Key Companies Scanned (Indicative List)
9.1. AMSURG
9.2. Envision Healthcare
9.3. United Surgical Partners International (USPI)
9.4. Tenet Healthcare
9.5. Surgery Partners
9.6. Surgical Care Affiliates (SCA)
9.7. Regent Surgical Health
9.8. Other Prominent Players
The study has been compiled based on extensive primary and secondary research.
Secondary Research (Indicative List)

Primary Research
To validate research findings (market size & forecasts, market segmentation, market dynamics, competitive landscape, key industry trends, etc.), extensive primary interviews were conducted with both supply and demand side stakeholders.
Supply Side Stakeholders:
Senior Management Level: CEOs, Presidents, Vice-Presidents, Directors, Chief Technology Officers, Chief Commercial Officers
Mid-Management Level: Product Managers, Sales Managers, Brand Managers, R&D Managers, Business Development Managers, Consultants
Demand Side Stakeholders:
Stakeholders in Hospitals, Physicians and Corporations, among others.
Breakdown of Primary Interviews

Market Size Estimation
Both 'Top-Down and Bottom-Up Approaches' were used to derive market size estimates and forecasts.
Data Triangulation
Research findings derived through secondary sources & internal analysis were validated with Primary Interviews, Internal Knowledge Repository, and Company Sales Data.