Amniotic Products Market Size, Industry Growth, Share, Trends, & Forecasts by 2026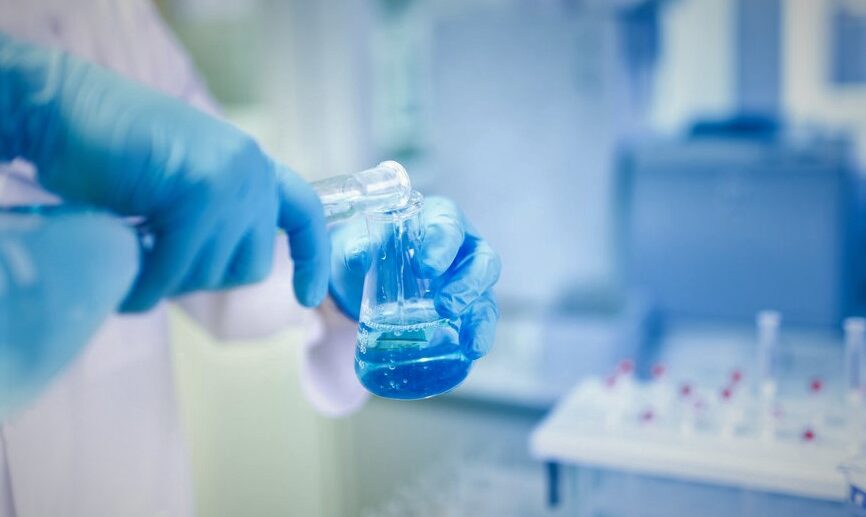 The Global Amniotic Products Market is expected to grow at a rate of 8% to reach $1 billion by 2026.Growing number of amniotic membrane transplantations, growing research in the field of stem cell & regenerative medicines, an increasing awareness on the benefits of amniotic membrane transplantation, rising number of traumatic wounds, and an increasing usage of dehydrated amniotic membranes are some of the key factors driving the market's growth. To learn more about the research, fill out a quick inquiry for a sample report.
Amniotic-derived products, including amniotic membrane and amniotic fluid products, are one subtype of orthobiologic that are considered a potential treatment option for augmentation of joint inflammation and healing. An amniotic membrane (AM) or amnion is a thin membrane forming a closed sac around the embryos or fetuses, and mammals and containing the amniotic fluid. Today, all amniotic, placental, and umbilical tissue-based products are classified by the FDA as human tissue without living cells.
Amniotic membranes (AM) were initially utilized for the treatment of skin disorders such as burns, ulcers, and wounds. Later due to its biological properties, amniotic membrane (AM), and its derivatives are now utilized for a variety of treatments such as corneal surface lesions, retinal detachments, limbal stem cell regeneration, plantar fasciitis, ligament & tendon healing, spinal pathology, cartilage restoration, and osteoarthritis. The most common types of amniotic membranes used are cryopreserved amniotic membranes and lyophilized amniotic membranes.
Growing Adoption of Amniotic Based Products in Wound Healing
Amniotic membranes are made of structural collagen and extracellular matrix, regenerative, and biologically active cells, all of which interact with one another to regulate the healing processes. In the complex cascade of wound healing, a hallmark of a chronic non-healing wound is prolonged inflammation. This disrupts the healing cycle, leading to a decrease in normal proliferation of growth factors as well as an imbalance in protective versus degradative enzymes favoring destruction of the extracellular matrix. Amniotic membrane can help facilitate wound healing by providing the necessary growth factors and other healing cascades that adhere to the extracellular matrix to enhance tissue growth and healing. In patients with diabetes or other immunocompromised patients, the ability of the body to produce the proteins needed for wound healing does not exist so the application of placental-based products sheds new light on the ability of these patients to heal and survive.
Growing Potential of Amniotic Membrane Products in Regenerative Medicines Fuels the Demand
Regenerative medicine is a rapidly evolving, interdisciplinary field that develops methods to regrow, repair, or replace damaged or diseased cells, organs, or tissues. Regenerative medicine includes the generation and use of therapeutic stem cells, tissue engineering, and the production of artificial organs. The amniotic membrane (Amnio-M) finds various applications in regenerative medicine. It acts as a highly biocompatible natural scaffold and as a source of several types of stem cells and potent growth factors. Due to its high entrapment properties, it also serves as an effective nano-reservoir for drug delivery. The Amnio-M possess unique characteristics that render them useful in diverse applications such as the tracheal reconstruction of the fetus, restoration of the diaphragm muscles, bone grafts, heart valve leaflets, plantar fasciitis, osteoarthritis (OA), dermal filler for facial wrinkles, spinal cord regeneration, ophthalmologic disorders, and skin repair, among others in the field of regenerative medicines which in turn is expected to boost the market in the coming years.
"Amniotic-based products are upcoming products rapidly evolving in various fields of medicine. Major progress has been made by researchers and scientists in the field of biology and engineering to advance the understanding of tissue engineering & biomaterials to enable the development of new treatments that will lessen the burden of disease." - Senior Director, Data Sciences & Quantitative Biology, Amniotic Products Company, United States
North America Leads in terms of Adoption of Amniotic Products Market
From a geographical perspective, North America holds a major market share of the amniotic products followed by Europe. Growing research activities, well-developed infrastructure, increased adoption of amniotic membranes for various applications, rising awareness regarding amniotic transplants, and the presence of leading market players in this region are some of the key factors driving the market growth.
Competitive Landscape Analysis: Amniotic Products Market
Some of the prominent players operating in the amniotic products market are MiMedx, Smith & Nephew, Organogenesis Inc., Integra LifeSciences,  Applied Biologics, Katena Products Inc., Lucina BioSciences, Next Biosciences, Skye Biologics Holdings LLC., Surgenex LLC., Ventris Medical LLC., Vivex Biologics Inc., StimLabs LLC., Amniotics AB,  LifeCell International Pvt. Ltd., NuVision Biotherapies Ltd., Genesis Biologics, Amnio Technology LLC., Amnicell Corporation Ltd., AlloSource, Celularity Inc., TissueTech, Inc., Orthofix Medical Inc., Merakris therapeutics, and Human Regenerative Technologies LLC, among others.
Companies Adopting Organic Growth Strategies to Increase their Market Share
Players operating in the global amniotic products market are adopting organic growth strategies such as new product launches and funding to garner market share. For instance,
In May 2022, MiMedx Group, Inc. received a $4.6 million award from the department of defense to evaluate PURION® processed Dehydrated Human Amnion Chorion Membrane (DHACM) as an advanced treatment option for wound and burn care.
In July 2021, Amniotics AB, a stem cell therapy company secured $6.1 million through its listing on Nasdaq First North Growth Market. The funds will be deployed to advance the company's preclinical portfolio of cell therapy candidates based on mesenchymal stem cells (MSC) from amniotic fluid.
In January 2021, Organogenesis Inc. (US) received approval from the US FDA to launch ReNu® a cryopreserved amniotic suspension allograft  for the management of symptoms associated with knee osteoarthritis (OA).
The amniotic products market is a growing market that is expected to gain further momentum in the coming years due to research advancements, new product launches, rising cases of burn injuries & traumatic wounds, increasing awareness programs for wound care treatment and management, an increasing number of cosmetics, ophthalmology, and orthopedic surgeries, raising funding from private equity, investors & government, and aggressive organic and inorganic growth strategies followed by the players operating in amniotic products market.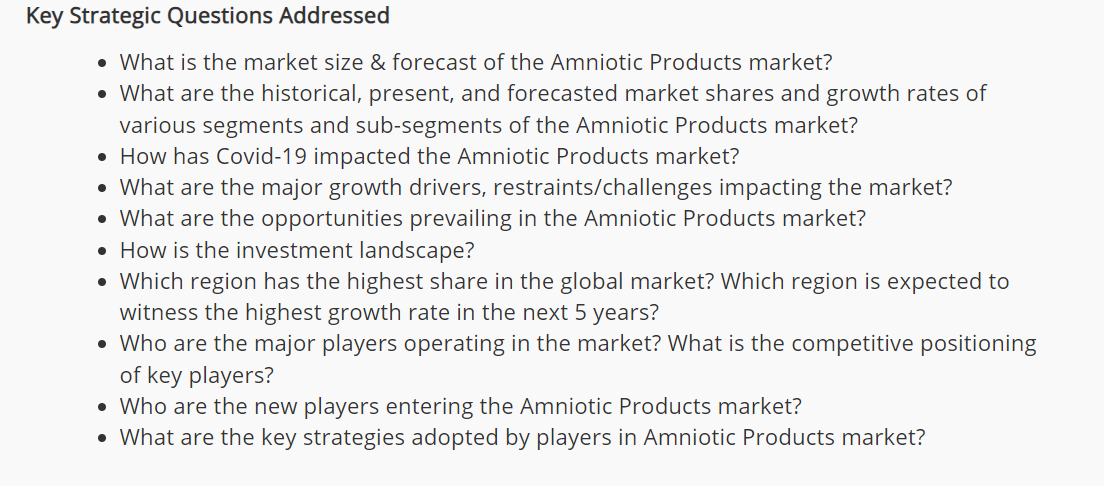 The study has been compiled based on the extensive primary and secondary research.
Secondary Research (Indicative List)

Primary Research
To validate research findings (market size & forecasts, market segmentation, market dynamics, competitive landscape, key industry trends, etc.), extensive primary interviews were conducted with both supply and demand side stakeholders.
Supply Side Stakeholders:
Senior Management Level: CEOs, Presidents, Vice-Presidents, Directors, Chief Technology Officers, Chief Commercial Officers
Mid-Management Level: Product Managers, Sales Managers, Brand Managers, R&D Managers, Business Development Managers, Consultants
Demand Side Stakeholders:
Stakeholders in Hospitals, Ambulatory Surgical Centers, Specialized Clinics, Research Center & Laboratories, and Other End Users.
Breakdown of Primary Interviews

Market Size Estimation
Both 'Top-Down and Bottom-Up Approaches' were used to derive market size estimates and forecasts.
Data Triangulation
Research findings derived through secondary sources & internal analysis was validated with Primary Interviews, Internal Knowledge Repository and Company's Sales Data.