Bioanalytical Services Market Size, Share, Analysis – Research Report 2027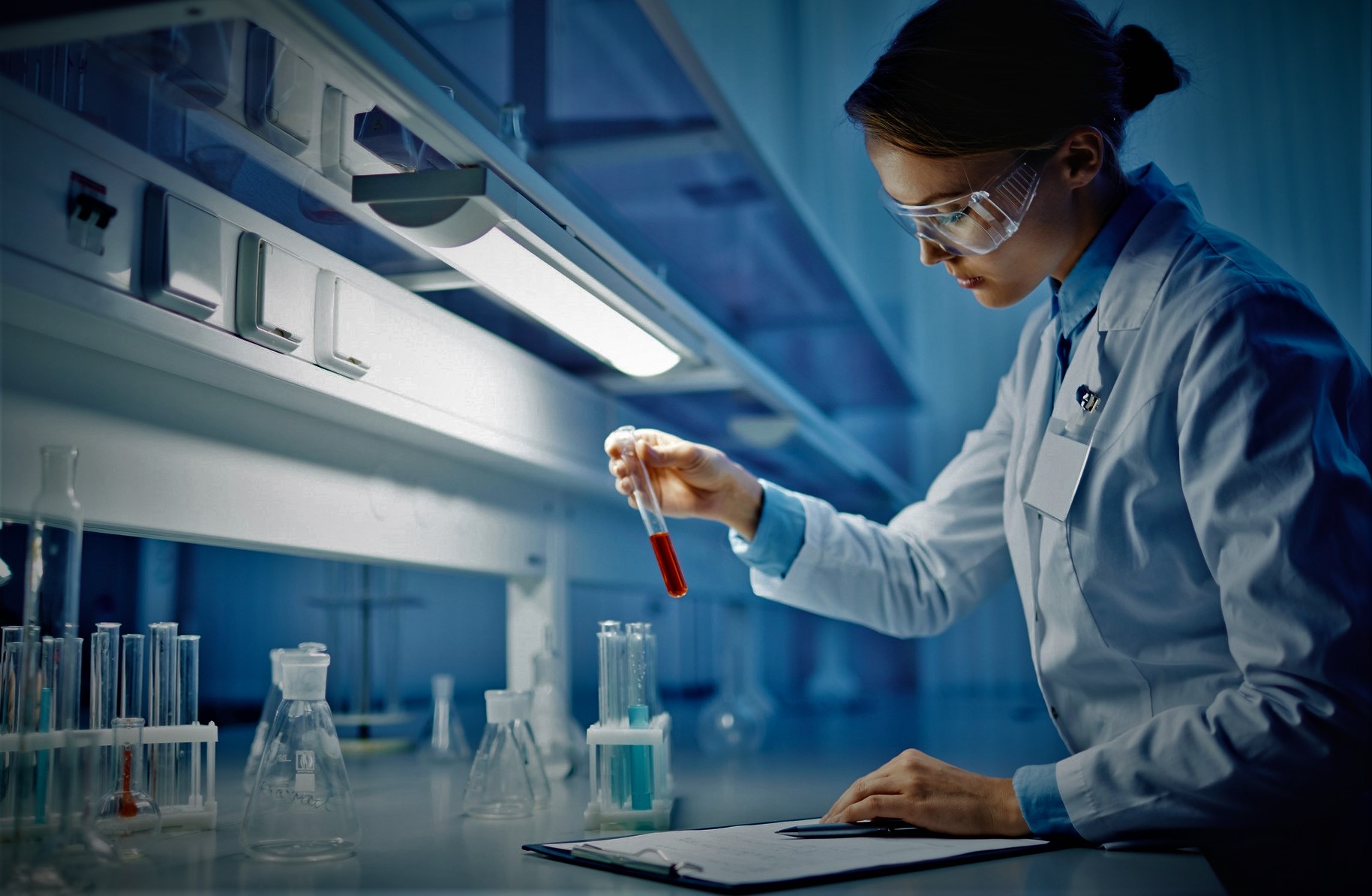 Global Bioanalytical Services Market is anticipated to witness a healthy double-digit growth rate by 2027. The rising incidence of infectious diseases, rise in R&D expenses in the pharma and biopharma industry, the growing popularity of biologics and personalized medicine, technological advancements in analytical techniques, and the trend of companies increasingly outsourcing bioanalytical services are some of the key factors fueling the growth of the global bioanalytical services market. However, the dearth of skilled professionals who can handle the advanced equipment required in bioanalytical testing is likely to hamper the growth of the global market to a certain extent.
Bioanalytical services comprise a range of scientific and analytical techniques utilized for the examination and quantification of biological compounds, usually conducted within laboratory settings. These services play an important role in numerous sectors, including pharmaceuticals, biotechnology, environmental surveillance, and clinical research. Their primary objective is to measure and scrutinize biomolecules such as proteins, nucleic acids, metabolites, and drugs, thereby facilitating a deeper comprehension of biological samples.
Demand for Bioanalytical Expertise, Technological Advancements, Optimum Resource Utilization, and Cost Containment drives the Global Bioanalytical Services Market
Rapid advancements in technology, such as genomics, proteomics, and high-throughput screening, have expanded the possibilities for drug discovery and development. Adopting and integrating these cutting-edge technologies into R&D pipelines demands additional resources. The shift towards biologic drugs and personalized medicine approaches requires specialized analytical methods and services, driving up the demand for bioanalytical services.
Many companies outsource their bioanalytical needs to specialized CROs that offer expertise and services in this field. This growing trend of outsourcing bioanalytical services is gaining momentum as it allows for better resource utilization. While in-house laboratories may have advanced equipment, they may struggle with complex bioanalytical tests and can be expensive to maintain. Outsourcing these lab functions reduces costs and provides access to top-notch analytical expertise on short notice. This shift is a significant driver of the bioanalytical services market's growth.
The growth of the global bioanalytical services market is driven by a confluence of factors, including the rising number of key market players who provide a wide range of bioanalytical services.
For instance
In May 2022, Eurofins Scientific successfully acquired a majority stake in Repertoire Genesis Inc. (RG), which possesses an exclusive analytical platform known as TCR/BCR (T Cell Receptor/B Cell Receptor) repertoire profiling. This strategic acquisition enhances Eurofins' global service offerings in the healthcare sector and reinforces its distinctive service portfolio, consolidating its position in the global bioanalytical market.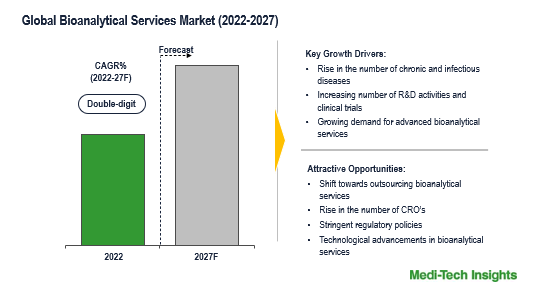 Growing Research and Development Activities in the Pharmaceutical and Biopharma Industry
The pharmaceutical industry is highly competitive, and companies need to outpace competitors in bringing new drugs into the global market. This often necessitates more extensive and accelerated R&D efforts. An increase in the research and development (R&D) spending within the pharmaceutical and biopharmaceutical industry for bioanalytical services can be attributed to several key factors. There is a consistent need for innovative drugs and therapies to address complex and evolving health challenges such as rare diseases and more targeted treatments. This necessitates substantial R&D investments to discover and develop these therapies. The pharmaceutical industry is highly regulated and needs to adhere to stringent regulatory guidelines and demonstrate the safety and efficacy of its products through rigorous testing and analysis. Compliance with these regulations requires increased investment in R&D.
For instance,
In May 2023, LabCorp & Forge Biologics entered into a collaborative partnership focused on gene therapy development and manufacturing. This joint effort aims to expedite clinical timelines, alleviate constraints in analytical development, and address potential regulatory hurdles linked to manufacturing and developmental procedures.
The pharmaceutical and biopharmaceutical industry's heightened focus on R&D spending for bioanalytical services stems from a combination of scientific advancements, regulatory pressures, market demands, and the need to stay competitive in a rapidly evolving field.
Key Market Constraints/Challenges: Bioanalytical Services Market
The high-end equipment's used for bioanalytical services along with the scarcity of proficient experts capable of operating this advanced equipment are some of the key factors which are likely to hamper the growth of the global bioanalytical services market.
North America Accounts for the Largest Market Share in the Global Bioanalytical Services Market
North America is poised to maintain its dominance in the global bioanalytical testing services market, primarily due to an increasing demand for bioanalytical services fueled by a substantial volume of ongoing clinical trials, and stringent regulatory policies.
The Asia-Pacific region is anticipated to experience a rapid growth during the forecast period. An increase in the number of infectious diseases, rising R&D activities, and increasing number of CROs offering an extensive array of bioanalytical services are some of the key factors likely to fuel the bioanalytical services market's growth in this region.
Competitive Landscape Analysis: Bioanalytical Services Market
Some of the key and established players operating in the global bioanalytical services market are Charles River Laboratories, Eurofins Scientific, Syneos Health, ICON plc, PPD Inc. Intertek Group plc, Medpace, Thermo Fisher Scientific and IQVIA, among others.
Organic and Inorganic Growth Strategies Adopted by the Market Players to Establish Their Foothold in the Global Bioanalytical Services Market
All key players operating in the global market are adopting both organic and inorganic growth strategies such as collaborations, new product launches and acquisitions to garner a larger market share.
For instance,
In June 2023, Thermo Fisher Scientific Inc. successfully acquired MarqMetrix, a privately owned company specializing in spectroscopy solutions for in-line measurements. This acquisition enhances Thermo Fisher's portfolio by the addition of Raman-based in-line Process Analytical Technology (PAT) capabilities and strengthens their analytical solutions, enabling them to meet customer demands for real-time measurement and process control of vital manufacturing parameters that impact product quality.
In July 2021, Q2 Solutions, a wholly owned subsidiary of IQVIA, announced the expansion of its laboratory and operational capabilities at its Alba Campus in Scotland. This expansion includes investments in facility enhancements and new technologies that will strengthen capabilities and services offered to clients, including genomics, flow cytometry, and translational science laboratory services which will support new growth areas for biopharma and pharma clients around the world and drive better patient outcomes.
The global bioanalytical services market is expected to gain a consistent momentum in the upcoming years due to an increase in demand for advanced bioanalytical services, stringent government policies, and aggressive organic and inorganic growth strategies followed by the leading market players.
Key Strategic Questions Addressed in this Research Report are as follows:-
What is the market size & forecast for the global bioanalytical services market?
What are the historical, present, and forecasted market shares and growth rates of various segments and sub-segments of the global bioanalytical services market?
How has COVID-19 impacted the global bioanalytical services market?
What are the major growth drivers, restraints/challenges impacting the global bioanalytical services market?
What are the opportunities prevailing in the bioanalytical services market?
What is the investment landscape of bioanalytical services market?
Which region has the highest share in the global market? Which region is expected to witness the highest growth rate in the next 5 years?
Who are the major players operating in the market? What is the competitive positioning of key players?
Who are the new players entering the bioanalytical services market?
What are the key strategies adopted by players in bioanalytical services market?
1. Research Methodology
1.1. Secondary Research
1.2. Primary Research
1.3. Market Estimation
1.4. Market Forecasting
2. Executive Summary
3. Market Overview
3.1. Market Dynamics
3.1.1. Drivers
3.1.2. Restraints
3.1.3. Key Market Trends
3.2. Industry Speaks
4. Global Bioanalytical Services Market - Size & Forecast (2019-2027), By Type
4.1. Pre-Clinical Studies
4.2. Clinical Studies
5. Global Bioanalytical Services Market - Size & Forecast (2019-2027), By End User
5.1. Pharmaceutical companies
5.2. Biotechnology companies
5.3. CROs
5.4. CDMOs
6. Global Bioanalytical Services Market - Size & Forecast (2019-2027), By Region
6.1. North America (U.S. & Canada)
6.2. Europe (UK, Germany, France, Italy, Spain, Rest of Europe)
6.3. Asia Pacific (China, India, Japan, Rest of Asia Pacific)
6.4. Rest of the World (Latin America, Middle East & Africa)
7. Competitive Landscape
7.1. Key Players and their Competitive Positioning
7.1.1. Competitive Positioning of Key Players (2022)
7.1.2. Offerings Assessment, By Player
7.2. Key Strategies Assessment, By Player (2021-2023)
7.2.1. New Service Launches
7.2.2. Partnerships, Agreements, & Collaborations
7.2.3. Mergers & Acquisitions
7.2.4. Geographic Expansion
8. Key Companies Scanned (Indicative List)
8.1. Charles River Laboratories
8.2. Eurofins Scientific
8.3. Syneos Health
8.4. ICON plc
8.5. Intertek Group plc
8.6. Medpace
8.7. Thermo Fisher Scientific
8.8. IQVIA
8.9. Other Prominent Players
The study has been compiled based on the extensive primary and secondary research.
Secondary Research (Indicative List)

Primary Research
To validate research findings (market size & forecasts, market segmentation, market dynamics, competitive landscape, key industry trends, etc.), extensive primary interviews were conducted with both supply and demand side stakeholders.
Supply Side Stakeholders:
Senior Management Level: CEOs, Presidents, Vice-Presidents, Directors, Chief Technology Officers, Chief Commercial Officers
Mid-Management Level: Product Managers, Sales Managers, Brand Managers, R&D Managers, Business Development Managers, Consultants
Demand Side Stakeholders:
Stakeholders in CROs, Biotechnology, and Pharmaceutical companies, among others.
Breakdown of Primary Interviews

Market Size Estimation
Both 'Top-Down and Bottom-Up Approaches' were used to derive market size estimates and forecasts.
Data Triangulation
Research findings derived through secondary sources & internal analysis was validated with Primary Interviews, Internal Knowledge Repository and Company's Sales Data.