Bone Densitometer Market – A Key Tool in Assessing Bone Health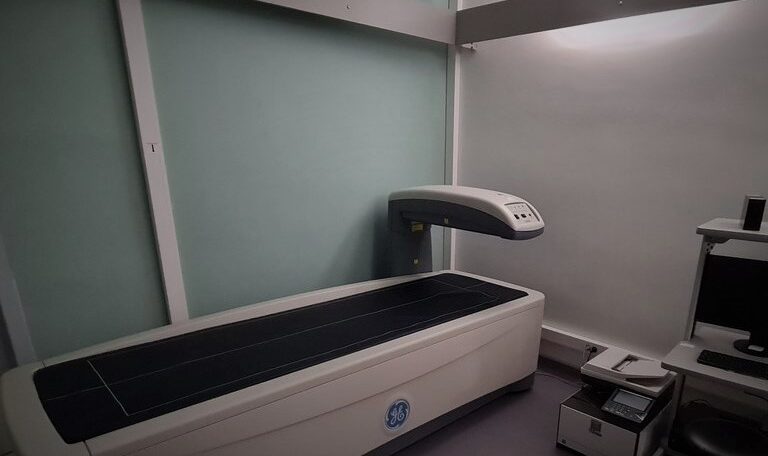 The Global Bone Densitometer Market is expected to grow at a rate of 4.5% by 2026. The growing prevalence of osteoporosis incidence and vitamin D deficiency, the rising geriatric population, technological advancements in the field of bone densitometry, increasing incidents of fragility fracture, and a growing number of bone-related disorders are some of the key factors driving the global bone densitometer market. However, the high cost associated with bone densitometer products is expected to restrain the market growth.
A bone densitometer also known as a dual-energy x-ray absorptiometry (DXA) machine is a device that is used to measure the bone mass and mineral content of a particular part of the skeleton by determining the rate at which it absorbs ionizing radiation. It is commonly used to diagnose osteoporosis, and to assess an individual's risk for developing osteoporotic fractures. DXA is a simple, quick, and noninvasive technique. It's also the most commonly used and the most standard method for diagnosing osteoporosis. A bone densitometer uses ultrasound or X-rays to produce pictures of the inside of the body (usually the lower (or lumbar) spine and hips) to measure bone loss.
Increased Adoption of Dual-Energy X-ray Absorptiometry (DEXA) In Various Applications Drives the Bone Densitometer Market
Dual-energy X-ray absorptiometry (DXA or DEXA) is a fast and reliable technique of choice in the diagnosis and monitoring of osteoporosis since it objectively measures the most relevant parameters. It is also useful for measuring body composition and its distribution by region. In recent years, new applications have been developed which include vertebral morphometry through the study of the lateral spine, prosthesis integration in orthopedics, and lipodystrophy and lipoatrophy in HIV+ patients. Also, DEXA is comparatively inexpensive with notably shorter scan times and radiation exposure compared to other imaging options. Technological advancements in bone densitometers are another key factor that is expected to propel its demand in the coming years.
Evaluation of Bone Mineral Density (BMS) Amongst Postmenopausal Women Fuels the Demand
Osteoporosis is more prevalent among postmenopausal women. This is because the low level of estrogen hormone that occurs at the time of menopause results in significant bone loss. Various researches have demonstrated that there is up to a 10% loss in bone mass in the first five years of women after attaining the menopause phase. The International Society of Clinical Densitometry, the United States Preventative Services Task Force, and the National Osteoporosis Foundation recommend all women over the age of 65 have their bone mineral density (BMS) evaluated. It is considered the gold standard for diagnosing osteoporosis and predicting fracture risk with algorithms like the Fracture Risk Assessment Tool. Therefore, health care providers sometimes recommend testing in people younger than 65 years who have one or more risk factors for fracture.
Adoption of Quantitative Ultrasound (QUS) For Estimating Bone Mineral Status in Children Boosts the Bone Densitometer Market
Quantitative ultrasound (QUS) is a relatively recent and noninvasive method of estimating bone mineral status in the peripheral skeleton. In addition to bone density, QUS methods provide some structural information, which may be important in determining fracture risk. QUS technique is safe, easy to use, and cost-effective. The devices are portable, only a few minutes are needed to perform the measurements, and it is radiation-free. These characteristics of QUS are particularly indicated to assess bone mineral status in children.
North America Holds the Major Share of the Bone Densitometer Market
North America holds the largest share of the bone densitometer market, followed by Europe and APAC. The large share of North America can be attributed to the rising prevalence of osteoporosis, a well-developed healthcare infrastructure, technological advancements in bone densitometer products, and the presence of key market players in the region. APAC is expected to witness strong growth in the coming years, due to the growing prevalence of bone-related disorders, increasing awareness regarding osteoporosis care, rising geriatric population, and increasing healthcare expenditure in this region.
Competitive Landscape Analysis: Bone Densitometer Market
Some of the key players operating in the global bone densitometer market are GE Healthcare, Hologic Inc., Diagnostic Medical Systems Group, Swissray Global Healthcare Holding Ltd., BeamMed Ltd., Echolight S.P.A, Scanflex Healthcare AB, Medonica Co. Ltd., Eurotec Systems S.r.l, Shenzhen XRAY Electric Co. Ltd., Nanoomtech Co. Ltd., Osteosys Corporation, Trivitron Healthcare, OsCare Medical Oy, CyberLogic Inc., Pinyuan Medical, AMPall Co. Ltd., L'accessorio Nucleare S.R.L, BMTech,  Demetech AB, Medlink, Osteometer Meditech Inc., CompuMed Inc., and Lone Oak Medical Technologies LLC among others.
Companies Adopting Organic & Inorganic Growth Strategies to Increase their Market Share in Bone Densitometer Market
Key players operating in the bone densitometer market are adopting various business strategies such as collaborations, acquisitions, partnerships, and new product launches to garner market share. For instance,
In February 2022, Echolight Medical and Aurora Spine Corporation entered into a joint co-marketing agreement. The mutual agreement is likely to help Aurora to combine Echolight's bone health assessment capabilities with its proprietary DEXA Technology-based patient-matched implants and allows Echolight to market and promote Echolight's devices.
In July 2021, DMS Imaging announced the extension of its white-label manufacturing contract for the FUJIFILM Healthcare Group. After a first distribution agreement was signed in 2017 for its range of bone densitometry for Europe, it is now extended to the ASEAN and MEA zone.
In June 2021, Echolight announced that it made its debut in India by signing a commercial agreement in Chandigarh with a key local partner to distribute the whole Echolight bone densitometer product line throughout India.
In May 2021, Echolight announced the introduction of its Radiofrequency Echographic Multi Spectrometry (REMS) at the Florida Orthopedic Society Annual Scientific Meeting. It is the first radiation-free technology delivered in the form of a portable bone densitometer that can safely monitor key bone health indicators at a higher frequency than other testing methods.
The global bone densitometer market is a growing market that is expected to gain further momentum in the upcoming years due to growing consumer awareness, rising prevalence of osteoporosis, technological advancements, increase in healthcare expenditure, and aggressive organic and inorganic growth strategies followed by the players.
Key Strategic Questions Addressed
What is the market size & forecast for the Bone Densitometer Market?
What are the historical, present, and forecasted market shares and growth rates of various segments and sub-segments of the Bone Densitometer Market?
How has Covid-19 impacted the Bone Densitometer Market?
What are the major growth drivers, restraints/challenges impacting the bone densitometer market?
What are the opportunities prevailing in the market?
What is the investment landscape of bone densitometer market?
Which region has the highest share in the global market? Which region is expected to witness the highest growth rate in the next 5 years?
Who are the major players operating in the market? What is the competitive positioning of key players?
Who are the new players entering the bone densitometer market?
What are the key strategies adopted by players operating in bone densitometer market?
The study has been compiled based on the extensive primary and secondary research.
Secondary Research (Indicative List)

Primary Research
To validate research findings (market size & forecasts, market segmentation, market dynamics, competitive landscape, key industry trends, etc.), extensive primary interviews were conducted with both supply and demand side stakeholders.
Supply Side Stakeholders:
Senior Management Level: CEOs, Presidents, Vice-Presidents, Directors, Chief Technology Officers, Chief Commercial Officers
Mid-Management Level: Product Managers, Sales Managers, Brand Managers, R&D Managers, Business Development Managers, Consultants
Demand Side Stakeholders:
Stakeholders in Hospitals & Specialty Clinics, Diagnostics & Imaging Centers, and Other End Users.
Breakdown of Primary Interviews

Market Size Estimation
Both 'Top-Down and Bottom-Up Approaches' were used to derive market size estimates and forecasts.
Data Triangulation
Research findings derived through secondary sources & internal analysis were validated with Primary Interviews, Internal Knowledge Repository, and Company Sales Data.