Cellular Health Screening Market Size, Share, Growth, Trends & Developments 2027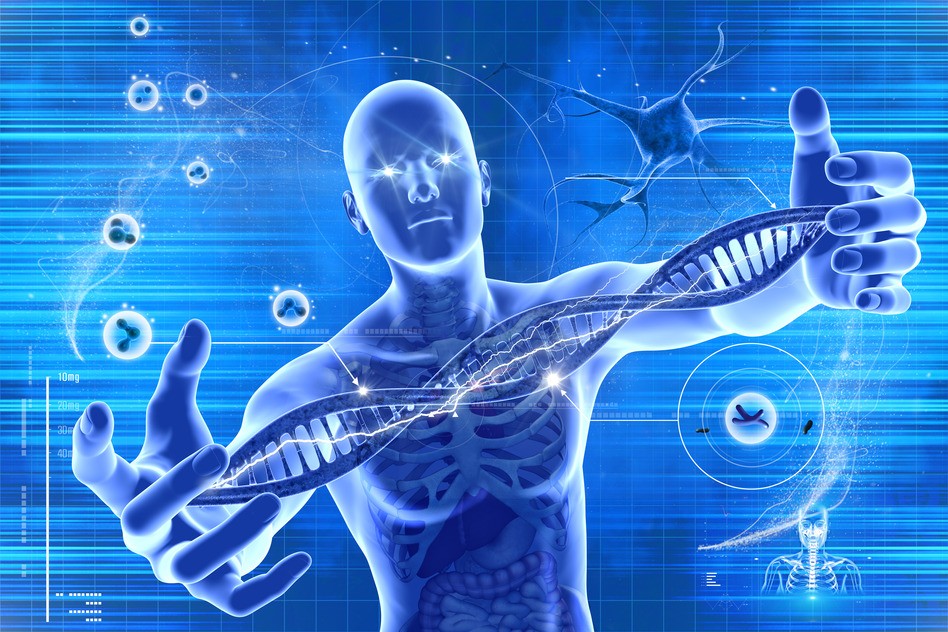 The Global Cellular Health Screening Market is valued at US$ 2.6 billion in 2022 and is set to witness a growth rate of 9% in the next 5 years. Rising government initiatives towards preventive healthcare, rapid growth in geriatric population, increased funding & investments in R&D activities, growing adoption of direct-to-consumer approach, increasing applications of cellular health screening in personalized medicine and huge burden of chronic diseases are some of the key factors driving the growth of the global cellular health screening market.
Cellular health screening or testing is one of the determining factors of health based on certain factors such as lifestyle, environment, emotions and diet. It can be used to evaluate inflammatory diseases such allergies, asthma, arthritis, autoimmune diseases, or inflammatory gastrointestinal issues. This test also helps in monitoring a patient's progress throughout the treatment and provide detailed reports to analyze and assess improvements on a cellular level. Cellular health screening helps in determining cellular health & function, fat mass, intra & extracellular fluid levels, cellular toxicity, and muscle mass, among others.
Rapid Advancements in Cellular Health Screening Market to Fuel its Market Demand
Continuous advancements and developments in cellular health screening tests have enabled to develop an efficient and easy-to-use tests with advanced features such as automatic detection of telomers, quick turnaround time, and improved accuracy. Such advancements tend to provide a competitive edge to all manufacturers and therefore, all major players are continuously focusing on new product development to strengthen their position in this high growth cellular health screening market.
Some of the technological advancements are listed below:
In December 2022, Regenerus labs launched its TruAge Complete, an advanced epigenetic test that provide an accurate, comprehensive, and actionable analysis of a patient's biological ageing and health insights. The sample report includes epigenetic biological age, telomere length, dunedin PACE, extrinsic epigenetic age, intrinsic epigenetic age, immune cell-type ratios & CD4:CD8 ratio, and weight loss response to caloric restriction
In August 2022, Proteomics International Laboratories announced the spin-off of an independent business for the commercialization of its patented '2-tag' technology developed together with The University of Western Australia. The new joint venture, OxiDx Pty Ltd focuses on the development of innovative medical diagnostic products using the '2-tag' technology for measuring oxidative stress
In July 2022, Bloom Diagnostics, a Swiss med-tech company launched its Bloom Inflammation Test to test for the quantitative measurement and presence of C-Reactive Protein (CRP) using the Bloom system. This test enables clinicians and doctors to rapidly measure and quantify inflammation in patients aged over 18 years
In September 2021, Genomic Vision, a biotech company, launched TeloSizer, an innovative solution in the field of telomere biology and cellular health analysis. Built on the company's proprietary molecular combing technology, the new solution helps in automatic detection and quantification of telomere length on single DNA molecules.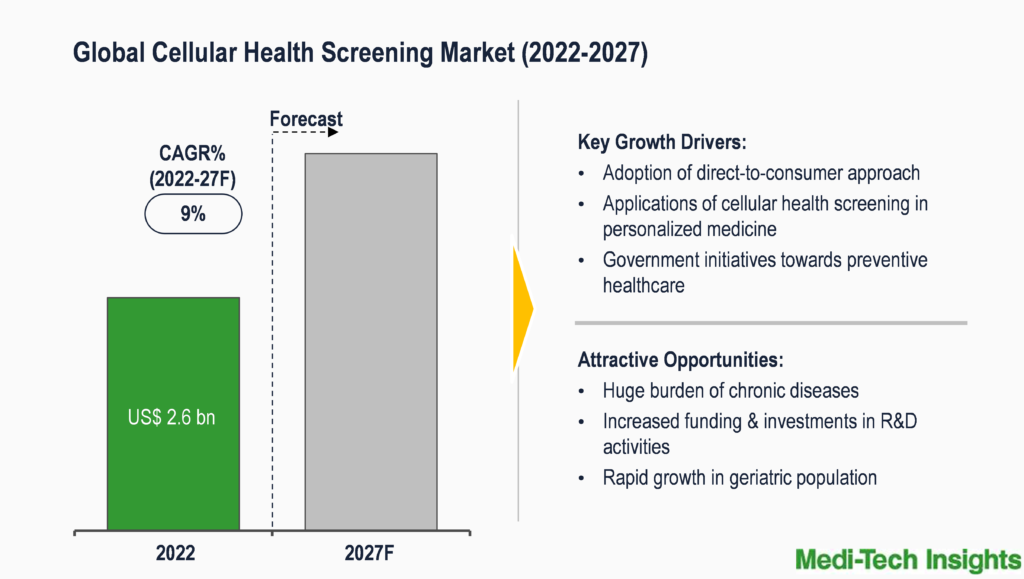 Increasing Research Activities to drive Innovations in Cellular Health Screening Market
Growth in the cellular health screening market is anticipated to be driven by the growing number of public awareness campaigns aimed at educating individuals about the symptoms of chronic diseases and how to prevent them in order minimize disease epidemics. Due to an increased patient awareness and high demand, there is a substantial need for novel cellular health screening kits and services which has forced researchers to focus on innovation and develop advanced diagnostic tests. Some of these are listed below-
In February 2023, Duke-NUS Medical School announced that Scientists at the Duke-NUS Medical School, National Heart Centre Singapore (NHCS) and colleagues in Singapore, China and the US have developed a test to rapidly and precisely measure the length of a single telomere. The new approach is expected to be used as a predictive biomarker for human ageing and disease at the individual level.
In March 2021, Researchers at Queen Mary University of London and Cardiff University developed a rapid laboratory test for diagnosing patients showing symptoms arising from telomeropathies. This high-throughput single telomere length analysis (HT-STELA) technique is a DNA-based blood test and can be applied to a broader range of samples including fresh or frozen blood samples.
Initiatives towards Preventive Healthcare provides Significant Growth Opportunities
According to an article published in NCBI in 2020, only 8% of the Americans undergo routine preventive health screenings. Such scenarios are experienced across the world which is expected to increase with the development of novel tests, increasing accessibility strategies by leading market players, growing burden of chronic diseases, and initiatives by public & private institutions to spread awareness and raise acceptance:-
In June 2022, the Office of Disease Prevention and Health Promotion (ODPHP) launched 'Take Good Care' campaign to encourage the adoption of clinical preventive services based on age, sex, and pregnancy status using ODPHP's MyHealthfinder tool and raise the demand for preventive health screening
In October 2021, the US Senators introduced bipartisan legislation for promoting the usage of preventive health care services, such as physical examinations, mammograms, and other cancer screenings, along with routine examinations. This legislation is aimed at strengthening education and outreach initiatives, especially in the rural and underserved communities to encourage people to receive their regular check-ups.
North America is expected to hold a major share in the Cellular Health Screening Market
From a geographical perspective, North America is set to hold a major market share of the global cellular health screening market. This can be mainly attributed to the growing awareness regarding health among individuals, increasing demand for preventive healthcare, high adoption of novel technologies, increasing burden of infectious & chronic diseases, and well-developed healthcare infrastructure.
For instance, in September 2020, Genova Diagnostics entered in a partnership with Rocky Mountain Analytical, a subsidiary of LifeLabs, allowing a greater accessibility to diagnostic testing for clinicians and patients in Canada. Additionally, according to Centers for Disease Control and Prevention (CDC), 6 in 10 adults in the US struggle with a chronic disease such as cancer, cardiovascular disease, diabetes, renal disease, chronic lung disease, and others.
The global cellular health screening market is a growing market and is expected to gain further momentum in the upcoming years due to a strong emphasis on innovation, greater acceptance & awareness about preventive healthcare, rapidly growing aging population, and increased focus of market players to expand their geographic presence, among others.
For instance, by 2030, 1 in 6 people in the world will be aged 60 years or over. At this time, the share of the population aged 60 years and over will increase from 1 billion in 2020 to 1.4 billion. Aging increases the risk of chronic diseases and infections which further demands preventive diagnostic tests, thereby driving the cellular health screening market growth.
Competitive Landscape Analysis: Cellular Health Screening Market
The global cellular health screening market is marked by the presence of key and well-established players such as listed below:-
Quest Diagnostics (US)
Telomere Diagnostics (US)
SpectraCell Laboratories (US)
Genova Diagnostics (US)
LabCorp Holdings (US)
Repeat Diagnostics, Inc. (Canada)
Life Length (Spain), and others.
Key Strategic Questions Addressed in this Research Report:
What is the market size & forecast of the cellular health screening market?
What are historical, present, and forecasted market shares and growth rates of various segments and sub-segments of the cellular health screening market?
What are the key trends defining the cellular health screening market?
What are the major factors impacting the cellular health screening market?
What are the opportunities prevailing in the cellular health screening market?
Which region has the highest share in the global market? Which region is expected to witness the highest growth rate in the next 5 years?
Who are the major players operating in the cellular health screening market?
What are the key strategies adopted by players operating in cellular health screening market?
1. Research Methodology
1.1. Secondary Research
1.2. Primary Research
1.3. Market Estimation
1.3.1. Bottom-up and Top-down Approach
1.4. Market Forecasting
2. Executive Summary
3. Market Overview
3.1. Market Dynamics
3.1.1. Drivers
3.1.2. Restraints
3.1.3. Opportunities
3.1.4. Market Trends
3.2. Industry Speaks
3.3. Opportunity Analysis
4. Global Cellular Health Screening Market- Size & Forecast (2020-2027), By Test Type
4.1. Single Test Panels
4.1.1. Telomere Tests
4.1.2. Oxidative Stress Tests
4.1.3. Inflammation Tests
4.1.4. Heavy Metals Tests
4.2. Multi-test Panels
5. Global Cellular Health Screening Market- Size & Forecast (2020-2027), By Sample Type
5.1. Blood
5.2. Saliva
5.3. Serum
5.4. Urine
6. Global Cellular Health Screening Market- Size & Forecast (2020-2027), By Sample Collection Site
6.1. Home
6.2. Office
6.3. Hospital
6.4. Diagnostic Labs
7. Global Cellular Health Screening Market- Size & Forecast (2020-2027), By Region
7.1. North America (U.S. & Canada)
7.2. Europe (UK, Germany, France, Italy, Spain, Rest of Europe)
7.3. Asia Pacific (China, India, Japan, Rest of Asia Pacific)
7.4. Rest of the World (Latin America, Middle East & Africa)
8. Competitive Landscape
8.1. Key Players and their Competitive Positioning
8.1.1. Market Share Analysis (2022)
8.1.2. Segment-wise Player Mapping
8.2. Key Strategies Assessment, By Player (2020-2022)
8.2.1. New Product Launches
8.2.2. Partnerships, Agreements, & Collaborations
8.2.3. Mergers & Acquisitions
8.2.4. Geographic Expansion
9. Key Companies Scanned (Indicative List)
9.1. Quest Diagnostics
9.2. Telomere Diagnostics
9.3. SpectraCell Laboratories
9.4. Genova Diagnostics
9.5. LabCorp Holdings
9.6. Repeat Diagnostics, Inc.
9.7. Life Length
9.8. Cell Science Systems Corp.
9.9. Immundiagnostik AG
9.10. DNA Labs
The study has been compiled based on extensive primary and secondary research.
Secondary Research (Indicative List)

Primary Research
To validate research findings (market size & forecasts, market segmentation, market dynamics, competitive landscape, key industry trends, etc.), extensive primary interviews were conducted with both supply and demand side stakeholders.
Supply Side Stakeholders:
Senior Management Level: CEOs, Presidents, Vice-Presidents, Directors, Chief Technology Officers, Chief Commercial Officers
Mid-Management Level: Product Managers, Sales Managers, Brand Managers, R&D Managers, Business Development Managers, Consultants
Demand Side Stakeholders:
Stakeholders in Hospitals & Clinics, Screening Service Providers & Clinical Laboratories, Academic Institutes & Universities.
Breakdown of Primary Interviews

Market Size Estimation
Both 'Top-Down and Bottom-Up Approaches' were used to derive market size estimates and forecasts.
Data Triangulation
Research findings derived through secondary sources & internal analysis were validated with Primary Interviews, Internal Knowledge Repository, and Company Sales Data.