Companion Diagnostics Market Size, Share, Growth, Trends, Demand & Analysis 2027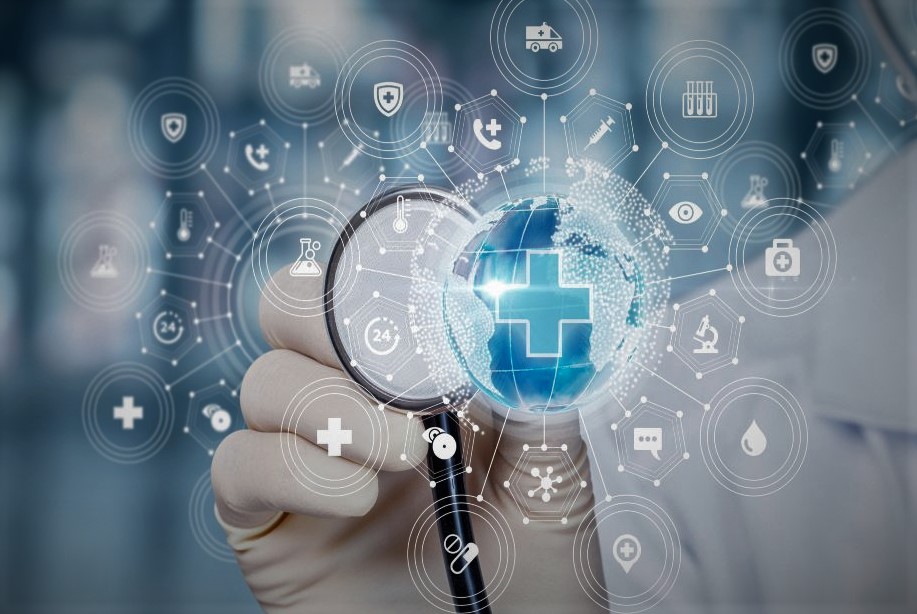 The Global Companion Diagnostic Market is expected to grow at a healthy rate of ~13% by 2027. Growing need for personalized medicine, consistent innovations in medical technology both for the diagnosis and the treatment of patients, reduced costs of genetic-based CDx tests which allow broader market access, rising cases of adverse drug reactions and side effects, and demand for next-generation sequencing are some of the key factors driving the companion diagnostics market growth.
Companion diagnostic (CDx) is a diagnostic test used as a companion to a therapeutic drug to determine its applicability to a person. It involves multiple monitoring methods to provide highly valuable information, allowing patients, health practitioners, and payers to decide with a higher level of certainty on the potential benefits of a treatment or care pathway.
Growing Demand for NGS-Based Technology Drives the Companion Diagnostics Market
The growing demand for next-generation sequencing technology particularly its capability to identify rare variants is critical to the continued success and the wider distribution of companion diagnostics solutions in the companion diagnostics market. Next-generation sequencing helps to detect multiple biomarkers for multiple drug therapies in a shorter time frame. The use of NGS panels in one test has the potential to help in the treatment of many different types of cancers. For instance,
In September 2022, Thermo Fisher Scientific announced that they have received FDA approval for the Oncomine Dx target test as the first NGS-based companion diagnostic to aid in therapy selection for patients with RET mutations/fusions in thyroid cancers.
In July 2022, Almac Diagnostic partnered with AstraZeneca to develop and commercialize multiple companion diagnostic (CDx) products based on NGS and qPCR-based technologies.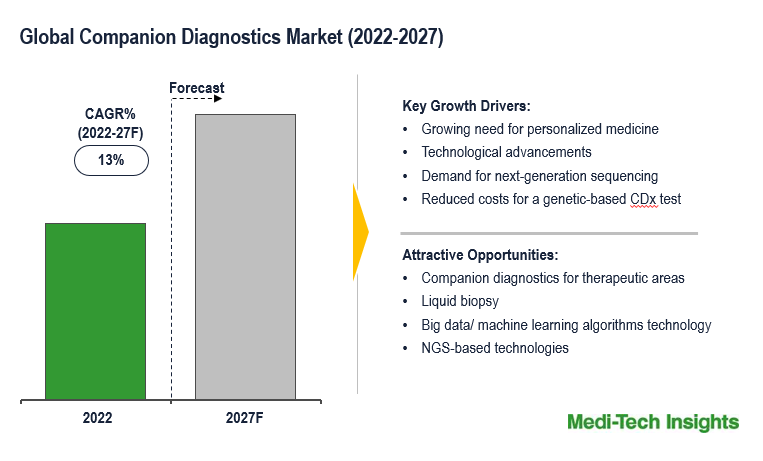 Companion Diagnostics for the Targeted Cancer Drugs Fuels Its Market Demand
The advancing knowledge of cancer biology has led to a shift toward a more precise or targeted approach to oncology treatments. Clinical studies indicate that as many as 75% of cancer patients do not respond favorably to the same prescribed cancer drug. In such cases, companion diagnostic tests help to indicate the presence of a molecular target and can also reveal the off-target effects of a therapeutic, predicting toxicities and adverse effects associated with a drug.
Over 90% of globally approved CDx tests are associated with targeted cancer therapeutics. CDx approach to cancer genomic characterization also helps physicians to reveal the alterations driving the growth of a patient's cancer and identify targeted treatment options that may not have been otherwise considered. Some of the FDA-approved oncology drugs available in the companion diagnostics market are as follows:
| | | | |
| --- | --- | --- | --- |
| Indication Type | Drug Trade Name (Generic) | Biomarker(s) Details | Approval Date |
| Acute Myeloid Leukemia - Peripheral Blood or Bone Marrow | Rezlidhia (olutasidenib) NDA 215814 | R132 mutations (R132C, R132H, R132G, R132S, and R132L) | P170041/S006 (12/01/2022) |
| Non-Small Cell Lung Cancer (NSCLC) - Plasma | Krazati (adagrasib) NDA 216340 | KRAS G12C | P210040 (12/12/2022) |
| Solid Tumors - Tissue | Keytruda (pembrolizumab) BLA 125514 | Microsatellite instability-High (MSI-H) | P170019/S029 (02/18/2022) |
| Non-Small Cell Lung Cancer (NSCLC) - Plasma | Tarceva (erlotinib) NDA 021743 | Exon 19 deletion or exon 21 L858R substitution mutation | P190032/S008 (12/19/2022) |
Potential Role of Companion Diagnostics in Precision Medicine Drives the Growth of the Companion Diagnostics Market
Personalized medicine refers to the practice of administering the right dosage of the right drug at the right time. Precision medicine has become a top priority for many pharma and diagnostics companies. Companion diagnostics, which are used to identify eligible patients for a specific therapy, are a key driver to enable personalized treatment choices and precision medicine. Companion diagnostics is providing many benefits in progressing personalized medicine and improving preclinical and clinically targeted drug development. Early adoption of CDx, as well as development alongside the drug, brings the best opportunities for rapid agent approval and learning the most about the drug/diagnostic pairing. Furthermore, companion diagnostics is expected to impact many disease treatments and could usher in the long-promised age of precision medicine.
Key Market Challenges: Companion Diagnostics Market
The high costs of drug development therapies, associated clinical trials, the introduction of new stringent regulations for scientific validity, and analytical and clinical performance for in-vitro diagnostics (IVD) are likely to hamper the growth of the companion diagnostics market in the coming years.
North America is expected to hold a larger share of the Companion Diagnostics Market
From a geographical perspective, North America holds a larger market share of the companion diagnostics market. This can be mainly attributed to the growing prevalence of diseases like cancer & HIV, improvements in regulatory guidelines, an increasing need for targeted therapies, and potential economic benefits for drug developers early in drug development in the region. However, the Asia-Pacific region is expected to ascend at the fastest CAGR over the forecast period because of the surging popularity of precision medicine, rising incidence of cancer, COVID-19 PCR testing, and growing demand for customized therapeutics for the increasing geriatric population in the region.
Competitive Landscape Analysis: Companion Diagnostics Market
Some of the key and well-established players operating in the global companion diagnostics market are as follows:-
Thermo Fischer Scientific Inc.
Illumina Inc.
Bayer AG
F. Hoffmann-La Roche AG
Siemens Healthineers AG
Danaher Corporation
Invitae
Agilent Technologies, Inc
Almac Diagnostics
Qiagen Inc.
Abbott Laboratories
bioMérieux SA
Bio-Rad Laboratories
Quidel Corporation
Foundation Medicine, Inc.
Myriad Genetics, Inc.
Organic and Inorganic Growth Strategies Adopted by the Leading Players to Establish Their Foothold in the Companion Diagnostics Market
All the leading players operating in the global companion diagnostics market are adopting both organic and inorganic growth strategies such as collaborations, acquisitions, and new product launches to garner a larger market share.
For instance,
In October 2022, Roche announced they have received approval from the Food and Drug Administration for the first companion diagnostic to identify patients with HER2-low metastatic breast cancer.
In May 2022, Illumina, Inc. announced the addition of a companion diagnostic (CDx) indication to its CE-marked in vitro diagnostic TruSight™ Oncology (TSO) Comprehensive (EU) test. The CDx pan-cancer indication will allow the identification of cancer patients with solid tumors who are positive for neurotrophic tyrosine receptor kinase (NTRK) gene fusions including NTRK1, NTRK2 or NTRK3.
The companion diagnostics market is a growing market that is expected to gain further momentum in the upcoming years due to a strong emphasis on developing innovative predictive diagnostics to target specific therapies, investment in R&D to introduce several advanced products, building low-cost NGS technology, and aggressive organic and inorganic growth strategies followed by the market players.
Key Strategic Questions Addressed in this Report
What is the market size & forecast for the companion diagnostics market?
What are the historical, present, and forecasted market shares and growth rates of various segments and sub-segments of the companion diagnostics market?
How has Covid-19 impacted the companion diagnostics market?
What are the major growth drivers, restraints/challenges impacting the companion diagnostics market?
What are the opportunities prevailing in the companion diagnostics market?
What is the investment landscape of companion diagnostics market?
Which region has the highest share in the global market? Which region is expected to witness the highest growth rate in the next 5 years?
Who are the major players operating in the market? What is the competitive positioning of key players?
Who are the new players entering the companion diagnostics market?
What are the key strategies adopted by players in companion diagnostics market?
1. Research Methodology
1.1. Secondary Research
1.2. Primary Research
1.3. Market Estimation
1.4. Market Forecasting
2. Executive Summary
3. Market Overview
3.1. Market Dynamics
3.1.1. Drivers
3.1.2. Restraints
3.1.3. Opportunities
3.1.4. Market Trend
3.2. Industry Speaks
3.3. Technology Trends
4. COVID-19 Impact on Companion Diagnostics Market
5. Reimbursement Scenario: Snapshot
6. Global Companion Diagnostics Market- Size & Forecast (2019-2027), By Technology
6.1. Polymerase Chain Reaction
6.2. Next-generation Sequencing
6.3. In Situ Hybridization
6.4. Immunohistochemistry
6.5. Other Technologies
7. Global Companion Diagnostics Market- Size & Forecast (2019-2027), By Indication
7.1. Oncology
7.2. Neurological Disorders
7.3. Cardiovascular Diseases
7.4. Infectious Diseases
7.5. Other Indications
8. Global Companion Diagnostics Market- Size & Forecast (2019-2027), By Region
8.1. North America (U.S. & Canada)
8.2. Europe (UK, Germany, France, Italy, Spain, Rest of Europe)
8.3. Asia Pacific (China, India, Japan, Rest of Asia Pacific)
8.4. Rest of the World (Latin America, Middle East & Africa)
9. Competitive Landscape
9.1. Key Players and their Competitive Positioning
9.1.1. Market Share Analysis (2022)
9.1.2. Segment-wise Player Mapping
9.2. Key Strategies Assessment, By Player (2020-2022)
9.2.1. New Product & Service Launches
9.2.2. Partnerships, Agreements, & Collaborations
9.2.3. Mergers & Acquisitions
9.2.4. Geographic Expansion
10. Key Companies Scanned (Indicative List)
10.1. Thermo Fisher Scientific Inc.
10.2. Illumina Inc.
10.3. Bayer AG
10.4. F. Hoffmann-La Roche AG
10.5. Siemens Healthineers AG
10.6. Danaher Corporation
10.7. Invitae
10.8. Aqilent Technologies, Inc
10.9. Almac Diagnostics
10.10. Qiagen Inc.
10.11. Foundation Medicine, Inc.
10.12. Abbott Laboratories
The study has been compiled based on extensive primary and secondary research.
Secondary Research (Indicative List)

Primary Research
To validate research findings (market size & forecasts, market segmentation, market dynamics, competitive landscape, key industry trends, etc.), extensive primary interviews were conducted with both supply and demand side stakeholders.
Supply Side Stakeholders:
Senior Management Level: CEOs, Presidents, Vice-Presidents, Directors, Chief Technology Officers, Chief Commercial Officers
Mid-Management Level: Product Managers, Sales Managers, Brand Managers, R&D Managers, Business Development Managers, Consultants
Demand Side Stakeholders:
Stakeholders in Pharmaceuticals & Biopharmaceuticals Companies, Reference Laboratories, Contract Research Organizations, and Other End Users.
Breakdown of Primary Interviews

Market Size Estimation
Both 'Top-Down and Bottom-Up Approaches' were used to derive market size estimates and forecasts.
Data Triangulation
Research findings derived through secondary sources & internal analysis were validated with Primary Interviews, Internal Knowledge Repository, and Company Sales Data.