Global Dermal Fillers Market Size, Share, Growth Drivers, Trends & Demands by 2026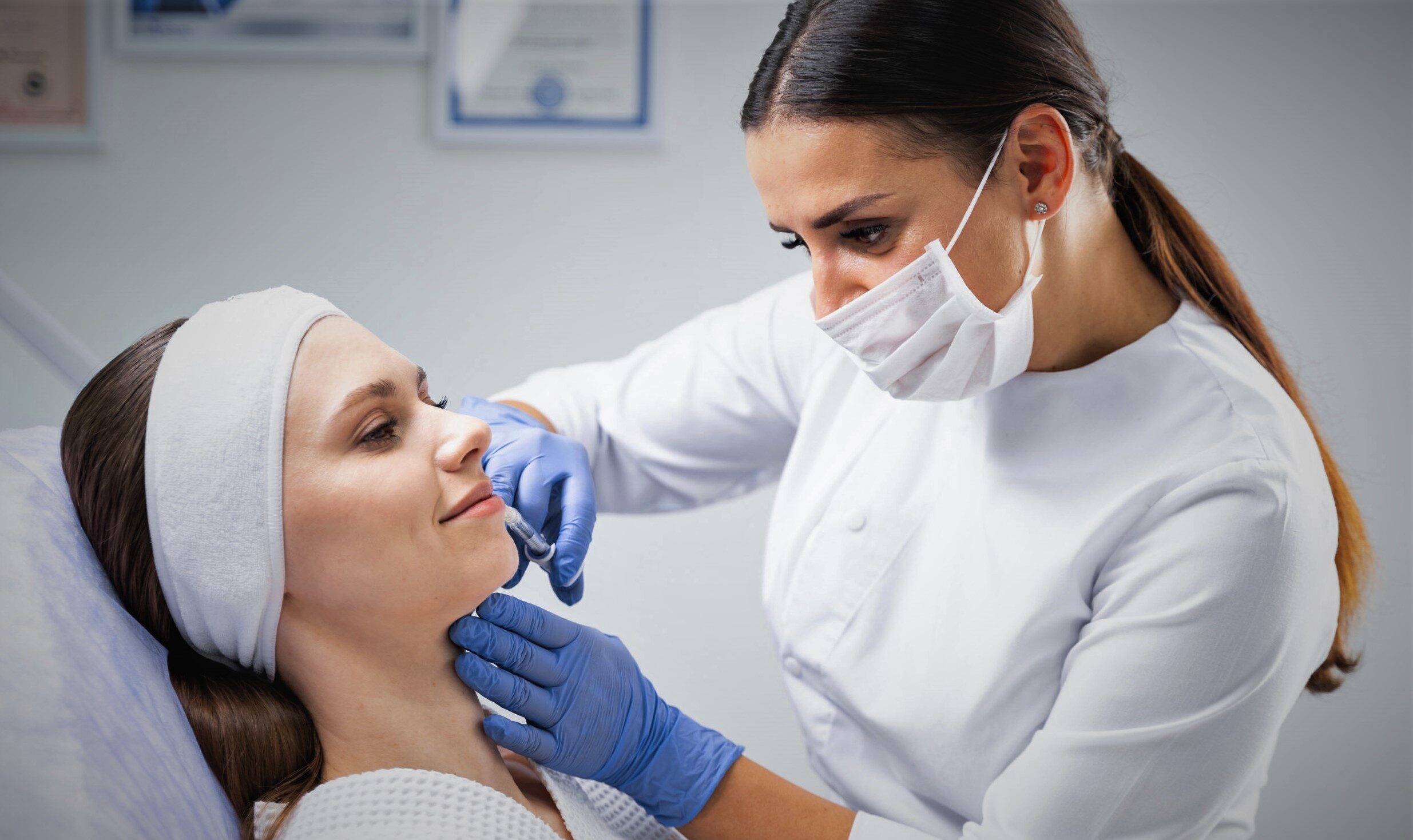 The Global Dermal Fillers Market valued at $2.8 billion in 2021, is set to witness a healthy growth rate of 10% by 2026. 'Covid-19-Zoom-Boom Effect', an increasing influence of social media in promoting non-surgical aesthetic procedures, growing focus on physical appearance, rising cultural acceptance & fading social stigma on cosmetic procedures, increasing demand from younger population and men, rise in the number of clinics offering non-surgical aesthetic services, expanding geriatric population & awareness on anti-aging cosmetic procedures are some of the key factors driving the dermal fillers market growth.
Dermal fillers are gel-like substances that are injected below the skin to restore lost volume, smooth lines and soften creases, and enhance facial contours. Millions of men and women opt for this facial rejuvenation treatment to look younger without surgery & downtime. Key drivers fueling its adoption are cost-effectiveness, more affordable, near-immediate, natural-looking results in a single appointment, shorter recovery times, and minimal risk of complications.
Covid-19, Financial Bottlenecks, 'Zoom Boom' and Rebound of the Dermal Fillers Market
Throughout 2020 and 2021, the Covid-19 virus spread rapidly and relentlessly across the globe and adversely impacted a multitude of industries worldwide. With lockdowns implemented, social distancing mandated, and widespread apprehension – Covid-19 adversely impacted the dermal fillers market globally and as a result, several aesthetic service providers were compelled to change their methods of delivery. Facial aesthetics clinics were not allowed to operate, and people were not allowed to visit them. With business completely shut down for a period, the aesthetic industry witnessed a financial hit. These disruptions encouraged several suppliers to advance their businesses to online platforms and ordering systems.
However, despite the Covid-19 pandemic, the aesthetic industry is now on the recovery path. Since early 2020, aesthetics clinics worldwide have witnessed an overwhelming spike in bookings for cosmetic enhancements due to Covid-19 & the 'Zoom Effect. It's been dubbed the "Zoom Boom" in the sector because people are using video calls more for work and socializing and hence have become more conscious of their appearance after seeing their faces (facial expressions & wrinkles) on video calls every day on Zoom. Plastic surgeons across the globe reported an exponential rise in consultation requests for demand fillers since 2020.
Growing Self-reflection, Reduced Social Stigma, and Rising Cultural Acceptance of Cosmetic Procedures Fuels the Demand
The trend of self-reflection become more prominent after the lockdowns globally. The forced 'alone-time' allowed people to re-evaluate their physical appearance and provided them options to improve themselves. The trend had a favorable impact on the dermal fillers market.
Non-surgical aesthetic procedures such as dermal fillers were, in the past, considered a social taboo, which is fast changing now due to positive news and comments about cosmetic surgeries online. Print, digital and mainstream media have disrupted the stigma that was once attached to male beauty treatments.
Social Media Pressure Linked to Boom in Dermal Filler Procedures
Social media is playing a critical role in the rising public interest in non-surgical cosmetic procedures. There is ample information available on social media on non-surgical aesthetic procedures - online educational materials, physician-run accounts, patient experiences, advertisements, and promotions from celebrity accounts that are driving awareness and acceptance of these procedures, especially amongst new patient groups.
The spread of images on social media has also immensely contributed to an increase in demand for non-surgical cosmetic procedures such as dermal fillers. Non-surgical cosmetic procedures are increasingly being advertised by popular influencers on social media (Facebook and Instagram) and glamorous personalities appearing on TV shows.
"Dermal fillers market is set to witness double-digit growth in the coming years. Aggressive marketing strategies from players, growing awareness among people related to the role of dermal fillers in anti-aging, and rising digital engagement of patients on social media is driving its adoption." - Director, Leading Aesthetic Product Manufacturer, United States
Regulation of Dermal Fillers Likely to Become Stricter in the European Union (EU) With the Introduction of New Medical Device Regulation (MDR)
Within the EU, medical devices used to be regulated through the Medical Devices Directive (MDD), which required all medical devices to have a CE certification. This did not include dermal fillers.
However, from May 2021, the MDD has been replaced by MDR which classifies dermal fillers as Class III medical devices. With the introduction of new MDR, manufacturers need to comply with the MDR requirements. If manufacturers fail to comply with the MDR requirements, they will be unable to market their products within the EU.
"The EU move to MDR is likely to create entry barriers. Smaller manufacturers who cannot support their products with clinical studies will be driven out." - Head of Aesthetics Division, Leading Aesthetic Product Manufacturer, UK
Organic and Inorganic Growth Strategies Adopted by Players to Establish Their Foothold in Dermal Fillers Market
The global dermal fillers market is marked by the presence of both established and new players. Players operating in the dermal fillers market adopt both organic and inorganic growth strategies such as new product launches, and partnerships to garner market share. For instance,
In December 2021, Revance's partner, Teoxane SA, received U.S. FDA approval for RHA® Redensity's first indication, which is for the treatment of moderate to severe dynamic perioral rhytids (lip lines) in adults aged 22 or older. RHA® Redensity bolsters the versatility of the RHA® Collection of dermal fillers.
In October 2020, Allergan Aesthetics, an AbbVie company acquired Luminera's (a privately held, aesthetics company based in Israel) full dermal filler portfolio and R&D pipeline to further enhance its positioning in the dermal fillers market.
The global dermal fillers market is set to witness double-digit growth in the coming years due to the growing prominence of digitalization, automation tools, and data-driven solutions that utilize predictive analytics, AI, and ML. These tools are increasingly being used for:
Streamlining resource allocation in medical facilities.
Doctors and care managers can outline populations, target their most complex patients, and identify rising-risk patients.
Managing patient load and assisting in capacity management - Allocating emergency rooms based on the severity of the illness, and reducing patient service turnaround time.
Streamlining the insurance claim process that costs the hospitals significant labor hours. The technology also assists in checking eligibility and subsequent data migration, quickly and effectively.
Competitive Landscape Analysis: Dermal Fillers Market
The global dermal fillers market is marked by the presence of players such as Allergan (Part of AbbVie), Galderma, Merz Pharma, Teoxane, Sinclair, Revance Therapeutics, Prollenium Medical Technologies, Bioxis Pharmaceuticals, among others.
Key Strategic Questions Addressed
What is the market size & forecast of the Dermal Fillers Market?
What are the historical, present, and forecasted market shares and growth rates of various segments and sub-segments of the Dermal Fillers Market?
What are the key trends defining the market?
What are the major factors impacting the Dermal Fillers market?
What are the opportunities prevailing in the market?
Which region has the highest share in the global market? Which region is expected to witness the highest growth rate in the next 5 years?
Who are the major players operating in the market?
What are the key strategies adopted by players operating in Dermal Fillers Market?
The study has been compiled based on the extensive primary and secondary research.
Secondary Research (Indicative List)
Primary Research
To validate research findings (market size & forecasts, market segmentation, market dynamics, competitive landscape, key industry trends, etc.), extensive primary interviews were conducted with both supply and demand side stakeholders.
Supply Side Stakeholders:
Senior Management Level: CEOs, Presidents, Vice-Presidents, Directors, Chief Technology Officers, Chief Commercial Officers
Mid-Management Level: Product Managers, Sales Managers, Brand Managers, R&D Managers, Business Development Managers, Consultants
Demand Side Stakeholders:
Stakeholders in Dermatology Clinics, Hospitals, Plastic & Cosmetic Surgery Centers, Independent Practices, Aesthetic Clinics, and Other End-users.
Breakdown of Primary Interviews

Market Size Estimation
Both 'Top-Down and Bottom-Up Approaches' were used to derive market size estimates and forecasts.
Data Triangulation
Research findings derived through secondary sources & internal analysis was validated with Primary Interviews, Internal Knowledge Repository and Company's Sales Data.