Global Electrophysiology Market Size, Share, Trends and Growth Analysis Report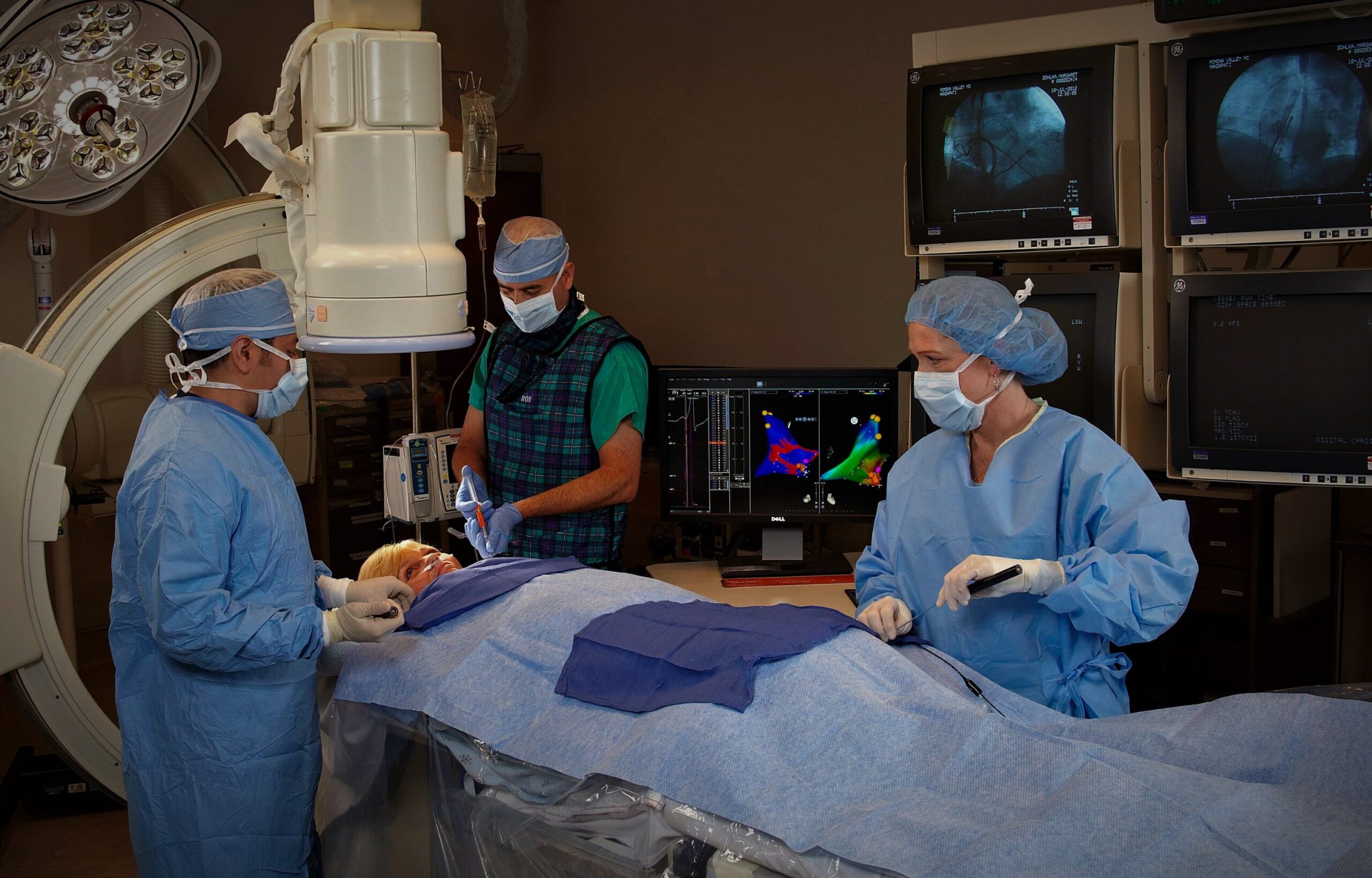 The Global Electrophysiology Market valued at $6.7 billion (2021), is set to witness a growth rate of 12% in the next 5 years. Increasing cardiac ablation procedural volume, rapid growth in geriatric population prone to target diseases, growing number of electrophysiology labs, development of technologically advanced products by market players, and high investments and funding by market players and government bodies are some of the key factors driving the electrophysiology market growth.
Electrophysiology (EP) is a test used to diagnose abnormal heart rhythm or arrhythmias. It helps in evaluating the electrical activity of the heart by inserting a catheter into blood vessels that enter heart and then measuring the electrical activity through wire electrodes. There are different types of EP products which include EP ablation catheters for cryoablation, radiofrequency (RF) ablation, microwave ablation (MWA), and laser ablation; EP laboratory devices such as 3D mapping systems, recording systems, RD ablation systems, intracardiac echocardiography (ICE) ultrasound imaging systems, EP x-ray systems, and EP remote magnetic and robotic navigation systems; EP diagnostic catheters which includes conventional, ultrasound, and advanced diagnostic catheters.
New Product Development and Commercialization to fuel its Market Demand
Continuous advances in electrophysiology devices have enabled to develop efficient products featuring non-invasive cardiac mapping, MRI and ultrasound guided catheters, and 3D map creation, among others. Such advancements tend to provide competitive edge to manufacturers and therefore, major players are continuously focusing on investing in research activities for new product development and expanding their geographic reach to strengthen their positions in this high growth market. Some of the recent developments are listed below:
In May 2022, CathVision received the US Food and Drug Administration (FDA) clearance for its ECGenius electrophysiology recording system offering high-fidelity, low-noise, cardiac electrograms, which helps electrophysiologists improve diagnosis and treatment of complex atrial arrhythmias such as atrial fibrillation (AF).
In February 2022, Medtronic received the US FDA expanded approval for its Freezor and Freezor Xtra Cardiac Cryoablation Focal Catheters for the treatment of pediatric atrioventricular nodal reentrant tachycardia (AVNRT).
In January 2022, Abbott received the US FDA clearance for its EnSite X EP System featuring EnSite Omnipolar Technology (OT), designed for the treatment of cardiac arrhythmias efficiently by creating three-dimensional maps of the heart.
In June 2021, Siemens Healthineers received CE mark for its ACUSON AcuNav Volume ICE Catheter that helps in improving procedural efficiency for structural heart procedures due to reduction of general anesthesia.
In April 2021, AtriCure, Inc. received the US FDA approval for its EPi-Sense System designed for the treatment of long-standing persistent atrial fibrillation.
Growing number of Electrophysiology Labs to boost Adoption of Electrophysiology Market
Increasing prevalence of atrial fibrillation and other target diseases drives the adoption of electrophysiology procedures across the world. Furthermore, rising geriatric population prone to heart defects due to progressive deterioration in the structure and function of the heart, largely contributes to the overall burden; thereby triggering the increased adoption of electrophysiology procedures. Public as well as private bodies are continuously focusing on establishing EP labs and expanding their services to offer advanced treatment options to patients.
In February 2022, Ramesh Hospitals (India) launched an advanced cardiac electrophysiology lab in Vijayawada, India with an aim to help and treat patients through advanced therapies such as RF ablation.
In February 2022, Catholic Health (US) launched St. Francis Heart Center (SFHC) at its St. Catherine of Siena Hospital (SCSH) in Smithtown, US, for the treatment of patients with acute chest pain.
In January 2022, Pulse Heart Institute (US) partnered with Summit Health Oregon (SHO), one of the largest independent multispecialty and physician-led medical group in Central Oregon, to launch EP services through the Heart Rhythm COE.
In April 2021, Longview Regional Medical Center's Heart and Vascular Institute in the US, invested $4.4 million to expand its cardiac care portfolio by adding a dedicated electrophysiology lab for better patient outcomes.
Key Strategies adopted by Leading Players operating in Electrophysiology Market
Leading players operating in the electrophysiology market have adopted acquisitions as key growth strategy to expand their product offerings and to develop advanced products. Some of these developments are listed below-
In January 2022, Medtronic plc entered into an agreement to acquire Affera, Inc. offering solutions for cardiac arrhythmias. With this acquisition, Medtronic intends to advance its electrophysiology by entering into additional EP segments, such as mapping and navigation.
In January 2022, H-CYTE, Inc. entered into a letter of intent to acquire Catheter Precision, Inc., a company focussed on developing advanced cardiac electrophysiology products.
In October 2021, Boston Scientific Corporation acquired Baylis Medical Company, specializing in access devices for atrial fibrillation, left atrial appendage closure and mitral valve interventions. With this acquisition, Boston Scientific aims to complement its electrophysiology and structural heart portfolios.
In June 2021, Boston Scientific Corporation exercised its option and acquired remaining shares of Farapulse, Inc., to complement its existing EP portfolio by including FARAPULSE Pulsed Field Ablation (PFA) System.
In January 2021, Haemonetics Corporation entered into an agreement to acquire Cardiva Medical, Inc., a manufacturer of vascular closure system used during electrophysiology procedures.
Adoption of Reprocessed Electrophysiology Devices – A Deterrent for Electrophysiology Market Growth
The prevalence of atrial fibrillation is rising globally, and the procedures required to treat such condition is becoming more expensive, with the advent of novel EP devices as an alternative to medication. For instance, the treatment of atrial fibrillation has evolved considerably with the help of EP catheter ablation therapy, which has significantly improved patient care. While new and more advanced ablation technologies are being commercialized rapidly, the price of cardiac treatment has increased significantly. However, high cost of these devices, reimbursement pressures, hospital budget constraints, and regulatory hurdles have negatively impacted the adoption of novel EP devices in few developing markets.
To address the challenges associated with cost-savings, hospitals have adopted the safe and efficient reuse of equipment as a crucial strategy to stay profitable despite the growing expenses of new technology. The use of reprocessed cardiac devices can result in annual savings of up to hundreds of thousands of dollars for the hospital and the EP lab as they are generally 50% less expensive than new devices. The lab saves thousands of dollars above the price of a new gadget each time an old one is reused. Reprocessing just four devices in a lab reduces the device cost for the treatment in atrial fibrillation from roughly $10,000 to about $7,000, a 30% decrease. Savings like this helps an EP lab/hospital to become financially sustainable. In March 2019, Stryker's Sustainability Solutions sold its four-millionth reprocessed EP device providing cost-savings of over $800 million to hospitals and catheterization labs. High demand for reprocessed devices and entry of new players providing these products are the major challenges faced by market players.
However, introduction of novel "locked' EP devices is playing a vital role in eliminating or reducing the usage of reprocessed devices. Irrespective of such challenges; EP market is expected to grow at a significant rate due to rapid advancements in this technology. Substantial improvements in terms of 3D mapping along with technological advancements such as minimally invasive devices and real-time MRI- and ultrasound-guided EP catheters, are expected to further drive the electrophysiology market growth.
Competitive landscape Analysis: Electrophysiology Market
The global electrophysiology market is marked by the presence of key market players such as Abbott Laboratories (US); Medtronic plc (Ireland); Boston Scientific Corporation (US); BIOTRONIK SE & Co. KG (Germany); Johnson & Johnson (US); and others.
Key Strategic Questions Addressed
What is the market size & forecast of the electrophysiology market?
What are historical, present, and forecasted market shares and growth rates of various segments and sub-segments of the Electrophysiology Market?
What are the key trends defining the electrophysiology market?
What are the major factors impacting the electrophysiology market?
What are the opportunities prevailing in the electrophysiology market?
Which region has the highest share in the global market? Which region is expected to witness the highest growth rate in the next 5 years?
Who are the major players operating in the electrophysiology market?
What are the key strategies adopted by players operating in electrophysiology market?
The study has been compiled based on the extensive primary and secondary research.
Secondary Research (Indicative List)

Primary Research
To validate research findings (market size & forecasts, market segmentation, market dynamics, competitive landscape, key industry trends, etc.), extensive primary interviews were conducted with both supply and demand side stakeholders.
Supply Side Stakeholders:
Senior Management Level: CEOs, Presidents, Vice-Presidents, Directors, Chief Technology Officers, Chief Commercial Officers
Mid-Management Level: Product Managers, Sales Managers, Brand Managers, R&D Managers, Business Development Managers, Consultants
Demand Side Stakeholders:
Stakeholders in Public and Private Hospitals, Electrophysiology (EP) Laboratories, and Ambulatory Surgical Centers.
Breakdown of Primary Interviews

Market Size Estimation
Both 'Top-Down and Bottom-Up Approaches' were used to derive market size estimates and forecasts.
Data Triangulation
Research findings derived through secondary sources & internal analysis was validated with Primary Interviews, Internal Knowledge Repository and Company's Sales Data.