ESG Reporting Market – Revolutionizing Businesses for a Sustainable Future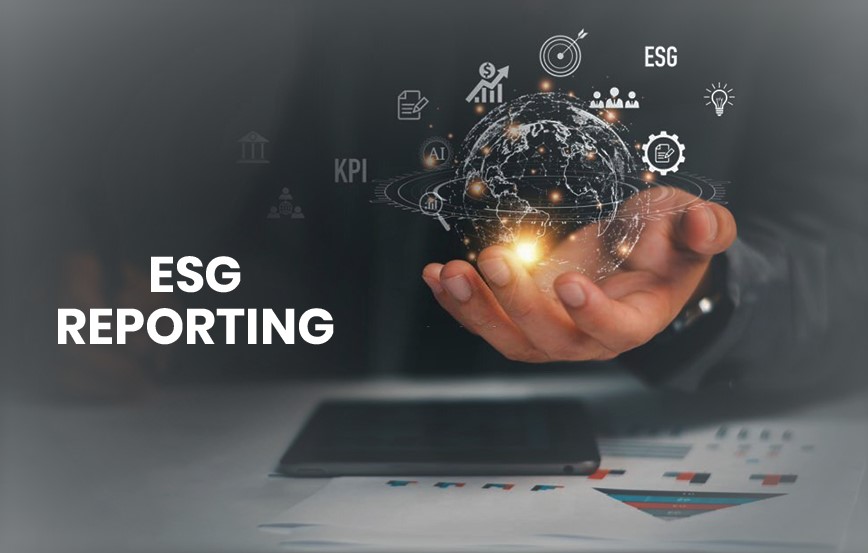 The Global ESG Reporting Market is expected to witness a healthy growth rate of ~15% by 2027. The key factors driving the global ESG reporting market are an increased scrutiny from investors, regulatory requirements, continuous rise in corporate data volumes, and the introduction of AI for ESG data collection, analytics, and reporting.
Environmental, social, and governance (ESG) data measures a company's non-financial performance and sustainability practices.
The three pillars of ESG include:
Environmental Data such as the amount of greenhouse gases emitted by a company into the atmosphere, energy usage data, water usage data, waste reduction data, carbon footprint reduction data, waste reduction data.
Social Data such as fair pay and living wages data, adherence to labor laws, workplace health & safety, equal employment opportunity.
Governance Data such as Corporate governance, compliance, ethical business practices, accounting transparency and integrity.
ESG metrics can be categorized into quantitative and qualitative. Quantitative metrics include numerical data that can be directly measured and compared such as energy usage, water usage, greenhouse gas emissions, energy usage,. while qualitative metrics include non-numerical data that are relatively harder to measure and compare such as the company's labor practices, commitment to diversity, equity and inclusion (DEI)and others.. This data is used to generate reports that demonstrate a company's ability to implement ESG initiatives successfully.
Growing Demand from Investors and Companies/Organizations drives the Global ESG Reporting Market
ESG metrics are increasingly being used by investors to evaluate businesses they intend to acquire or invest in. ESG software tracks ESG initiatives and investors use ESG reports to screen investments, align investments, and avoid companies with the risk of environmental damage, corruption, and social missteps. ESG reporting is also being used by companies/organizations to report their efforts and progress on climate change, corporate social responsibility (CSR) initiatives, regulatory compliance, goal tracking and governance and sustainability.
"……Nowadays, investors while evaluating companies look for ESG disclosures to steer their investment decision-making. Investors perceive that organizations that perform well on ESG metrics are relatively less risky, better positioned for long-term growth, and better equipped for uncertainty……"-Marketing Director, ESG Reporting Software Provider, U.S.A
Growing Prominence of Artificial Intelligence (AI) offers Transformative Opportunities for Organizations in their Sustainability Journey
The introduction of AI is revolutionizing the ESG landscape. It is increasingly being used to collect and analyze vast amounts of ESG data, automate tasks, identify patterns, and make predictions. AI is being used to assess a company's exposure to ESG risks, such as climate change, labor practices, and corporate governance. It can also used to automate compliance tasks, such as reviewing regulatory filings and identifying compliance gaps. Citing the lucrative prospects of the ESG Reporting market, players operating in the global market have also introduced a number of AI-related products.
For instance,
In March 2023, Novem ESG launched its software that is automated by Artificial Intelligence (AI) for analysis of data against ESG (Environment, Social and Governance) regulations and checklists.
In September 2022, C3 AI, an Enterprise AI software application company, introduced C3 AI ESG, an application that harnesses artificial intelligence and machine learning to enable companies to monitor, report, and improve their ESG performance. C3 AI ESG reduces the time required to gather, manage, and analyze disparate ESG data, and allows companies to identify ESG risks, capture opportunities, and accelerate initiatives to meet their ESG goals.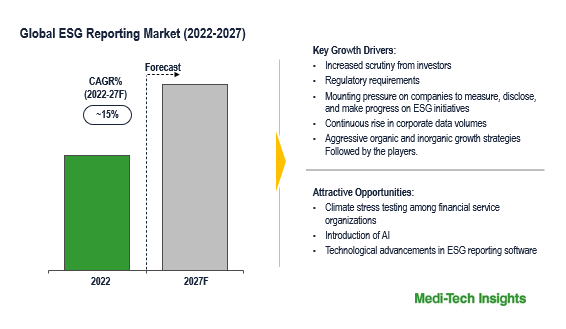 Regulatory Rules drive the Demand for ESG Disclosures
There are a growing number of regulations globally requiring organizations to disclose and report on ESG initiatives, sustainability, and governance. Globally, regulators are finalizing rules that require companies to disclose information on their ESG footprint in their annual reports and mainstream regulatory filings. Some of the ESG regulations that are mandatory and currently being implemented:
In the U.S., the US SEC Climate Guidance requires public companies to disclose material business risks to investors, transparently through regular filings with the SEC, including climate change risks that may develop on their business.
In the European Union, EU Sustainable Finance Disclosure Regulation (SFDR) is designed to obligate financial market participants (FMPs) and financial advisers to be transparent with their sustainable investment products and to prevent greenwashing. Also, the Sustainable Corporate Governance Initiative was established to improve the EU regulatory framework on company law and governance by helping companies manage long-term sustainability goals such as social and human rights, climate change, environmental protection, etc. by introducing a duty of care and mandatory due diligence.
Competitive Landscape Analysis: ESG Reporting Market
Some of the key and established players operating in the global ESG reporting market are Wolters Kluwer, PwC, Workiva, Nasdaq, Cority/Greenstone, Diligent, Emex, Novsito, diginex, Sphera, IsoMetrix  Novem ESG, C3 AI.
Organic and Inorganic Growth Strategies Adopted by the Key Market Players to Establish Their Foothold in the Global ESG Reporting Market
All key players operating in the global ESG reporting market are adopting both organic and inorganic growth strategies such as launching new products, acquiring related firms, and entering into collaborations to garner a higher market share.
For instance,
In July 2023, Wolters Kluwer launched TeamMate+ ESG. The solution provides easy access to essential ESG reporting standards and enables auditors to provide assurance over ESG reporting.
In May 2023, leading global enterprise Environmental, Health, and Safety (EHS) software provider Cority, acquired Greenstone, a sustainability & ESG reporting software provider.
In May 2023, KPMG and Workiva announced an expanded collaboration to facilitate ESG reporting. The collaboration will accelerate, automate, and advance ESG and climate data management and analytics.
The global ESG reporting market is expected to gain further momentum in the coming years due to mounting pressure on companies to measure, disclose, and make progress on ESG initiatives, technological advancements in ESG reporting software, and aggressive organic and inorganic growth strategies followed by the market players.
Key Strategic Questions Addressed in this Research Report are as follows:-
What is the market size and forecast for the ESG reporting market?
What are the historical, present, and forecasted market shares and growth rates of various segments and sub-segments of the ESG Reporting Market?
What are the major growth drivers, restraints/challenges impacting the ESG reporting market?
What are the opportunities prevailing in the ESG reporting market?
What is the investment landscape of ESG reporting market?
Which region has the highest share in the market? Which region is expected to witness the highest growth rate in the next 5 years?
Who are the major players operating in the market? What is the competitive positioning of key players?
Who are the new players entering the ESG reporting market?
What are the key strategies adopted by players operating in ESG reporting market?
1. Research Methodology
1.1. Secondary Research
1.2. Primary Research
1.3. Market Estimation
1.4. Market Forecasting
2. Executive Summary
3. Market Overview
3.1. Market Dynamics
3.1.1. Drivers
3.1.2. Restraints
3.1.3. Opportunities
3.2. Industry Speaks
4. ESG Reporting Market - Size & Forecast (2019-2027), By Component
4.1. Software
4.2. Services
5. ESG Reporting Market - Size & Forecast (2019-2027), By Vertical
5.1. Banking, Financial Services and Insurance (BFSI)
5.2. Manufacturing
5.3. Healthcare & Life Sciences
5.4. Information Technology (IT) & Information Technology Enabled Services (ITES)
5.5. Retail and Consumer Goods
5.6. Government and Public Sector
5.7. Other Verticals
6. ESG Reporting Market - Size & Forecast (2019-2027), By Region
6.1. North America (U.S. & Canada)
6.2. Europe (UK, Germany, France, Italy, Spain, Rest of Europe)
6.3. Asia Pacific (China, India, Japan, Rest of Asia Pacific)
6.4. Rest of the World (Latin America, Middle East & Africa)
7. Competitive Landscape
7.1. Key Players and their Competitive Positioning
7.1.1. Competitive Positioning of Key Players (2022)
7.1.2. Offerings Assessment, By Players
7.2. Key Strategies Assessment, By Player (2021-2023)
7.2.1. New Product & Service Launches
7.2.2. Partnerships, Agreements, & Collaborations
7.2.3. Mergers & Acquisitions
7.2.4. Other Developments
8. Key Companies Scanned (Indicative List)
8.1. Wolters Kluwer
8.2. PwC
8.3. Workiva
8.4. Nasdaq
8.5. Cority/Greenstone
8.6. Diligent
8.7. Emex
8.8. Novsito
8.9. diginex
8.10. Sphera
8.11. IsoMetrix
8.12. Novem ESG
8.13. C3 AI
8.14. Other Key Players
The study has been compiled based on the extensive primary and secondary research.
Secondary Research (Indicative List)

Primary Research
To validate research findings (market size & forecasts, market segmentation, market dynamics, competitive landscape, key industry trends, etc.), extensive primary interviews were conducted with both supply and demand side stakeholders.
Supply Side Stakeholders:
Senior Management Level: CEOs, Presidents, Vice-Presidents, Directors, Chief Technology Officers, Chief Commercial Officers
Mid-Management Level: Product Managers, Sales Managers, Brand Managers, R&D Managers, Business Development Managers, Consultants
Demand Side Stakeholders
Breakdown of Primary Interviews

Market Size Estimation
Both 'Top-Down and Bottom-Up Approaches' were used to derive market size estimates and forecasts.
Data Triangulation
Research findings derived through secondary sources & internal analysis were validated with Primary Interviews, Internal Knowledge Repository, and Company Sales Data.