Gastrointestinal Devices MedTech Market Report – Growing focus of AI in Surgeries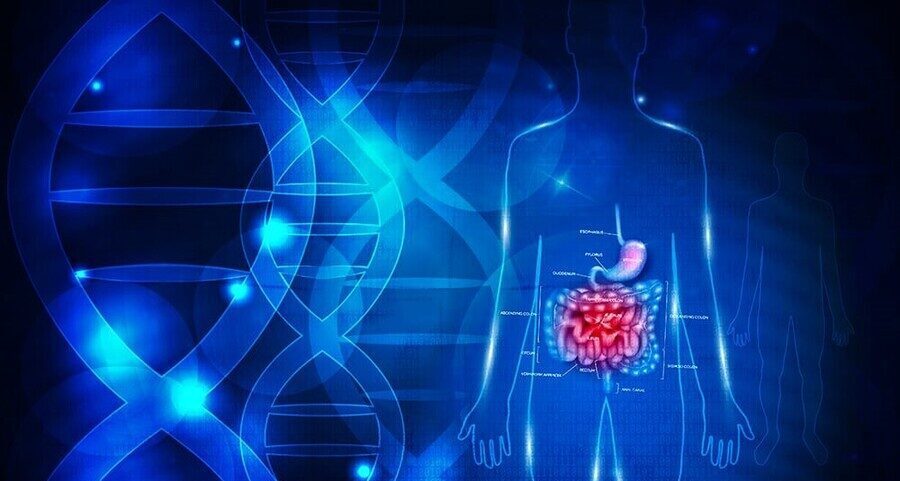 The global gastrointestinal devices MedTech market growth would be driven by an increasing adoption of single use endoscopes, robotics, and growing focus on AI in surgeries.
Ageing population, rising number of GI procedures, growing cases of colorectal cancer and screening mandates in many healthcare systems is driving the Gastrointestinal Devices MedTech market growth. Rising usage of robotics and focus on AI are offering further impetus for the market growth.
Medi-Tech Insights' latest research insight on Gastrointestinal Devices MedTech market analyses the global market with respect to product and geography.
Based on product, Gastrointestinal Devices MedTech market comprises of 4 segments, viz., GI endoscopes, endotherapy devices, laparoscopes, and laparoscopic devices. Based on our research & interviews with industry experts, it is evident that GI endoscopes is the largest product segment. Within endoscope market, reusable endoscopes form major chunk of the market, owing to the fact that they are high-cost capital equipment with relatively greater adoption. However, single-use endoscope market is slated to grow faster. Shift driven by relatively lower acquisition cost, lower level of training & skills, no reprocessing cost and no risk of cross-contamination. Major players offering single-use endoscopes are Boston Scientific and Ambu.
"Currently, penetration of single-use endoscopes in GI is <5%. It is expected to increase to 10-15% in the next 5 years." - CEO, Leading Gastrointestinal MedTech Company 
Geographic Snapshot: Gastrointestinal Devices MedTech Market
Comprehensive regional assessment of the global Gastrointestinal Devices MedTech market covering U.S., Europe (Germany, Italy, France, Spain, UK, and Rest of Europe), Asia-Pacific (India, China, Japan, Australia, New Zealand, Singapore and Rest of Asia-Pacific) and Rest of the World (Latin America, Middle-East & Africa) suggests that U.S. is likely to continue its dominance in the next 10 years. Increasing number of endoscopic examinations due to aging population, favourable reimbursement climate for endoscopy procedures, growth in minimally invasive endoscopic therapy procedures, rising concerns over cleaning, disinfection and sterilization and higher quality expectations are some of the key factors driving the U.S market.
Gastrointestinal Devices MedTech market benefits from presence of large players like Olympus and Boston Scientific (BSX) but number of start-up companies have emerged especially in AI, single-use instruments
GI endoscopes, endotherapy devices, laparoscopes, and laparoscopic devices are four major market segments. Olympus, Fujifilm, and Hoya are top 3 players in endoscope market with Olympus alone accounting for major chunk. Endotherapy devices is the fastest growing market segment and is dominated by BSX with more than 50% market share. Laparoscope's market is dominated by Stryker, Karl Storz, and Olympus. On the other hand, top 5 players accounted for more than 70% share of laparoscopic devices market.
AI in GI Endoscopy and Robot-assisted GI Surgeries are key trends
Introduction of AI is a step towards the future of endoscopic diagnosis and therapy. It compensates for human errors, brings more accuracy, consistency, higher speed which in turn makes endoscopic procedures more efficient and of higher quality. Key players are increasingly arming their product portfolio with AI technology. For instance, in October 2020, Olympus launched ENDO-AID, an AI-powered endoscopy platform. It automatically spots suspicious lesions and polyps during colonoscopy in real time.
Robotics is gradually converting laparoscopic surgeries into robotic assisted surgeries. Advantages offered by robotic assisted surgeries include less pain, less blood loss/risk of infection/scarring, shorter hospital stay, and quicker recovery time. Some of the GI surgeries performed using surgical robots are GI cancer surgeries, bariatric surgeries, gallbladder surgeries, spleen surgeries, pancreatic surgeries, hepatectomy, colectomy, hernia repair, gastrectomy, among others.
Artificial intelligence and single-use endoscopy have attracted PE investment recently
Traditional endoscopy has a long track record in healthcare, but the images produced by the procedure are subject to the assessment of clinicians, potentially leading to wide variations in interpretations. However, AI-assisted endoscopy is perceived to have potential to provide consistent results and improve patient care owing to which PEs are investing in AI providers. For instance, in August 2021, Iterative Scopes raised $30 mi Series A Financing to Advance AI-Driven Precision Medicine for Gastroenterology. Similarly, single-use endoscopy is likely to be focus area in coming years with key players already started to add these to portfolio. Also, smaller/niche players are receiving funding. For instance, in October 2021, IQ endoscope received £4 mi (~$5 mi) for supporting regulatory approval process for its single use flexible gastroscope, as well as accelerating the development of its single use flexible colonoscope.
Key Strategic Questions Addressed
What is the market size & forecast of Gastrointestinal Devices MedTech market?
What are historical, present, and forecasted market shares and growth rates of various segments and sub-segments of Gastrointestinal Devices MedTech market?
How is the funding landscape of Gastrointestinal Devices MedTech market?
What are the key trends defining the Gastrointestinal Devices MedTech market?
What are the major factors impacting the market?
What are the opportunities prevailing in the market?
What are the key applications of Gastrointestinal Devices MedTech market?
Which region has the highest share in the global market? Which region is expected to witness highest growth rate in the next 5 years?
Who are the key end-users of the market?
Who are the major players operating in the Gastrointestinal Devices MedTech market?
Who are the new players entering the Gastrointestinal Devices MedTech market?
What are the key strategies adopted by players?
The study has been compiled based on the extensive primary and secondary research.
Secondary Research (Indicative List)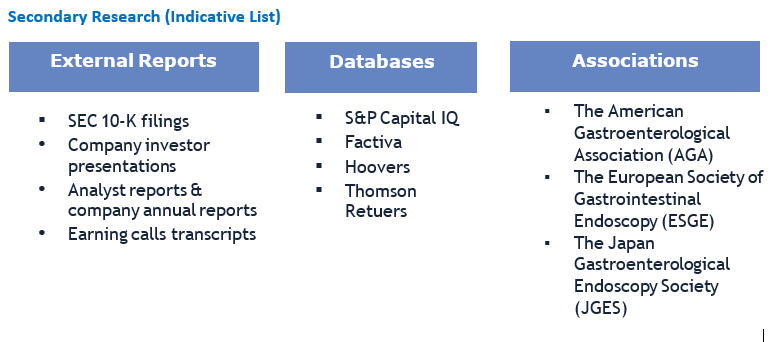 Primary Research
To validate research findings (market size & forecasts, market segmentation, market dynamics, competitive landscape, key industry trends, etc.), extensive primary interviews were conducted with both supply and demand side stakeholders.
Supply Side Stakeholders:
Senior Management Level: CEOs, Presidents, Vice-Presidents, Directors, Chief Technology Officers, Chief Commercial Officers
Mid-Management Level: Product Managers, Sales Managers, Brand Managers, R&D Managers, Business Development Managers, Consultants
Demand Side Stakeholders:
Stakeholders in GI clinics, hospitals and other end users
Breakdown of Primary Interviews

Market Size Estimation
Both 'Top-Down and Bottom-Up Approaches' were used to derive market size estimates and forecasts
Data Triangulation
Research findings derived through secondary sources & internal analysis was validated with Primary Interviews, Internal Knowledge Repository and Company's Sales Data