Global Biologics CDMO Market Size, Share, Trends, Growth & Analysis 2025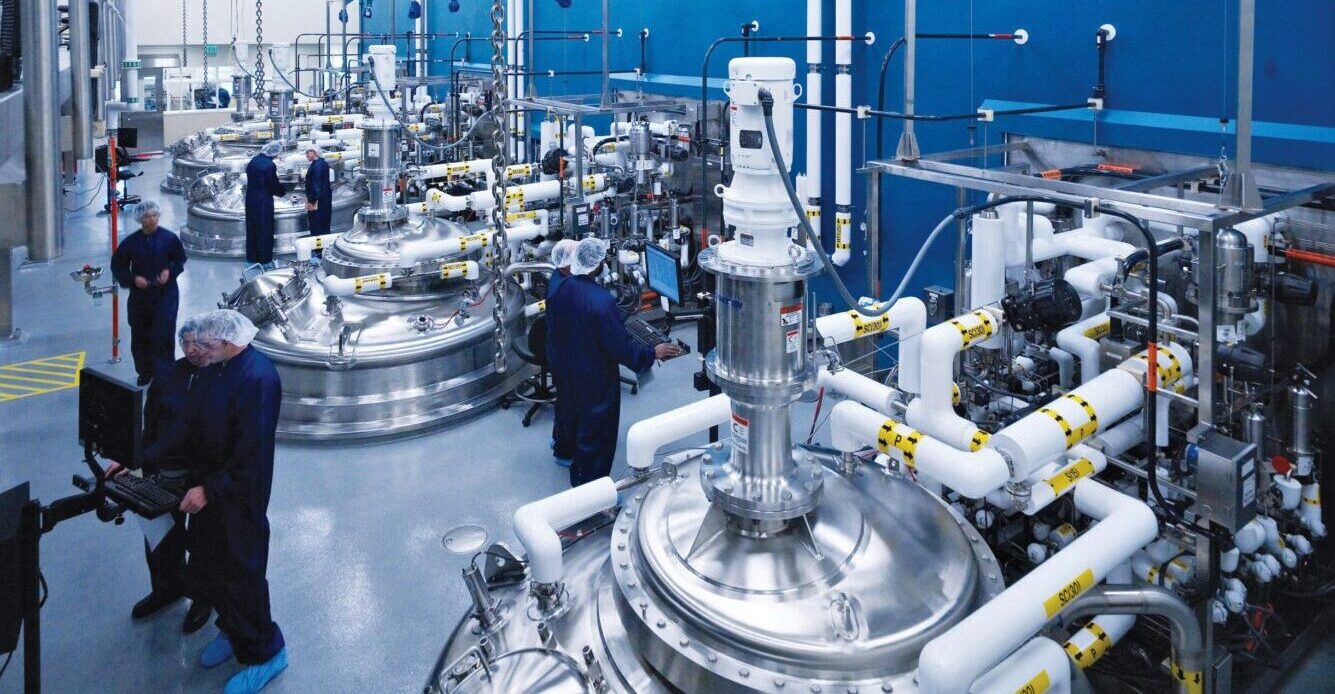 The global biologics CDMO market is anticipated to witness a CAGR of ~15% to reach $35 billion by 2025, driven by the growing biopharmaceutical end market, rapidly expanding pipelines of cell & gene therapies & new vaccines, and significant VC funding from VC firms.
The growth in biopharmaceutical sales and pipeline and increasing complexity of molecules would drive the outsourcing of biologics development and manufacturing services across the product lifecycle. Moreover, the rising number of molecules (recombinant proteins and antibodies) in the pipeline being developed by small and virtual biotechs (>60%) who lack in-house manufacturing capabilities and expertise to bring their candidates to market would in turn boost the demand for CDMO services.
Huge Potential for Upturn in Outsourcing Ratio
The outsourcing ratio in biologics manufacturing is much less compared to that for small molecules, providing ample opportunity for growth. Biologics require more sophisticated manufacturing and quality control. With the increasingly complex and rapidly evolving biopharma industry, companies are looking for CDMOs who can provide significant regulatory leadership and expertise in all stages from early-stage discovery to commercialization. Moreover, newer technologies like viral vector, mRNA, and cell & gene therapy are where demand exceeds supply, and capabilities may not exist even in large biopharma thereby offering wide scope for outsourcing to CDMOs.
Market Trend Towards Full-service CDMOs/One-stop-shop Model
Full-service CDMOs that can assist with both development and manufacturing are in utmost demand. Large pharma companies prefer to select a CDMO that also has early-stage development capabilities, as switching costs are significantly higher once cell lines and processes are established. Due to the complexities intrinsic to biologics development, biopharma companies look for a full-service CDMO handling all services, from cell line development through fill-finish and packaging. Apart from the breadth of services, the trend is toward CDMOs offering scalable services as well as specialized technologies.
CDMOs Embrace Digital Manufacturing
CDMOs are increasingly resorting to data-driven manufacturing i.e., collection and processing of real-time data at each processing step to make manufacturing more efficient. Data-driven manufacturing elements include sensor technologies, advanced analytics, robotics, and virtual versions of physical systems that may be used to optimize processing.
"In time, all CDMOs are likely to go digital. Customer demand for high-quality products and information will cause data-driven manufacturing to become the norm. This new dimension of digital maturity and capability is becoming increasingly important in the CDMO selection process, and its relevance extends beyond pure bioprocessing technologies." - Lead Scientist, Tier 1 CDMO, US
North America is the Largest Market in Biologics CDMO Market
North America is the largest biologics CDMO market while APAC is expected to witness the highest CAGR in the next 5 years. The growth of the APAC Biologics CDMO market is expected to be hinged on China. Citing the lucrative prospects of the Chinese market, Boehringer Ingelheim partnered with Chinese biologics CDMO BeiGene, Ltd. In Dec 2019, Boehringer Ingelheim Biopharmaceuticals China become the first company to start commercial biopharmaceutical manufacturing under the MAH model in China. In another instance, in April 2021, Lonza extended its partnership with Chinese firm Junshi Biosciences to advance and manufacture biologics at its site in Guangzhou, China.
Competitive Landscape Analysis: Biologics CDMO Market
The global biologics CDMO market is characterized by a high degree of fragmentation. There is a limited number of CDMO players who can offer full service and have expertise in newer platforms like mRNA/viral vector. Some of the leading companies in this market include Lonza, Catalent, Samsung Biologics, Fujifilm, Wuxi Biologics, and Boehringer Ingelheim. While some of the other promising players are Halix, Cobra Biologics, ABL, Biovian, SK Bioscience, IDT, AGC Biologics, Patheon, Abbvie, Novasep, and Emergent Biosolutions.
Key Strategic Questions Addressed
What is the market size & forecast of the Biologics CDMO market?
What are historical, present, and forecasted market shares and growth rates of various segments and sub-segments of the Biologics CDMO market?
What are the major growth drivers, restraints/and challenges impacting the market?
What are the opportunities prevailing in the Biologics CDMO market?
Which region has the highest share in the global market? Which region is expected to witness the highest growth rate in the next 5 years?
Who are the major players operating in the market and what is their market share? What is the competitive positioning of key players?
What are the key strategies adopted by players in the Biologics CDMO market?
The study has been compiled based on the extensive primary and secondary research.
Secondary Research (Indicative List)

Primary Research
To validate research findings (market size & forecasts, market segmentation, market dynamics, competitive landscape, key industry trends, etc.), extensive primary interviews were conducted with both supply and demand side stakeholders.
Supply Side Stakeholders:
Senior Management Level: CEOs, Presidents, Vice-Presidents, Directors, Chief Technology Officers, Chief Commercial Officers
Mid-Management Level: Product Managers, Sales Managers, Brand Managers, R&D Managers, Business Development Managers, Consultants
Demand Side Stakeholders:
Stakeholders in Pharma, Biotech, Academic Research Institutes & Other End Users.
Breakdown of Primary Interviews

Market Size Estimation
Both 'Top-Down and Bottom-Up Approaches' were used to derive market size estimates and forecasts.
Data Triangulation
Research findings derived through secondary sources & internal analysis was validated with Primary Interviews, Internal Knowledge Repository and Company's Sales Data.