Global Biosimilars Market Size, Share, Growth, Trends & Analysis Report 2025
The global biosimilars market growth is driven by increasing number of biosimilar approvals and rising number of biologics going off-patent.
A biosimilar is a biological product that is similar to a reference biologic with no clinically meaningful differences in terms of potency, purity, and safety. The growth in the biosimilars market is driven by growing number of off-patent molecules, rising focus of key players on biosimilar development, and the cost benefits offered by biosimilars compared to patented biologics.
Loss of patent protection for originator brands to drive the biosimilar growth
A key driver of biosimilar market growth over the next 5-10 years is the number of loss of protection (LoP) events for originator brands. In the US alone, 66 biologic U.S. patents are expiring between 2020 and 2025, owing to which the biosimilar market is on the cusp of a significant boost. Oncology is one of the major therapeutic areas in biosimilars market and by 2023, patents on nearly 20 oncology biologics will expire, which could lead to more biosimilars to enter in oncology space and propelling oncology biosimilars market.
Consistent growth in biosimilar approvals in the US market
The US biosimilars market is growing across multiple therapeutic areas. From 1 approval in 2015, the number of FDA approvals have increased to 10 in 2019 (only 3 approvals in 2020 impacted by COVID as shown in figure below). The steady and consistent increase in number of biosimilar approvals and market availability in US is driving the growth in the US biosimilars market. In 2015, only 1 biosimilar product was available for use in market and this number reached to 19 by end of 2020.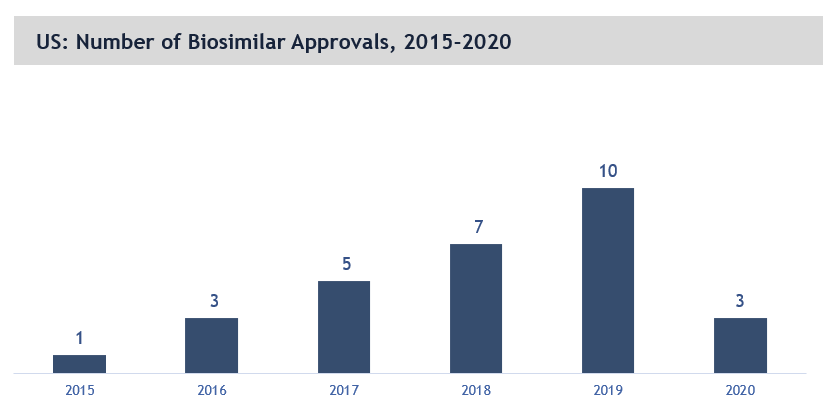 "There is a huge potential for biosimilar market growth as they deliver significant benefits to the healthcare community. Biosimilars help augment overall treatment options, positively impact patients suffering from life-threatening conditions, whilst contributing to the quality and financial sustainability of healthcare systems." – CEO, Leading Biosimilars Company
Geographic Snapshot: Biosimilars Market
Comprehensive regional assessment of the global biosimilars market covering U.S., Europe (Germany, UK, France and RoE), Asia-Pacific (India, China, Japan, and Rest of Asia-Pacific) and RoW suggests that Europe is currently the largest market for biosimilars owing to adoption of more liberal policies which has enabled greater market access. On the other hand, US has taken a more protective approach towards originator brands, further influenced by lobbying from pharma companies. Owing to this, the adoption of biosimilars in the US has been relatively slower compared to Europe. However, the US biosimilar landscape is now evolving rapidly. There were only 11 biosimilars approved in EU in the initial six years after first product launch (2006), while US witnessed 29 biosimilar approvals for the same period after the first product launch (2015). Also, in April 2021, the US President Joe Biden signed two bipartisan bills with an aim to reduce prescription drug prices by supporting generics/biosimilars. Such developments are likely to fuel the US market growth.
Competitive Landscape: Biosimilars Market
Some of the key players in biosimilars market are Amgen, F. Hoffmann-La Roche, Sandoz, Dr. Reddy's Laboratories, Teva Pharmaceutical, Pfizer Inc., Eli Lilly, Samsung Bioepis, Biocon, Boehringer Ingelheim, and Mylan N.V.
Key Strategic Questions Addressed
What is the market size & forecast of biosimilars market?
What are historical, present, and forecasted market shares and growth rates of various segments and sub-segments of biosimilars market?
How is the funding landscape of biosimilars market?
What are the key trends defining the market?
What are the major factors impacting the biosimilars market?
What are the opportunities prevailing in the market?
What are the key applications of biosimilars market?
Which region has the highest share in the global market? Which region is expected to witness highest growth rate in the next 5 years?
Who are the key end-users of the market?
Who are the major players operating in the biosimilars market?
Who are the new players entering the market?
What are the key strategies adopted by players?
The study has been compiled based on the extensive primary and secondary research.
Secondary Research (Indicative List)
Primary Research
To validate research findings (market size & forecasts, market segmentation, market dynamics, competitive landscape, key industry trends, etc.), extensive primary interviews were conducted with both supply and demand side stakeholders.
Supply Side Stakeholders:
Senior Management Level: CEOs, Presidents, Vice-Presidents, Directors, Chief Technology Officers, Chief Commercial Officers
Mid-Management Level: Product Managers, Sales Managers, Brand Managers, R&D Managers, Business Development Managers, Consultants
Demand Side Stakeholders:
Stakeholders in hospitals, physicians, payers etc.
Breakdown of Primary Interviews

Market Size Estimation
Both 'Top-Down and Bottom-Up Approaches' were used to derive market size estimates and forecasts
Data Triangulation
Research findings derived through secondary sources & internal analysis was validated with Primary Interviews, Internal Knowledge Repository and Company's Sales Data