Global Brain Monitoring Market Size, Share, Growth & Applications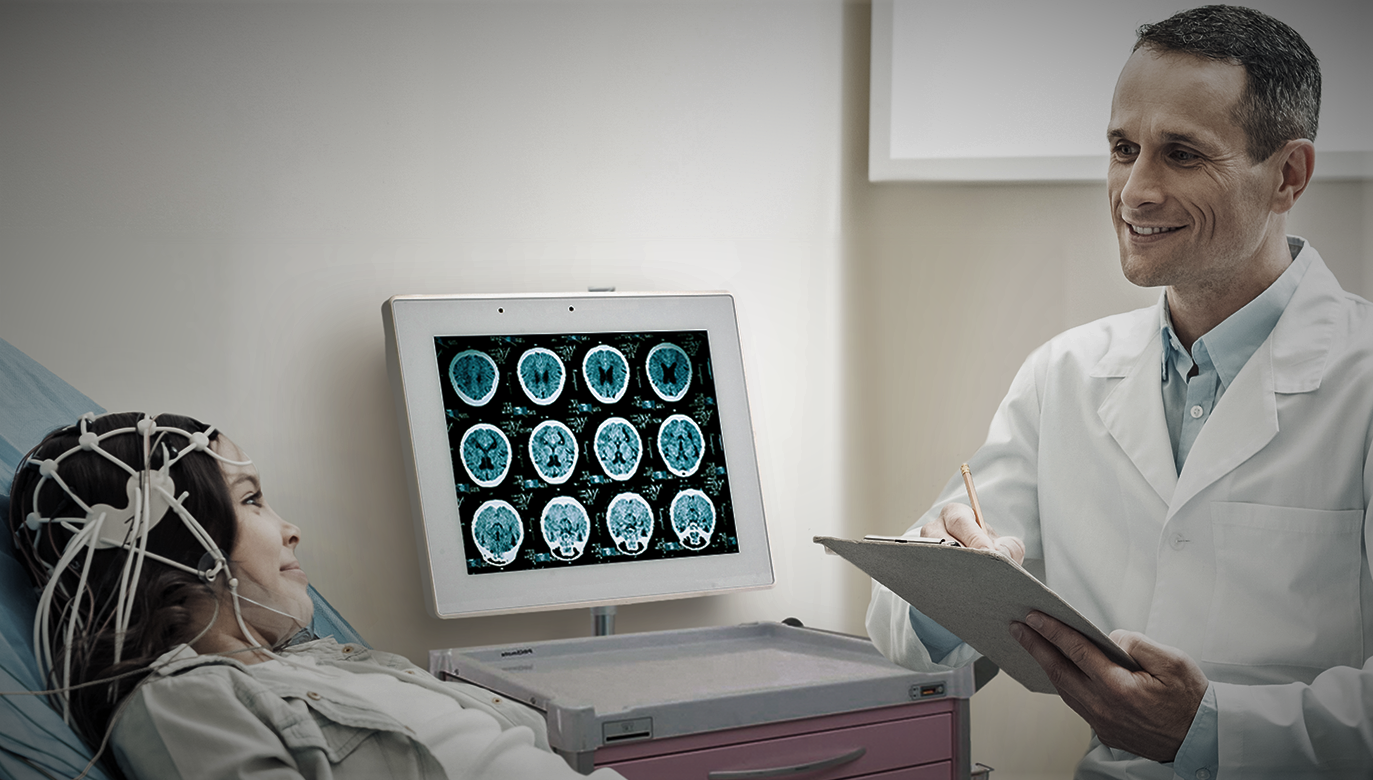 The Global Brain Monitoring Market is expected to grow at a rate of 6-7% by 2026. The rising prevalence of neurological disorders, technological advancements in brain monitoring devices, increasing incidence of traumatic brain injuries, growing demand for non-invasive and minimally invasive devices, increase usage of brain monitoring in clinical trials, and expanding therapeutic applications of brain monitoring devices are some of the key factors driving the global brain monitoring market.
Brain monitoring is defined as clinical neurological, neurophysiological, neuroradiological, ultrasound-based, and invasive monitoring of a patient's nervous system. Brain monitoring aims to detect altered or pathological neurological function as quickly as possible so that the correct treatment can be administered before irreversible damage occurs. Monitoring can take place either continuously or intermittently.
Growing Demand for Non-Invasive Brain Monitoring Techniques for Measuring Intracranial Pressure Drives the Market
Continuous invasive intracranial pressure (ICP) monitoring is crucial for the management of intracranial hypertension (ICH) in the intensive care setting. Conventional ICP monitoring methods include trepanation and insertion of a catheter through the skull for quantitative ICP measurements. However, this procedure exposes the patients to several risks that limit its applicability.
On the other hand, non-invasive monitoring methods provide a reliable alternative to invasive methods. Several techniques are available such as ICP monitors, scans/MRI, anterior fontanelle pressure monitoring, optic nerve sheath diameter, skull elasticity, ophthalmodynamometry, tympanic membrane displacement, tissue resonance analysis, tonometry, transcranial doppler, electroencephalogram, near-infrared spectroscopy, pupillometry which can be used in several conditions such as traumatic brain injury, intracerebral hemorrhage, subarachnoid hemorrhage, hydrocephalus, malignant infarction, cerebral edema, CNS infections, and hepatic encephalopathy. Citing the growing demand for non-invasive techniques, several players have launched innovative products which are expected to propel the market in the coming years. For instance,
In September 2021, NeuroWave Systems Inc. announced the FDA clearance of its NeuroSENSE® NS-901 Monitor – a new generation brain function monitor for assessing the adequacy of anesthesia and sedation in clinical settings.
In August 2020, IRRAS AB announced the first patient treatment using the Hummingbird Solo. Hummingbird Solo is a single-lumen, bolt-based monitor that measures the pressure within a patient's brain tissue, and manages ICP after traumatic brain injury (TBI), a subarachnoid hemorrhage, or stroke.
Increase in Usage of Electroencephalogram (EEG) for Diagnosing Neurological Disorder Propels the Brain Monitoring Market
An EEG is a test that detects abnormalities in brain waves or the brain's electrical activity. The EEG is used to evaluate several types of brain disorders such as:
When epilepsy is present, seizure activity will appear as rapid spiking waves on the EEG.
People with lesions of their brain, which can result from tumors or stroke, may have unusually slow EEG waves, depending on the size and the location of the lesion.
The test can also be used to diagnose other disorders that influence brain activity, such as Alzheimer's disease, certain psychosis, and a sleep disorder called narcolepsy.
EEG may also be used to determine the overall electrical activity of the brain (for example, to evaluate trauma, drug intoxication, or extent of brain damage in comatose patients).
The EEG may also be used to monitor blood flow in the brain during surgical procedures.
Thus, the increased usage of electroencephalograms in the diagnosis of neurological disorders is expected to fuel the brain monitoring market in the upcoming year.
Potential of Brain Monitoring Using Sensors, Wearables, and Mobile Devices Boost the Brain Monitoring Market
The rapid developments in the wearable device and remote sensor market are driven predominantly by the miniaturization of sensors & circuitry and the improvements in functionality and processing power of mobile devices such as smartphones, tablets, and computers. Rapid technological developments have been witnessed in the area of portable EEG monitoring, and other areas related to brain function including sleep assessment, gait analysis, cognitive function testing, eye tracking, and voice analysis. For instance:
Interaxon Inc. launched the second generation of its popular EEG meditation & sleep headband, Muse S. This updated plush brain-sensing headband uses real-time biofeedback to help learn the art of mediation, fall asleep, stay asleep, and go back to sleep if awakened during the night.
NeuroSky developed ZenZone's apps designed to receive feedback data from the body via a sensor, which helps the app understand the state of mind and body. The app uses guided mindfulness, brainwaves & attention training in real-time to help you achieve goals in mindfulness training. The ZenZone app trains the brain to quickly and easily enter a calmly attentive, mindful state.
Advanced Brain Monitoring launched Sleep ProfilerTM, which is a most widely-used, self-applied system for the assessment of overnight EEG in patients with insomnia or mood disorders, to be used in the diagnosis of sleep apnea.
Growing Adoption of Brain Multimodality Monitoring in Neurocritical Care of Comatose Patients Fuels the Market Demand
Neurocritical care patients are at risk of developing secondary brain injury from inflammation, ischemia, and edema that follows the primary insult. Recognizing clinical deterioration due to secondary injury is frequently challenging in comatose patients. Multimodality monitoring (MMM) encompasses various tools to monitor cerebral metabolism, perfusion, and oxygenation aimed at detecting these changes to help modify therapies before irreversible injury sets in. These tools include intracranial pressure (ICP) monitors, transcranial Doppler (TCD), Hemedex™ (thermal diffusion probe used to measure regional cerebral blood flow), microdialysis catheter (used to measure cerebral metabolism), Licox™ (probe used to measure regional brain tissue oxygen tension), and continuous electroencephalography.
Key Constraints/ Challenges: Brain Monitoring Market
High costs associated with the complex brain monitoring procedures and devices, unfavorable reimbursement policies, and a shortage of trained professionals are some of the key factors that are likely to hamper the growth of the brain monitoring market.
North America Holds the Largest Share in the Global Brain Monitoring Market
North America currently holds a major share in the global brain monitoring market. This can be mainly attributed to the growing prevalence of neurological disorders, the growing adoption of technologically advanced brain monitoring devices, rising awareness regarding neurodegenerative disorders, and increasing applications in clinical trials in the region. However, APAC is expected to witness the strongest growth in the forecast period due to expanding therapeutic applications of brain monitoring devices, increasing awareness regarding brain monitoring, and the presence of a large patient population base in the region.
Competitive Landscape Analysis: Brain Monitoring Market
Some of the key players operating in the global brain monitoring market are Natus Medical Inc., Nihon Kohden Corporation, Philips Healthcare, GE Healthcare, Compumedics Ltd., Medtronic, Edwards Lifesciences Corporation, Advanced Brain Monitoring, Masimo Corporation, Spiegelberg GmbH & Co. KG, Cadwell Industries, Elekta A.B, Drägerwerk AG & Co., Electrical Geodesics, and Siemens Healthineers, among others.
Organic and Inorganic Growth Strategies Adopted by Players to Establish Their Foothold in the Brain Monitoring Market
Players operating in this market are adopting organic and inorganic growth strategies such as collaborations, acquisitions, and new product launches to garner market share. For instance,
In July 2022, Philips announced that they have received U.S. Food and Drug Administration (FDA) 510(k) clearance for their SmartSpeed artificial intelligence (AI) powered MR acceleration software while adding advanced AI data collection algorithms to Philips' existing Compressed SENSE MR acceleration engine.
In October 2021, Brain Scientific announced that they have received FDA Clearance for Next-Gen NeuroCap EEG Headset, an advanced Electroencephalogram (EEG) electrode array used to obtain rapid EEGs in routine clinical and research settings where the recording of STAT EEGs is desired.
In July 2021, Linus Health, an AI-powered remote brain health monitoring platform for care professionals, announced that they have secured a $55 million Series B funding round led by existing investors. Companies latest funding will enable it to grow its team and expand its remote brain health monitoring platform.
The global brain monitoring market is a growing market that is expected to gain further momentum in the coming years due to technological advancements in brain monitoring devices, increasing growth opportunities in emerging markets, increasing awareness regarding brain monitoring, and aggressive organic and inorganic growth strategies followed by the players.
Key Strategic Questions Addressed
Strategic Questions Addressed
What is the market size & forecast for the global brain monitoring market?
What are the historical, present, and forecasted market shares and growth rates of various segments and sub-segments of the brain monitoring market?
How has Covid-19 impacted the brain monitoring market?
What are the major growth drivers, restraints/challenges impacting the brain monitoring market?
What are the opportunities prevailing in the brain monitoring market?
What is the investment landscape of brain monitoring market?
Which region has the highest share in the global market? Which region is expected to witness the highest growth rate in the next 5 years?
Who are the major players operating in the market? What is the competitive positioning of key players?
Who are the new players entering the brain monitoring market?
What are the key strategies adopted by players operating in the brain monitoring market?
The study has been compiled based on the extensive primary and secondary research.
Secondary Research (Indicative List)

Primary Research
To validate research findings (market size & forecasts, market segmentation, market dynamics, competitive landscape, key industry trends, etc.), extensive primary interviews were conducted with both supply and demand side stakeholders.
Supply Side Stakeholders:
Senior Management Level: CEOs, Presidents, Vice-Presidents, Directors, Chief Technology Officers, Chief Commercial Officers
Mid-Management Level: Product Managers, Sales Managers, Brand Managers, R&D Managers, Business Development Managers, Consultants
Demand Side Stakeholders:
Stakeholders in Hospitals, Neurological Centers, Ambulatory Surgery Centers (ACCs), Diagnostic Centers, and Other End Users.
Breakdown of Primary Interviews

Market Size Estimation
Both 'Top-Down and Bottom-Up Approaches' were used to derive market size estimates and forecasts.
Data Triangulation
Research findings derived through secondary sources & internal analysis were validated with Primary Interviews, Internal Knowledge Repository, and Company Sales Data.