Global Genomics Market Size, Share, Trends, Growth, Developments & Analysis by 2027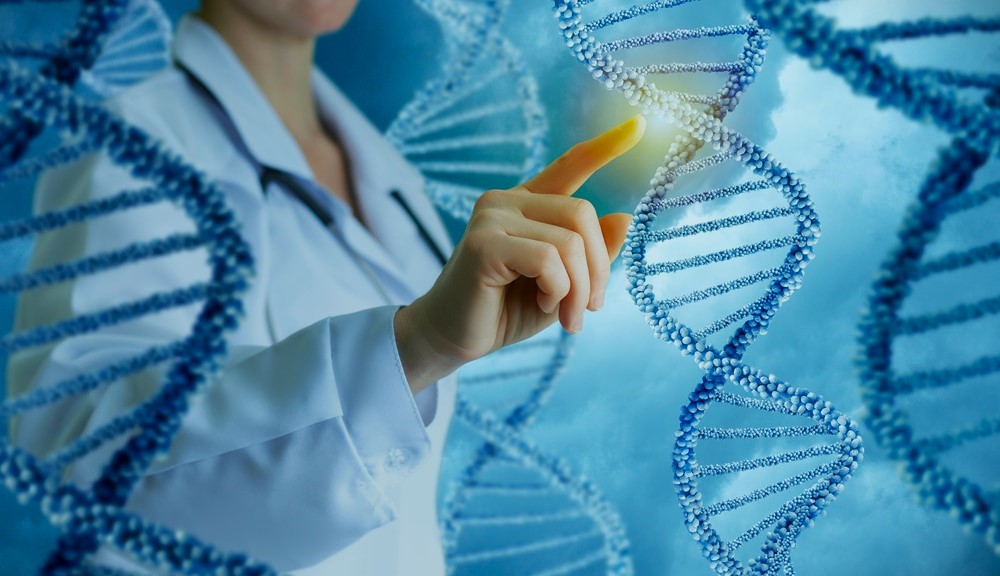 The Global Genomics Market is expected to witness a high double-digit growth rate by 2027. The key factors driving the global market are the rising prevalence of cancer, an increasing number of viral diseases and genetic disorders, expanding applications of Next-Generation Sequencing (NGS) in cancer research, and a rise in government funding for genomics research.
Genomics is a branch of biology that investigates an organism's complete gene set or genome, focusing on DNA analysis. This comprehensive study involves understanding gene structure, function, and their interactions within an organism. Genomic research often entails sequencing an organism's DNA to identify and categorize all its genes. This data aids in studying genetic variations, gene expression, and the role of specific genes in biological processes. Genomics finds applications in diverse fields such as medicine, agriculture, and ecology, aiding in human health, crop enhancement, and biodiversity conservation. It has significantly advanced genetic knowledge, leading to breakthroughs in personalized medicine and genetic engineering.
The Advancing Genomics Market: From DNA Sequencing to Precision Medicine
The global genomics market has witnessed substantial growth in recent years, propelled by a multitude of factors like continuous advancements in DNA sequencing technologies, including next-generation sequencing (NGS) and single-molecule sequencing, which have significantly reduced the cost and time associated with genomic analysis, rendering genomics more accessible and affordable. The rise of precision medicine, where treatments are customized based on an individual's genetic profile, has gained prominence in the healthcare sector, driving the demand for genomic testing and analysis.
For instance,
In July 2023, Illumina Inc. and Pillar Biosciences Inc. formed a strategic partnership to globally commercialize Pillar's oncology assays within the Illumina portfolio of oncology products. This collaboration aims to provide a comprehensive range of next-generation sequencing solutions, improving the precision, cost-effectiveness, and accessibility of oncology testing. Ultimately, it will enhance personalized cancer treatment options for patients.
Genomics has been instrumental in drug discovery and development, helping identify potential drug targets, understand disease mechanisms, and conduct clinical trials more efficiently. This has led to greater investment in genomics by pharmaceutical companies. Growing awareness among healthcare providers and the general public about the benefits of genomic testing has increased its adoption broadening the customer base for genomics companies.
The growing prevalence of genetic diseases and disorders has fueled the demand for genetic testing and counseling. Government initiatives and funding for genomics research and healthcare infrastructure has also provided essential support for industry growth.
For instance,
In December 2022, the UK government introduced a £175 million fund for genomics research to save lives and enhance health outcomes. Within this fund, £105 million will support a research study led by Genomics England in collaboration with the NHS. This study will investigate the utility of whole genome sequencing for identifying and addressing rare genetic diseases in newborns.
In September 2022, the CDC revealed a $90 million funding allocation to support the Pathogen Genomics Centers of Excellence (PGCoE) network. This network is designed to advance innovation and technical capabilities in pathogen genomics, molecular epidemiology, and bioinformatics.
Genomic information is increasingly utilized for creating personalized healthcare plans and preventive measures, further contributing to the market's expansion. Continuous innovation in genomics tools, software, and data analysis techniques has expanded the possibilities of genomic research, making it more appealing to a wide range of industries. Collaborations and partnerships spanning various industries, including genomics companies, healthcare providers, and research institutions, have accelerated research and development efforts in genomics.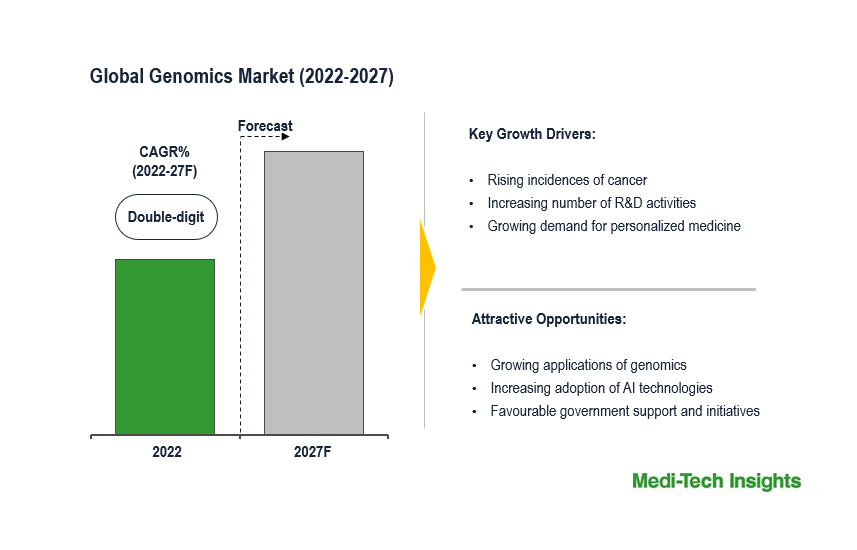 The Introduction of  CRISPR-Cas9 Technology and Artificial Intelligence (AI) Drives the Genomics Market Growth
Genomics is an exciting field with several prominent trends. CRISPR-Cas9 is a revolutionary gene-editing technology that has transformed genomics. It allows scientists to precisely target and edit specific genes in a variety of organisms, including humans. This has opened up numerous possibilities in gene therapy, disease research and personalized medicine. Tailoring treatments to an individual's genetic makeup is a significant trend in genomics and has the potential to lead to more effective and personalized therapies. Additionally, this technology has made it easier and more cost-effective to study the function of genes and their role in various biological processes. This trend has led to significant advancements in understanding genomics, as researchers can now manipulate genes with high precision, accelerating the discovery of new gene functions and their involvement in diseases.
The integration of AI in genomics studies has revolutionized the field by enabling the analysis of vast amounts of genetic data and identifying patterns, and correlations that are challenging for scientists to discern. This advanced information aids in developing new disease treatments, enhancing diagnostic accuracy, and personalizing patient care. Precision medicine, driven by AI, considers individual genetic, environmental, and lifestyle differences, making it more effective in treating conditions like autoimmune diseases, infectious diseases, and cancer. AI also plays a crucial role in creating synthetic patient populations, predictive drug combination models, and revealing complex relationships between genetics, microbiomes, and diets, ultimately transforming personalized healthcare into a safer, more efficient, and cost-effective endeavor.
For instance,
In June 2023, Illumina Inc. unveiled PrimateAI-3D, an advanced artificial intelligence (AI) algorithm highly regarded for its remarkable accuracy in predicting disease-causing genetic mutations in patients.
Key Market Constraints/Challenges of Genomics Market
The swift growth of genomics data presents challenges in data management, while also giving rise to concerns about privacy and ethical issues. Additionally interpreting genetic data, along with maintaining patient data confidentiality, lack of standardization in genomics research and a shortage of skilled professionals can further hamper the genomics market growth.
North America Accounts for the Largest Share of the Global Market
North America is expected to continue to dominate the global genomics market in the coming years. This can be mainly attributed to the rise in the number of genomic research studies, rising incidences of cancer, increasing demand for personalized therapies, well-developed healthcare system and presence of key players in the region. However, the Asia-Pacific region is expected to witness the highest CAGR in the forecast period. Factors such as advancements in the field of genomics, growing awareness of genomics services and rising investments in the healthcare sector are driving the Asia-Pacific market.
Competitive Landscape Analysis: Genomics Market
The key players operating in the global genomics market are Agilent Technologies, Thermo Fisher, PerkinElmer Inc., Illumina, Eurofins Scientific, QIAGEN, F. Hoffmann-La Roche Ltd., Myriad Genetics, Inc., and Danaher Corporation, among others.
Organic and Inorganic Growth Strategies Adopted by Players to Establish Their Foothold in the Global Genomics Market
Players operating in this market are adopting both organic and inorganic growth strategies such as collaborations, acquisitions, new product launches and expanding manufacturing capabilities to garner a higher market share.
For instance,
In September 2023, Pfizer and Thermo Fisher Scientific Inc. unveiled a collaborative agreement aimed at expanding the availability of next-generation sequencing (NGS)-based testing for lung and breast cancer patients in over 30 countries throughout Latin America, Africa, the Middle East, and Asia. The introduction of local NGS testing is expected to expedite the analysis of relevant genes, enabling healthcare providers to make more informed decisions when selecting personalized therapies for their patients.
In December 2022, Eli Lilly and Company announced the successful completion of its acquisition of Akouos, Inc. This acquisition marks a significant expansion of Lilly's involvement in genetic medicines, as it now incorporates Akouos's array of potential first-in-class adeno-associated viral gene therapies, designed to address inner ear conditions, specifically sensorineural hearing loss.
The global genomics market is a growing market that is expected to gain further momentum in the coming years due to rising investments in genomics research, a diverse array of applications in healthcare, agriculture, and research, and aggressive organic and inorganic growth strategies followed by the key market players.
Key Strategic Questions Addressed in this Research Report are as follows:-
What is the market size & forecast for the Global Genomics Market?
What are the historical, present, and forecasted market shares and growth rates of various segments and sub-segments of the Global Genomics Market?
How has Covid-19 impacted the Global Genomics Market?
What are the major growth drivers, restraints/challenges impacting the Genomics Market?
What are the opportunities prevailing in the Genomics Market?
What is the investment landscape of Genomics Market?
Which region has the highest share in the global market? Which region is expected to witness the highest growth rate in the next 5 years?
Who are the major players operating in the market? What is the competitive positioning of key players?
Who are the new players entering the Genomics Market?
What are the key strategies adopted by players in Genomics Market?
1. Research Methodology
1.1. Secondary Research
1.2. Primary Research
1.3. Market Estimation
1.4. Market Forecasting
2. Executive Summary
3. Market Overview
3.1. Market Dynamics
3.1.1. Drivers
3.1.2. Restraints
3.1.3. Key Market Trends
3.2. Industry Speaks
4. Key Revenue Pockets
5. Global Genomics Market - Size & Forecast (2019-2027), By Product and Services
5.1. Consumables and Reagents
5.2. Services
5.3. Instruments, Systems & Software
6. Global Genomics Market - Size & Forecast (2019-2027), By Application
6.1. Drug Discovery & Development
6.2. Diagnostics
6.3. Agriculture and Animal Research
6.4. Other Applications
7. Global Genomics Market - Size & Forecast (2019-2027), By End User
7.1. Hospitals and Clinics
7.2. Academics & Research Institutes
7.3. Pharmaceutical & Biotech Companies
7.4. Others
8. Global Genomics Market - Size & Forecast (2019-2027), By Region
8.1. North America (U.S. & Canada)
8.2. Europe (UK, Germany, France, Italy, Spain, Rest of Europe)
8.3. Asia Pacific (China, India, Japan, Rest of Asia Pacific)
8.4. Rest of the World (Latin America, Middle East & Africa)
9. Competitive Landscape
9.1. Key Players and their Competitive Positioning
9.1.1. Competitive Positioning of Key Players (2022)
9.1.2. Offerings Assessment, By Player
9.2. Key Strategies Assessment, By Player (2021-2023)
9.2.1. New Product & Service Launches
9.2.2. Partnerships, Agreements, & Collaborations
9.2.3. Mergers & Acquisitions
9.2.4. Geographic Expansion
10. Key Companies Scanned (Indicative List)
10.1. Agilent Technologies
10.2. QIAGEN N.V.
10.3. Illumina
10.4. Thermo Fisher Scientific
10.5. PerkinElmer Inc.
10.6. Eurofins Scientific
10.7. Hoffmann-La Roche Ltd.
10.8. Myriad Genetics, Inc.
10.9. Danaher Corporation
10.10. Other Prominent Players
The study has been compiled based on the extensive primary and secondary research.
Secondary Research (Indicative List)

Primary Research
To validate research findings (market size & forecasts, market segmentation, market dynamics, competitive landscape, key industry trends, etc.), extensive primary interviews were conducted with both supply and demand side stakeholders.
Supply Side Stakeholders:
Senior Management Level: CEOs, Presidents, Vice-Presidents, Directors, Chief Technology Officers, Chief Commercial Officers
Mid-Management Level: Product Managers, Sales Managers, Brand Managers, R&D Managers, Business Development Managers, Consultants
Demand Side Stakeholders:
Stakeholders in Hospitals, Clinics, Research Centers, Pharmaceutical & Biotech Companies and Other End Users.
Breakdown of Primary Interviews

Market Size Estimation
Both 'Top-Down and Bottom-Up Approaches' were used to derive market size estimates and forecasts.
Data Triangulation
Research findings derived through secondary sources & internal analysis were validated with Primary Interviews, Internal Knowledge Repository, and Company Sales Data.