Global Healthcare Staffing Market Size, Share, Growth, Demand & Trends 2027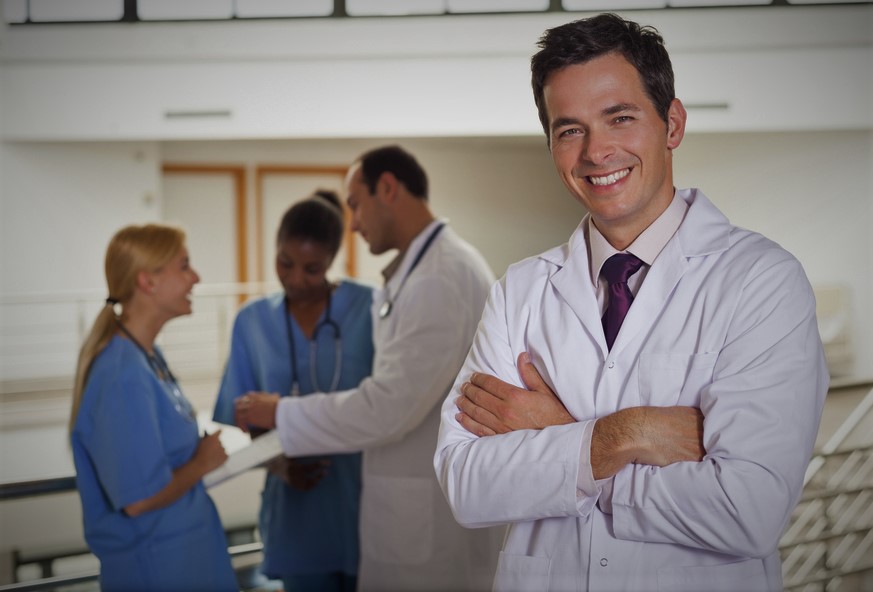 The Global Healthcare Staffing Market is set to witness a healthy growth rate of ~10-15% in the next 5 years. A growing shortage of healthcare professionals; rising demand for healthcare services due to aging population; and labor strikes and unplanned staffing vacancies are driving the market growth. Further, temporary healthcare jobs came to limelight during COVID-19 pandemic which has helped drive the demand for healthcare staffing services. Although intensity of COVID-19 has reduced, the intermittent waves of COVID variants will periodically drive the demand in the healthcare staffing market.
The healthcare market has faced an unprecedented and unpredictable staffing challenges over the past few years. Further, the return of patients after pandemic seeking care for elective and non-emergent procedures — is resulting in exponential growth in demand for physicians and other healthcare providers. It can take months to fill a vacant position and job vacancies can result in loss of revenue. Moreover, unfilled jobs adversely affect patient care. This greatly increases the importance of healthcare staffing companies who help healthcare facilities fill the vacant positions.
Shortage of Physicians and Nursing Staff are driving the Demand for the Staffing Services
According to the Association of American Medical Colleges, the physician shortage is projected to be between 38,000 and 124,000 physicians by 2034 in the U.S. Further, a shortage of nursing staff to persist over the next decade as baby boomers exit the workforce. The Journal of Nursing Regulation's National Nursing Workforce Survey estimated that ~40% of employed registered nurses are aged 55 or older. According to the U.S. Registered Nurse Workforce Report Card and Shortage Forecast published in the September/October 2019 issue of the American Journal of Medical Quality, a shortage of registered nurses is projected to spread across the country through 2030. This publication forecast a significant nursing staff shortage in 30 states with a large shortage in the Western region of the U.S. In such scenario, demand for staffing services is likely to increase.
Labor Strikes and Unplanned Staffing Vacancies
Replacement healthcare professionals may need to be deployed quickly (typically in less than ten days) due to labor strikes and unanticipated workforce vacancies. Rapid response and strike response orders typically carry a substantial premium rate. A current situation of nurse/provider burnout could create conditions for more frequent labor strikes in the coming years leading to greater demand for temporary/permanent staff.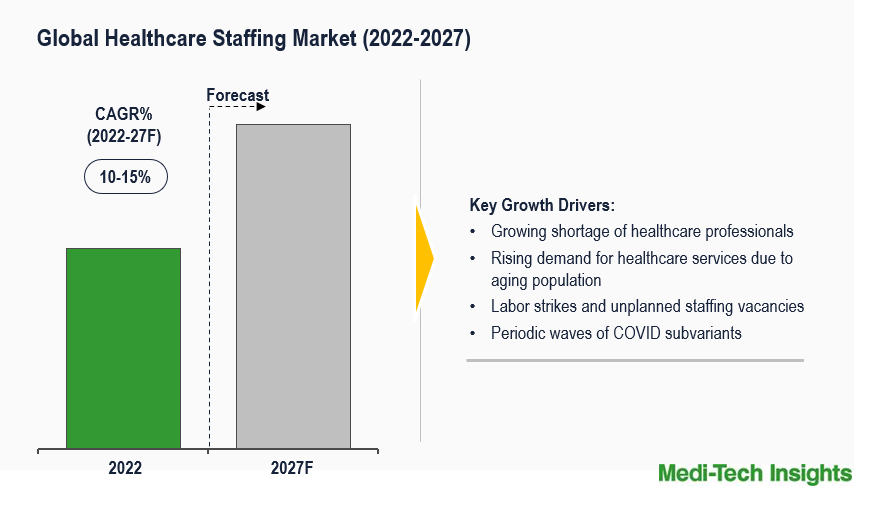 Healthcare Staffing Companies are feeling the heat of the Shrinking Labor Market
While demand is on the rise, the healthcare workforce is shrinking, resulting in increased competition for a limited resource. The pre-existing provider shortage was worsened by the pandemic as many physicians/nurses quitting job due to burnout. Because of this, it is becoming highly difficult to search permanent or temporary staff to fill open positions. This has increased competition among healthcare staffing companies to find and add healthcare staff.
Following the easing of COVID-19 pandemic, Demand for Travel Nurses has declined in United States
Travel nurses are registered nurses who take temporary nursing positions in hospitals, clinics, and other healthcare facilities. Just before the pandemic, in January 2020, there were about 50,000 travel nurses in the U.S., or about 1.5% of the total number of registered nurses in the U.S. This number doubled in size to more than 100,000 in pandemic. In 2021, the demand for travel nurses grew by more than 30%. Many nurses transitioned into a travel nurse role to take advantage of dramatically increased pay, flexible working hours, and better locations. However, as the deaths and hospitalizations from Covid reduced, the demand for travel nurses and the pay they received decreased dramatically. According to Aya Healthcare, one of the largest staffing firms in the US, the demand dropped to more than 40% from January to July in 2022. However, this decline is expected to be offset with the spread of the subvariants (e.g. BA.5 in July 2022) causing increased hospitalizations and nursing shortage.
North America controls a larger share in the Healthcare Staffing Market
From a geographical perspective, North America holds a major market share of the healthcare staffing market. This is attributed to high demand for healthcare services and a large healthcare market; growing shortage of skilled healthcare professionals; and presence of large number of staffing companies. The U.S. healthcare industry is experiencing a severe shortage of workers at every level. The Association of American Medical Colleges projects that the healthcare industry will face a shortage of up to 124,000 physicians by 2034. In such a scenario, hospitals as well as long term care facilities will increasingly utilize the services from healthcare staffing companies to recruit qualified staff.
Competitive Landscape Analysis: Healthcare Staffing Market
Some of the key and well-established players operating in the global healthcare staffing market are listed below:-
Aya Healthcare
AMN Healthcare
CHG Healthcare
Medical Solutions
Jackson Healthcare
Vista Staffing
HealthTrust Workforce Solutions (a division of HCA)
Cross Country Healthcare
SnapNurse
Maxim Healthcare Services
Medix
Cornell/Trilantic Porto
Health Carouse
Trusted Health
HealthCare Support
Supplemental Healthcare
ATC Healthcare
Medicus Healthcare Solutions, among others.
Key Strategic Questions Addressed in this Report
What is the market size & forecast of the healthcare staffing market?
What are historical, present, and forecasted market shares and growth rates of various segments and sub-segments of the healthcare staffing market?
What are the key trends defining the healthcare staffing market?
What are the major factors impacting the healthcare staffing market?
What are the opportunities prevailing in the healthcare staffing market?
Which region has the highest share in the global market? Which region is expected to witness the highest growth rate in the next 5 years?
Who are the major players operating in the healthcare staffing market?
What are the key strategies adopted by players operating in healthcare staffing market?
1. Research Methodology
1.1. Secondary Research
1.2. Primary Research
1.3. Market Estimation
1.3.1. Bottom-up and Top-down Approach
1.4. Market Forecasting
2. Executive Summary
3. Market Overview
3.1. Market Dynamics
3.1.1. Drivers
3.1.2. Restraints
3.1.3. Opportunities
3.1.4. Market Trends
3.2. Industry Speaks
4. COVID-19 Impact on Healthcare Staffing Market
5. Global Healthcare Staffing Market- Size & Forecast (2020-2027), By Type
5.1. Travel Nursing
5.2. Per Diem Nursing
5.3. Locum Tenens
5.4. Allied Healthcare
5.5. Others
6. Global Healthcare Staffing Market- Size & Forecast (2020-2027), By Region
6.1. North America (U.S. & Canada)
6.2. Europe (UK, Germany, France, Italy, Spain, Rest of Europe)
6.3. Asia Pacific (China, India, Japan, Rest of Asia Pacific)
6.4. Rest of the World (Latin America, Middle East & Africa)
7. Competitive Landscape
7.1. Key Players and their Competitive Positioning
7.1.1. Key player Rankings (2022)
7.2. Key Strategies Assessment, By Player (2020-2022)
7.2.1. Partnerships, Agreements, & Collaborations
7.2.2. Mergers & Acquisitions
7.2.3. Geographic Expansion
8. Key Companies Scanned (Indicative List)
8.1. Aya Healthcare
8.2. AMN Healthcare
8.3. CHG Healthcare
8.4. Medical Solutions
8.5. Jackson Healthcare
8.6. Vista Staffing
8.7. HealthTrust Workforce Solutions
8.8. Cross Country Healthcare
8.9. Maxim Healthcare Services
8.10. SnapNurse
The study has been compiled based on extensive primary and secondary research.
Secondary Research (Indicative List)

Primary Research
To validate research findings (market size & forecasts, market segmentation, market dynamics, competitive landscape, key industry trends, etc.), extensive primary interviews were conducted with both supply and demand side stakeholders.
Supply Side Stakeholders:
Senior Management Level: CEOs, Presidents, Vice-Presidents, Directors, Chief Technology Officers, Chief Commercial Officers
Mid-Management Level: Product Managers, Sales Managers, Brand Managers, R&D Managers, Business Development Managers, Consultants
Demand Side Stakeholders:
Stakeholders in Hospitals, long term care facilities, physician practices, among others.
Breakdown of Primary Interviews
Market Size Estimation
Both 'Top-Down and Bottom-Up Approaches' were used to derive market size estimates and forecasts.
Data Triangulation
Research findings derived through secondary sources & internal analysis was validated with Primary Interviews, Internal Knowledge Repository and Company's Sales Data.