Global Hematology Market Size, Share, Growth, Trends, Demand & Analysis 2027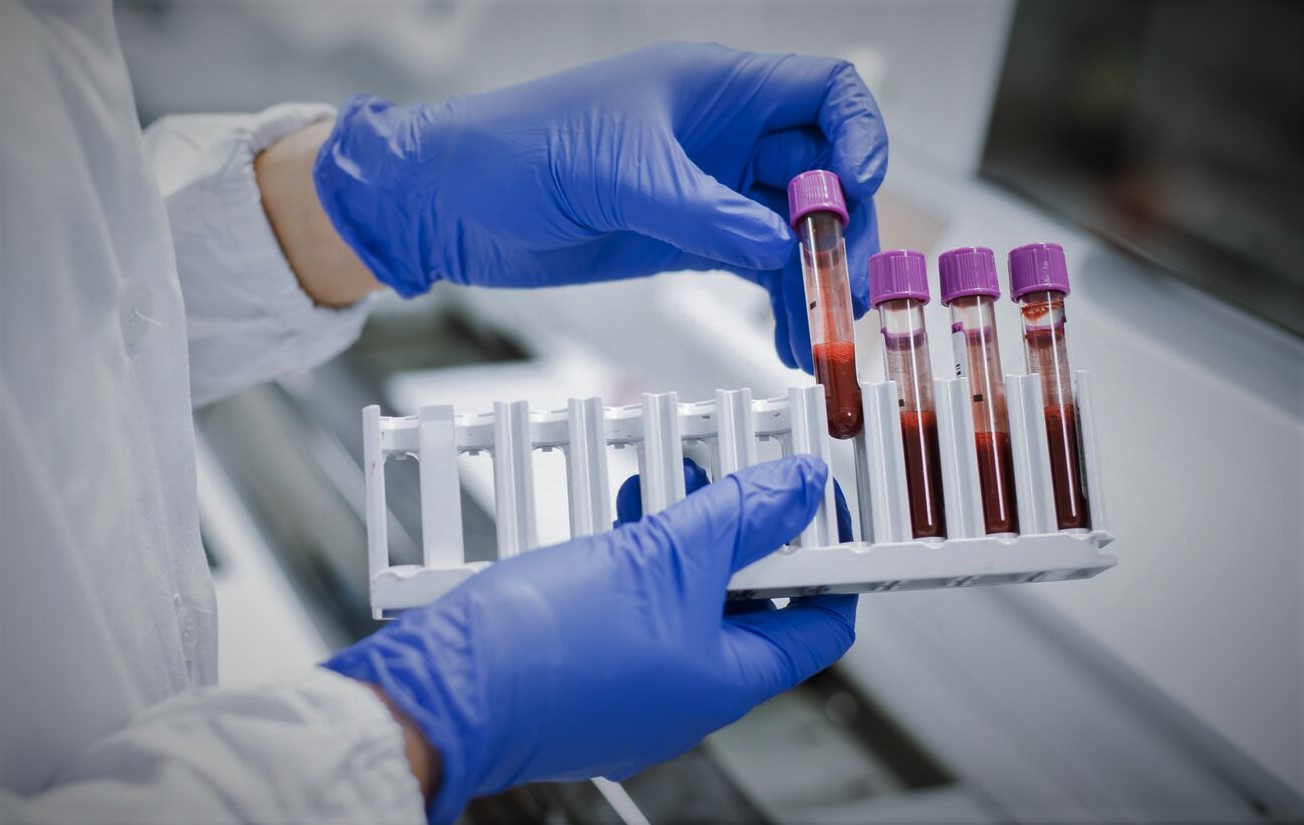 Global Hematology Market is expected to witness a growth rate of 3-5% by 2027. The growth in coagulation disorders, increasing blood donations, growing trend towards point-of-care (POC) diagnostics for home testing of key hematological counts, technological advancements in hematology analyzers and reagents, application of flow cytometry in hematology, and recovery from COVID-19 are some of the key factors driving the market growth.
Hematology is a branch of medicine related to the study of blood and blood-forming organs. It covers a wide spectrum of benign and malignant diseases and conditions of the red and white blood cells, platelets and the coagulation system in adults and children. The specialists in hematology research, diagnose and treat a variety of conditions such as anemia, bleeding disorders such as hemophilia, blood clots, sickle cell disease, and blood cancers such as leukemia, lymphoma, and myeloma.
Covid-19 Impact on the Global Hematology Market
The Covid-19 pandemic has favorably impacted the hematology market as there was a primary focus on hematology parameters for the assessment of Covid-19 globally. Covid-19 bolstered the demand for hematology analyzers which were used to run tests like blood levels, complete blood counts, and various analysis of the blood sample. The lungs were the most affected organ by the COVID-19 virus. A hematology test is essential to monitor the lungs and the RBC count. When the alveoli (tiny air sacs) are damaged, the bronchial tubes collapse, which causes blockage of air exchange. The red blood cells are also unable to carry and transport oxygen. This in turn affects the patient infected with the Covid virus and hence the patient is unable to breathe or have enough oxygen in the body.
Technological Advancements in Hematology Analyzers Drives the Global Hematology Market
The global hematology market has been marked by constant technological advancements, which in turn is fueling the hematology market growth.
For instance,
In May 2023, Siemens Healthineers launched next-gen hematology analyzers for high-volume hematology testing, the Atellica HEMA 570 Analyzer and the Atellica HEMA 580 Analyzer. Both these analyzers offer intuitive interfaces and multi-analyzer automation connectivity to eliminate workflow roadblocks and achieve the fast throughput high-volume that labs demand.
In July 2022, HORIBA Medical launched new products in its Yumizen H500 & H550 hematology product family, the compact benchtop hematology analyzers with enhanced performance, new features and increased benefits.
"The growing cases of blood disorders, technological advancements in hematology analyzers, and rising digital transformation of hematology laboratories globally are the key factors fueling the global hematology market. Approximately 80 million people alone are affected with blood disorders in the EU."-Director, Leading Manufacturer of Hematology Analyzers, United States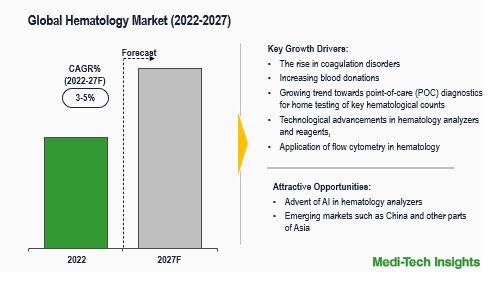 AI-Powered Automatic Hematology Analyzers Set to Advance the Diagnostic Capabilities of Laboratories
For analyzing hematological diseases, most of the available hematology analyzers provide only basic information. As the volume of information generated by hematology analyzers grows, clinicians and doctors are often overloaded with data and they face issues in analyzing critical information. The advent of AI-powered automatic hematology analyzers applies artificial intelligence (AI) analysis to generate interpretable information which helps decrease turn-around time, minimize technical misclassifications and reduce the workload of clinicians.
For instance, DH-615 hematology analyzer from Dymind Biotechnology, which is based on fluorescent nucleic acid staining technology and the company's proprietary AI Cube technology combines 6-DIFF with RET, greatly improves the identification of abnormal cells and enhances the ability to analyze hematological diseases.
Competitive Landscape Analysis: Hematology Market
The hematology market is marked by the presence of some of the well-established players such as listed below:-
Sysmex Corporation
Beckman Coulter/Danaher Corporation
Siemens Healthineers
Abbott
Mindray
Nihon Kohden
Boule Diagnostics
Bio-Rad Laboratories
Horiba
Drew Scientific
Organic and Inorganic Growth Strategies Adopted by the Leading Players to Establish Their Strong Foothold in Hematology Market
All the leading players operating in the global hematology market have adopted both organic and inorganic growth strategies such as new product launches, and partnerships to garner a larger market share.
For instance,
In July 2022, Beckman Coulter and Scopio Labs partnered to accelerate adoption of hematology digital cell morphology platform.
In March 2022, Mindray launched the BC-700 Series, a compact, integrated CBC & ESR hematology analyzer for small-to-mid sized labs.
The outlook for the global hematology market looks quite promising due to technological advancements in hematology analyzers, growing demand for laboratory automation to improve precision and efficiency, growing cases of blood disorders, and adoption of organic and inorganic growth strategies by key market players.
Key Strategic Questions Addressed in this Research Report:
What is the market size & forecast for the hematology market?
What are the historical, present, and forecasted market shares and growth rates of various segments and sub-segments of the hematology market?
How has Covid-19 impacted the hematology market?
What are the major growth drivers, restraints/challenges impacting the hematology market?
What are the opportunities prevailing in the hematology market?
What is the investment landscape of hematology market?
Which region has the highest share in the global hematology market? Which region is expected to witness the highest growth rate in the next 5 years?
Who are the major players operating in the hematology market? What is the competitive positioning of key players?
Who are the new players entering the global hematology market?
What are the key strategies adopted by players in hematology market?
1. Research Methodology
1.1. Secondary Research
1.2. Primary Research
1.3. Market Estimation
1.4. Market Forecasting
2. Executive Summary
3. Market Overview
3.1. Market Dynamics
3.1.1. Drivers
3.1.2. Restraints
3.1.3. Opportunities
3.1.4. Market Trends
3.2. Industry Speaks
4. Pricing Assessment: Hematology Analyzers
5. Epidemiological Assessment: Blood Disorders
6. Global Hematology - Size & Forecast (2020-2027), By Product
6.1. Instruments
6.2. Reagents & Consumables
6.3. Services
7. Global Hematology Market - Size & Forecast (2020-2027), By End User
7.1. Hospitals & Clinics
7.2. Commercial Labs
7.3. Commercial Service Providers
7.4. Research & Academic Providers
8. Global Hematology Market - Size & Forecast (2020-2027), By Region
8.1. North America (U.S. & Canada)
8.2. Europe
8.3. Asia-Pacific
8.4. Rest of the World (Includes Latin America, Middle East & Africa)
9. Competitive Landscape
9.1. Key Players and their Competitive Positioning
9.1.1. Competitive Positioning of Key Players (2022)
9.1.2. Offering-wise Players Mapping
9.2. Key Strategies Assessment, By Player (2021-2023)
9.2.1. New Product & Service Launches
9.2.2. Partnerships, Agreements, & Collaborations
9.2.3. Mergers & Acquisitions
9.2.4. Geographic Expansion
10. Key Companies Scanned (Indicative List)
10.1. Sysmex Corporation
10.2. Beckman Coulter/Danaher Corporation
10.3. Siemens Healthineers
10.4. Abbott
10.5. Mindray
10.6. Nihon Kohden
10.7. Boule Diagnostics
10.8. Bio-Rad Laboratories
10.9. Horiba
10.10 Drew Scientific
10.11 Other Players
The study has been compiled based on extensive primary and secondary research.
Secondary Research (Indicative List)

Primary Research
To validate research findings (market size & forecasts, market segmentation, market dynamics, competitive landscape, key industry trends, etc.), extensive primary interviews were conducted with both supply and demand side stakeholders.
Supply Side Stakeholders:
Senior Management Level: CEOs, Presidents, Vice-Presidents, Directors, Chief Technology Officers, Chief Commercial Officers
Mid-Management Level: Product Managers, Sales Managers, Brand Managers, R&D Managers, Business Development Managers, Consultants
Demand Side Stakeholders:
Stakeholders in Hospitals & Clinics, Commercial Labs, Commercial Service Providers, and Research & Academic Providers.
Breakdown of Primary Interviews

Market Size Estimation
Both 'Top-Down and Bottom-Up Approaches' were used to derive market size estimates and forecasts.
Data Triangulation
Research findings derived through secondary sources & internal analysis were validated with Primary Interviews, Internal Knowledge Repository, and Company Sales Data.