Global Heparin Market Size, Share, Growth, Trends and Analysis Report 2026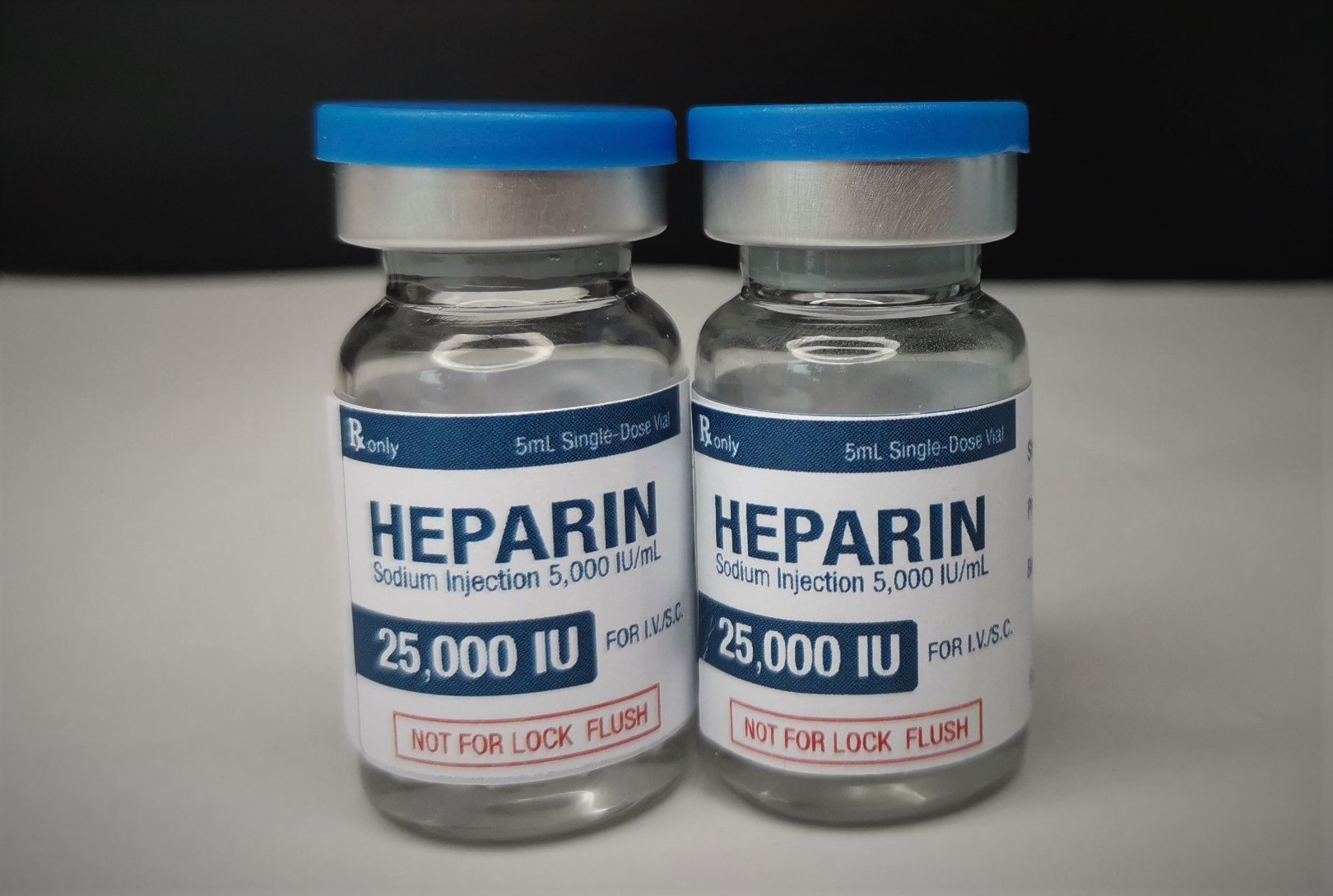 The Global Heparin Market is expected to grow at a decent rate of 5% by 2026. The increasing prevalence of chronic diseases such as venous thromboembolism, pulmonary embolism, renal diseases, and cardiovascular disorders, rising geriatric population, high demand for anticoagulants, growing application of heparin in various surgeries such as orthopedic and heart surgeries, and the growing availability of synthetic and semi-synthetic heparin mimetics that help in cancer, coagulation, and inflammatory diseases treatment are some of the key factors driving the heparin market growth.
Heparin is an injectable anticoagulant prescription medicine used to treat and prevent the symptoms of blood clots caused by medical conditions or medical procedures. Heparin may be used alone or with other medications. It is a highly-sulfated glycosaminoglycan and the most highly negatively charged biological molecule known to mankind. It is also used to create an anti-clotting surface inside various medical devices such as renal dialysis machines and test tubes.
Increasing Usage of Heparin in Various Applications Drives the Heparin Market 
Anticoagulants work by decreasing the clotting ability of the blood. It helps to prevent the formation of clots as well as stop the further expansion of any existing clots. Although heparin does not break down existing blood clots, it does enhance the body's natural mechanism involved in clot lysis. Therefore, it can be used in various applications such as:
Prevent or treat certain blood vessel, heart, and lung conditions.
Prevent blood clotting during open-heart surgery, bypass surgery, kidney dialysis, and blood transfusions.
When used in low doses, prevent the formation of blood clots in certain patients, especially those who may have undergone a certain type of surgery or those who are required to be in bed for a long time.
Used to diagnose and treat a serious blood condition called disseminated intravascular coagulation.
Prevention of peripheral artery thromboembolism.
Blood clot in a deep vein.
Prevention of deep vein thrombosis.
Prevention of a blood clot following percutaneous coronary intervention.
Growing Adoption of Low Molecular Weight Unfractionated Heparin Over Heparin to Prevent Deep Vein Thrombosis or Pulmonary Embolism Fuels the Demand
Low-molecular-weight heparins (LMWHs) are a new class of anticoagulants derived from unfractionated heparin (UFH). They have several advantages over UFH that have led to their increasing use for several thromboembolic indications such as deep vein thrombosis (DVT) and pulmonary embolism (PE) as well as atrial fibrillation (AF). Low-molecular-weight heparin provides better bioavailability & longer half-life, simplified dosing, predictable anticoagulant response, lower risk of heparin-induced thrombocytopenia (HIT), and lower risk of osteoporosis over heparin. LMWHs have been evaluated in a large number of randomized clinical trials and found to be safe and effective for the prevention and treatment of venous thrombosis. More recently, LMWH preparations have also been evaluated in patients with acute pulmonary embolism and those with unstable angina. Thus, because of the LMWH's more predictable pharmacokinetics and anticoagulant effect, LMWH is recommended over unfractionated heparin for patients with massive pulmonary embolism, and initial treatment of deep vein thrombosis.
The Potential Role of Heparin in Covid-19 Patients Boosts the Heparin Market Growth
Many patients with COVID-19 develop a clinically significant coagulopathy. The coagulopathy associated with COVID-19 is characterized by thrombocytopenia, minor prolongation of prothrombin time (PT) and partial thromboplastin time (aPTT), and elevated serum D-dimer and fibrinogen, consistent with consumptive coagulopathy. COVID-19 infections can lead to an increased risk of blood clots. These blood clots can lead to individuals being admitted to hospital, or, unfortunately in severe cases, death. Also, patients with COVID-19 are at high risk for developing clinically significant large-vessel thrombosis. Therefore, early use of anticoagulation may reduce the risk of coagulopathy, microthrombus formation, and organ damage. The role of heparin in COVID-19 is supported by a lot of studies describing its pleiotropic activity in clinical trials which helps in the prevention of new blood clots from forming than treating existing blood clots.
Key Market Challenges: Global Heparin Market
The side effects associated with the use of heparin drugs and the presence of another anticoagulant in the market are the major factors restraining the growth of the market. The most common side-effect associated with heparin drug includes bruising more easily, severe bleeding that takes a long time to stop, irritation, pain, redness, or sores at the injection site, allergic reactions such as hives, chills, and fever, and increased liver enzymes on the liver function test result, and heparin-induced thrombocytopenia (HIT).
North America Holds the Largest Market Share but APAC is Set to Witness Strongest Growth in Heparin Market
North America holds the largest market share of the heparin market followed by Europe and the Asia Pacific. This can be mainly attributed to the high burden of chronic diseases, the presence of advanced and robust healthcare infrastructure, growing demand for heparin in various surgeries, and rising incidences of cardiovascular disorders in the region. However, Asia-Pacific is expected to grow significantly during the forecast period as it is the largest supplier base of crude heparin, the rising incidence of venous thromboembolism and cardiovascular diseases, an increasing number of surgical procedures, and a rise in the geriatric population in this region.
Competitive Landscape Analysis: Heparin Market
The global heparin market is marked by the presence of established industry players such as Baxter International Inc., B. Braun Holding GmbH & Co. KG, Dr. Reddy's Laboratories Ltd., Fresenius SE & Co KGaA, Hebei Changshan Biochemical Pharmaceutical Co. Ltd., Leo Pharma A/S, Pfizer Inc., Sanofi S.A, Teva Pharmaceuticals, GlaxoSmithKline plc, Aspen Holdings, Sandoz (Novartis AG), OPOCRIN S.P.A., F. Hoffmann-La Roche Ltd, Mylan N.V., Techdow USA Inc. (Hepalink Group), Anselm Pharmaceuticals, and  Bristol-Myers Squibb Co., among others.
Companies Adopt both Organic & Inorganic Growth Strategies to Increase their Market Share in the Heparin Market
Leading players operating in the global heparin market are adopting both organic and inorganic growth strategies such as collaborations, acquisitions, and expansions to garner a higher market share. For instance,
In February 2022, Techdow USA Inc. announced the launch of its Heparin Sodium Injection, USP in the United States market.
In January 2022, Ohio-based biotechnology company Optimvia Pharmaceuticals announced the development of a synthetic method for creating large quantities of heparin, which is used to make a common blood thinner at a reasonable price.
In January 2022, Ohio-based biotechnology company Optimvia Pharmaceuticals announced the strategic partnership with Ginkgo Bioworks to improve the manufacturing efficiency of biosynthetic heparin, an essential medicine currently produced from industrial animal agriculture.
The heparin market is a growing market which is expected to gain further momentum in the upcoming years due to new product launches, development in synthetic and semi-synthetic heparin mimetics, and aggressive organic and inorganic growth strategies followed by the market players.
Key Strategic Questions Addressed
What is the market size & forecast of the heparin market?
What are the historical, present, and forecasted market shares and growth rates of various segments and sub-segments of the heparin market?
How has Covid-19 pandemic impacted the global heparin market?
What are the major growth drivers, restraints/challenges impacting the market?
What are the opportunities prevailing in the heparin market?
What is the investment landscape of heparin market?
Which region has the highest share in the global market? Which region is expected to witness the highest growth rate in the next 5 years?
Who are the major players operating in the market? What is the competitive positioning of key players?
Who are the new players entering the heparin market?
What are the key strategies adopted by market players working in heparin market?
The study has been compiled based on the extensive primary and secondary research.
Secondary Research (Indicative List)

Primary Research
To validate research findings (market size & forecasts, market segmentation, market dynamics, competitive landscape, key industry trends, etc.), extensive primary interviews were conducted with both supply and demand side stakeholders.
Supply Side Stakeholders:
Senior Management Level: CEOs, Presidents, Vice-Presidents, Directors, Chief Technology Officers, Chief Commercial Officers
Mid-Management Level: Product Managers, Sales Managers, Brand Managers, R&D Managers, Business Development Managers, Consultants
Demand Side Stakeholders:
Stakeholders in Hospitals, Clinics and Other End Users.
Breakdown of Primary Interviews
Market Size Estimation
Both 'Top-Down and Bottom-Up Approaches' were used to derive market size estimates and forecasts.
Data Triangulation
Research findings derived through secondary sources & internal analysis were validated with Primary Interviews, Internal Knowledge Repository, and Company Sales Data.