Global High Potency API CDMOs Market Size, Share, Growth, Trends & Demand 2027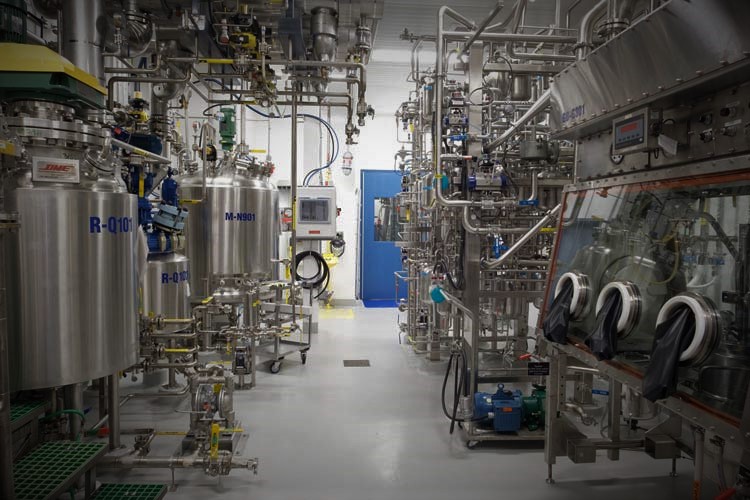 The Global High Potency API CDMOs Market is expected to witness a high and a single-digit growth by 2027. The principal factors fueling the market's growth are growing demand for oncology medications, innovations in manufacturing technology, and the strong pipeline of small molecule highly potent drug products in the development stage. Additionally, the growing utilization of targeted therapies for addressing chronic diseases is anticipated to further fuel the global market's growth.
High potency active pharmaceutical ingredients (HPAPIs) are a class of pharmaceutical compounds that are characterized by their high pharmacological activity at low doses. These are typically drugs that are effective in very small quantities, often measured in micrograms (µg) or even nanograms (ng). HPAPIs are used in the development and production of certain specialized medications, particularly in oncology and some other disease areas where precise dosing and minimal side effects are critical. HPAPI CDMOs are equipped with the expertise, facilities, and equipment needed to handle HPAPIs safely and efficiently, including their high potency, toxicity, and containment requirements. These organizations can handle various aspects of HPAPI manufacturing, including process development, scale-up, and commercial production.
Biologic HPAPIs and the Changing Landscape of Drug Development
The pharmaceutical industry has been experiencing a rising demand for targeted therapies, particularly in fields like oncology, where high-potency active pharmaceutical ingredients (HPAPIs) play a crucial role. This demand has fueled the need for specialized CDMOs that have expertise in HPAPI development and manufacturing. Concurrently, drug molecules are growing in complexity, necessitating specialized knowledge and facilities, a demand that HPAPI CDMOs are well-equipped to address.
For instance,
In March 2022, Lonza and Oasmia announced they had entered into a manufacturing agreement for the production of Oasmia ovarian cancer drug candidate, Cantrixil. Under the terms of the agreement, Lonza will deliver cGMP batches of drug substance for clinical supply to Oasmia, manufactured at its HPAPI laboratories in Nansha, China.
Additionally, regulatory authorities are imposing stricter guidelines for HPAPI manufacturing and handling due to their potency and safety concerns, prompting HPAPI CDMOs to adapt and invest in compliance measures. Given the toxicity of HPAPIs, there is a heightened focus on containment technologies and strategies to ensure the safety of personnel and the environment. HPAPI CDMOs are also investing in advanced containment solutions. Furthermore, partnerships between CMOs, CDMOs, and pharmaceutical companies have become instrumental in the development and commercialization of HPAPIs. Pharmaceutical companies continue to outsource various stages of drug development and manufacturing to CDMOs to streamline their operations, reduce costs, and access specialized expertise. This trend has extended to HPAPI development and manufacturing, driving the growth of the high potency API CDMOs market.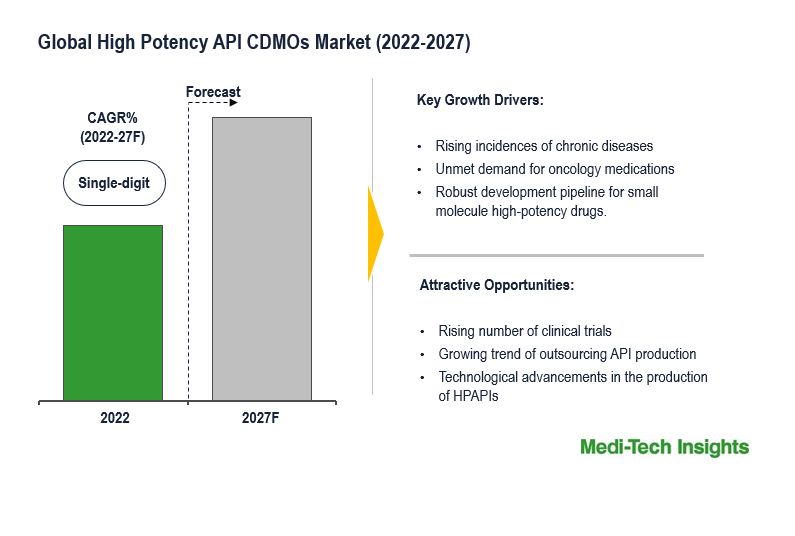 Emerging Trends in High Potency API CDMOs Market: Insights from the COVID-19 Experience
The demand for high-potency APIs (HPAPIs) experienced a rapid surge amid the COVID-19 pandemic. In the initial phase of the COVID-19 pandemic, disruptions in the global supply chains and manufacturing led to a slowdown in research-related endeavors. However, in the latter half of the pandemic, the industry regained prominence due to the heightened need for vaccines to combat the coronavirus. This rise in demand also translated into increased requirements for API molecules' raw materials and intermediate products. Furthermore, the amplified demand for HPAPI molecules throughout the COVID-19 pandemic resulted in price escalations, ultimately contributing to enhanced revenue growth.
With the prevalence of HPAPIs on the rise, pharmaceutical companies are continually seeking ways to maintain competitiveness, frequently through enhancing existing offerings. High-potency drugs offer the possibility of achieving comparable efficacy with lower dosage levels, an attractive prospect for drug developers as it reduces patient exposure to medications. Furthermore, a considerable proportion of oncology treatments are comprised of HPAPIs, and there is a growing clientele with such compounds.
Innovation and the introduction of novel service offerings are stimulating competition within the industry, while mergers and acquisitions are contributing to the consolidation of the CDMO sector, encompassing the HPAPI segment. This trend is driven by companies aiming to expand their scope of capabilities and geographical presence.
For instance,
In June 2022, WuXi STA, a subsidiary of WuXi AppTec, inaugurated an additional high-potency API (HPAPI) facility at its Changzhou site in Jiangsu, China. This new plant has been established in response to the increasing need for high-potency API process research and development, as well as manufacturing services.
In January 2022, Catalent reported the successful culmination of a $10 million expansion project that has introduced large-scale isolator units at its Malvern, Pennsylvania, and Dartford, U.K., facilities. These enhancements are designed to offer advanced containment capabilities for the micronization of highly potent drug compounds and ensure that occupational exposure limit (OEL) values can be as low as 0.05 micrograms per cubic meter.
Key Market Constraints/Challenges: High Potency API CDMOs Market
The global high potency API CDMOs market encounters significant challenges. These include the need for stringent safety measures and specialized containment systems due to the potent and toxic nature of HPAPIs. Regulatory oversight is strict and continually evolving, lack of skilled professionals and the high cost of setting up and maintaining facilities for HPAPI production is a significant financial challenge.
North America Accounts for the Largest Market Share in the Global High Potency API CDMOs Market
North America holds the largest market share in the global HPAPI CDMOs market due to rising demand for HPAPIs, favorable regulatory environment, advanced healthcare infrastructure, and the presence of many key players in the region. The Asia-Pacific region is anticipated to experience a rapid growth during the forecast period. The rising demand for cancer treatment, increasing demand for HPAPIs, and increase in the number of R&D activities are some of the factors that are likely to fuel the high potency API CDMOs market growth in this region.
Competitive Landscape Analysis: High Potency API CDMOs Market
Some of the key and established players operating in the global high potency API CDMOs market are Lonza, Sanofi, Pfizer, Novartis AG, F. Hoffmann-La Roche Ltd, Bristol-Myers Squibb Company, Bayer Healthcare, Merck & Co., Inc. and Wuxi STA among others.
Organic and Inorganic Growth Strategies Adopted by the Market Players to Establish Their Foothold in the High Potency API CDMOs Market
Leading Players operating in the high potency API CDMOs market are adopting both organic and inorganic growth strategies such as capacity expansion, collaborations, and acquisitions to garner a larger market share.
For instance,
In July 2023, Evonik and Heraeus Precious Metals announced about their collaboration to broaden their respective service portfolios concerning highly potent active pharmaceutical ingredients (HPAPIs). This joint endeavour will harness the unique HPAPI expertise of both firms, offering customers with fully integrated solution from pre-clinical development to commercial manufacturing.
In February 2023, Lonza revealed that it had successfully finished expanding its bioconjugation facility in Visp, Switzerland. These newly added suites complement Lonza's recent investments and asset expansions in Visp, Switzerland, which include enhancements in mammalian capacity, microbial development, drug product development, and manufacturing, as well as the capacity for manufacturing HPAPI payloads and linkers.
The high potency API CDMOs market is expected to gain a consistent momentum in the upcoming years due to the growing number of chronic diseases, rising demand for therapeutic & personalized medicines, technological advancements, and aggressive organic and inorganic growth strategies followed by the global market players.
Key Strategic Questions Addressed in this Research Report are as follows:-
What is the market size & forecast for the global high potency API CDMOs market?
What are the historical, present, and forecasted market shares and growth rates of various segments and sub-segments of the global high potency API CDMOs market?
How has COVID-19 impacted the high potency API CDMOs market?
What are the major growth drivers, restraints/challenges impacting the global high potency API CDMOs market?
What are the opportunities prevailing in the high potency API CDMOs market?
What is the investment landscape of the global high potency API CDMOs market?
Which region has the highest share in the global high potency API CDMOs market? Which region is expected to witness the highest growth rate in the next 5 years?
Who are the major players operating in the market? What is the competitive positioning of key players?
Who are the new players entering the high potency API CDMOs market?
What are the key strategies adopted by players operating in the high potency API CDMOs market?
1. Research Methodology
1.1. Secondary Research
1.2. Primary Research
1.3. Market Estimation
1.4. Market Forecasting
2. Executive Summary
3. Market Overview
3.1. Market Dynamics
3.1.1. Drivers
3.1.2. Restraints
3.1.3. Key Market Trends
3.2. Industry Speaks
4. Global High Potency API CDMOs Market - Size & Forecast (2019-2027), By Type of Services
4.1. Pre-clinical
4.2. Phase I
4.3. Phase II
4.4. Phase III
4.5. Phase IV
5. Global High Potency API CDMOs Market - Size & Forecast (2019-2027), By Therapeutic Application
5.1. Oncology
5.2. Hormonal Imbalance
5.3. Cardiovascular
5.4. Glaucoma
5.5. Others
6. Global High Potency API CDMOs Market - Size & Forecast (2019-2027), By Region
6.1. North America (U.S. & Canada)
6.2. Europe (UK, Germany, France, Italy, Spain, Rest of Europe)
6.3. Asia Pacific (China, India, Japan, Rest of Asia Pacific)
6.4. Rest of the World (Latin America, Middle East & Africa)
7. Competitive Landscape
7.1. Key Players and their Competitive Positioning
7.1.1. Competitive Positioning of Key Players (2022)
7.1.2. Offerings Assessment, By Player
7.2. Key Strategies Assessment, By Player (2021-2023)
7.2.1. New Service Launches
7.2.2. Partnerships, Agreements, & Collaborations
7.2.3. Mergers & Acquisitions
7.2.4. Geographic Expansion
8. Key Companies Scanned (Indicative List)
8.1. Lonza
8.2. Sanofi
8.3. Pfizer
8.4. Novartis AG
8.5. F. Hoffmann-La Roche Ltd
8.6. Bristol-Myers Squibb Company
8.7. Bayer Healthcare
8.8. Merck & Co., Inc
8.9. Wuxi STA
8.10. Other Prominent Players
The study has been compiled based on the extensive primary and secondary research.
Secondary Research (Indicative List)

Primary Research
To validate research findings (market size & forecasts, market segmentation, market dynamics, competitive landscape, key industry trends, etc.), extensive primary interviews were conducted with both supply and demand side stakeholders.
Supply Side Stakeholders:
Senior Management Level: CEOs, Presidents, Vice-Presidents, Directors, Chief Technology Officers, Chief Commercial Officers
Mid-Management Level: Product Managers, Sales Managers, Brand Managers, R&D Managers, Business Development Managers, Consultants
Demand Side Stakeholders:
Stakeholders in CROs, Biotechnology, and Pharmaceutical companies, among others.
Breakdown of Primary Interviews

Market Size Estimation
Both 'Top-Down and Bottom-Up Approaches' were used to derive market size estimates and forecasts.
Data Triangulation
Research findings derived through secondary sources & internal analysis were validated with Primary Interviews, Internal Knowledge Repository, and Company Sales Data.