Global Leukapheresis Market Size, Share, Trends, Growth, Analysis & Forecasts by 2027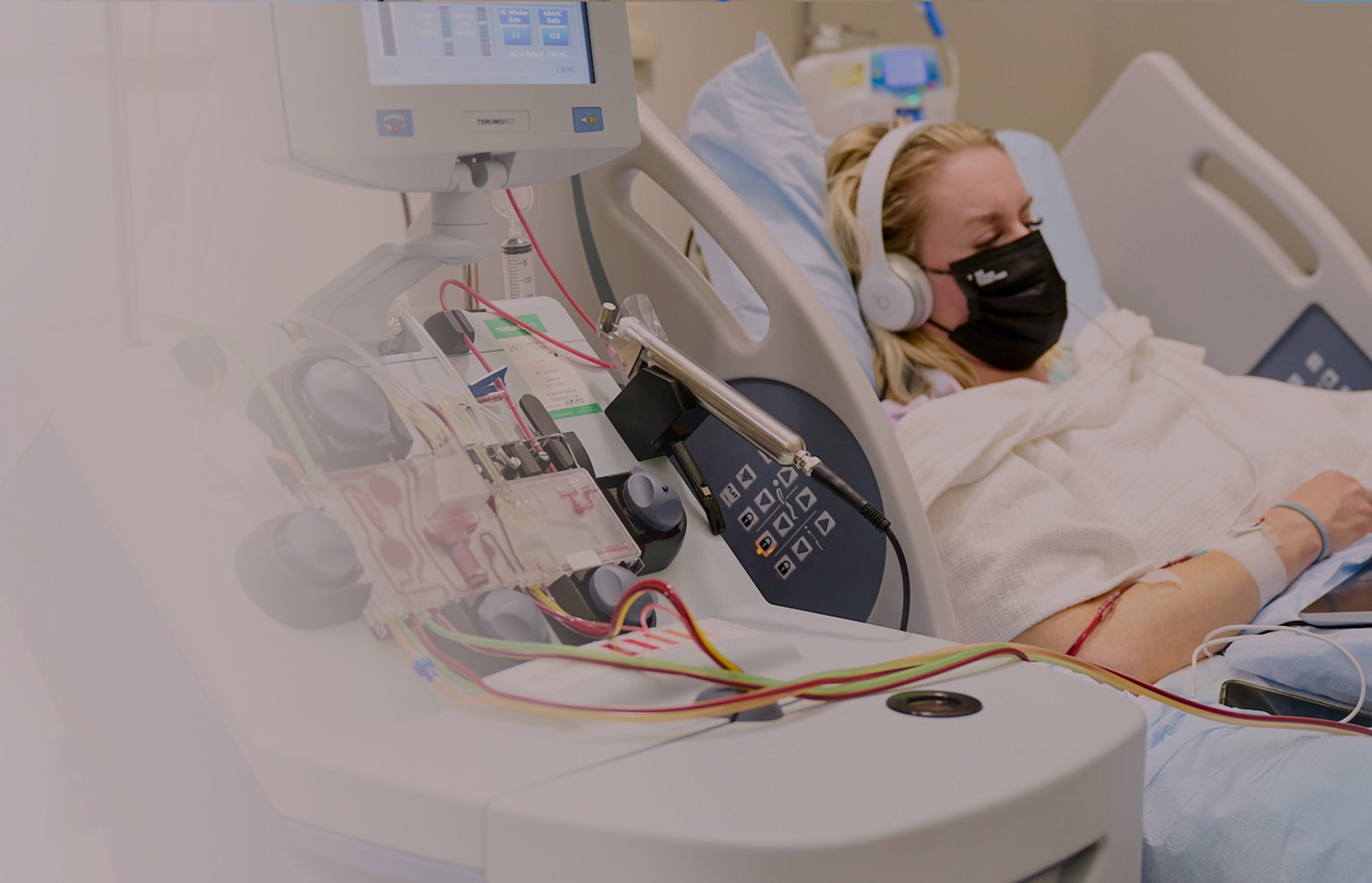 The Global Leukapheresis Market is expected to witness a double-digit growth rate by 2027. The key factors driving the leukapheresis market growth are the rising prevalence of cancer, growing R&D investments, expanding utilization of leukopaks in research, increasing demand for personalized medicine, and favourable initiatives taken by the government.
Leukapheresis is a medical procedure that involves separating and collecting white blood cells (leukocytes) from a person's blood. It's used for therapeutic and research purposes in conditions like leukemia and lymphomas, either to reduce excessive white blood cell counts or to gather white blood cells for applications like stem cell transplantation. During this procedure, blood is withdrawn from the patient body through a needle or catheter, and it is then passed through a machine to isolate white blood cells, and then the rest of the blood is returned to the patient. This procedure allows for the selective removal or collection of specific types of white blood cells.
Key Factors Shaping the Global Leukapheresis Market: A Comprehensive Overview
Leukapheresis is an important tool in the field of hematology and immunology, and it can help in the treatment and management of certain blood-related disorders. The collected white blood cells can also be used in research studies and for developing therapies in the field of immunology. Several influential factors are shaping the leukapheresis market. Firstly, the rising incidence of blood cancers, such as leukemia, lymphoma, and myeloma, underscores the vital role of leukapheresis in treating these conditions.
Leukapheresis is commonly used to harvest hematopoietic stem cells for transplantation. The growing demand for stem cell transplants in various medical treatments further fuels market growth, as leukapheresis is instrumental in harvesting hematopoietic stem cells. Advancements in apheresis technology, yielding more efficient and patient-friendly devices, enhance the procedure's safety and effectiveness, fostering adoption. Moreover, the increasing healthcare expenditure in many nations improves access to advanced procedures like leukapheresis.
For instance,
In August 2023, Terumo Blood and Cell Technologies (Terumo BCT) disclosed that the U.S. Food and Drug Administration (FDA) has granted clearance for the Reveos Automated Whole Blood Processing System. This system is the first of its kind, available in the U.S. and can process whole blood into platelets and other components in a single centrifugation cycle and is expected to improve the blood and platelet supply for patients in the United States.
In June 2023, Haemonetics Corporation disclosed that it has obtained FDA clearance for enhancements made to its NexSys PCS® plasma collection system. These upgrades encompass a novel plasma collection bowl with a patented design that enhances performance, as well as Express® Plus Technology designed to reduce procedure time.
An aging population, being at higher risk for blood-related diseases, drives demand for leukapheresis. It has found expanding applications beyond oncology, such as in autoimmune disorders and organ transplantation, expanding its range of indications. Growing awareness about leukapheresis benefits, favourable regulatory frameworks, and investments in research and development further propels the leukapheresis market's growth.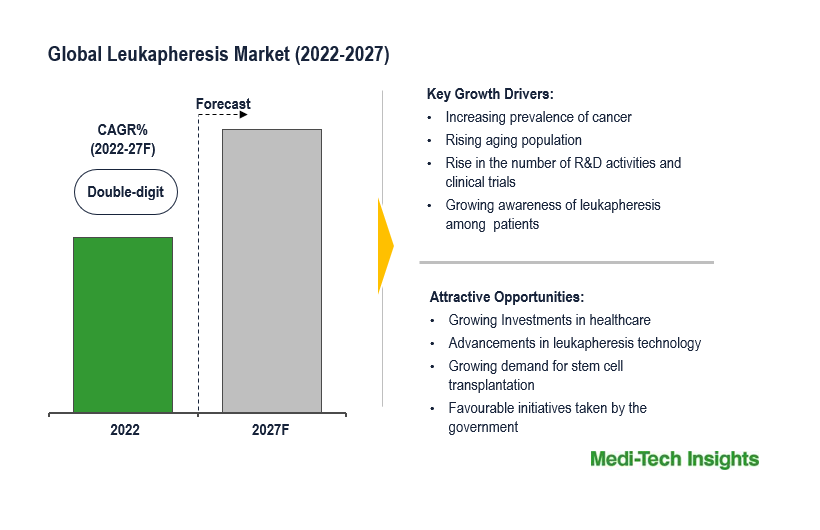 The Expanding Role of Leukapheresis in Cell-Based Therapies and Beyond
Leukapheresis has gained prominence as a therapeutic solution for various conditions, including leukemia, autoimmune ailments, and organ transplantation. The primary factors propelling the leukapheresis market encompass the escalating global incidence of blood cancers, notably leukemia, the increasing utilization of leukopaks in research, and the worldwide rise in blood donations. The growing prevalence of leukemia further spurs demand, augmenting the use of leukapheresis machines and kits.
Leukapheresis has become an integral component of cell-based therapies, such as chimeric antigen receptor T-cell (CAR-T) therapy, which exhibits substantial potential in cancer treatment and contributes to the demand for leukapheresis. With a rising number of individuals diagnosed with blood-related disorders, the necessity for leukapheresis procedures is on the upswing, fueling demand for associated devices and services. Continuous research and development efforts aimed at enhancing leukapheresis procedures have led to the introduction of more efficient and automated devices, thus likely contributing to the global leukapheresis market's growth. For instance,
In March 2023, Haemonetics Corporation revealed that it had obtained 510(k) clearance from the U.S. Food and Drug Administration (FDA) for the next-generation software of the Cell Saver® Elite®+ Autotransfusion System. The software upgrade, referred to as Intelligent Control, provides customers with significant improvements that streamline operations, enhancing efficiency and the overall user experience.
The global socio-economic landscape was disrupted by the COVID-19 pandemic. However, the pandemic also accelerated research and development efforts, particularly in the fields of immunotherapy and vaccine development. Leukapheresis, playing a pivotal role in collecting immune cells for these therapies, experienced high demand due to COVID-19. The COVID-19 virus is characterized by a reduction in lymphocyte count, which are vital white blood cells essential for combating infections. When lymphocytes are in short supply, the body's ability to effectively combat the SARS-CoV-2 virus responsible for COVID-19 is compromised. Consequently, the COVID-19 pandemic underscored the critical importance of leukapheresis in collecting convalescent plasma and immune cells, highlighting its role in pandemic preparedness.
The leukapheresis market growth is further propelled by the globalization of healthcare and improved access to specialized medical procedures in emerging markets. Additionally, the trend toward personalized medicine, tailored to an individual's genetic and immunological profile, heightens the demand for leukapheresis to isolate specific cell populations. These factors collectively establish leukapheresis as an indispensable procedure in the fields of hematology and transfusion medicine.
Key Constraints/Challenges of Global Leukapheresis Market
The growth of the global leukapheresis market is likely to be hampered by the higher costs associated with therapeutic leukapheresis and leukopaks, as well as the shortage of proficient professionals and limited adoption of therapeutic leukapheresis. Additionally, market expansion may face challenges due to the elevated costs of cellular immunotherapies and concerns about blood transfusion safety in developing nations.
North America Accounts for the Largest Share of the Global Leukapheresis Market
North America is anticipated to maintain its leadership position in the global leukapheresis market in the coming years. This is primarily due to the rising prevalence of cancer, increasing demand for personalized therapies, a well-established healthcare infrastructure, and the presence of key industry players in the region. On the other hand, the Asia-Pacific region is projected to experience the highest CAGR during the forecast period. Factors like the rising geriatric population, growing awareness of leukapheresis services, and increased investments in the healthcare sector are propelling the expansion of the Asia-Pacific market.
Competitive Landscape Analysis: Leukapheresis Market
The key players operating in the global leukapheresis market are Asahi Kasei Medical Co. Ltd, Haemonetics Corporation, Terumo BCT INC., Miltenyi Biotec, Fresenius SE & Co. KGaA, Caltag Medsystems Limited, Macopharma SA, Lonza Group, Charles River Laboratories and Zen-Bio.
Organic and Inorganic Growth Strategies Adopted by teh Key Market Players to Establish Their Foothold in the Leukapheresis Market
Players operating in this market are adopting both organic and inorganic growth strategies such as collaborations, acquisitions, and new product launches to garner a larger market share.
For instance,
In September 2023, Fresenius Kabi revealed that it has entered into a partnership with Virginia Oncology Associates (VOA), in which VOA will acquire the Ivenix Infusion System to administer medications to its patients. VOA is dedicated to serving individuals with cancer and blood disorders, offering them access to innovative therapies and advanced technologies.
In June 2022, Terumo Blood and Cell Technologies partnered with GenCure to enhance cell and gene therapy manufacturing solutions. They plan to establish a reference manufacturing center for BioBridge Global, jointly developing core processes and manufacturing operations. This reference site, located at GenCure's facility in San Antonio, Texas, will serve as a comprehensive solution for cell and gene therapy developers.
In May 2022, Fresenius Kabi successfully completed the acquisition of Ivenix, Inc., a company focused on infusion therapy. This acquisition enhances Fresenius Kabi's portfolio by adding an advanced infusion therapy platform tailored for the substantial U.S. market. Additionally, it equips the company with essential capabilities in hospital connectivity and interoperability.
The global leukapheresis market is expected to gain further momentum in the coming years due to the growing prevalence of cancer cases, rising investments in R&D activities, and aggressive organic and inorganic growth strategies followed by the market players.
Key Strategic Questions Addressed in this Research Report are as follows:-
What is the market size & forecast for the global leukapheresis market?
What are the historical, present, and forecasted market shares and growth rates of various segments and sub-segments of the global leukapheresis market?
How has COVID-19 impacted the global leukapheresis market?
What are the major growth drivers, restraints/challenges impacting the leukapheresis market?
What are the opportunities prevailing in the leukapheresis market?
What is the investment landscape of the leukapheresis market?
Which region has the highest share in the global market? Which region is expected to witness the highest growth rate in the next 5 years?
Who are the major players operating in the market? What is the competitive positioning of key players?
Who are the new players entering the global leukapheresis market?
What are the key strategies adopted by players working in the leukapheresis market?
1. Research Methodology
1.1. Secondary Research
1.2. Primary Research
1.3. Market Estimation
1.4. Market Forecasting
2. Executive Summary
3. Market Overview
3.1. Market Dynamics
3.1.1. Drivers
3.1.2. Restraints
3.1.3. Key Market Trends
3.2. Industry Speaks
4. Key Revenue Pockets
5. Global Leukapheresis Market - Size & Forecast (2019-2027), By Product
5.1. Leukapheresis Devices
5.2. Leukapheresis Disposables
6. Global Leukapheresis Market - Size & Forecast (2019-2027), By Application
6.1. Research Applications
6.2. Therapeutic Applications
7. Global Leukapheresis Market - Size & Forecast (2019-2027), By End User
7.1. Hospitals
7.2. Laboratories
7.3. Academics & Research Institutes
7.4. Others
8. Global Leukapheresis Market - Size & Forecast (2019-2027), By Region
8.1. North America (U.S. & Canada)
8.2. Europe (UK, Germany, France, Italy, Spain, Rest of Europe)
8.3. Asia Pacific (China, India, Japan, Rest of Asia Pacific)
8.4. Rest of the World (Latin America, Middle East & Africa)
9. Competitive Landscape
9.1. Key Players and their Competitive Positioning
9.1.1. Competitive Positioning of Key Players (2022)
9.1.2. Offerings Assessment, By Player
9.2. Key Strategies Assessment, By Player (2021-2023)
9.2.1. New Product & Service Launches
9.2.2. Partnerships, Agreements, & Collaborations
9.2.3. Mergers & Acquisitions
9.2.4. Geographic Expansion
10. Key Companies Scanned (Indicative List)
10.1. Asahi Kasei Medical Co. Ltd
10.2. Haemonetics Corporation
10.3. Terumo BCT Inc.
10.4. Miltenyi Biotec
10.5. Fresenius SE & Co. KGaA
10.6. Caltag Medsystems Limited
10.7. Macopharma SA
10.8. Lonza Group
10.9. Charles River Laboratories
10.10. Other Prominent Players
The study has been compiled based on the extensive primary and secondary research.
Secondary Research (Indicative List)
Primary Research
To validate research findings (market size & forecasts, market segmentation, market dynamics, competitive landscape, key industry trends, etc.), extensive primary interviews were conducted with both supply and demand side stakeholders.
Supply Side Stakeholders:
Senior Management Level: CEOs, Presidents, Vice-Presidents, Directors, Chief Technology Officers, Chief Commercial Officers
Mid-Management Level: Product Managers, Sales Managers, Brand Managers, R&D Managers, Business Development Managers, Consultants
Demand Side Stakeholders:
Stakeholders in Hospitals, Laboratories, Academics & Research Institutes, Other End Users.
Breakdown of Primary Interviews

Market Size Estimation
Both 'Top-Down and Bottom-Up Approaches' were used to derive market size estimates and forecasts.
Data Triangulation
Research findings derived through secondary sources & internal analysis were validated with Primary Interviews, Internal Knowledge Repository, and Company Sales Data.