Global Medical Display Market Report – Revolutionizing the Medical Imaging World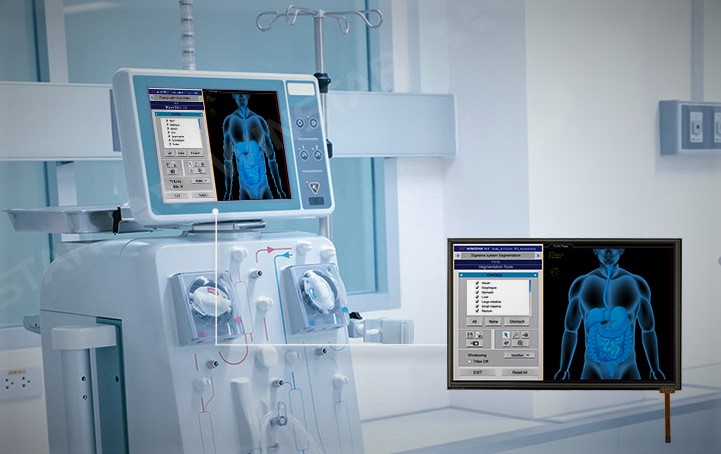 The Global Medical Display Market is expected to grow at a rate of ~5% by 2027. Rising demand for minimally invasive treatments (MIT), technological advancements in medical display products, growing demand for multimodality displays, growth in the adoption of hybrid operating rooms, and short replacement cycles of the medical display are some of the key factors driving the medical display market growth. However, an increase in the adoption of refurbished medical displays is likely to hamper the growth of the market in the forecast period.
Medical displays are purpose-built solutions that provide enhancements in viewing angle, longevity, luminance, and noise reduction to ensure substantially superior accuracy and effectiveness of medical images. Medical monitors are the most basic & elementary medical-grade displays meant for use by clinicians for review of images after the reporting has been done.
Technological Advancements in Medical Display Fuels its Global Demand 
With the recent advancements of medical technology, more and more high-end medical equipment is being introduced in the medical display market. New display technologies are becoming part of all types of medical devices, from solid-state thermometers to bedside monitors, and endoscopes to magnetic resonance (MR) scanners. They are being used to show patient and equipment status, as well as patient anatomy in two and three dimensions. Flat-panel displays, holograms, and head-mounted displays are dramatically changing the way medical messages are being communicated. The majority of displays used for medical imaging are liquid crystal displays (LCDs) backlit with either cold-cathode fluorescent lamps (CCFLs) or light-emitting diodes (LEDs).
For instance,
In January 2023, Barco announced the release of a new LED solution that completes its next-generation LED portfolio (alongside TruePix). This new series offers superb image performance and great color quality, powered by Barco's Infinipix Gen2 processing.
Growing Adoption of Multimodality Display Boosts the Demand of Medical Display Market
With the rapid evolution of medical imaging technology, hospitals are now handling a greater volume and wider range of image data. Accordingly, medical facilities are faced with adopting a variety of display systems for image interpretation. Multimodality imaging allows multiple images of diverse medical modalities (both color and grayscale) to be displayed on a single screen, enabling side-by-side comparisons and image fusions. To improve diagnostic convenience and streamline system infrastructure, most medical displays are now designed to support multimodality imaging.
Growing Potential of Medical Display in Diagnostics Applications Drives the Growth of Medical Display Market
A wide range of medical images is used in diagnostics, such as mammography, computed radiography (CR), computed tomography (CT), magnetic resonance imaging (MRI), endoscopy, positron emission tomography (PET), and 3D-computed tomography (CT). Unclear images make diagnosis difficult and time-consuming. For an accurate diagnosis, fine shadow and slight grayscale changes need to be accurately reproduced onscreen. Medical displays help to better deliver the performance for several types of images that diagnostic professionals need, especially large-format color displays with 6MP and 8MP resolution. Therefore, the demand for diagnostic applications is expected to increase the demand for high-definition medical display monitors in the coming years.
Effective High-Resolution Imaging Opens Up New Growth Opportunities in the Medical Display Market
High-resolution imaging and detection technologies enable more precise timely diagnosis, reduce invasive and unnecessary procedures, and support preventive care. Medical displays feature essential medical imaging technologies that ensure effective performance according to the DICOM 3.14 GSDF standard for enhanced image interpretation and diagnostic accuracy. With the advancement in calibration tools that are currently available for medical displays, regular checks can be conducted to ensure all devices within a hospital network are compliant with international DICOM standards for medical imaging which is further expected to drive the medical display market in the upcoming years.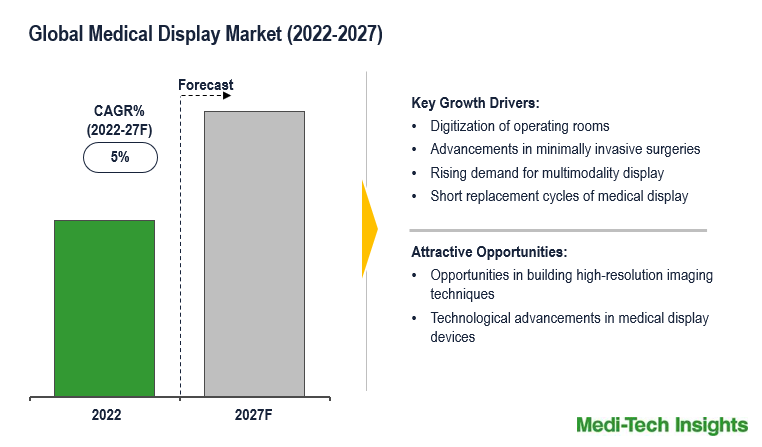 North America is Expected to Continue to Hold a Larger Share in the Medical Display Market
From a geographical perspective, North America holds a larger market share of the medical display market. This can be mainly attributed to the growing adoption of digital solutions in the operating room infrastructure, the resumption of mammography after Covid, the digitization of minimally invasive surgery procedures, and the adoption of more high-end medical display products in the region. However, the Asia-Pacific region is expected to witness strong growth in the upcoming years due to accelerating demand for diagnostic imaging, digitization of operating rooms, and increased investments in the establishment of medical facilities and infrastructure in the region.
Competitive Landscape Analysis: Medical Display Market
Some of the key and emerging players operating in the global medical display market are listed below:-
FSN Medical
LG Display
Sony
EIZO
Barco
Double Black Imaging
Jusha Medical
STERIS
Quest International
Radiant Vision Systems
Advantech
Organic and Inorganic Growth Strategies Adopted by Key Market Players to Establish Their Foothold in the Medical Display Market
All key players operating in the medical display market are adopting both the organic and inorganic growth strategies such as collaborations, acquisitions, and new product launches to garner a larger market share.
For instance,
In March 2023, EIZO Corporation announced that their RadiForce medical monitors and the latest version of RadiCS medical monitor quality control (hereafter QC) software comply with the new international standard IEC 62563-2 set forth by the International Electrotechnical Commission (IEC).
In February 2023, Barco announced they have received EU Medical Device Regulation (MDR) certificate and CE mark for their medical display portfolio.
In November 2022, Advantech announced that its PAX-1 series of medical-grade clinical review touchscreen monitors are available in 21" and 24" sizes and aimed at a diverse range of healthcare applications.
The global medical display market is a growing market that is expected to gain further momentum in the upcoming years due to a strong emphasis on developing new minimally invasive procedures, demand for equipment-related images such as high-definition monitors for operating rooms, technological advancements in medical display products, and aggressive organic and inorganic growth strategies followed by the top market players.
Key Strategic Questions Addressed in this Report
What is the market size & forecast for the medical display market?
What are the historical, present, and forecasted market shares and growth rates of various segments and sub-segments of the medical display market?
How has Covid-19 impacted the medical display market?
What are the major growth drivers, restraints/challenges impacting the market?
What are the opportunities prevailing in the medical display market?
What is the investment landscape of medical display market?
Which region has the highest share in the global market? Which region is expected to witness the highest growth rate in the next 5 years?
Who are the major players operating in the market? What is the competitive positioning of key players?
Who are the new players entering the medical display market?
What are the key strategies adopted by players in medical display market?
1. Research Methodology
1.1. Secondary Research
1.2. Primary Research
1.3. Market Estimation
1.4. Market Forecasting
2. Executive Summary
3. Market Overview
3.1. Market Dynamics
3.1.1. Drivers
3.1.2. Restraints
3.1.3. Opportunities
3.1.4. Market Trend
3.2. Industry Speaks
3.3. Technological Advancements
4. COVID-19 Impact on Medical Display Market
5. Global Medical Display Market- Size & Forecast (2019-2027), By Technology
5.1. OLED Display
5.2. CCFL-backlit LCD Display
5.3. LED-backlit LCD Display
6. Global Medical Display Market- Size & Forecast (2019-2027), By Panel Size
6.1. Under 22.9 Inch Panels
6.2. 23.0-26.9 Inch Panels
6.3. 27.0-41.9 Inch Panels
6.4. Above 42 Inch Panels
7. Global Medical Display Market- Size & Forecast (2019-2027), By Resolution
7.1. Up to 2MP
7.2. 2MP – 4MP
7.3. 4.1 – 8MP
7.4. Above 8MP
8. Global Medical Display Market- Size & Forecast (2019-2027), By Application
8.1. Digital Pathology
8.2. Mammography
8.3. General Radiology
8.4. Diagnostic
8.5. Dentistry
8.6. Surgical/ Interventional
8.7. Multi-modality
8.8. Others
9. Global Medical Display Market- Size & Forecast (2019-2027), By Region
9.1. North America (U.S. & Canada)
9.2. Europe (UK, Germany, France, Italy, Spain, Rest of Europe)
9.3. Asia Pacific (China, India, Japan, Rest of Asia Pacific)
9.4. Rest of the World (Latin America, Middle East & Africa)
10. Competitive Landscape
10.1. Key Players and their Competitive Positioning
10.1.1. Market Share Analysis (2022)
10.1.2. Segment-wise Player Mapping
10.2. Key Strategies Assessment, By Player (2020-2022)
10.2.1. New Product & Service Launches
10.2.2. Partnerships, Agreements, & Collaborations
10.2.3. Mergers & Acquisitions
10.2.4. Geographic Expansion
11. Key Companies Scanned (Indicative List)
11.1. Barco
11.2. LG Display
11.3. Sony
11.4. EIZO
11.5. FSN Medical
11.6. Double Black Imaging
11.7. Jusha Medical
11.8. STERIS
11.9. Quest International
11.10. Advantech
The study has been compiled based on the extensive primary and secondary research.
Secondary Research (Indicative List)

Primary Research
To validate research findings (market size & forecasts, market segmentation, market dynamics, competitive landscape, key industry trends, etc.), extensive primary interviews were conducted with both supply and demand side stakeholders.
Supply Side Stakeholders:
Senior Management Level: CEOs, Presidents, Vice-Presidents, Directors, Chief Technology Officers, Chief Commercial Officers
Mid-Management Level: Product Managers, Sales Managers, Brand Managers, R&D Managers, Business Development Managers, Consultants
Demand Side Stakeholders:
Stakeholders in Hospitals, Clinics, Nursing Facilities, Diagnostic Laboratories, Imaging/Radiology Labs, Laboratory, Rehabilitation Centres, and Other End Users.
Breakdown of Primary Interviews

Market Size Estimation
Both 'Top-Down and Bottom-Up Approaches' were used to derive market size estimates and forecasts.
Data Triangulation
Research findings derived through secondary sources & internal analysis were validated with Primary Interviews, Internal Knowledge Repository, and Company Sales Data.