Global Obesity Drugs Market Size, Share, Growth, Trends & Demands by 2027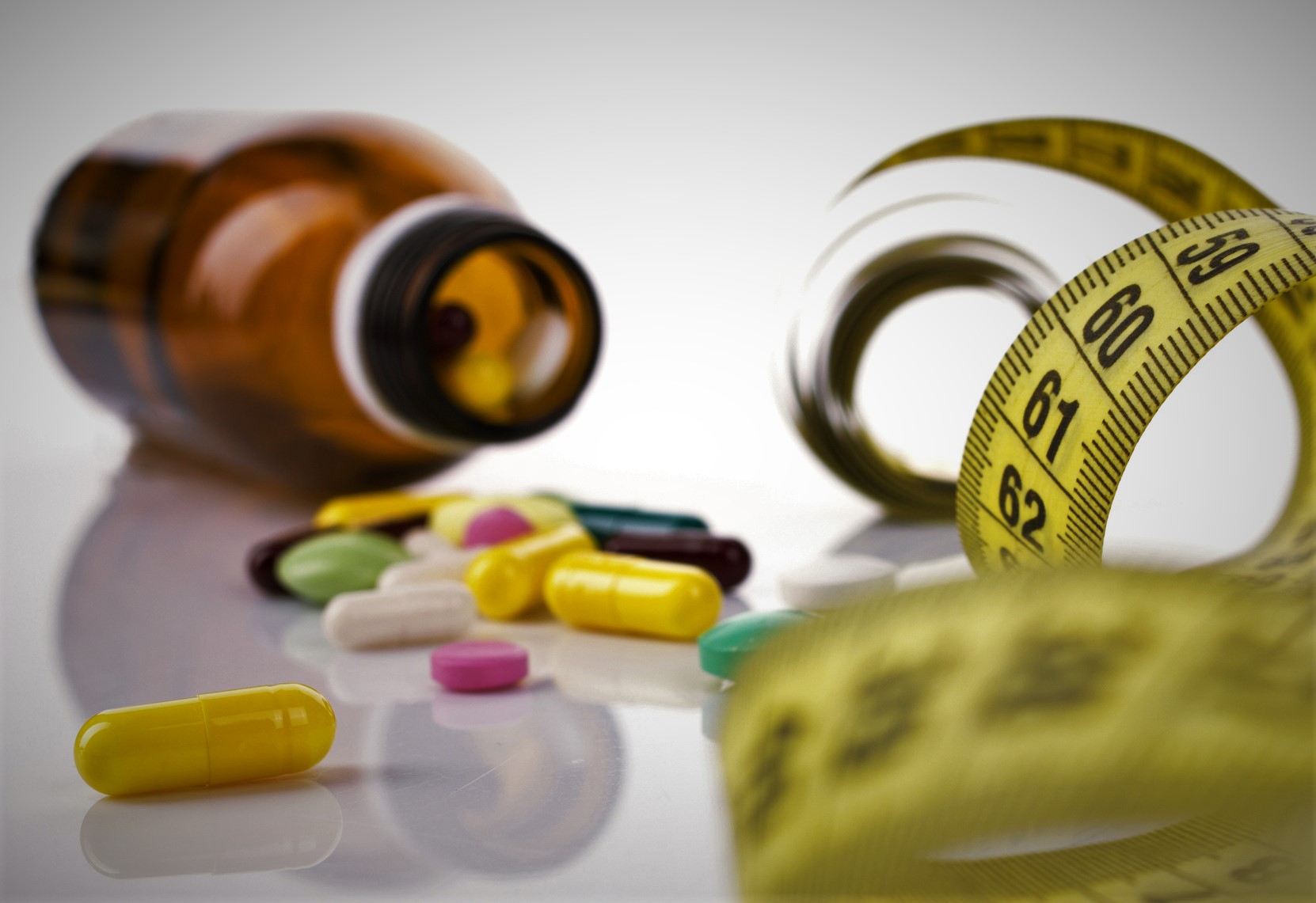 The Global Obesity Drugs Market valued at $2.3 billion (2022) is expected to witness a significant growth rate of 25% by 2027. Growing overweight and obese population, adoption of sedentary lifestyle globally, high investments in R&D by market players to develop innovative pipeline, greater awareness of weight management programs, and increasing disposable income in developing economies are some of the key factors driving the growth of the obesity drugs market.
Obesity and overweight are defined as accumulation of excessive or abnormal fat leading to increased risk to health, which can be measured by using body mass index (BMI) as a baseline. A BMI of over 30 is considered obese and over 25 is overweight. Obesity is a significant risk factor to a number of diseases such as diabetes, heart disease, and cancer; estimated to over 650 million obese people globally by the World Health Organization (WHO). Like other disorders, obesity has a number of physical and mental effects on patients, including changes in hormone levels, metabolism, appetite, satiety, and body fat. Obesity drugs or weight loss medications help to reduce & control appetite and food cravings. The obesity drugs market report is segmented on the basis of drug type and distribution channel.
Rising Prevalence of Obese and Overweight Population to propel the Obesity Drugs Market Demand
Obesity is one of the leading contributors to a number of non-communicable diseases including heart disease, stroke and diabetes. Like many chronic diseases, obesity has a wide range of causes and drivers, including those related to genetics, sociocultural factors, mental health, ultra-processed foods, economics, commercial determinants, and environmental factors. The increasing trend of obesity is the result of how these causes and drivers interact and build upon one another.
World Obesity Atlas 2022 estimated the prevalence of global obese population to be 16.1% in 2025 accounting for 892 million people which will further reach 1,025 million by 2030 with a prevalence rate of 17.5% in 2030. Some of the regional obesity burden estimated by World Obesity Atlas 2022 are listed below-
1 in 13 men and 1 in 5 women are expected to be obese by 2030 in Africa, equating to approximately 27 million men and 74 million women by 2030. Of the total 101 million obese population, 34 million are estimated to have severe obesity (BMI ≥ 35).
In Americas, by 2030, prevalence of obesity in men is predicted to be 34.41% (1 in 3) as compared to 39.72% in women accounting for 298 million people in the region, out of which 128 million will have severe obesity.
Across the European region, the prevalence of obesity is projected to be 29.42% in men and 29.97% in women in 2030, with an estimated 102 million men and 113 million women at risk of the complications of obesity.
Childhood obesity is currently a growing public health concern in low- and middle-income countries (LMICs) where early prevention is crucial as obesity often begins in childhood. In emerging economies, where malnutrition is a double burden, the prevalence of obesity is increasing at the fastest rate. According to WHO, the majority of overweight or obese children are found in developing nations, where the growth rate has outpaced developed nations by more than 30%.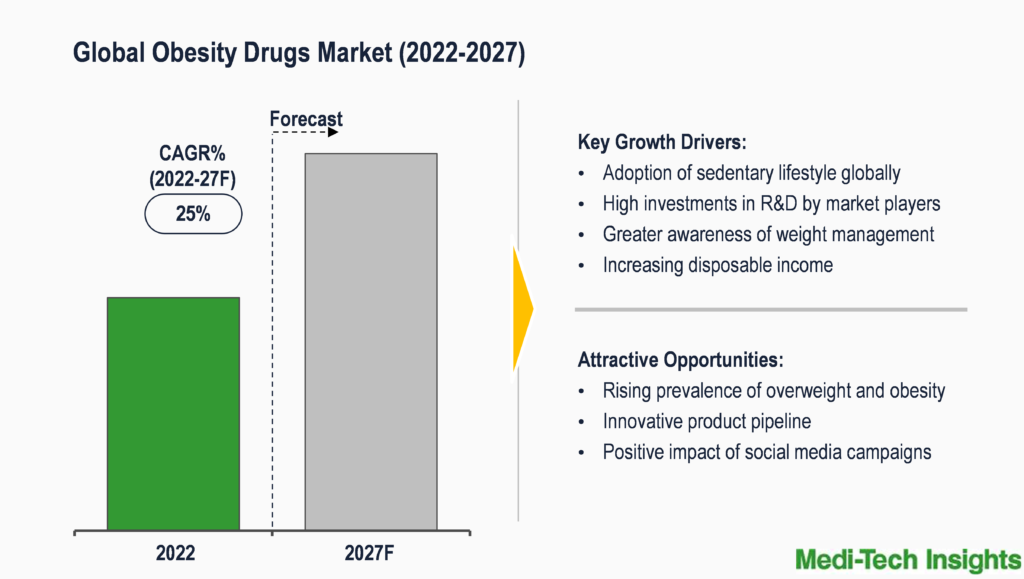 Development of Innovative Drug Candidates by Key Market Players expected to raise the Sales of Obesity Drugs
There are a number of obesity drug candidates in clinical development and key market players are constantly focusing on developing innovative medications with improved benefits. Many leading players have invested heavily in their R&D to develop novel drug molecules and capture a significant market share in this high growth global market. Some of the related developments are listed as below-
In September 2022, Rivus Pharmaceuticals Inc., a clinical-stage biopharmaceutical company, announced the completion of Series B financing round of $132 million. The funding is intended to advance the clinical development of HU6, a controlled metabolic accelerator (CMA) designed to address obesity, a primary driver of cardio-metabolic disease
In August 2022, Novo Nordisk successfully completed the Phase 2 clinical trial of CagriSema in people with type 2 diabetes. CagriSema, a subcutaneous combination of semaglutide and a novel amylin analogue, cagrilintide, is administered once weekly in patients with type 2 diabetes and overweight
In April 2022, Eli Lilly and Company's phase 3 clinical trial to evaluate the efficacy and safety of tirzepatide in adults with obesity or overweight and at least one comorbidity apart from diabetes, delivered up to 22.5% weight loss
In January 2022, the U.S. Food and Drug Administration (FDA) has cleared Altimmune, Inc.'s Investigational New Drug (IND) application for the Phase 2 clinical trial of pemvidutide, an investigational GLP-1/glucagon dual receptor agonist under development, indicated for the treatment of obesity and non-alcoholic steatohepatitis (NASH).
North America expected to hold a major share in the Obesity Drugs Market
From a geographical perspective, North America holds a major market share of the obesity drugs market. This can be mainly attributed to the growing awareness through social media platforms, increased adoption of novel drugs, and high prevalence of obesity. According to Centers for Disease Control and Prevention (CDC), the prevalence of obese population in the US was 41.9% from 2017 to March 2020 as compared to 30.5% from 2000 to 2017. Furthermore, severe obesity prevalence experienced a high growth with 9.2% during 2017-March 2020 from 4.7% during 2000-2017. Moreover, in the US, the annual medical cost of obesity was estimated to be $173 billion in 2019.
Irrespective of the challenges such as adverse effects associated with weight management medicines such as nausea and diarrhea and lack of combination therapy, the global obesity drugs market has high potential to grow at a significant rate and is expected to gain further momentum in the coming years due to a strong emphasis on new product development, greater acceptance in developing countries, positive impact of social media campaigns, and decreasing pricing trend due to competition, among others.
For instance, in June 2021, the US FDA approved Novo Nordisk's Wegovy (semaglutide) injection, a 2.4 mg once weekly treatment indicated for chronic weight management in obese or overweight adults, having at least one weight-related condition such as high blood pressure and type 2 diabetes. Furthermore, changing regulatory policies, physician engagement, and innovative treatment provide numerous opportunities for market players during the forecast period.
Competitive Landscape Analysis: Obesity Drugs Market
The global obesity drugs market is marked by the presence of key market players such as follows:-
Novo Nordisk A/S (Denmark)
Eli Lilly and Company (US)
Altimmune (US)
Amgen Inc. (US)
Boehringer Ingelheim (Germany)
Innovent Biologics, Inc. (China)
AstraZeneca plc (UK)
Pfizer Inc. (US) and others
Key Strategic Questions Addressed in this Report
What is the market size & forecast of the obesity drugs market?
What are historical, present, and forecasted market shares and growth rates of various segments and sub-segments of the obesity drugs market?
What are the key trends defining the obesity drugs market?
What are the major factors impacting the obesity drugs market?
What are the opportunities prevailing in the obesity drugs market?
Which region has the highest share in the global market? Which region is expected to witness the highest growth rate in the next 5 years?
Who are the major players operating in the global market?
What are the key strategies adopted by players operating in the global obesity drugs market?
1. Research Methodology
1.1. Secondary Research
1.2. Primary Research
1.3. Market Estimation
1.3.1. Bottom-up and Top-down Approach
1.3.2. Epidemiology Model
1.4. Market Forecasting
2. Executive Summary
3. Market Overview
3.1. Market Dynamics
3.1.1. Drivers
3.1.2. Restraints
3.1.3. Opportunities
3.1.4. Market Trends
3.2. Industry Speaks
3.3. Pipeline Assessment
3.4. Reimbursement Assessment (Key Markets)
3.5. Opportunity Analysis
4. COVID-19 Impact on Obesity Drugs Market
5. Global Obesity Drugs Market- Size & Forecast (2019-2027), By Drug Type
5.1. Prescription Drugs
5.2. OTC Drugs
6. Global Obesity Drugs Market- Size & Forecast (2019-2027), By Distribution Channel
6.1. Hospital Pharmacies
6.2. Retail Pharmacies
6.3. Online Pharmacies/E-commerce
7. Global Obesity Drugs Market- Size & Forecast (2019-2027), By Region
7.1. North America (U.S. & Canada)
7.2. Europe (UK, Germany, France, Italy, Spain, Rest of Europe)
7.3. Asia Pacific (China, India, Japan, Rest of Asia Pacific)
7.4. Rest of the World (Latin America, Middle East & Africa)
8. Competitive Landscape
8.1. Key Players and their Competitive Positioning
8.1.1. Market Share Analysis (2022)
8.1.2. Segment-wise Player Mapping
8.2. Key Strategies Assessment, By Player (2020-2022)
8.2.1. New Product Launches
8.2.2. Partnerships, Agreements, & Collaborations
8.2.3. Mergers & Acquisitions
8.2.4. Geographic Expansion
9. Key Companies Scanned (Indicative List)
9.1. Novo Nordisk A/S
9.2. Eli Lilly and Company
9.3. Altimmune
9.4. Amgen Inc.
9.5. Boehringer Ingelheim
9.6. Innovent Biologics, Inc.
9.7. AstraZeneca plc
9.8. Pfizer Inc.
9.9. VIVUS LLC
9.10. GlaxoSmithKline PLC
The study has been compiled based on the extensive primary and secondary research.
Secondary Research (Indicative List)

Primary Research
To validate research findings (market size & forecasts, market segmentation, market dynamics, competitive landscape, key industry trends, etc.), extensive primary interviews were conducted with both supply and demand side stakeholders.
Supply Side Stakeholders:
Senior Management Level: CEOs, Presidents, Vice-Presidents, Directors, Chief Technology Officers, Chief Commercial Officers
Mid-Management Level: Product Managers, Sales Managers, Brand Managers, R&D Managers, Business Development Managers, Consultants
Demand Side Stakeholders:
Stakeholders in Pharmaceutical & Biopharmaceutical Companies, CROs & CMOs, Hospitals & Clinics, Hospital Pharmacies, and Retail & Online Pharmacies.
Breakdown of Primary Interviews

Market Size Estimation
Both 'Top-Down and Bottom-Up Approaches' were used to derive market size estimates and forecasts.
Data Triangulation
Research findings derived through secondary sources & internal analysis were validated with Primary Interviews, Internal Knowledge Repository, and Company Sales Data.