Global Orthodontic Supplies Market Report 2027 – Improving Oral Health Care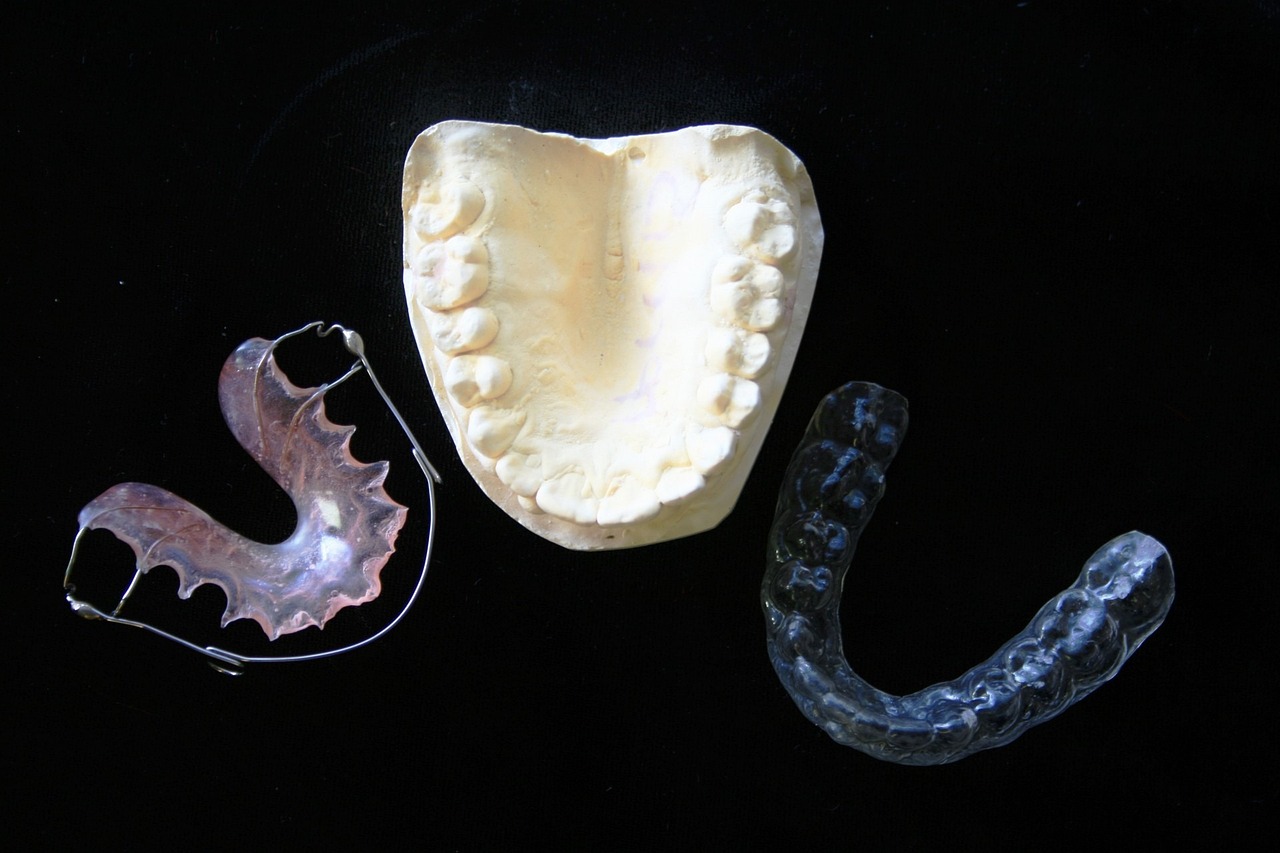 The Global Orthodontic Supplies Market is expected to grow at a rate of 7-9% by 2027. Growing cases of oral diseases, growing number of malocclusions cases such as tooth decay/ tooth loss, and jaw pain, technological advancements in orthodontic products, and increasing awareness on orthodontic treatment procedures are some of the key factors driving the market growth.
Orthodontics is a dental specialty that focuses on improving and maintaining the alignment of teeth. An orthodontist uses orthodontic supplies for the treatment of crooked, overlapped, crowded, twisted, or gapped teeth. Some of the common orthodontic supplies include brackets, bands, buccal tubes, archwires, adhesives, lab supplies, and patient accessories. 
Technological Developments in Orthodontic Products Drives the Growth of the Orthodontic Supplies Market
With the advancement in orthodontic technology, straightening teeth is more comfortable, precise, and accurate. 3D computer models of teeth enable the orthodontist to create a treatment plan that is tailored to the individual needs. The technological developments in orthodontic products are contributing to the growth of the orthodontic supplies market.
For instance,
In May 2022, KLOwen Braces, Inc. secured funding of $10.5 million to leverage 3D printing, artificial intelligence, and digital indirect bonding to offer only 7- 7 custom solutions with options for both metal and clear brackets.
In May 2022, OrthoSelect announced the release of DIBS AI 7.0 which advances the science of precision digital bracket placement.
In February 2022, Ormco Corporation announced the launch of its Spark Clear Aligners release 12, offering novel clinical enhancements, product optimization, and more flexibility, efficiency, and control.
Increasing Cases of Malocclusions Fuels the Demand for Orthodontic Supplies
Malocclusion is one of the most prevalent clinical dental conditions, affecting approximately 60% to 75% of the global population. Annually, approximately 21 million people globally elect treatment by orthodontists. Most orthodontic patients continue to have their malocclusions treated with the use of traditional methods such as metal archwires and brackets, referred to as braces, augmented with elastics, metal expanders, headgear or functional appliances, and other ancillary devices. Clear aligners are also used in orthodontist treatment to fix malocclusion and jaw-related problems. The rising burden of malocclusion among the population is likely to increase the demand for orthodontics supplies in the global market.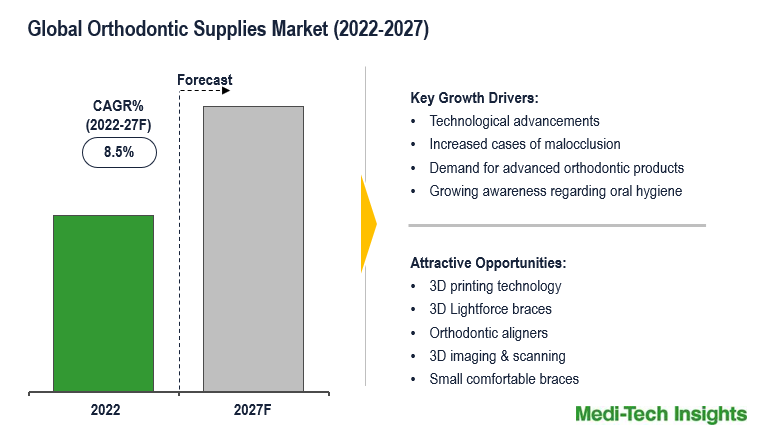 Growth Opportunities in Orthodontics Boosts the Global Orthodontic Supplies Market
Technological advancements in orthodontics are helping patients with their medical treatments, and orthodontists by providing the best quality treatments, and profitability. Recent advancements in orthodontics are as follows:
Orthodontic Aligners: With the aligners, patients can enjoy straighter teeth without the discomfort and appearance of metal braces. Clear braces are almost invisible inside the mouth
Smaller More Comfortable Braces: These are the newest technological advancements in braces technology. Many new brackets are smaller or less visible than older appliances, allowing teeth to move without creating too much visibility at the same time
3D Imaging and Digital Scans:Digital scanning and 3D imaging enable orthodontists to get a more detailed look at the structure of the mouth. These tools also offer dentists immediate access to images instead of waiting for the photos to be processed or developed
3D Printing Resins: 3D printing resins are specifically formulated for the dental industry, and can be used for a wide variety of applications, including modeling, surgical guides, investment mold, and occlusal splints
Nickel & Copper-Titanium Wires: These wires respond to the heat of the mouth faster, causing them to naturally tighten and bend as the teeth shift. It also applies more moderate pressure, reducing the pain and cutting down the patient's need for more tightening appointments
Robotic Wire Bending & CAD/CAM Technology: Accurate arch wire bending is a key technology for fixed orthodontic treatment. Compared with the traditional manual bending system, the accuracy and efficiency of archwire bending can be improved by using the robot with its precise posture control ability
Key Market Challenges/Constraints: Orthodontic Supplies Market
The high costs associated with dental procedures and complications associated with orthodontic treatments are some of the key factors restricting the growth of the orthodontic supplies market.
North America Dominates the Global Orthodontic Supplies Market
From a geographical perspective, North America holds a larger market share of the orthodontic supplies market. This can be mainly attributed to higher awareness about dental care and hygiene, higher adoption of technologically advanced products across all age groups, and the presence of key players in the region. However, APAC is expected to witness a strong growth in orthodontic supplies market in the upcoming years, due to the aesthetic appeal offered by the products, increasing awareness regarding orthodontic products, and the rising prevalence of orthodontic diseases in this region.
Competitive Landscape Analysis: Orthodontic Supplies Market
Some of the key and well-established players operating in the global orthodontic supplies market are as follows:-
Align Technology Inc.
Dentsply Sirona Inc.
Straumann Group
Henry Schein Inc.
Great Lakes Dental Technologies
Rocky Mountain Orthodontics
3M
Envista Holding Corporation
TP Orthodontics Inc.
Ormco Corporation
Danaher
American Orthodontics
G&H Orthodontics
Dentaurum
DB Orthodontics
Ultradent Products, among others.
Organic and Inorganic Growth Strategies Adopted by Key Players to Establish Their Foothold in the Orthodontic Supplies Market
All the leading players operating in the global orthodontic supplies market are adopting both organic and inorganic growth strategies such as collaborations, acquisitions, and new product launches to garner a higher market share.
For instance,
In July 2022, Sage Dental and SheepMedical entered into a partnership to offer KiyoClear orthodontic aligners in the US. KiyoClear's patented aligner-expander technology will be available to patients in Sage Dental's 80-plus practices in Georgia and Florida.
In April 2022, Eon Dental announced the launch of a new and improved Eon Aligner ecosystem of solutions and support utilities. With this new launch, Eon Aligner will be able to provide more initiatives to its customers to deliver cutting-edge, patient- and doctor-centric solutions.
In March 2022, Ormco Corporation announced the launch of the Ultima Hook developed specifically for the Ultima wire. It is designed and engineered to correct maloccluded teeth in conjunction with orthodontic appliances, providing performance and efficiency.
In February 2022, Dentsply Sirona entered into collaboration with Google Cloud to strengthen its digital dentistry leadership and also announced the launch of a medical-grade 3d printing solution, Primeprint.
The global orthodontic supplies market is a growing market that is expected to gain further momentum in the upcoming years due to technological advancements, new product launches, a shift towards preventive oral care, and aggressive organic and inorganic growth strategies followed by the market players.
Key Strategic Questions Addressed in this Report
What is the market size & forecast for the orthodontic supplies market?
What are the historical, present, and forecasted market shares and growth rates of various segments and sub-segments of the orthodontic supplies market?
How has Covid-19 impacted the orthodontic supplies market?
What are the major growth drivers, restraints/challenges impacting the global market?
What are the opportunities prevailing in the orthodontic supplies market?
What is the investment landscape of orthodontic supplies market?
Which region has the highest share in the global market? Which region is expected to witness the highest growth rate in the next 5 years?
Who are the major players operating in the market? What is the competitive positioning of key players?
Who are the new players entering the orthodontic supplies market?
What are the key strategies adopted by leading players in orthodontic supplies market?
1. Research Methodology
1.1. Secondary Research
1.2. Primary Research
1.3. Market Estimation
1.4. Market Forecasting
2. Executive Summary
3. Market Overview
3.1. Market Dynamics
3.1.1. Drivers
3.1.2. Restraints
3.1.3. Opportunities
3.1.4. Market Trend
3.2. Industry Speaks
3.3. Technology Advancements
4. COVID-19 Impact on Orthodontic Supplies Market
5. Epidemiological Assessment - Dental Malocclusions & Tooth Decay/Tooth Loss
6. Global Orthodontic Supplies Market- Size & Forecast (2019-2027), By Product
6.1. Fixed Braces
6.2. Removable Braces
6.3. Adhesives
6.4. Accessories
7. Global Orthodontic Supplies Market- Size & Forecast (2019-2027), By Patient
7.1. Children & Teenagers
7.2. Adult
8. Global Orthodontic Supplies Market- Size & Forecast (2019-2027), By Region
8.1. North America (U.S. & Canada)
8.2. Europe (UK, Germany, France, Italy, Spain, Rest of Europe)
8.3. Asia Pacific (China, India, Japan, Rest of Asia Pacific)
8.4. Rest of the World (Latin America, Middle East & Africa)
9. Competitive Landscape
9.1. Key Players and their Competitive Positioning
9.1.1. Market Share Analysis (2022)
9.1.2. Segment-wise Player Mapping
9.2. Key Strategies Assessment, By Player (2020-2022)
9.2.1. New Product & Service Launches
9.2.2. Partnerships, Agreements, & Collaborations
9.2.3. Mergers & Acquisitions
9.2.4. Geographic Expansion
10. Key Companies Scanned (Indicative List)
10.1. Align Technology
10.2. Dentsply Sirona Inc.
10.3. Straumann Group
10.4. Henry Schein Inc.
10.5. Great Lakes Dental Technologies
10.6. Rocky Mountain Orthodontics
10.7. 3M
10.8. Envista Holding Corporation
10.9. TP Orthodontics Inc.
10.10. Ormco Corporation
10.11. American Orthodontics
10.12. G&H Orthodontics
The study has been compiled based on the extensive primary and secondary research.
Secondary Research (Indicative List)

Primary Research
To validate research findings (market size & forecasts, market segmentation, market dynamics, competitive landscape, key industry trends, etc.), extensive primary interviews were conducted with both supply and demand side stakeholders.
Supply Side Stakeholders:
Senior Management Level: CEOs, Presidents, Vice-Presidents, Directors, Chief Technology Officers, Chief Commercial Officers
Mid-Management Level: Product Managers, Sales Managers, Brand Managers, R&D Managers, Business Development Managers, Consultants
Demand Side Stakeholders:
Stakeholders in Hospitals, Dental Clinics and Other End Users.
Breakdown of Primary Interviews

Market Size Estimation
Both 'Top-Down and Bottom-Up Approaches' were used to derive market size estimates and forecasts.
Data Triangulation
Research findings derived through secondary sources & internal analysis were validated with Primary Interviews, Internal Knowledge Repository, and Company Sales Data.