Global Vaccine Storage Equipment Market Research & Analysis Report 2026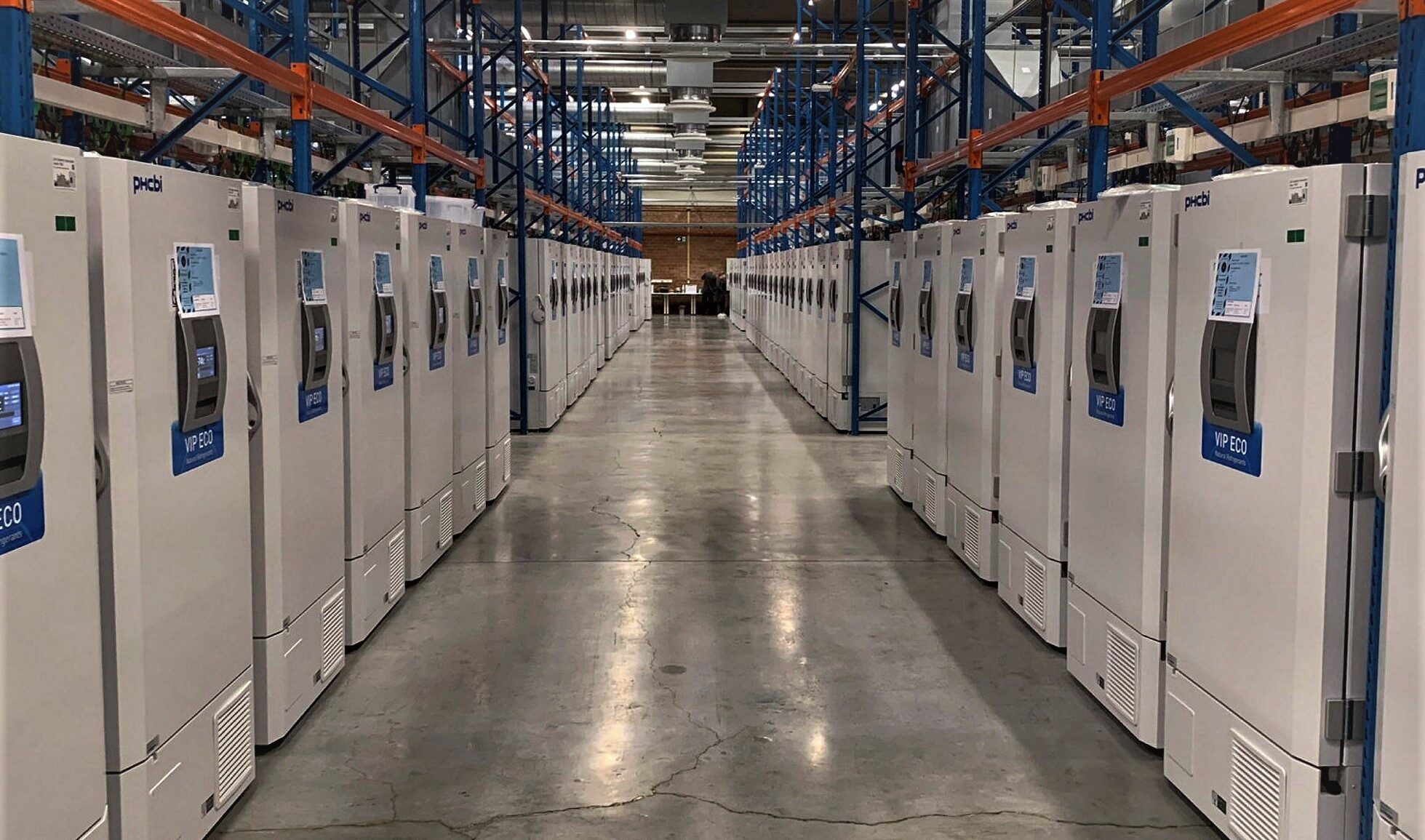 The Global Vaccine Storage Equipment Market is expected to grow at a rate of 8-10% by 2026. Rising number of infectious diseases and immunological disorders, large-scale implementation of vaccination programs by global health agencies, technological advancements in vaccine storage equipment, rising R&D expenditure in biotechnological industries for vaccine research & storage, and rising government focus on immunization programs are some of the key factors driving the market's growth.
Vaccines are sensitive biological substances that can lose their potency and effectiveness if they are exposed to temperatures outside the appropriate range, or when exposed to light. Therefore, to maintain the quality of vaccines they should be continuously kept within their determined temperature range from production to intended use. Vaccine storage equipment (such as refrigerators and freezers) plays a very important role in protecting individuals and communities from vaccine-preventable diseases.
Proper storage and handling of vaccines begin with an effective vaccine "Cold Chain". A cold chain is a temperature-controlled supply chain that includes all vaccine-related equipment and procedures. The cold chain begins with the cold storage unit at the manufacturing plant, extends to the transport and delivery of the vaccine and proper storage at the provider facility, and ends with the administration of the vaccine to the patient. If the cold chain is not properly maintained, vaccine potency may be lost, resulting in extra doses for patients, increased costs for providers, and wastage of vaccine supply. To ensure the proper safety of vaccines, the following equipment is recommended:
Stand-alone refrigerators: Possess enough space to accommodate maximum inventory without crowding.
Stand-alone freezers: Possess enough space to accommodate maximum inventory without crowding, the only difference between a refrigerator and a freezer is its temperature.
Digital data logger (DDL): Data loggers are electronic devices that continuously read and record environmental temperatures to provide an accurate report of vaccine temperatures over time.
Implementation of the Global Vaccination Programs
Vaccinations help to save lives and prevent serious illnesses. They are recognized as one of the most effective public health interventions available today. Vaccination programs are among the most cost-effective ways to prevent disease. Currently, a large number of vaccination programs are run by international organizations (such as WHO, UNICEF, GAVI) as well as local governments across the globe. These organizations have created a significant network that works in close collaboration with World Bank, World Trade Organization (WTO), International Monetary Fund, CDC, AVAT, Africa Centres for Disease Control and Prevention (Africa CDC), African Vaccine Acquisition Trust (AVAT), and other key partners to monitor progress, identify changes needed to resolve bottlenecks, coordinate information, and manage vaccination status at a large scale. Some of the leading global programs include The Global Vaccine Action plan (GVAP), Immunization Program by UNICEF, Vaccines for Children (VFC), and COVAX Program among others.
Ultra-Low Temperature (ULT) Cold Storage for mRNA based Vaccine Drives the Vaccine Storage Equipment Market
ULT cold storage refers to freezers used mainly in the life sciences and clinical labs to store critical samples for long periods. While the standard household freezer can provide temperatures as cold as -20°C, ULT freezers offer temperatures between -40 to -86°C (-40°F to -186°F).  When Pfizer-BioNTech and Moderna announced the development of their COVID-19 vaccines that require ultra-cold storage at -70 °C to prevent degradation of mRNA-based covid vaccines, a newfound interest in ultra-cold storage started to rise. For instance,
In April 2022, To strengthen Armenia's National cold chain capacity and boost COVID-19 immunization programs, UNICEF, with USAID funding, procured 80 refrigerators and 285 freezers. These refrigerators and freezers will be distributed to 250 primary health care facilities across Armenia, enhancing the availability of vaccines for all communities.
In December 2021, The UN Children's Fund (UNICEF) with support from USAID delivered 14 ultra-low temperature freezers for storage of Pfizer vaccines in Ukraine.
In September 2021, 26 ultra-low temperature freezers delivered by UNICEF through COVAX in August are enabling Bangladesh to receive, store and distribute large quantities of COVID-19 vaccines that require ultra-cold storage.
These freezers can simultaneously store up to 3 million doses of vaccines requiring ultra-low temperatures up to -86°C and also increase the shelf-life of vaccines which is critical for global deployment. ULT freezers also have many other uses, such as the storage of tissue samples, enzymes, and other biological materials in laboratories. This increase in the usage of ultra-low temperature cold storage is expected to drive the vaccine storage equipment market.
Covid-19 Impact & Government Initiatives Fuels the Demand of Vaccine Storage Equipment Market
The outbreak of the COVID-19 pandemic has created an urgent demand for vaccines all over the world. The emergence of COVID-19 has also disrupted routine vaccination programs across the world, with GAVI estimating that approximately 80 million children will be affected across at least 68 countries. COVID-19 vaccine products also impacted the types of vaccine storage units and temperature monitoring devices used to maintain the cold chain, including the use of ultra-cold storage as COVID-19 vaccines differ from those of other vaccines.
The initiatives taken by the government organizations have triggered a race among leading drug-makers and research institutes to develop a Covid-19 vaccine at the earliest which in turn is expected to increase the demand for vaccine storage equipment in the future. For instance,
In October 2021, UNICEF procured the equipment with funding from the Government of Japan through its global vaccine initiative 'Last One Mile Support.'
In September 2021, the Kenyan Ministry of Health received 12 items of ultra-low temperature freezers and accessories for storage of COVID-19 vaccines that require very low temperatures.
In February 2021, the US FDA announced that it will be allowing undiluted frozen vials of the Pfizer-BioNTech COVID-19 vaccine to be transported and stored at conventional temperatures commonly found in pharmaceutical freezers for a period of up to two weeks.
Lack of Infrastructure in Emerging Economies
The lack of storage infrastructure is the most basic challenge in developing countries, typically in the areas of operational efficiency, planning, talent availability, transportation, and warehousing infrastructure, as well as data systems and governance models. Currently, existing cold-chain capacity within developing countries is largely geared for the 2 to 8°C temperatures required for most routine immunization vaccines. Adding ultra cold chain storage to the system will require significant funding, and the ability for multiple countries to procure sufficient freezers simultaneously, also it would require significant expertise to install correctly and conduct capability building in operations staff to ensure proper and safe handling.
Competitive Landscape Analysis: Vaccine Storage Equipment Market
Some of the key/promising players operating in the vaccine storage equipment market include AmerisourceBergen Corporation, Arctiko A/S, B Medical Systems, Biobase Biodusty, Fiocchetti, Dulas Ltd, Eppendorf AG, EVERmed Srl, UL, Helmer Scientific Inc., Labcold Limited, PHC Holdings Corporation, Philipp Kirsch GmbH, Qingdao Haier Biomedical Co., Sartorius, Thermo Fisher Scientific Inc., Vestfrost Solutions, Antylia Scientific, and American Biotech Supply, among others.
Companies Adopting Inorganic Growth Strategies to Increase their Market Share
The vaccine storage equipment market is a growing market marked by the presence of both established and new players. Players operating in the market adopt both organic and inorganic growth strategies such as collaborations and acquisitions, to garner market share.  For instance,
In April 2022, Dulas announced the agreement with IoT Company Beyond, to provide integrated remote temperature monitoring on its Solar Direct Drive vaccine refrigerators. These smart refrigerators are likely to save time and money and ultimately lead to a more efficient, effective, and sustainable cold chain.
In June 2021, AmerisourceBergen Corporation announced the acquisition of Alliance Healthcare. The acquisition advances the ability of AmerisourceBergen Corporation to provide innovative and global healthcare solutions in pharmaceutical distribution.
The global vaccine storage equipment market is a growing market that is expected to gain further momentum in the coming years due to an increase in the development of smart technology, a favorable regulatory landscape, increasing investments from the government globally, and aggressive organic and inorganic growth strategies followed by the players.
Key Strategic Questions Addressed
What is the market size & forecast of the Vaccine Storage Equipment market?
What are the historical, present, and forecasted market shares and growth rates of various segments and sub-segments of the Vaccine Storage Equipment market?
How has Covid impacted the Vaccine Storage Equipment market?
What are the major growth drivers, restraints/challenges impacting the market?
What are the opportunities prevailing in the market?
How is the investment landscape of Vaccine Storage Equipment market?
Which region has the highest share in the global market? Which region is expected to witness the highest growth rate in the next 5 years?
Who are the major players operating in the market? What is the competitive positioning of key players?
Who are the new players entering the Vaccine Storage Equipment market?
What are the key strategies adopted by players?
The study has been compiled based on the extensive primary and secondary research.
Secondary Research (Indicative List)

Primary Research
To validate research findings (market size & forecasts, market segmentation, market dynamics, competitive landscape, key industry trends, etc.), extensive primary interviews were conducted with both supply and demand side stakeholders.
Supply Side Stakeholders:
Senior Management Level: CEOs, Presidents, Vice-Presidents, Directors, Chief Technology Officers, Chief Commercial Officers
Mid-Management Level: Product Managers, Sales Managers, Brand Managers, R&D Managers, Business Development Managers, Consultants
Demand Side Stakeholders:
Stakeholders in Hospitals, Medical Institutes, Distributors, Logistics, and Other End Users.
Breakdown of Primary Interviews

Market Size Estimation
Both 'Top-Down and Bottom-Up Approaches' were used to derive market size estimates and forecasts.
Data Triangulation
Research findings derived through secondary sources & internal analysis was validated with Primary Interviews, Internal Knowledge Repository and Company's Sales Data.