Global Ventilators Market – Life Safer for Critically Sick Patients
written by Medi-Tech Insights, Tuesday, August 9th, 2022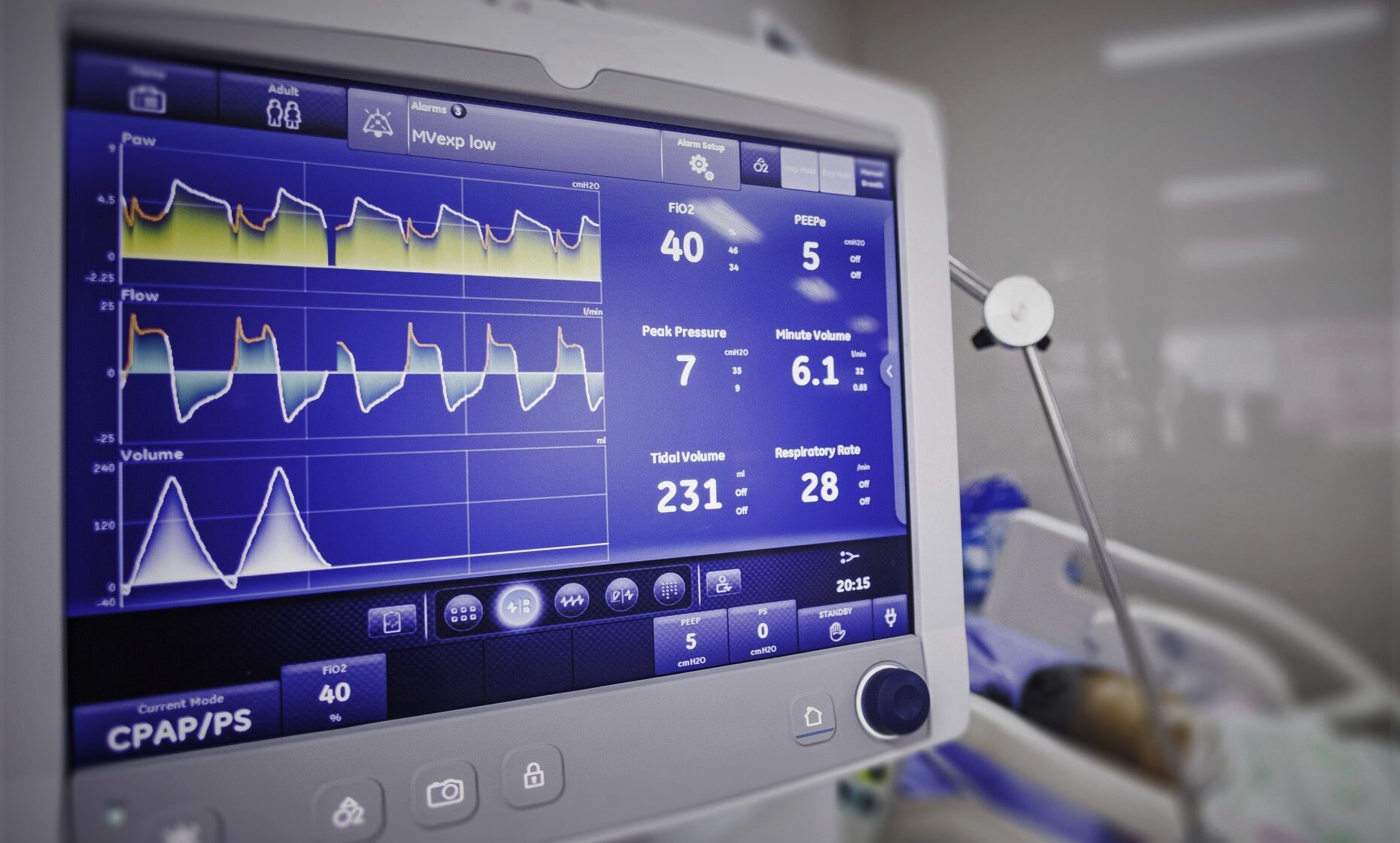 The Global Ventilators Market is expected to witness a decent growth rate of 6-8% in the next 5 years. Rising cases of respiratory diseases, chronic obstructive pulmonary disease (COPD), sleep apnea, acute lung injury, and hypoxemia, surge in demand for ventilators due to Covid-19, technological advancements such as advanced portable ventilators & improvements in the sensor technologies used in ventilators are some of the key factors driving the global ventilators market.
DESCRIPTION
The role of the lungs is to inhale and distribute the oxygen the cells need to survive, and exhale the carbon dioxide that the body needs to eliminate. In scenarios, when the act of breathing becomes difficult or not as effective at performing these functions then in those cases mechanical ventilation may be prescribed. Ventilators are medical devices that assist in patient's breathing.
Favourable Impact of Covid-19 Pandemic on the Ventilators Market
Throughout 2020 and 2021, the Covid-19 virus has spread rapidly and relentlessly across the world and adversely impacted a multitude of industries worldwide. With lockdowns implemented, social distancing mandated, and widespread apprehension – Covid-19 adversely impacted health services internationally. However, the virus favorably impacted the ventilators market.
During 2020-2021, most of the patients infected with the Covid-19 virus showcased moderate symptoms and recovered quickly. However, some patients developed severe respiratory failure and required intensive care unit (ICU) admission and mechanical ventilation. To treat and save the lives of these severe Covid-19 patients, ventilators served as a viable treatment option, which in turn boosted the global ventilators market.
"The ventilator production was ramped up in response to the pandemic, but tailwinds for the ventilators, and ventilation masks are starting to ebb. While we continue to work on current and future contracts with hospitals, and national health authorities for ventilators, we expect the sales volume to shrink."-Director, Business Development, Leading Ventilator Manufacturer, United States
The Demand for Critical Healthcare Services at Home Drives the Ventilators Market
Due to the fear of contracting the Covid-19 virus at a hospital, there was a surge in demand for home healthcare services such as home ICU, teleconsultations, home phlebotomy services, and e-pharmacy. The increased demand for critical healthcare services at home spurred the demand for respiratory machines such as ventilators, special beds, ICU, and multipara monitors. Some patients with lung-related illnesses preferred home healthcare services for oxygen & ventilator support and long-term rehabilitation.
Technological Advancements Drives the Global Ventilators Market
The ventilators market is a technology-driven market and is marked by constant product enhancements/innovations. For instance,
In January, 2022, OES Medical launched ICU ventilator at Arab Health 2022. The company's Gemini-G100 is an electrically driven piston ICU ventilator with integrated oxygen concentrator for use in intensive care
In October 2021, Dräger launched the new Savina 300 NIV. The ventilator is the latest offering from the firm and is equipped with noninvasive ventilation (NIV).
Organic and Inorganic Growth Strategies Adopted by Players to Establish Their Foothold in the Ventilators Market
The Ventilators market is marked by the presence of both established and new players. Players operating in the market adopt both organic and inorganic growth strategies such as acquisitions, and new product launches to garner higher market share. For instance,
In April 2021, Getinge received FDA 510(k) clearance for three products to expand its Servo platform of ventilators. The firm secured clearances for new software options for the Servo-u and Servo-n ventilators, as well as clearance for use of the new Servo-u MR ventilator in the MRI room.
In April 2021, Drägerwerk acquired the majority share of STIMIT AG. With this acquisition, Dräger expanded its expertise in the field of lung-protective ventilation. STIMIT is specialized in lung activation and non-invasive stimulation of respiratory muscles in intensive care patients.
The ventilators market is expected to continue to grow in the coming years due to growing cases of respiratory diseases, increasing number of preterm births, rising number of ICU beds,  technological advancements in ventilators, and rising aging population.
Competitive Landscape Analysis: Global Ventilators Market
The global ventilators market is marked by the presence of leading market players such as Philips, ResMed, Medtronic, Vyaire Medical, Asahi Kasei, Air Liquide, GE Healthcare, Fisher & Paykel, Drägerwerk, Nihon Kohden, Getinge, Hamilton Medical, among others.
TABLE OF CONTENTS
Key Strategic Questions Addressed
What is the market size & forecast of the Ventilators Market?
What are the historical, present, and forecasted market shares and growth rates of various segments and sub-segments of the Ventilators Market?
What are the key trends defining the ventilators market?
What are the major factors impacting the ventilators market?
What are the opportunities prevailing in the ventilators market?
Which region has the highest share in the global market? Which region is expected to witness the highest growth rate in the next 5 years?
Who are the major players operating in the ventilators market?
What are the key strategies adopted by players operating in the ventilators market?
METHODOLOGY
The study has been compiled based on the extensive primary and secondary research.
Secondary Research (Indicative List)

Primary Research
To validate research findings (market size & forecasts, market segmentation, market dynamics, competitive landscape, key industry trends, etc.), extensive primary interviews were conducted with both supply and demand side stakeholders.
Supply Side Stakeholders:
Senior Management Level: CEOs, Presidents, Vice-Presidents, Directors, Chief Technology Officers, Chief Commercial Officers
Mid-Management Level: Product Managers, Sales Managers, Brand Managers, R&D Managers, Business Development Managers, Consultants
Demand Side Stakeholders:
Stakeholders in Hospitals & Clinics, Home Care Settings, Ambulatory Care Centers and Emergency Medical Services.
Breakdown of Primary Interviews

Market Size Estimation
The market size was derived based on extensive secondary research further validated through expert interviews.
Data Triangulation
Research findings derived through secondary sources & internal analysis were validated with primary interviews and an internal knowledge repository.
SAMPLE DELIVERABLES