Hemodynamic Monitoring Market Size, Share, Trends & Growth Dynamics by 2026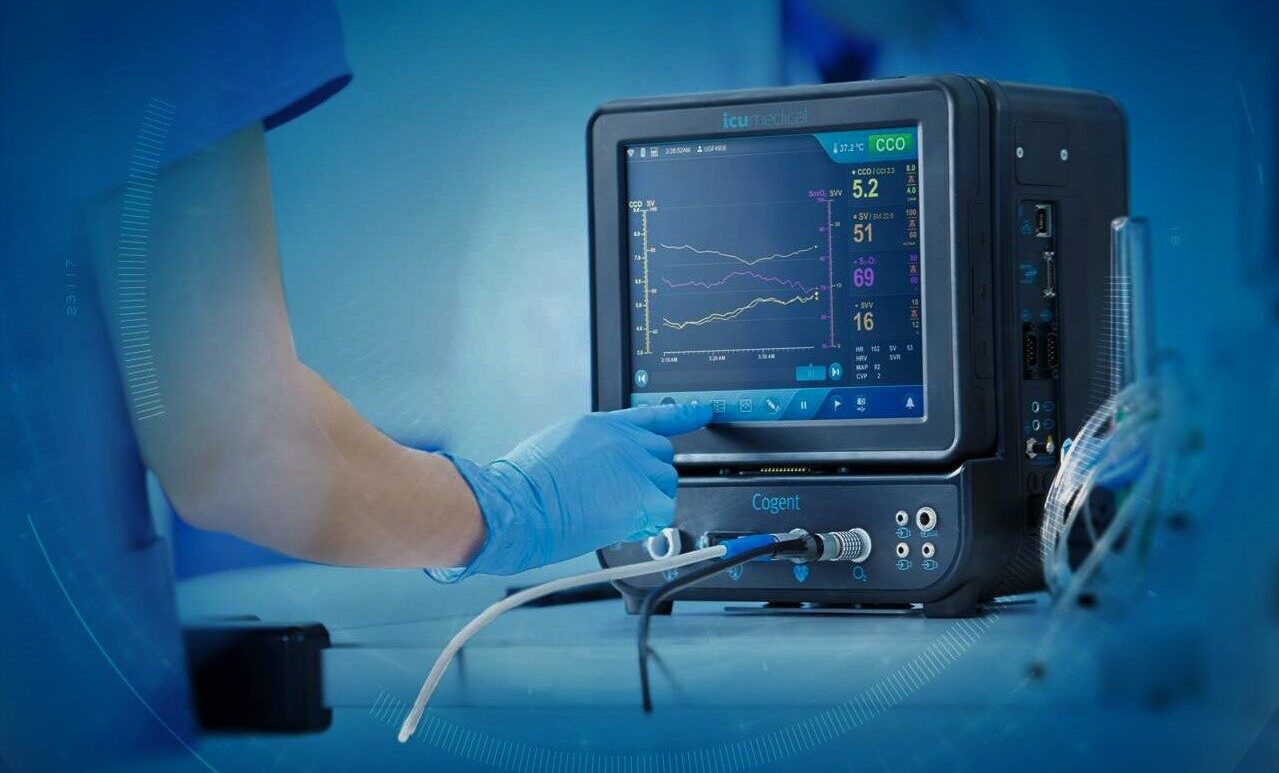 Global Hemodynamic Monitoring Market valued at $1.04 billion (2021), is set to witness a growth rate of 6% in the next 5 years. Growing cases of cardiovascular diseases, COPD and other respiratory diseases; development of next-generation non-invasive and minimally-invasive systems; rapid growth in the number of surgical procedures; and focus on decision-support solutions providing proactive hemodynamic management are some of the key factors driving the market growth.
Uncontrolled perturbations in circulatory function during surgery can lead to tissue hypoxia, resulting in perioperative morbidity and mortality. Hemodynamic monitoring provides information about the adequacy of a patient's circulation, perfusion, and oxygenation of the tissues and organ systems delivering safe anesthetic care. Hemodynamic monitoring systems include invasive hemodynamic monitoring systems, minimally invasive hemodynamic monitoring systems, and non-invasive hemodynamic monitoring systems.
Technological Advancements in Hemodynamic Monitoring Systems to fuel its Market Demand
Continuous advances in critical patient care have enabled to develop efficient hemodynamic monitoring systems featuring non-invasive technology and expanded parameters such as continuous BP measurements, measurement of cardiac output by pulse contour method, among others. Such advancements tend to provide competitive edge to manufacturers and therefore, major players are continuously focusing on investing in research activities for new product development and expanding their geographic reach to strengthen their positions in the hemodynamic monitoring market. Some of the technological advancements are listed below:
In July 2022, Retia Medical received Series B funding of $15 million led by Fresenius Medical Care Ventures to expand its commercial team and accelerate the development and commercialization of its Argos Hemodynamic Monitor.
In February 2022, Caretaker Medical received the US Food and Drug Administration (FDA) clearance to add four new parameters on its next-generation VitalStream wireless 'beat-by-beat' blood pressure and hemodynamic monitoring platform, to include stroke volume, cardiac output, left ventricular ejection time, and heart rate variability.
In March 2021, Philips introduced its interventional hemodynamic system featuring a patient monitor- IntelliVue X3 to provide advanced hemodynamic (blood flow) measurements and improve patient focus during image-guided procedures.
In October 2020, Getinge launched NICCI, an innovative advanced hemodynamic monitoring solution that provides continuous and non-invasive hemodynamic insights reducing the risk of severe complications in patients with low blood pressure.
Growing Prevalence of Cardiovascular Diseases (CVDs) to boost Adoption of Hemodynamic Monitoring Market
Advanced hemodynamic monitoring methods have the ability to enhance the monitoring of cardiac patients during post-operative care and anesthesia providing precise and repeatable measurements to detect hemodynamic abnormalities and their causes. Cardiovascular diseases are one of the leading causes of death across the globe. Coronary heart disease, cerebrovascular disease, rheumatic heart disease, and other illnesses are among the group of heart and blood vessel disorders known as CVDs. Heart attacks and strokes account for more than four out of every five deaths caused by CVDs, and one third of these deaths happen before the age of 70. Additionally, behavioral risk factors of heart disease and stroke such as sedentary lifestyle, unhealthy diet, tobacco use, excessive alcohol consumption, and physical inactivity leads to raised blood sugar, increased blood pressure, overweight and obesity among individuals which further contributes to the overall CVD burden.
According to WHO, 32% of all deaths across the globe i.e., 17.9 million people die due to CVD every year.
As per CDC,

659,000 people in the US die from heart disease every year; heart diseases costs $363 billion each year in the US which includes cost of medicines and healthcare services.
Coronary heart disease alone killed 360,900 people in 2019 in the US and over 18.2 million adults suffering from coronary artery disease live in the US.
805,000 people suffer from heart attack in the US every year of which 605,000 are a first heart attack while 200,000 happen to people already had a heart attack.

According to European Heart Network, CVDs account for over 3.9 million deaths every year in the European region, out of which over 1.8 million deaths occur in the European Union (EU).
In 2019, the mortality rate of CVDs in China was 364.5 per 100,000 population.
Furthermore, rising geriatric population prone to heart defects due to progressive deterioration in the structure and function of the heart, largely contributes to the high burden of CVDs; thereby triggering the increased adoption of hemodynamic monitoring systems.
Issues related to Hemodynamic Monitoring Systems – A Deterrent for Hemodynamic Monitoring Market Growth
Although hemodynamic monitoring offer multiple advantages to patients and caregivers, there are certain issues related to the use of this patient monitoring technology. Dysrhythmias, catheter knotting, balloon rupture, pulmonary artery rupture, infection, pulmonary infarction, and deep vein thrombosis are a some of the potential complications associated with hemodynamic monitoring.
Invasive monitoring pose significant risks, hence using this technique is only advised for a select group of conditions in which the risks associated are overshadowed by the advantages of the information they provide during a particular procedure. Furthermore, invasive hemodynamic monitoring is expensive and requires trained professionals to insert catheters in patients. In addition, it is not advised for old and weak patients to employ invasive hemodynamic monitoring system. Although, invasive hemodynamic monitoring offers precise and comprehensive information on patients' hemodynamic state, their usage is constrained by the risks associated with it.
Interpretation of hemodynamic values and waveforms plays a vital role in accurate diagnosis and effective monitoring of critically ill patients. Misinterpretation of this data is one of the major complications associated with the use of hemodynamic monitoring systems. Due to the criticality in technical aspects such as acquiring and interpreting pulmonary artery catheterization (PAC) pressure waveforms, there is a need for appropriate training and experience. Shortage of trained professionals in developing countries limits the adoption of hemodynamic monitoring systems.
Irrespective of these issues and challenges, hemodynamic monitoring market is expected to grow at a steady rate due to rapid advancements in new technologies such as minimally invasive and non-invasive hemodynamic monitoring systems. Substantial improvements in terms of computer processing, biosensors, and miniaturization, coupled with improved understanding of critical cases at molecular level are expected to further drive the hemodynamic monitoring market growth.
Competitive Landscape Analysis: Hemodynamic Monitoring Market
The global hemodynamic monitoring market is marked by the presence of key market players such as Edwards Lifesciences Corporation (US); Getinge AB (Sweden); LiDCO Group (UK); Koninklijke Philips N.V. (Netherlands); ICU Medical (US); and others.
Key Strategic Questions Addressed
What is the market size & forecast of the Hemodynamic Monitoring Market?
What are historical, present, and forecasted market shares and growth rates of various segments and sub-segments of the Hemodynamic Monitoring Market?
What are the key trends defining the hemodynamic monitoring market?
What are the major factors impacting the market?
What are the opportunities prevailing in the hemodynamic monitoring market?
Which region has the highest share in the global market? Which region is expected to witness the highest growth rate in the next 5 years?
Who are the major players operating in the market?
What are the key strategies adopted by players operating in hemodynamic monitoring market?
The study has been compiled based on the extensive primary and secondary research.
Secondary Research (Indicative List)

Primary Research
To validate research findings (market size & forecasts, market segmentation, market dynamics, competitive landscape, key industry trends, etc.), extensive primary interviews were conducted with both supply and demand side stakeholders.
Supply Side Stakeholders:
Senior Management Level: CEOs, Presidents, Vice-Presidents, Directors, Chief Technology Officers, Chief Commercial Officers
Mid-Management Level: Product Managers, Sales Managers, Brand Managers, R&D Managers, Business Development Managers, Consultants
Demand Side Stakeholders:
Stakeholders in Public and Private Hospitals, Cardiac Catheterization Laboratories (Cath Labs), and Clinics and Ambulatory Care Centers.
Breakdown of Primary Interviews

Market Size Estimation
Both 'Top-Down and Bottom-Up Approaches' were used to derive market size estimates and forecasts.
Data Triangulation
Research findings derived through secondary sources & internal analysis were validated with Primary Interviews, Internal Knowledge Repository, and Company Sales Data.