Interventional Cardiology Devices Market Size, Share, Trends, Growth & Application 2026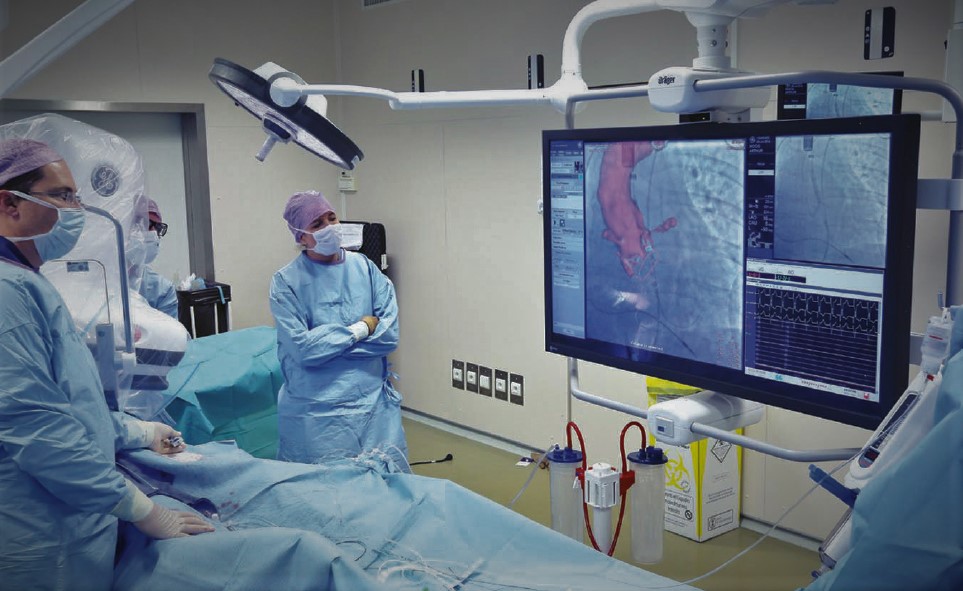 The Global Interventional Cardiology Devices Market valued at $6.7 billion in 2021 is set to witness a growth rate of 2 to 3% by 2026. Rising geriatric population & corresponding growth in the number of coronary artery diseases, growing cases of diabetes & concomitant increased risk of coronary heart disease, technological advancements in interventional cardiology devices, and favorable reimbursements for interventional cardiology procedures are some of the key factors driving the market's growth.
Interventional cardiology is a branch of cardiology that utilizes nonsurgical, catheter-based treatments for structural heart diseases. It utilizes devices such as catheters & sheaths, guidewires, balloons, stents, vascular closure devices, atherectomy devices, intravascular ultrasound (IVUS), and other devices to repair narrowed arteries, damaged or weakened blood vessels, heart valve disorders, and congenital heart diseases.
APAC Interventional Cardiology Devices Market to Witness Highest Growth in the Next Five Years
A rising prevalence of cardiovascular diseases & hypertension, a higher degree of unmet clinical needs, and rising affluence are creating ample opportunities for the interventional cardiology devices market in the APAC region. The growth of the interventional cardiology devices market in the APAC is likely to be driven by China and India. Considering the lucrative prospects of the interventional cardiology devices market in the APAC region, prominent companies have expanded their footprint in the region. For instance,
In March 2022, Boston Scientific expanded its footprint in India with its second R&D Center. The new R&D Center addresses the needs of the patients in India, APAC, and around the world. It also provides expertise to all of the company's diverse therapy areas, namely interventional cardiology, peripheral interventions, cardiac rhythm management, endoscopy, neuromodulation, urology, and pelvic health.
Abbott also intends to expand coverage and resources in training programs related to cardiovascular treatment in China. Abbott owns two training centers in China. The Abbott Medical Advanced Technology Center in Beijing provides doctors with first-class cardiological learning experiences and practice opportunities. The Crossroads-Abbott Academic Center in Shanghai provides interventional treatment training for physicians from different regions in China, making medical treatment and standardized treatment and care more accessible to patients in remote areas.
"China is one of the most prominent markets for cardiovascular diseases. The demand from patients to be treated as well as doctors to get trained is humongous. This is why interventional cardiology device manufacturers are investing in China." - Director, Leading Stent Manufacturer, United States
Technological Advancements Drives the Interventional Cardiology Devices Market
The interventional cardiology devices market is a technology-driven market and is marked by product enhancements/innovations. For instance,
In May, 2022, Medtronic received U.S. FDA approval for the Onyx Frontier™ drug-eluting stent (DES). The Onyx Frontier DES is used for the treatment of patients with coronary artery disease (CAD). It offers an innovative delivery system and builds upon the acute performance and clinical data from the Resolute Onyx™ drug-eluting stent
In April 2022, Translumina launched VIVO ISAR, its latest generation dual drug polymer-free coated stent (DDCS), in various international markets including Europe. VIVO ISAR is the first Dual Drug Polymer-Free Coronary Stent technology, which brings together a stent with a superior safety profile without compromising the drug release kinetics. It is the first technology that uses Probucol, an antioxidant and lipid-lowering drug, as a carrier for releasing Sirolimus (an anti-restenotic drug) and thus creates a polymer-free DES platform with uncompromised safety and efficacy
In March 2022, SIS Medical AG receives FDA 510(k) approval for its lead product, OPN NC® TWIN-Wall Super High Pressure PTCA Balloon. The OPN NC balloon utilizes an unique double balloon (TWIN-Wall) technology invented by SIS Medical AG, providing a super high pressure resistance with a rated burst pressure of 35 atm with a very low compliance. These performance features allow for a perfect preparation of challenging lesions prior to stenting without over-dilating of the blood vessel. The device can also be applied for post-dilatation of under-expanded stents.
Organic and Inorganic Growth Strategies Adopted by Key Players to Establish Their Foothold in the Market
The interventional cardiology devices market is marked by the presence of both established and new players. Players operating in the market adopt both organic and inorganic growth strategies such as acquisitions, and new product launches to garner market share. For instance,
In April 2022, Transit Scientific announced the FDA clearance of its XO Cross® Support Catheter Platform to include coronary use. The platform is indicated to guide and support a guidewire during access of the peripheral or coronary vasculature, allow for wire exchanges, and provide a conduit for delivery of saline solutions or diagnostic contrast agents
In April 2022, Boston Scientific announced the close of its acquisition of Baylis Medical Company Inc., a company that offers advanced transseptal access solutions as well as guidewires, sheaths and dilators used to support catheter-based left-heart procedures. The acquisition allows Boston Scientific to integrate the Baylis platforms with its existing electrophysiology and structural heart offerings, further strengthening its position in the cardiology market.
The interventional cardiology devices market is expected to continue to grow in the coming years due to growing cardiovascular cases, growth opportunities in the APAC region, technological advancements in interventional cardiology devices, and favorable reimbursement in key markets.
Competitive Landscape Analysis: Interventional Cardiology Devices Market
The global interventional cardiology devices market is marked by the presence of key players such as Medtronic, Boston Scientific, Abbott, Medinol, Biotronik, SMT, Terumo, Lepu Medical, Microport, among others.
Key Strategic Questions Addressed
What is the market size & forecast of the Interventional Cardiology Devices Market?
What are the historical, present, and forecasted market shares and growth rates of various segments and sub-segments of the Interventional Cardiology Devices Market?
What are the key trends defining the market?
What are the major factors impacting the interventional cardiology devices market?
What are the opportunities prevailing in the market?
Which region has the highest share in the global market? Which region is expected to witness the highest growth rate in the next 5 years?
Who are the major players operating in the interventional cardiology devices market?
What are the key strategies adopted by players operating in interventional cardiology devices market?
The study has been compiled based on the extensive primary and secondary research.
Secondary Research (Indicative List)

Primary Research
To validate research findings (market size & forecasts, market segmentation, market dynamics, competitive landscape, key industry trends, etc.), extensive primary interviews were conducted with both supply and demand side stakeholders.
Supply Side Stakeholders:
Senior Management Level: CEOs, Presidents, Vice-Presidents, Directors, Chief Technology Officers, Chief Commercial Officers
Mid-Management Level: Product Managers, Sales Managers, Brand Managers, R&D Managers, Business Development Managers, Consultants
Demand Side Stakeholders:
Stakeholders in Hospitals, Ambulatory Surgery Centers, Cardiac Centers, among others.
Breakdown of Primary Interviews

Market Size Estimation
The market size was derived based on extensive secondary research further validated through expert interviews.
Data Triangulation
Research findings derived through secondary sources & internal analysis were validated with primary interviews and an internal knowledge repository.