Medical Waste Management Market Size, Share, Trends, Growth & Developments 2027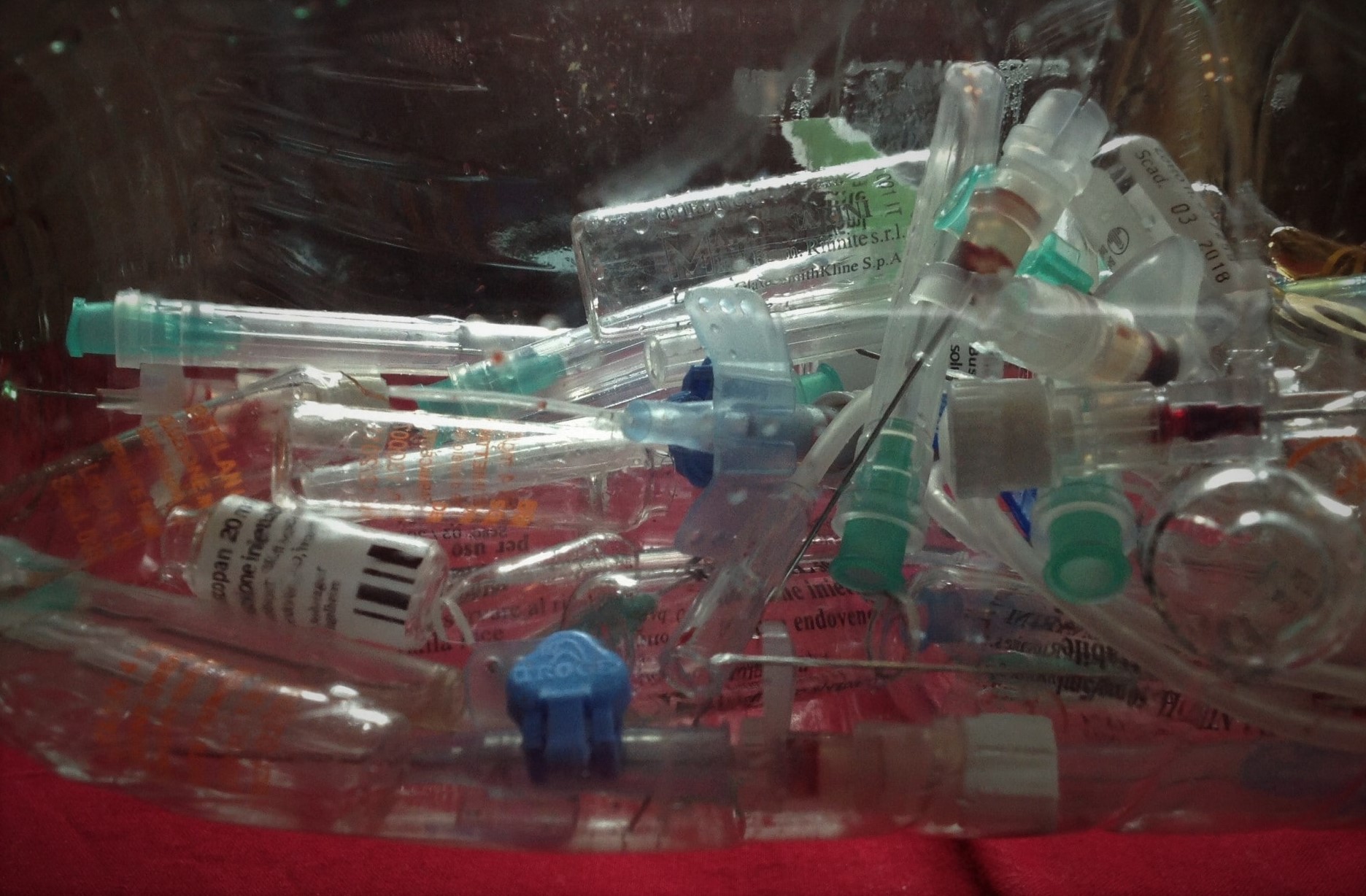 The Global Medical Waste Management Market is expected to witness a growth rate of 5-6% by 2027.Growth in the volume of medical waste generated globally, an increasing utilization of single-use devices, rising number of surgical procedures, and stringent regulations for medical waste management are some of the key factors driving the growth of the medical waste management market. However, the lack of standardized regulations for medical waste management and the lack of awareness on medical waste management in developing countries are some of the key factors that might hamper the growth of the global market.
Medical waste disposal can be defined as the subset of waste produced by hospitals, physician's offices, dental practices, mortuaries, nursing homes, blood banks, veterinary clinics, medical research facilities, and laboratories. The waste is disposed of by incineration, autoclaving, chemical treatment, and other disposal methods. The two types of waste are classified as below:-
Hazardous Waste: Hazardous waste has properties that can have a harmful effect on human health or the environment. It is derived from infectious, pathological (tissue), sharp, chemical, pharmaceutical, cytotoxic (mutagenic, teratogenic or carcinogenic substances) or radioactive sources.
Non-hazardous Waste: Non-hazardous waste does not cause harm to people or the environment, and regulations for the disposal of non-hazardous waste are relatively less strict. Examples of non-hazardous medical waste include plastic packaging, clean glass and plastic, paper and cardboard, and office products. It makes up about 85% of all medical waste, and ~15% is hazardous.
The WHO estimates that in rich countries for each occupied hospital bed, 0.5kg of hazardous medical waste is produced, in developing nations this is closer to 0.2kg. However, estimates are harder to come to as hazardous and non-hazardous waste are commonly mixed up making the volume much higher. Proper waste disposal is required to reduce environmental risks, protect healthcare staff and prevent contamination.
Growing Volume of Hazardous Medical Waste is Driving the Growth of the Medical Waste Management Market
An increasing population and healthcare utilization, especially in developing economies, is driving a huge increase in medical waste. Overall life expectancies are improving and the world is aging – increasing morbidity and therefore medical waste. Other key growth factors are as follows:
Increasing use of disposables – Hospitals are increasingly using disposables – common items such as catheters and scalpels are disposed of as opposed to autoclaving or UV treating them.
Prions (pathogens resistant to sterilization by autoclaving or UV) exhibit the highest level of resistance to disinfection/sterilization. Reusable medical devices are more prone to become contaminated with prions. Additional concerns surrounding the rise of antibiotic-resistant bacteria are also driving the move to using disposables
An increasing use of a wide range of radionuclides in medicine and medical research has fueled the volume of biomedical radioactive waste.
Another major driver for the increase in hazardous waste is due to inadequate waste management in developing economies. Improper disposal causes a hazardous waste to be mixed with general waste, therefore making the general waste hazardous. This increases the overall volume of waste which needs to be disposed of through incineration.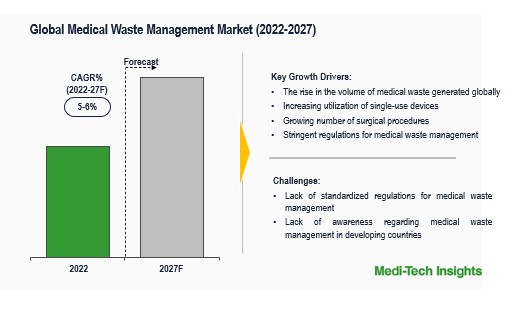 Bolstered by Covid-19 Pandemic, Legislative Focus on the Proper Disposal of Medical Waste is Expected to Continue to Drive the Medical Waste Management Market
The Covid-19 pandemic brought into focus the essential need for an effective and safe medical waste management, thus placing the plans for it higher on the agenda for governments. Waste produced due to Covid-19 in many countries exceeded the waste management capabilities available at the time. During Covid-19, in the Hubei Province, China witnessed a medical waste generation rate of 0.5kg/bed/day in many hospitals, which in turn has led to investments in increasing capacity and emergency solutions to waste disposal.
The focus on the safe processing of waste has brought legislation surrounding the safe disposal of waste from governments globally, requiring effective disposal. The most commonly utilized methods are:
Incineration: Medical waste incineration at between 800-1000°C in anaerobic or anoxic conditions. The remaining waste is disposed of through crushing and then moving to landfill. Additional methods for plastics include pyrolysis – where plastic medical waste is incinerated in a closed environment to produce energy. Emissions are captured in water to limit pollution.
Autoclaving: Autoclaving is a method of sterilizing hazardous medical waste by exposing it to high temperatures and pressure. The waste is placed in a large pressurized chamber, where it is heated to a high temperature, typically around 132°C (270°F). The high temperature and pressure kill any microorganisms present, making the waste safe for disposal. Autoclaving is a common method used to treat infectious waste, such as used sharps and contaminated dressings.
Chemical Disinfection: Chemical disinfection involves treating hazardous medical waste with chemicals that kill or neutralize any microorganisms present. This process can be used to treat certain types of waste, such as laboratory cultures, but it requires careful handling of the chemicals used. The treated waste is typically disposed of in a landfill.
Microwave Treatment: Microwave treatment involves exposing hazardous medical waste to high-frequency electromagnetic waves, which generate heat and kill any microorganisms present. This process can be used to treat certain types of waste, such as infectious waste, but it requires specialized equipment and can be expensive.
Examples of the increasing focus on the effective disposal of medical waste include:
Medical Waste Management Regulations (China): This regulation was first issued in 2003 and revised in 2019, with the aim of regulating the generation, collection, transportation, storage, and disposal of medical waste in China. The regulation includes provisions on the proper handling and disposal of hazardous medical waste, including the use of incineration, autoclaving, and other treatment methods. Following issuance compliance has improved considerably.
Healthcare waste management was one of the major strains which arose due to the response to the Covid-19 pandemic. So to strengthen and safely manage the infectious waste, in July 2020, the European Union (EU) and the Pan American Health Organization/World Health Organization (PAHO/WHO) donated two medical waste autoclaves to the Ministry of Health and Wellness (MoHW) in Belize (North-eastern coast of Central America). Autoclaves play a key role in proper waste management and  are mainly used to sterilize infectious waste before they are disposed of in designated landfills. Through the donation of the autoclaves, the Ministry of Health and Wellness in Belize enhanced the hospital's capacity for infection prevention and control with a strong focus on medical waste management market.
North America Holds the Highest Market Share in Medical Waste Management Market While China is Growing Rapidly as Companies Aim to Comply with Chinese Regulations
The USA has a well-developed healthcare industry – there is also a stringent set of regulatory guidelines that healthcare providers and waste disposal companies have to adhere to. The disposal of medical waste is overseen by multiple government bodies including the EPA, OSHA, and individual State Departments for Environmental Protection. The EPA (Environmental Protection Agency) issued regulations surrounding emissions produced by medical waste incineration, and other methods of disposal such as microwave, chemical and electro pyrolysis disposal are more commonly used – driving demand for these services.
As China and India begin to better implement their medical waste disposal policy, the medical waste disposal market is expected to see a substantial growth in the upcoming years.
Competitive Landscape Analysis: Medical Waste Management Market
Some of the key players operating in the medical waste management market are Biomedical Waste Solutions, Clean Harbors, Inc., Daniels Health Inc., EcoMed Services, Remondis Medison (A Subsidiary of Remondis Ag & Co.Kg), Republic Services, Inc., Stericycle, Inc., Suez Environmental Services, Veolia Environmental Services and Waste Management, Inc. The global medical waste management market is moderately fragmented, with some larger players are holding a significant market share in developed economies.
Key Strategic Questions Addressed in this Research Report are listed below:-
What is the market size & forecast of the medical waste management market?
What are the historical, present, and forecasted market shares and growth rates of various segments and sub-segments of medical waste management market?
What are the key trends defining the medical waste management market?
What are the major factors impacting the medical waste management market?
What are the opportunities prevailing in the medical waste management market?
Which region has the highest share in the global medical waste management market? Which region is expected to witness the highest growth rate in the next 5 years?
Who are the major players operating in the medical waste management market?
What are the key strategies adopted by players operating in medical waste management market?
1. Research Methodology
1.1. Secondary Research
1.2. Primary Research
1.3. Market Estimation
1.4. Market Forecasting
2. Executive Summary
3. Market Overview
3.1. Market Dynamics
3.1.1. Drivers
3.1.2. Restraints
3.1.3. Market Trends
3.2. Industry Speaks
4. Regulatory Landscape Snapshot – Medical Waste Management
5. Global Medical Waste Management Market - Size & Forecast (2020-2027), By Service
5.1. Collection, Transportation, and Storage
5.2. Treatment & Disposal Services
5.3. Recycling
6. Global Medical Waste Management Market - Size & Forecast (2020-2027), By Waste Type
6.1. Hazardous Waste
6.1.1. Sharps Waste
6.1.2. Pharmaceutical Waste
6.1.3. Infectious & Pathological Waste
6.1.4. Others
6.2. Non-hazardous Waste
7. Global Medical Waste Management Market - Size & Forecast (2020-2027), By Source
7.1. Hospitals & Clinics
7.2. Diagnostic Laboratories
7.3. Research Laboratories
7.4. Others
8. Global Medical Waste Management Market - Size & Forecast (2020-2027), By Region
8.1. North America (U.S. & Canada)
8.2. Europe (UK, Germany, France, Italy, Spain, Rest of Europe)
8.3. Asia Pacific (China, India, Japan, Rest of Asia Pacific)
8.4. Rest of the World (Latin America, Middle East & Africa)
9. Competitive Landscape
9.1. Key Players and their Competitive Positioning
9.1.1. Competitive Positioning of Key Players (2022)
9.1.2. Offerings Mapping, By Players
9.2. Key Strategies Assessment, By Player (2020-2022)
9.2.1. New Product & Service Launches
9.2.2. Partnerships, Agreements, & Collaborations
9.2.3. Mergers & Acquisitions
9.2.4. Geographic Expansion
10. Key Companies Scanned (Indicative List)
10.1. Biomedical Waste Solutions
10.2. Clean Harbours, Inc
10.3. Daniels Health, Inc
10.4. EcoMed Services
10.5. Stericycle, Inc
10.6. Suez Environmental Services, Inc
10.7. Veolia Environmental Services and Waste Management, Inc
10.8. Other companies
The study has been compiled based on extensive primary and secondary research.
Secondary Research (Indicative List)

Primary Research
To validate research findings (market size & forecasts, market segmentation, market dynamics, competitive landscape, key industry trends, etc.), extensive primary interviews were conducted with both supply and demand side stakeholders.
Supply Side Stakeholders:
Senior Management Level: CEOs, Presidents, Vice-Presidents, Directors, Chief Technology Officers, Chief Commercial Officers
Mid-Management Level: Product Managers, Sales Managers, Brand Managers, R&D Managers, Business Development Managers, Consultants
Demand Side Stakeholders:
Stakeholders in Hospitals/Clinics, Diagnostic Laboratories, Research Laboratories and other End-Users.
Breakdown of Primary Interviews

Market Size Estimation
Both 'Top-Down and Bottom-Up Approaches' were used to derive market size estimates and forecasts.
Data Triangulation
Research findings derived through secondary sources & internal analysis were validated with Primary Interviews, Internal Knowledge Repository, and Company Sales Data.