Mycoplasma Testing Market Size, Share, Trends, Growth & Developments by 2027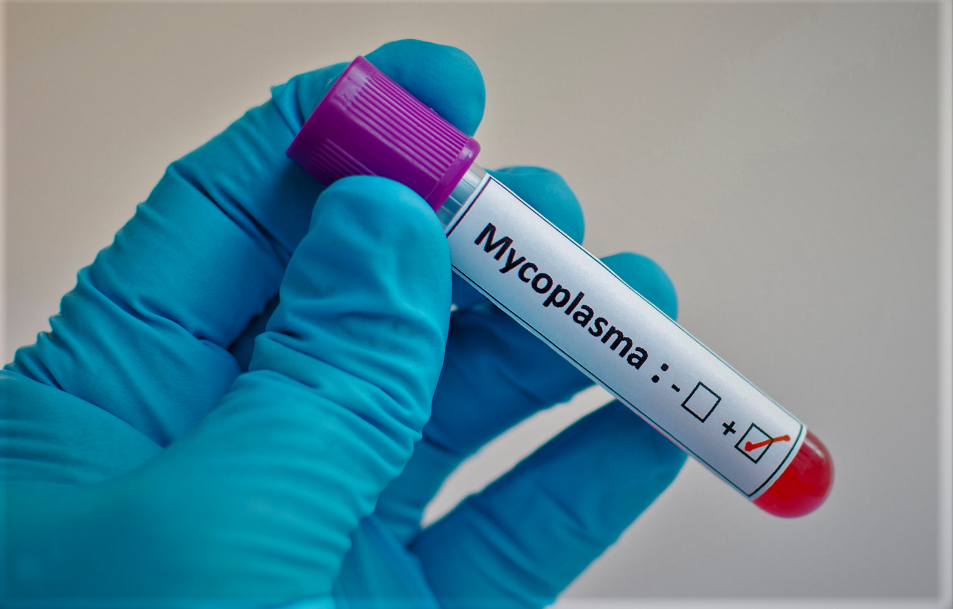 The Global Mycoplasma Testing Market is expected to witness a high growth rate of 11% from 2022 to 2027. Growing R&D activities & investments, government initiatives with regards to funding, rapid growth in pharmaceutical & biotechnology industries, growing concerns on cell culture contamination, development of advanced cell culture technologies, growing demand for timely & accurate testing, and rising number of respiratory tract infections are some of the key factors driving the market growth.
Mycoplasmas are the smallest known free-living microorganisms and are frequent contaminants of mammalian cell cultures. For the safety and purity of vaccines and other biological cell-derived products, it is important that the cell substrates and unprocessed bulk materials are free of adventitious agents, including mycoplasma. In many instances, mycoplasmas differ from other forms of bacteria, making them difficult to culture and identify. Testing is done to detect mycoplasma like Mycoplasma hominis, Mycoplasma genitalium, Mycoplasma pneumoniae, and Ureaplasma urealyticum. These organisms can cause nongonococcal urethritis (NGU), prostate inflammation (prostatitis), vaginal discharge, and pelvic inflammatory disease (PID) in both men and women.
Growing Concerns Of Cell Culture Contamination To Propel the Mycoplasma Testing Market Demand
Mycoplasmas frequently contaminate the fluids used in bioprocessing and cell culture. It is generally known that primary cell cultures have a minimum contamination rate of 1% and continuous cell cultures have a contamination rate of between 15% and 35% due to mycoplasma. Inefficient culturing techniques or malfunctioning laboratory apparatus can both result in mycoplasma contamination. Reusing pipet tips is an example of poor culture technique that might spread the contaminant by transferring mycoplasma-infected media into otherwise sterile media. Further, a faulty laminar flow might spread mycoplasma-carrying dust and aerosols throughout a biosafety cabinet, contaminating all the medium and cells within.
The mycoplasmas enter the cell culture through a variety of difficult to trace sources. These include workers in the lab, serum, material used in cell culture, water baths, incubators, etc. Among the aforementioned sources, contamination by humans' accounts for the largest share. The contaminants can be transmitted through dirty clothing, lab gear, human speaking close to a laminar airflow, the scalp, sneezing, coughing, etc. Also, wherever the cell cultures are kept, a steady inflow of people will raise the possibility of contamination.
Out of over 190 total species of mycoplasma, only 20 distinct mycoplasma species of human, bovine, and porcine origin have been found in cell culture. Eight of the species account for almost 95% of all mycoplasma contamination in cell culture. These include M. arginini (bovine), M. fermentans (human), M. hominis (human), M. hyorhinis (porcine), M. orale (human), M. pirum (human), M. salivarium (human), and Acholeplasma laidlawii (bovine).
Routine testing is the best protection against mycoplasma contamination that can quickly identify contaminated cultures and reagents. In the case of batch adulteration or a product recall, contamination of cell substrates used in the development of biopharmaceuticals constitutes a serious economic risk for manufacturers as well as a potential safety concern for patients. Regular mycoplasma testing is needed to be performed during the product manufacturing and development phase to reduce these risks.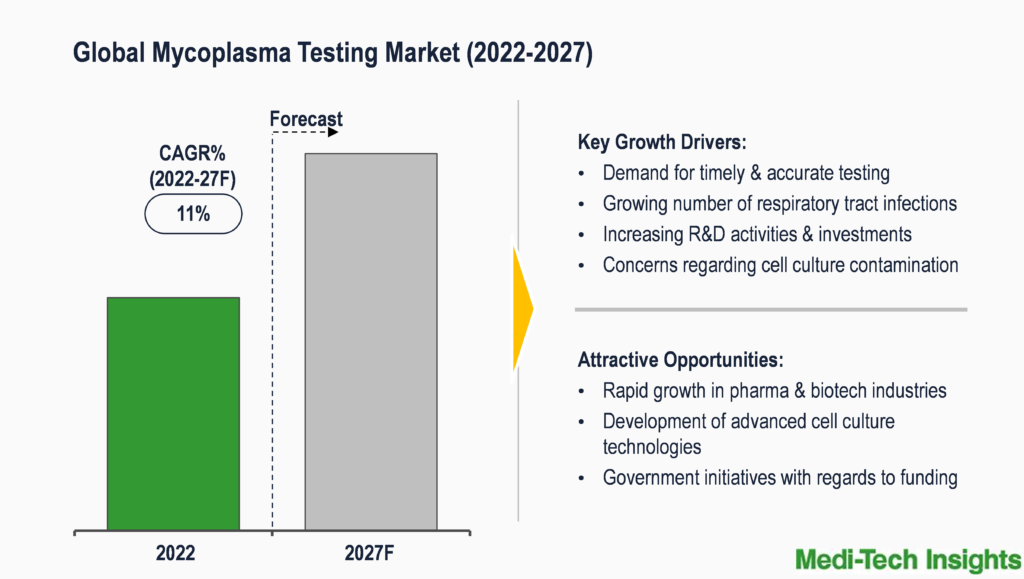 Key Business Strategies adopted by the Leading Market Players and Laboratories
Continuous advancements and developments in mycoplasma detection have enabled market players to develop innovative, rapid, and easy-to-use tests. Such advancements tend to provide a competitive edge to all manufacturers and therefore, all major players are continuously focusing on investments for new product development and expanding their geographic reach to strengthen their position in this high growth mycoplasma testing market.
Some of the recent developments are listed below:-
In February 2023, SwiftDx announced the launch of its mycoplasma detection kit. The SwiftDx Mycoplasma Detection Kit is a new lateral flow test for the detection of mycoplasma contamination offering a faster and more convenient solution. The kit uses adapted PCR method and provides accurate results within minutes, making it a valuable tool across laboratories.
In April 2022, AlphaBiolabs launched sexually-transmitted infection (STI) testing for public and healthcare partners. The complete panel (7 STIs) detect chlamydia, gonorrhoea, mycoplasma genitalium, mycoplasma hominis, trichomoniasis, ureaplasma parvum (UTI), and ureaplasma urealyticum (UTI).
In December 2021, Asahi Kasei Medical Co., Ltd. completely acquired Bionique Testing Laboratories LLC, one of the providers of mycoplasma testing services for the biotherapeutics and life-sciences industries in the US. This acquisition is intended at expanding its biosafety contract testing business.
In July 2020, bioMérieux launched BIOFIRE MYCOPLASMA, an innovative test for the detection of mycoplasma in pharmaceutical products used for biotherapeutics such as antibodies, hormones, and cell & gene therapies. BIOFIRE MYCOPLASMA is a rapid and easy-to-use molecular biology test featuring an automated workflow for DNA extraction, amplification and detection.
In April 2020, Infinity Laboratories announced the launch of Mycoplasma testing in response to the high demand within the biological, therapeutics, and pharmaceutical industries. The launch results into a significant capital investment for the company further providing manufacturers the edge to bring products to market faster.
North America is Expected to hold a Larger Share in the Mycoplasma Testing Market
From a geographical perspective, North America holds a larger market share of the global mycoplasma testing market. This can be mainly attributed to the increased adoption of novel technologies, growing number of clinical studies in the region, well-established healthcare infrastructure, presence of multinational pharma & biotech companies supporting high R&D investments, and increased incidence of respiratory disorders. According to Centers for Disease Control and Prevention (CDC), the chronic lower respiratory diseases (including asthma) accounted for 142,342 deaths in 2021 in the US. Additionally, launch of mycoplasma testing capabilities and expanding customer reach by laboratories has further resulted in the high adoption of mycoplasma testing in the region.
Irrespective of the upcoming challenges such as lengthy turnaround time, quality control concerns, long analytical and lead time, among others, the global mycoplasma testing market has a high potential to grow at a significant rate and is expected to gain further momentum in the upcoming years due to a strong emphasis on innovation, greater acceptance in biopharmaceutical manufacturers across the world, and development of rapid mycoplasma testing by top market players, among others.
For instance, assays based on nucleic-acid amplification techniques (NAT), such as polymerase chain reaction (PCR), have potential to address the challenges associated with mycoplasma testing such as turnaround time and quality control. NAT-based tests are very sensitive and quick to perform as they detect the presence of nucleic acid sequence unique to the microorganisms of interest that potentially contaminate the culture.
Competitive Landscape Analysis: Mycoplasma Testing Market
The global mycoplasma testing market is marked by the presence of key and well-established market players such as listed below:-
Thermo Fisher Scientific, Inc. (US)
Charles River Laboratories International, Inc. (US)
Merck KGaA (Germany)
Lonza Group (Switzerland)
PromoCell GmbH (Germany)
American Type Culture Collection (US)
Key Strategic Questions Addressed in this Report
What is the market size & forecast of the mycoplasma testing market?
What are historical, present, and forecasted market shares and growth rates of various segments and sub-segments of the mycoplasma testing market?
What are the key trends defining the mycoplasma testing market?
What are the major factors impacting the mycoplasma testing market?
What are the opportunities prevailing in the mycoplasma testing market?
Which region has the highest share in the global market? Which region is expected to witness the highest growth rate in the next 5 years?
Who are the major players operating in the mycoplasma testing market?
What are the key strategies adopted by players working in the global mycoplasma testing market?
1. Research Methodology
1.1. Secondary Research
1.2. Primary Research
1.3. Market Estimation
1.3.1. Bottom-up and Top-down Approach
1.4. Market Forecasting
2. Executive Summary
3. Market Overview
3.1. Market Dynamics
3.1.1. Drivers
3.1.2. Restraints
3.1.3. Opportunities
3.1.4. Market Trends
3.2. Industry Speaks
3.3. Opportunity Analysis
4. Global Mycoplasma Testing Market- Size & Forecast (2020-2027), By Product & Services
4.1. Instruments
4.2. Assays, Kits, & Reagents
4.2.1. ELISA Assays, Kits, & Reagents
4.2.2. NAT Assays, Kits, & Reagents
4.2.3. Elimination Kits
4.2.4. Stains
4.2.5. Other Assays, Kits, & Reagents
4.3. Services
5. Global Mycoplasma Testing Market- Size & Forecast (2020-2027), By Technology
5.1. NAT
5.2. ELISA
5.3. Staining
5.4. Other Techniques
6. Global Mycoplasma Testing Market- Size & Forecast (2020-2027), By Application
6.1. Cell Line Testing
6.2. Virus Testing
6.3. End-of-Production Cell Testing
7. Global Mycoplasma Testing Market- Size & Forecast (2020-2027), By End User
7.1. Pharmaceutical & Biotechnology Companies
7.2. Cell Banks & Laboratories
7.3. Contract Research Organizations (CROs)
7.4. Academic Research Institutes
8. Global Mycoplasma Testing Market- Size & Forecast (2020-2027), By Region
8.1. North America (U.S. & Canada)
8.2. Europe (UK, Germany, France, Italy, Spain, Rest of Europe)
8.3. Asia Pacific (China, India, Japan, Rest of Asia Pacific)
8.4. Rest of the World (Latin America, Middle East & Africa)
9. Competitive Landscape
9.1. Key Players and their Competitive Positioning
9.1.1. Market Share Analysis (2022)
9.1.2. Segment-wise Player Mapping
9.2. Key Strategies Assessment, By Player (2020-2022)
9.2.1. New Product Launches
9.2.2. Partnerships, Agreements, & Collaborations
9.2.3. Mergers & Acquisitions
9.2.4. Geographic Expansion
10. Key Companies Scanned (Indicative List)
10.1. Thermo Fisher Scientific, Inc.
10.2. Charles River Laboratories International, Inc.
10.3. Merck KGaA
10.4. Lonza Group
10.5. PromoCell GmbH
10.6. American Type Culture Collection
10.7. Asahi Kasei Medical Co., Ltd.
10.8. InvivoGen
10.9. Sartorius AG
10.10. Eurofins Scientific
The study has been compiled based on the extensive primary and secondary research.
Secondary Research (Indicative List)

Primary Research
To validate research findings (market size & forecasts, market segmentation, market dynamics, competitive landscape, key industry trends, etc.), extensive primary interviews were conducted with both supply and demand side stakeholders.
Supply Side Stakeholders:
Senior Management Level: CEOs, Presidents, Vice-Presidents, Directors, Chief Technology Officers, Chief Commercial Officers
Mid-Management Level: Product Managers, Sales Managers, Brand Managers, R&D Managers, Business Development Managers, Consultants
Demand Side Stakeholders:
Stakeholders in Pharmaceutical & Biopharmaceutical Companies, Contract Research Organizations (CROs), and Research Institutes & Laboratories.
Breakdown of Primary Interviews

Market Size Estimation
Both 'Top-Down and Bottom-Up Approaches' were used to derive market size estimates and forecasts.
Data Triangulation
Research findings derived through secondary sources & internal analysis were validated with Primary Interviews, Internal Knowledge Repository, and Company Sales Data.