Newborn Screening Market Size, Share, Growth, Trends & Developments 2027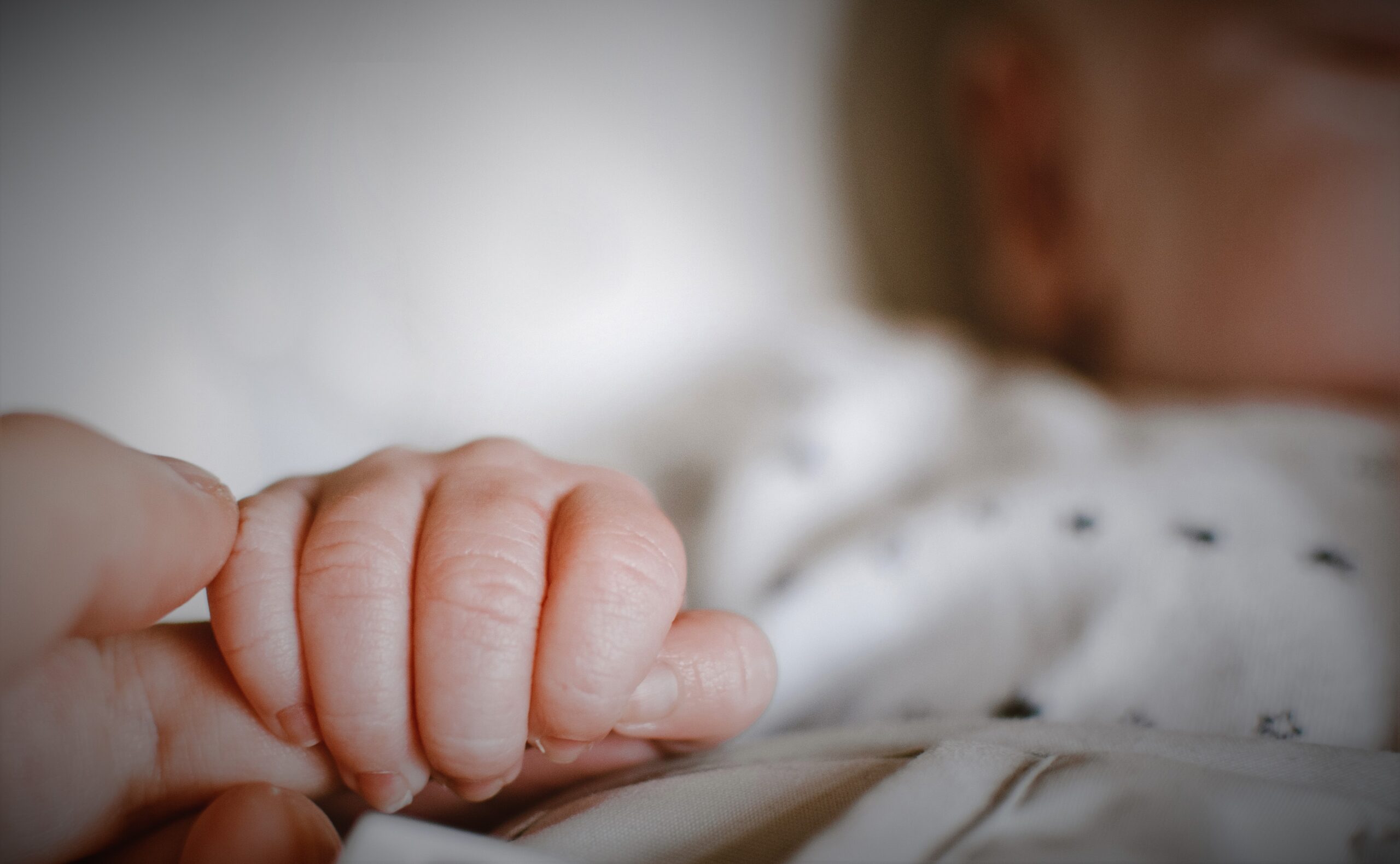 The Global Newborn Screening Market is expected to grow at a CAGR of ~6-8% by 2027. The global market is likely to be driven by an apparent rise in common birth defects, increasing lab efficiency, rising population growth, and increasing incomes/affluence in SEA and other developing regions.
Newborn screening aims to identify infants at risk of genetic, hormonal and metabolic conditions. These screens are used to confirm a diagnosis and allow for early intervention in the hope of the prevention or amelioration of the disease. These tests are most commonly performed for conditions that are not clinically evident in the neonatal period but are likely to be treatable with early intervention.
Commonly covered conditions include congenital hypothyroidism (CH), Phenylketonuria (PKU), congenital adrenal hyperplasia (CAH), cystic fibrosis (CF), galactosemia (GAL), tyrosinemia type I (HT1), sickle cell anaemia, G6PD-Deficiency, hearing problems (congenital deafness) and congenital heart problems. These are tested through three standard methods:
Blood spot: Commonly these lab procedures involve MS/MS, bacterial inhibition assays, ELISA, Fluorometric enzyme assays, colorimetric assays or immunoradiometric assays (IRMA).
Hearing test: A test performed using an Automated Auditory Brainstem Response (AABR) device or Otoacoustic Emissions test (OAE).
Pulse oximetry: A pulse oximeter is used to measure the percentage of hemoglobin in the blood that is saturated with oxygen. The test gives an early indication of the presence of a critical congenital heart defect.
Population Growth, Increasing levels of Birth Defects, and Favourable Government Initiatives are some of the major drivers for the growth of the Newborn Screening Market
A global population expected to grow to 9.7 billion people by 2050 from 8 billion in 2022 and improving access to primary care (evidenced by significant global improvements in life expectancy from 46.5 in 1950 to 71 in 2021) are major driving factors in the growth of the newborn screening market.
Globally, an estimated 8 million newborns are born with a birth defect every year. As per CDC, birth defects affect one in every 33 babies (about 3% of all babies) born in the United States each year. In the WHO South-East Asia Region, between 2010 and 2019, birth defects increased as a proportion of child mortality in the region, from 6.2% to 9.2%. The most common severe birth defects are heart defects, neural tube defects and Down syndrome, among others. These can be caused by one or more genetic, infectious, nutritional or environmental factors. To curb the rising birth defects, health organizations across the globe are taking necessary actions to prevent, detect, manage and care for birth defects.
Developing nations are increasingly investing in the provision of newborn screening.
For instance,
Brazil passed a law in 2021 stating that all states must implement an expanded NBS programme by June 2022 – these targets have fallen short in some states however the programme continues to progressively expand to include lysosomal diseases, immunodeficiencies, and spinal muscular atrophy
Additionally, Columbia, Chile & Panama are in the process of expanding their testing coverage from 70-80% to >90% of newborns as well as expanding the number of conditions screened for.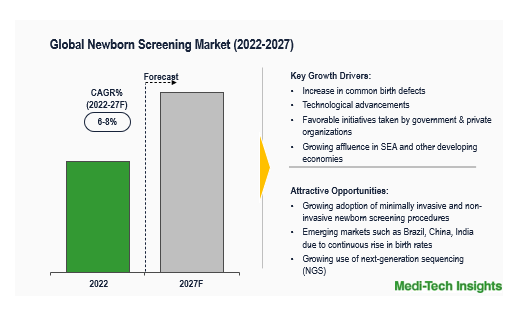 Growing Use Of Next-Generation Sequencing (NGS) Is Expected To Drive The Newborn Screening Market In Developed Regions
NGS approaches are steadily being adopted in hospital settings for use in newborn screening for rare genetic disorders. The cost of sequencing whole exomes has fallen dramatically since its invention and continues to decrease – in the US, bioinformatics companies can provide sequencing for ~$500-$900. Pilot studies are being conducted in the US, UK, China and several other countries into the suitability for the widespread use of NGS technology in newborn screening programmes as well as in neonatal wards.
Currently, major hurdles to the mass implementation of this technology include:
NGS is relatively expensive compared to well-established techniques
A high degree of data complexity calls for expert interpretation – these skills are less common in developing nations
Validation – NGS is a new technology and there is limited data on its performance in newborn screening
Organic and Inorganic Growth Strategies Adopted by Leading Market Players to Establish Their Foothold in Newborn Screening Market 
The majority of commonly performed tests are well established – companies are largely growing their manufacturing capacity or engaging in M&A activity to strengthen their market position or release non-core assets:
In August 2022, Perkin Elmer sold off its Applied, Food and Enterprise Services businesses, and entered into a definitive agreement with New Mountain Capital, L.L.C. to sell off its assets for a total compensation of $2.45 Bn
In August 2022, Triviton Healthcare opened a new R&D and manufacturing facility for chemical-based assays in India. The new center will have provisions to manufacture >300 million RT-PCR kits and >100 million for ELISA, CLIA, NBS and other common diagnostic kits
China is Expected to hold the Largest Share of the Newborn Screening Market – followed by North America
While China is the largest newborn screening market - 9.56 million babies were born in China in 2022, down from 17.86 million in 2016. Approximately 93% of newborns are reported to undergo screening in China – the availability of the range of tests available varies between urban and rural regions. The penetration of newborn screening in China is expected to increase in the coming years due to government initiatives, growing number of newborn screening centers and establishment of well-developed newborn screening network system. The Chinese government recognizes newborn screening as a public health project and by the end of 2018, there were ~238 newborn screening centers in the China mainland with screening rates exceeding 97.5%.  China newborn screening has established a complete network system, from sample collection and delivery, laboratory testing, results reporting, clinical diagnosis to follow-up which has also played a pivotal role in its penetration. Meanwhile, India has become the most populous nation on earth – ~23 million babies were born in 2022 however presently there is no active national NBS programme in India.
The cost of performing standardized tests is decreasing steadily, increasing the feasibility of performing population-wide screening exercises in developing nations. Programmes already exist for the majority of developing nations and the cost-effectiveness of these campaigns due to increasing efficiency in lab operations, increased IVD manufacturing capacity post-COVID and economies of scale make them highly attractive to governments.
Competitive Landscape Analysis: Newborn Screening Market 
The global newborn screening market is marked by the presence of key market players such as listed below:-
SCIEX
Agilent Technologies Inc.
Bio-Rad Laboratories Inc.
Covidien Plc
GE Healthcare
PerkinElmer, Inc.
Masimo Corporation
Natus Medical Incorporated
Trivitron Healthcare
Waters Corporation
Labsystems Diagnostics Oy
LifeCell International Pvt. Ltd
Archer DX
Key Strategic Questions Addressed in this Report
What is the market size & forecast of the newborn screening market?
What are the historical, present, and forecasted market shares and growth rates of various segments and sub-segments of the newborn screening market?
What are the key trends defining the newborn screening market?
What are the major factors impacting the newborn screening market?
What are the opportunities prevailing in the newborn screening market?
Which region has the highest share in the global market? Which region is expected to witness the highest growth rate in the next 5 years?
Who are the major players operating in the newborn screening market?
What are the key strategies adopted by players operating in newborn screening market?
1. Research Methodology
1.1. Secondary Research
1.2. Primary Research
1.3. Market Estimation
1.4. Market Forecasting
2. Executive Summary
3. Market Overview
3.1. Market Dynamics
3.1.1. Drivers
3.1.2. Restraints
3.1.3. Opportunities
3.1.4. Market Trends
3.2. Industry Speaks
4. COVID-19 Impact on Newborn Screening Market
5. Regulatory Landscape Snapshot – Newborn Screening (NBS)
6. Global Newborn Screening Market - Size & Forecast (2019-2027), By Product
6.1. Consumables (Assays Kits & Reagents, Columns, Screening Cards and Others)
6.2. Instruments (Disorder Screening Instruments, Hearing Screening Instruments, Pulse Oximeters & Accessories)
7. Global Newborn Screening Market - Size & Forecast (2019-2027), By Test Type
7.1. Blood Test
7.2. Urine Test
7.3. Hearing Test
7.4. Critical Congenital Heart Defect Test
7.5. Other Tests
8. Global Newborn Screening Market - Size & Forecast (2019-2027), By Disease Indication
8.1. Congenital Heart Diseases
8.2. Infectious Disorders
8.3. Genetic Disorders
8.4. Hearing Disorders
8.5. Others
9. Global Newborn Screening Market - Size & Forecast (2019-2027), By Region
9.1. North America (U.S. & Canada)
9.2. Europe (UK, Germany, France, Italy, Spain, Rest of Europe)
9.3. Asia Pacific (China, India, Japan, Rest of Asia Pacific)
9.4. Rest of the World (Latin America, Middle East & Africa)
10. Competitive Landscape
10.1. Key Players and their Competitive Positioning
10.1.1. Market Share Analysis (2022)
10.1.2. Segment-wise Player Mapping
10.2. Key Strategies Assessment, By Player (2020-2022)
10.2.1. New Product & Service Launches
10.2.2. Partnerships, Agreements, & Collaborations
10.2.3. Mergers & Acquisitions
10.2.4. Geographic Expansion
11. Key Companies Scanned (Indicative List)
11.1. PerkinElmer
11.2. Bio-Rad
11.3. Natus Medical
11.4. SCIEX
11.5. Masimo
11.6. Medtronic
11.7. Trivitron Healthcare
11.8. Baebies
The study has been compiled based on the extensive primary and secondary research.
Secondary Research (Indicative List)

Primary Research
To validate research findings (market size & forecasts, market segmentation, market dynamics, competitive landscape, key industry trends, etc.), extensive primary interviews were conducted with both supply and demand side stakeholders.
Supply Side Stakeholders:
Senior Management Level: CEOs, Presidents, Vice-Presidents, Directors, Chief Technology Officers, Chief Commercial Officers
Mid-Management Level: Product Managers, Sales Managers, Brand Managers, R&D Managers, Business Development Managers, Consultants
Demand Side Stakeholders:
Stakeholders in Hospitals, Clinics, Ambulatory Surgery Centers, Surgeons, and Pediatric/Neonatal Doctors
Breakdown of Primary Interviews

Market Size Estimation
Both 'Top-Down and Bottom-Up Approaches' were used to derive market size estimates and forecasts.
Data Triangulation
Research findings derived through secondary sources & internal analysis were validated with Primary Interviews, Internal Knowledge Repository, and Company's Sales Data, and Global Health Data (IDF & WHO).