Orthopedic Implants Market Size, Share, Growth, Analysis & Research Report 2027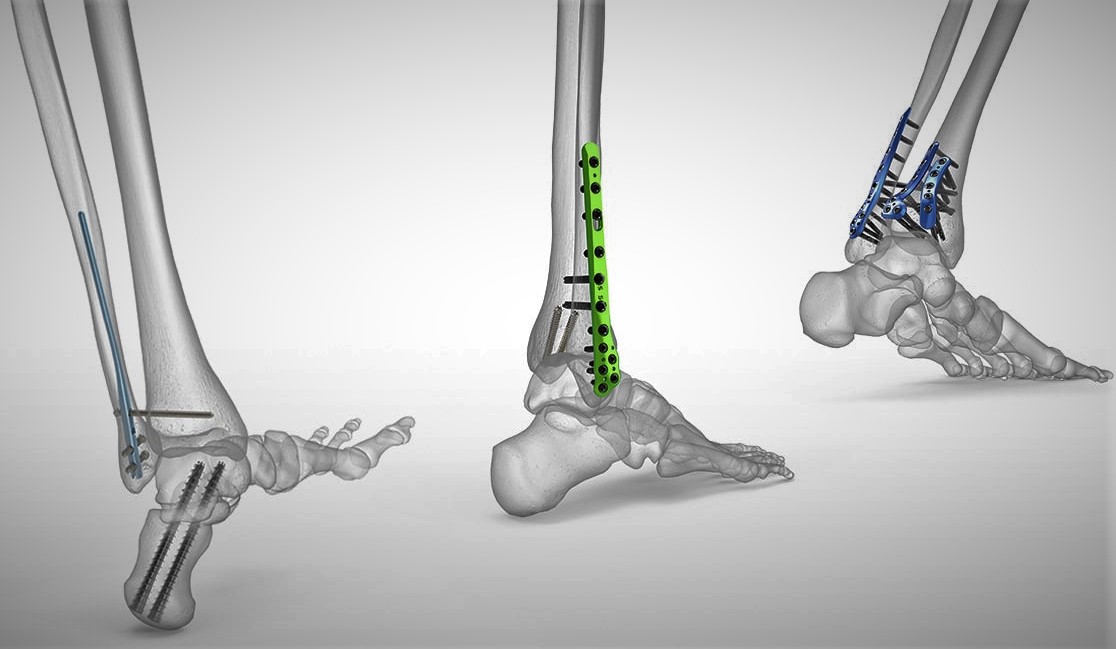 The Global Orthopedic Implants Market is expected to grow at a rate of ~4.5 % by 2027. The rising aging global population with bone density issues and middle-aged bone diseases, improvements in surgical techniques including robotic surgeries, an increasing number of traumatic injuries arising from accidents, or degeneration of a joint or bone over time from a chronic medical condition, increasing demand for advanced orthopedic implants to treat musculoskeletal, orthopedic diseases, and injuries, and growing patient awareness regarding the commercial availability of the orthopedic implants are some of the key factors driving the orthopedic implants market growth.
An orthopedic implant is a manufactured device designed to replace a joint, bone, or cartilage due to damage or deformity such as from breaking a leg, losing a limb, or a congenital defect. The implant assists with bone fixation and may be used to replace the articulating surfaces in different joints in the body. Most orthopedic implants are made of titanium alloys and stainless steel, and a few of them may even be lined with plastic.
Technological Advancements in Orthopedic Implants Fuels the Demand of Orthopedic Implants Market
Growing demand for technologically advanced products offers orthopedic experts the freedom to utilize various approaches to fit an implant. Innovations such as surgical navigation to guide surgeons through the implantation, robotics-assisted orthopedic surgery, and AI-powered guidance software to assist surgical procedures are expected to drive the growth of the orthopedic implants market in the coming years.
For instance,
In July 2022, Oxford Performance Materials, Inc (OPM) announced an agreement with Fuse Medical, Inc (Fuse) to develop new, world-class spinal, extremity, and sports medicine implant product lines utilizing OPM's patented OsteoFab PEKK technology.
In April 2022, eCential Robotics entered into an agreement with Amplitude Surgical to bring together their technologies for knee robotic surgeries.
In March 2022 – Zimmer Biomet announced the launch of its WalkAI, a dynamic artificial intelligence (AI) model that identifies patients who are predicted to have a lower gait speed outcome 90 days after hip or knee replacement surgery.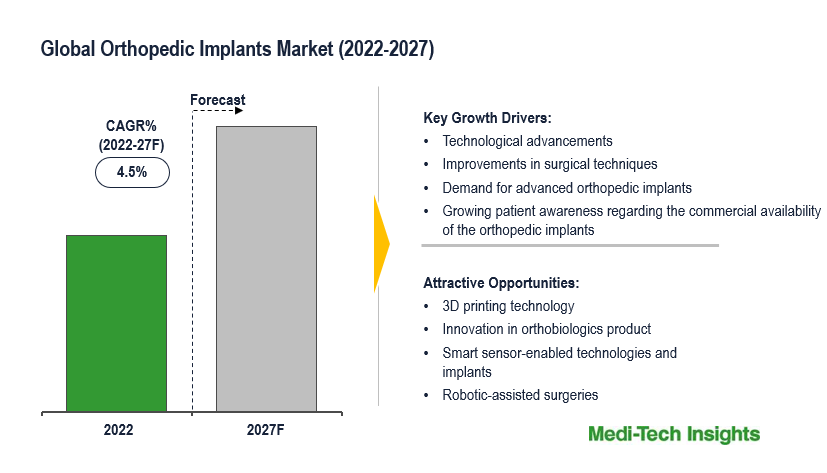 Ample Opportunities in the Orthopedic Implants Market
Bio-printed Bones and Joints
Advancements in 3D printing technology is one of the most promising areas in orthopedic implants. The use of printed bones and joints is likely to become more widespread in the coming years as the technology continues to improve.
Bio-printed bones and joints offer several advantages over traditional implants. First, bioprinting allows for the creation of highly customized implants that perfectly match the patient's anatomy. Second, bio-printed implants are made from live cells, which means they can integrate with the surrounding tissue and promote healing. Finally, bio-printed implants are much less expensive than traditional implants, making them accessible to a wider range of patients.
Engineered Stem Cells for Bone Regeneration
Stem cell-derived exosomes have emerged as a promising therapeutic option for bone regeneration.
Exosomes derived from stem cells have been shown to promote the regeneration and reconstruction of multiple tissues, including cartilage and skin.
Smart Sensor-Enabled Technologies and Implants
This technology has the potential to greatly improve the fit and function of orthopedic devices, and there are possibilities that more innovative products will be emerging in this area in the coming years.
Smart implants have embedded sensors that provide real-time information to surgeons for positioning and post-operative evaluation for better patient care throughout the treatment pathway.
Robotics-assisted Orthopedic Surgeries
Robotics offers several advantages over traditional surgery, including greater precision, less invasiveness, and shorter recovery times.
Robotics is also particularly well-suited for total joint orthopedic surgery due to the high degree of complexity involved.
Bioresorbable Orthopedic Implants
Bioresorbable and biodegradable implants offer new possibilities in orthopedic and trauma surgeries.
Currently, the bioabsorbable screw is a commonly used technique in orthopedic surgery.
Bioresorbable materials offer considerable advantages for the patient and the treating surgeon by avoiding adverse reactions to metal and metal debris.
Key Constraints/Challenges: Orthopedic Implants Market
The high costs of the implants combined with the need for revision procedures every few years depending on the wear & tear of the implant, and side effects associated with the orthopedics implant post-surgery such as implant rejection, septic, & allergies, etc. are likely to hamper the growth of the global orthopedic implants market in the coming years.
North America is Expected to Hold a Major Share in the Orthopedic Implants Market
From a geographical perspective, North America is set to hold a major market share of the global orthopedic implants market. This can be mainly attributed to the growing geriatric population, increasing adoption of technologically advanced orthopedic implants among surgeons, growing awareness regarding osteoporosis care, and favorable reimbursement landscape in the region. However, the Asia-Pacific region is expected to witness strong growth in the coming years due to an increase in the aging population, growing incidence of obesity, rising awareness regarding orthopedic implants, increasing sedentary lifestyle-led born and joined disorders, and constantly improving healthcare infrastructure in the region.
Competitive Landscape Analysis: Orthopedic Implants Market
Some of the key and well-established market players operating in the orthopedic implants market are listed below:-
Arthrex Inc.
NuVasive
Smith & Nephew Plc.
DePuy Synthes
Stryker Corporation
CONMED Corporation
Zimmer Biomet Holdings Inc
Miach Orthopaedics
Fuse Medical
DJO Surgical
Globus Medical
Medtronic Plc
Organic and Inorganic Growth Strategies Adopted by the Leading Industry Players to Establish Their Foothold in the Orthopedic Implants Market
Players operating in the global orthopedic implants market are adopting organic and inorganic growth strategies such as collaborations, acquisitions, and new product launches to garner a higher market share.
For instance,
In September 2022, Zimmer Biomet Holdings, Inc. announced an exclusive, multi-year co-marketing agreement with Surgical Planning Associates, Inc. to commercialize HipInsight, the first FDA-cleared mixed reality navigation system for total hip replacement.
In March 2022, Evonik announced the launch of its 3D printable biomaterials VESTAKEEP IC4800 3DF. The portfolio expansion focuses on offering innovation in osteoconductive PEEK filament, which improves fusion between bone and implant.
The global orthopedic implants market is a booming market and is expected to gain a further momentum in the coming years due to technological advancements in enabling technologies, such as robotics & surgical navigation, improvement in surgical procedures, and aggressive organic and inorganic growth strategies followed by the top market players.
Key Strategic Questions Addressed in this Report
What is the market size & forecast for the orthopedic implants market?
What are the historical, present, and forecasted market shares and growth rates of various segments and sub-segments of the orthopedic implants market?
How has Covid-19 impacted the orthopedic implants market?
What are the major growth drivers, restraints/challenges impacting the market?
What are the opportunities prevailing in the worldwide orthopedic implants market?
What is the investment landscape of orthopedic implants market?
Which region has the highest share in the global market? Which region is expected to witness the highest growth rate in the next 5 years?
Who are the major players operating in the market? What is the competitive positioning of key players?
Who are the new players entering the global orthopedic implants market?
What are the key strategies adopted by key players working in orthopedic implants market?
1. Research Methodology
1.1. Secondary Research
1.2. Primary Research
1.3. Market Estimation
1.4. Market Forecasting
2. Executive Summary
3. Market Overview
3.1. Market Dynamics
3.1.1. Drivers
3.1.2. Restraints
3.1.3. Opportunities
3.1.4. Market Trend
3.2. Industry Speaks
3.3. Technology Trends
4. COVID-19 Impact on Orthopedic Implants Market
5. Looming Recession (2023) – Key Challenges & Impact
6. Global Orthopedic Implants Market- Size & Forecast (2019-2027), By Product
6.1. Joint Reconstruction
6.2. Spinal Implant
6.3. Trauma
6.4. Orthobiologics
6.5. Others
7. Global Orthopedic Implants Market- Size & Forecast (2019-2027), By Region
7.1. North America (U.S. & Canada)
7.2. Europe (UK, Germany, France, Italy, Spain, Rest of Europe)
7.3. Asia Pacific (China, India, Japan, Rest of Asia Pacific)
7.4. Rest of the World (Latin America, Middle East & Africa)
8. Competitive Landscape
8.1. Key Players and their Competitive Positioning
8.1.1. Market Share Analysis (2022)
8.1.2. Segment-wise Player Mapping
8.2. Key Strategies Assessment, By Player (2020-2022)
8.2.1. New Product & Service Launches
8.2.2. Partnerships, Agreements, & Collaborations
8.2.3. Mergers & Acquisitions
8.2.4. Geographic Expansion
9. Key Companies Scanned (Indicative List)
9.1. NuVasive
9.2. Smith & Nephew
9.3. DePuy Synthes
9.4. Stryker Corporation
9.5. Conmed Corporation
9.6. Zimmer Biomet Holdings Inc.
9.7. Miach Orthopaedics
9.8. Fuse Medical
9.9. Globus Medical
9.10. Orthofix International N. V
The study has been compiled based on the extensive primary and secondary research.
Secondary Research (Indicative List)

Primary Research
To validate research findings (market size & forecasts, market segmentation, market dynamics, competitive landscape, key industry trends, etc.), extensive primary interviews were conducted with both supply and demand side stakeholders.
Supply Side Stakeholders:
Senior Management Level: CEOs, Presidents, Vice-Presidents, Directors, Chief Technology Officers, Chief Commercial Officers
Mid-Management Level: Product Managers, Sales Managers, Brand Managers, R&D Managers, Business Development Managers, Consultants
Demand Side Stakeholders:
Stakeholders in Hospitals, Ambulatory Surgery Centers, Orthopedic Clinics, Orthopedic Surgeons, Neurosurgeons, Oral Surgeons, Dentists, Stocking Distributors, Healthcare Dealers, Home care, and Other End Users.
Breakdown of Primary Interviews

Market Size Estimation
Both 'Top-Down and Bottom-Up Approaches' were used to derive market size estimates and forecasts.
Data Triangulation
Research findings derived through secondary sources & internal analysis were validated with Primary Interviews, Internal Knowledge Repository, and Company Sales Data.