Patient Temperature Monitoring Market – Tool to Detect & Monitor Medical Problems
written by Medi-Tech Insights, Wednesday, August 17th, 2022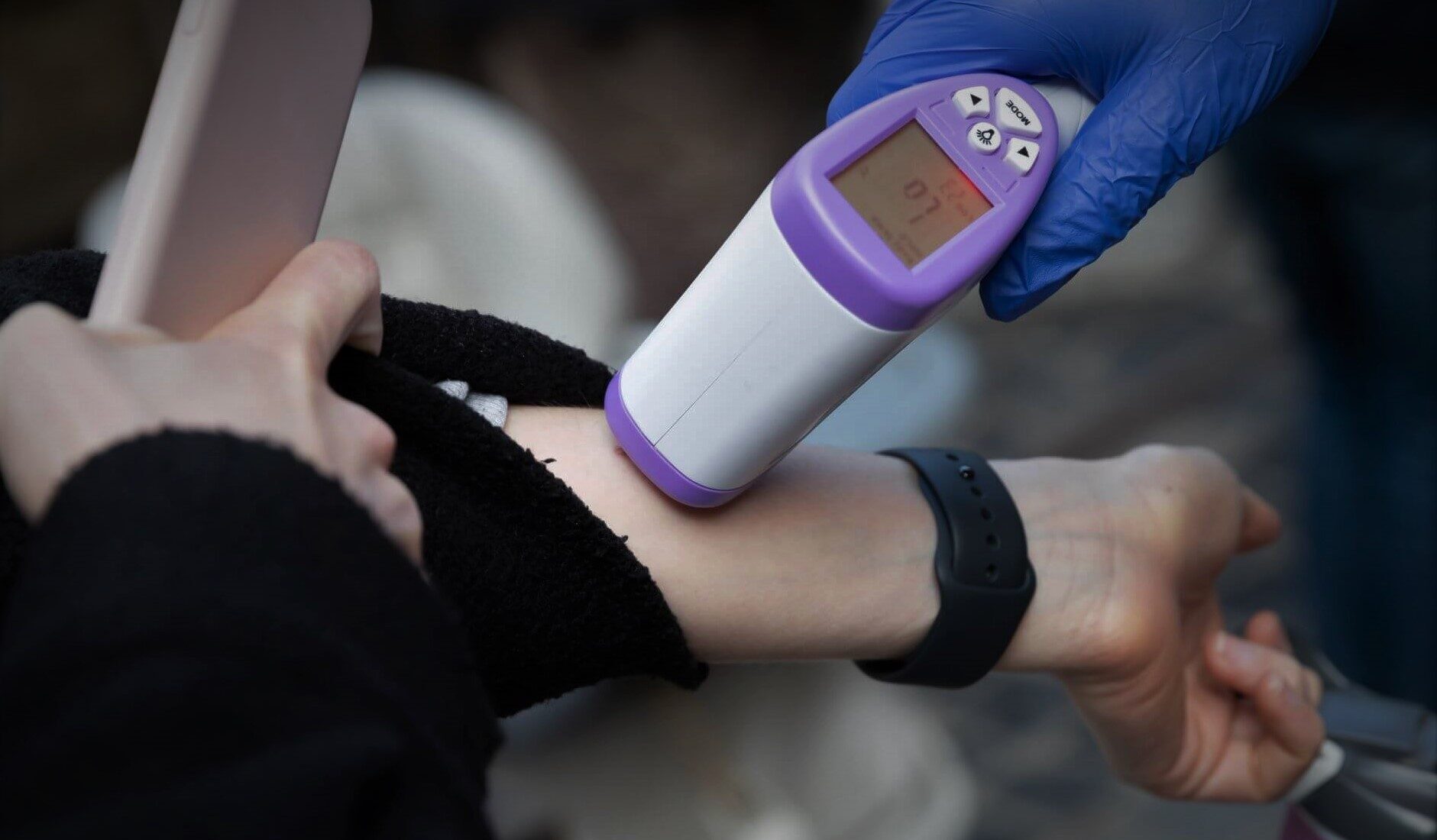 The Global Patient Temperature Monitoring Market is expected to grow at a rate of 6.5% by 2026. The rising prevalence of infectious and chronic diseases, increasing awareness regarding continuous temperature monitoring, growing demand for technologically advanced temperature monitoring devices, an increasing number of various surgical procedures, and the rising geriatric and pediatric populations are some of the key factors driving the global patient temperature monitoring market.
DESCRIPTION
Monitoring body temperature is very important in medicine. Several diseases are characterized by a change in body temperature. The measurement of body temperature can help detect illness. It can also monitor whether or not treatment is working properly. Body temperatures outside normal ranges may be indicative of underlying disease processes or clinical deterioration and should be identified on time. Maintaining a stable body temperature within normal ranges assists in optimizing metabolic processes and bodily functions. Patients can monitor temperatures orally, rectally, under the arm, in the ear, or on the surface of the skin.
Increase Prevalence of Covid-19 Pandemic Boosts the Patient Temperature Monitoring Devices Market Globally
The insidious pandemic of the new coronavirus disease (COVID-19) has profoundly disrupted the world, leaving people in distress and claiming hundreds of thousands of lives. One common strategy to prevent transmission has been temperature checks, which have increased in popularity as a non-invasive measure to rapidly screen individuals for elevated body temperature (i.e., fever).  Large infrared fever screening systems or no-contact temperature screening at building entrances and hospital entryways, and wearable devices to continuously monitor individual temperature have all been widely employed to prevent the spread of SARS-CoV-2. Temperature screening for SARS-CoV-2 is also an integral component of containment efforts globally.
Adoption of Continuous Temperature Monitoring in Neonatal Care Fuels the Demand
Monitoring the body temperature of a newborn baby is very important. Even a slight deviation in body temperature can have serious consequences for premature babies. Babies lose heat during birth, resuscitation, and transportation to the nursery as well as during handling or other procedures. The most common clinical problem in the preterm infant is cold stress, which raises the baby's metabolic rate. Thermo Monitoring helps in the diagnosis of infection as well as early detection of both cold and heat stress in the newborn. It involves a continuous display of central and peripheral temperature, as well as the air temperature and humidity that surrounds the baby inside the incubator. Thermo Monitoring can detect when a baby has a fever and gives a complete picture of the thermal balance in the baby. It enables caregivers to deliver life-sustaining, non-invasive, developmental care to neonates in a nurturing and supportive environment.
Growing Awareness Regarding Non-Invasive Temperature Monitoring Drives the Patient Temperature Monitoring Market
Non-invasive temperature monitoring is finding increased use in the intensive care unit both as a labor-saving tool and as a means to reduce complications associated with invasive techniques. The current technology allows for the replacement of several invasive devices with a non-invasive counterpart capable of providing similar information. Non-invasive monitoring provides accurate core temperature monitoring and is fast, safe, durable, and comfortable for the patients. For instance,
Exrgen Corporation launch its  new cost-effective, TAT-2000 Temporal Artery Thermometer which is based on a very innovative infrared technology for accurately measuring temperature.
Drager developed Tcore™ which employs a unique dual-sensor heat flux technology, following a short ramp-up time, and calculates core body temperature continuously and accurately. A simple, self-adhesive sensor placed on the patient's forehead is all that's required.
3M developed the 3M™ SpotOn™ system which is a non-invasive, accurate core temperature monitoring system that continuously measures patient temperature with an affordable single-use sensor, providing standardization with one consistent temperature monitoring method throughout the perioperative process.
Sensesense developed STEADYTEMP® a certified Class I medical device that provides a quick, easy and effective way of accurately measuring temperature. STEADYTEMP® provides continuous, non-invasive, and accurate measuring at regular 5-minute intervals that provide a graphical display of temperature development.
Requirement of Temperature Monitoring Amongst the Elderly Population Propels the Patient Temperature Monitoring Market
Temperature measurement is especially important for the management of a critically ill patient, where trends in body temperature are significant. The use of continuous temperature monitoring in elderly population residents of independent and assisted-living facilities may be an effective intervention for early detection and containment of infectious disease outbreaks, and provide better outcomes for people in those facilities. Elderly people are also more prone to hypothermia than younger individuals. Thus, the increased usage of temperature monitoring in the elderly population is expected to fuel the patient temperature monitoring market in the upcoming year.
Key Market Challenges: Patient Temperature Monitoring Market
High costs associated with the advanced temperature monitoring devices, rising concerns related to the use of infrared and mercury thermometers, and the risk involved with the usage of rectal temperature monitoring are some of the key factors that are likely to hamper the growth of the patient temperature monitoring devices market.
North America Holds the Largest Share in the Global Patient Temperature Monitoring Market
North America currently holds a major share in the global patient temperature monitoring market. This can be mainly attributed to the growing prevalence of chronic diseases, the growing adoption of technologically advanced temperature monitoring devices, and the rising number of surgeries in the region. However, APAC is expected to witness the strongest growth in the forecasted period due to an increase in chronic medical conditions, a rising number of blood donation and transfusion cases, and a high number of geriatric and pediatric populations in the region.
Competitive Landscape Analysis: Patient Temperature Monitoring Market
Some of the key players operating in the patient temperature monitoring market are Cardinal Health, Koninklijke Philips N.V., Hill-Rom Services Inc., 3M, Drägerwerk AG & Co. KGaA, Terumo Medical Corporation, Masimo, Microlife Corporation, Procter & Gamble, Actherm Inc., American Diagnostic Corporation,  HICKS, Medtronic, Sanomedics International Holdings Inc., Cosinuss GmbH, Helen of Troy Ltd.,  Omron Healthcare Inc., BD, Beurer GmbH, Omega Engineering, Canon Solutions America Inc, iHealth, DeltaTrak Inc., Exergen Corporation, Medisana GmbH, Geratherm Medical Ag, and Kinsa, among others.
Organic and Inorganic Growth Strategies Adopted by Market Players to Establish Their Foothold in the Global Market
Players operating in this market are adopting organic and inorganic growth strategies such as collaborations, acquisitions, and new product launches to garner market share. For instance,
In June 2022, Exergen Corporation signed a marketing and distribution contract with ECOMED to market the professional series Temporal Artery Thermometers in Australia and New Zealand.
In February 2021, Canon Solutions America Inc. announced the launch of welloStationXTM, an automated, FDA-cleared, digital, and no-touch clinical thermometer that serves as a real-time temperature monitoring station.
The patient temperature monitoring market is a growing market that is expected to gain further momentum in the coming years due to an increasing number of surgical procedures, technological advancements in temperature monitoring devices, increasing growth opportunities in emerging markets, increasing awareness regarding temperature monitoring, and aggressive organic and inorganic growth strategies followed by the players.
TABLE OF CONTENTS
Key Strategic Questions Addressed
What is the market size & forecast for the patient temperature monitoring market?
What are the historical, present, and forecasted market shares and growth rates of various segments and sub-segments of the patient temperature monitoring market?
How has Covid-19 impacted the patient temperature monitoring market?
What are the major growth drivers, restraints/challenges impacting the market?
What are the opportunities prevailing in the patient temperature monitoring market?
What is the investment landscape of patient temperature monitoring market?
Which region has the highest share in the global market? Which region is expected to witness the highest growth rate in the next 5 years?
Who are the major players operating in the market? What is the competitive positioning of key players?
Who are the new players entering the patient temperature monitoring market?
What are the key strategies adopted by players operating in patient temperature monitoring market?
METHODOLOGY
The study has been compiled based on the extensive primary and secondary research.
Secondary Research (Indicative List)

Primary Research
To validate research findings (market size & forecasts, market segmentation, market dynamics, competitive landscape, key industry trends, etc.), extensive primary interviews were conducted with both supply and demand side stakeholders.
Supply Side Stakeholders:
Senior Management Level: CEOs, Presidents, Vice-Presidents, Directors, Chief Technology Officers, Chief Commercial Officers
Mid-Management Level: Product Managers, Sales Managers, Brand Managers, R&D Managers, Business Development Managers, Consultants
Demand Side Stakeholders:
Stakeholders in Hospitals, Home Care Settings, Nursing Facilities, Ambulatory Care Centers, and Other End Users.
Breakdown of Primary Interviews

Market Size Estimation
Both 'Top-Down and Bottom-Up Approaches' were used to derive market size estimates and forecasts.
Data Triangulation
Research findings derived through secondary sources & internal analysis were validated with Primary Interviews, Internal Knowledge Repository, and Company Sales Data.
SAMPLE DELIVERABLES