Pharma Contract Commercialization (CCO) Market : A Positive Disruption Impacting Pharmaceutical Companies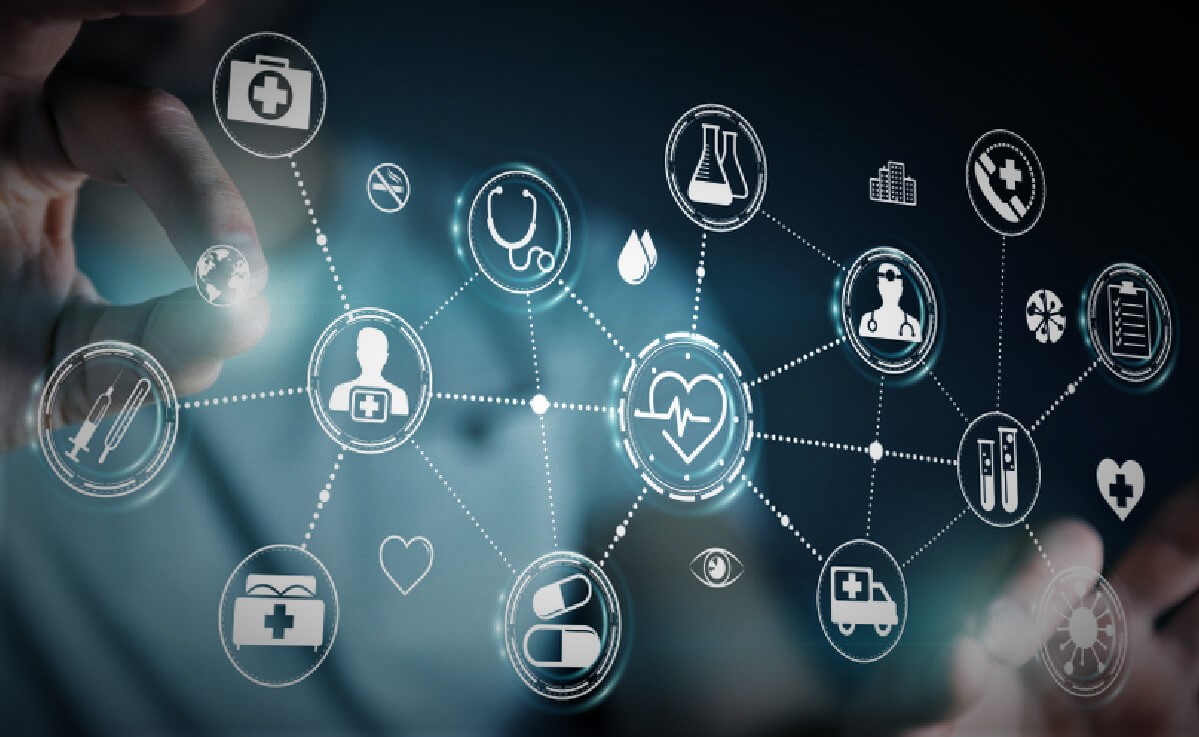 The Global Pharma CCO Market is expected to witness a healthy and a double-digit growth rate by 2027. The key factors driving the pharma CCO market are rising R&D costs & declining sales of pharmaceutical companies, increasing regulatory scrutiny, growing demand for market access, RWE, HEOR, pricing and reimbursement, regulatory & compliance services, and R&D challenges related to complex therapies.
A contract commercial organization (CCO)  offers commercial services to Pharma companies to optimize performance, reduce risk, and expedite the delivery of healthcare innovation to patients. Some of the key services offered by CCOs include strategic consulting, market access (including RWE and HEOR), pricing and reimbursement, medical affairs, regulatory and compliance, and other services (data and analytics, and marketing services - HCP engagement, patient engagement, promotional strategies).
Growing demand for Real-World Evidence (RWE) and Health Economics and Outcomes Research (HEOR) drives the Global Pharma CCO market
Real-world data is the data relating to patient health status and/or the delivery of health care routinely collected from a variety of sources such as electronic health records (EHRs), medical claims and billing data, observational studies, patient-reported outcomes (PROs), patient-generated health data gathered from various medical devices, among others. Regulatory bodies are increasingly using real-world data (RWD) and real-world evidence (RWE) to monitor and evaluate the post-market safety of approved drugs. RWE complements clinical trial data by providing insights into safety and effectiveness data from a patient's daily life. It has the potential to impact approvals and accelerate the drug development process. Moreover, payors use real-world data to make coverage decisions, price negotiations and outcomes-based contracting.
HEOR data includes observational data, price comparison, and other types of data that evaluates the economic impact of healthcare interventions, treatment, or conditions. It includes direct medical costs such as medications, hospital days, tests, indirect costs such as unpaid assistance, days lost from work, decreased productivity,  and intangible costs such as pain. It is increasingly being used to generate evidence related to the value of new interventions for reimbursement agencies and local healthcare payers.
"The utilization of RWE and HEOR is expected to expand further in the coming years as it addresses multiple issues such as product safety and risk concerns, cost justification of products, clinical trial designs, among others."-Marketing Director, Pharma CCO Service Provider, U.S.A
Consolidation of Clinical Research Organization (CRO) & CCO Operations – A Key Market Trend
Over the years, a number of CROs and CCO companies have achieved synergies by adding commercialization/CRO services to their portfolios through acquisitions, which in turn have allowed them to offer an 'End-to-End' solution to their Pharma clients.
For instance:
In July 2023, Catalyst Clinical Research, a full-service oncology CRO acquired Genpro Research, a next-generation services and technology partner for the pharmaceutical, biotechnology, and medical devices industry with expertise in biometrics, medical writing, RWE, and AI-enabled automation product development.
In 2017, INC Research Holdings, a leading global Phase I–IV CRO, and inVentiv Health, Inc., a global CRO and CCO announced a merger agreement and in January 2018, INC Research/inVentiv Health changed its brand identity to Syneos Health.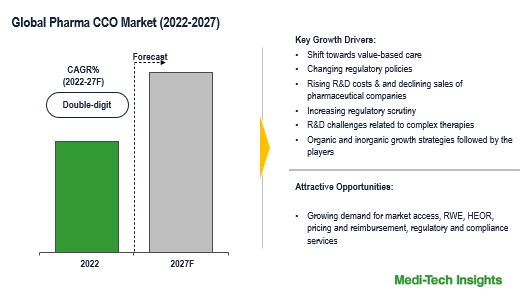 Competitive Landscape Analysis: Pharma CCO Market
Some of the key and established players operating in the global pharma CCO market are EVERSANA, IQVIA, Certara, Indegene, Real Chemistry, Lucid Group, Syneos Health, Genesis Research, Fishawack Health, Cheors, Peregrine.
Organic and Inorganic Growth Strategies Adopted by the Leading Market Players to Establish Their Foothold in the Global Pharma CCO Market
Leading players operating in the global market are adopting both organic and inorganic growth strategies such as launching new services, acquiring related firms, and entering into collaborations to garner a higher market share.
For instance,
In Dec 2022, Red Nucleus, a premier provider of strategic learning and development, scientific services and advisory, medical communications solutions, and market access and commercialization services exclusively for the life sciences industry acquired AlphaGroup, A scientific, medical affairs, and outcomes communication services company
In May 2022, Genesis Research, a leading provider of tech-enabled Real-World Evidence (RWE) and Health Economics and Outcomes Research (HEOR) services, acquired Market Access Transformation (MAT), a leading provider of technology-enabled payer research platforms
In April 2022, Excelra, a leading global Data and Analytics provider for Life Science organizations, announced a strategic majority investment in Anlitiks, a HEOR and RWE company
In Dec 2021, Amplity Health, a medical and commercial partner to global healthcare companies, acquired Middleton Access, a Market Access consulting firm. The acquisition of Middleton Access fortifies Amplity Health's positioning as a science-led and patient-focused medical and commercialization partner to pharmaceutical and biotech firms
The Global Pharma CCO Market is expected to gain a further momentum in the upcoming years due to a shift towards value-based care, changing regulatory policies, the need to reduce healthcare burden, improve patient outcomes, reduce costs, and aggressive organic and inorganic growth strategies followed by the key market players.
Key Strategic Questions Addressed in this Research Report are as follows:-
What is the market size and forecast for the pharma CCO market?
What are the historical, present, and forecasted market shares and growth rates of various segments and sub-segments of the pharma CCO market?
What are the major growth drivers, restraints/challenges impacting the global pharma CCO market?
What are the opportunities prevailing in the pharma CCO market?
Which region has the highest share in the pharma CCO market? Which region is expected to witness the highest growth rate in the next 5 years?
Who are the major players operating in the market? What is the competitive positioning of key players?
Who are the new players entering the pharma CCO market?
What are the key strategies adopted by players in pharma CCO market?
1. Research Methodology
1.1. Secondary Research
1.2. Primary Research
1.3. Market Estimation
1.4. Market Forecasting
2. Executive Summary
3. Market Overview
3.1. Market Dynamics
3.1.1. Drivers
3.1.2. Restraints
3.1.3. Opportunities
3.2. Industry Speaks
4. Pharma CCO Market - Size & Forecast (2019-2027), By Services
4.1. Strategic Consulting
4.2. Market Access (Including RWE and HEOR)
4.3. Pricing & Reimbursement
4.4. Medical Affairs
4.5. Regulatory & Compliance
4.6. Other Services (Data & Analytics and Marketing Services - HCP Engagement, Patient Engagement, Promotional Strategies)
5. Pharma CCO Market - Size & Forecast (2019-2027), By Business Model
5.1. Tech/Data Enabled and/or Subscription Model
5.2. Consulting Model
6. Pharma CCO Market - Size & Forecast (2019-2027), By End-users
6.1. Pharma
6.2. MedTech
6.3. Healthcare Providers
6.4. Payors
6.5. Other End-users
7. Pharma CCO Market - Size & Forecast (2019-2027), By Region
7.1. North America (U.S. & Canada)
7.2. Europe (UK, Germany, France, Italy, Spain, Rest of Europe)
7.3. Asia Pacific (China, India, Japan, Rest of Asia Pacific)
7.4. Rest of the World (Latin America, Middle East & Africa)
8. Competitive Landscape
8.1. Key Players and their Competitive Positioning
8.1.1. Competitive Positioning of Key Players (2022)
8.1.2. Offerings Assessment, By Players
8.2. Key Strategies Assessment, By Player (2021-2023)
8.2.1. New Service Launches
8.2.2. Partnerships, Agreements, & Collaborations
8.2.3. Mergers & Acquisitions
8.2.4. Other Developments
9. Key Companies Scanned (Indicative List)
9.1. EVERSANA
9.2. IQVIA
9.3. Certara
9.4. Indegene
9.5. Syneos Health
9.6. Lucid Group
9.7. Genesis Research
9.8. Fishawack Health
9.9. Cheors
9.10. Peregrine
9.11. Real Chemistry
9.12. Other players
The study has been compiled based on extensive primary and secondary research.
Secondary Research (Indicative List)

Primary Research
To validate research findings (market size & forecasts, market segmentation, market dynamics, competitive landscape, key industry trends, etc.), extensive primary interviews were conducted with both supply and demand side stakeholders.
Supply Side Stakeholders:
Senior Management Level: CEOs, Presidents, Vice-Presidents, Directors, Chief Technology Officers, Chief Commercial Officers
Mid-Management Level: Product Managers, Sales Managers, Brand Managers, R&D Managers, Business Development Managers, Consultants
Demand Side Stakeholders:
Stakeholders in Pharma, MedTech, Healthcare Providers, Payors and Other End-users.
Breakdown of Primary Interviews

Market Size Estimation
Both 'Top-Down and Bottom-Up Approaches' were used to derive market size estimates and forecasts.
Data Triangulation
Research findings derived through secondary sources & internal analysis were validated with Primary Interviews, Internal Knowledge Repository, and Company Sales Data.