Single-Use Bioreactors Market Size, Share, Growth, Trends & Demands 2026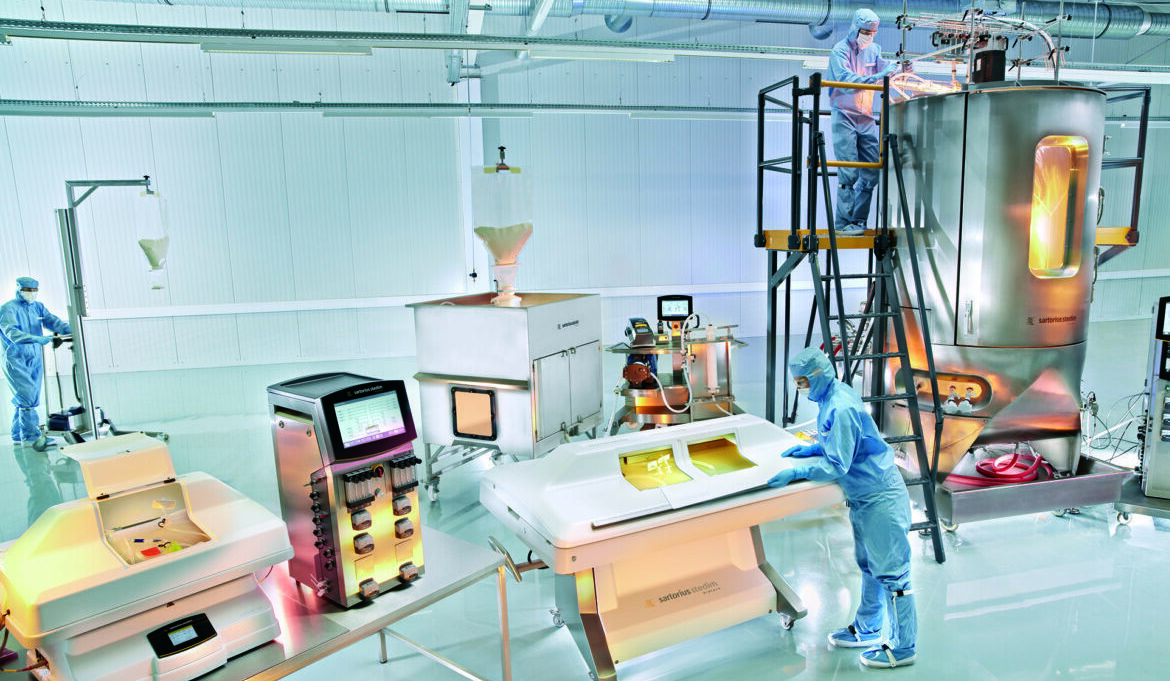 The Global Single-use Bioreactors Market valued at ~$3.39 billion (2021) is set to witness a healthy growth rate of 20% by 2026. Technological innovations such as the launch of large-scale single-use bioreactors, demand from pharmaceutical companies, CROs & CDMOs, growing biologics market, increasing biopharmaceutical R&D, and benefits of single-use bioreactors are some of the key factors driving the market growth.
Single-use bioreactors are bioreactors that use the disposable bag as a substitute for a culture vessel made of stainless steel or glass. It is widely used by pharmaceutical companies for cell harvesting, media & buffer preparation, filtration, purification, and virus inactivation.
Due to their Ability to Enhance Flexibility, Reduce Investment & Limit Operational Costs, Single-use Bioreactors Have Become Established in Modern Biopharmaceutical Processes
Enhanced flexibility is one of the biggest benefits of single-use bioreactors. There is a growing trend towards multi-drug facilities, which warrants the production of different drugs using the same facility with minimum time & cost and top-notch quality. In such scenarios, one of the key manufacturing challenges is line clearance and validation of cleaning to ensure there is no carry-over from earlier batches. Downtime limits the number of batches produced in a given period.
Single-use bioreactors significantly reduce the time spent preparing the bioreactor for the subsequent batch. A line changeover with a stainless steel bioreactor can take ~6 to 10 hours and three weeks for a full product changeover while by using single-use bioreactors it is likely to take 2 hours for line changeover. If the manufacturing line is composed of all single-use components such as bags, filters, and connectors, the total time for product changeover can be 48 hours. Single-use bioreactors possess the capability to reduce downtime from two to three weeks to 48 hours, which in turn can significantly impact a company's output.
Some of the other key advantages of using single-use bioreactors are:
Elimination of validation issues as no cleaning process is required
Lowers the risk of cross-contamination
Reduces operating costs and capital investments ( including  space, labor requirements, and utilities)
Single-use bags are scalable and can be adjusted to different volumes
Simple installation
Potential Time Savings for Highly Trained Personnel Another Key Benefit of Single-use Bioreactors
Generally, drug development research, process development, and scale-up activities are performed by highly qualified and trained personnel. These individuals are involved in every stage of a study from early-stage research through to benchtop manufacturing. With stainless steel or glass benchtop bioreactors, individual components need to be cleaned, assembled, leak-tested, sterilized, and cooled before every trial batch is taken. However, the use of single-use bioreactors almost eliminates these steps, which allows scientists more time to focus on their developmental studies.
Technological Advancements & Customer-Centric Approach – A Key Factor Bolstering the Demand of Single-use Bioreactors
Commercially available single-use bioreactors are robust and provide the high-performance necessary for commercial manufacturing of biopharmaceuticals. Significant advancements in bioreactor design, film technologies, stirring mechanisms, and sensor systems have contributed to the increasing adoption of single-use bioreactors from the lab to the production scale.
To cater to the changing needs of the customers such as next-generation cell- and gene-therapies and continuous bioprocessing, suppliers of single-use bioreactors often work closely with its customers, which in turn is expected to fuel the demand for single-use bioreactors.
"The uptake of single-use bioreactors is mainly driven by the activity of the different regions regarding the development of new disease treatments and biosimilars. In addition, existing production capacity comes into play and company strategies regarding the manufacture of clinical material. As the USA is indeed leading in the field of developing innovative treatments, we see a strong uptake of single-use bioreactors, but Europe and Asia are not far behind."
- CEO, Leading Manufacturer of Single-use Bioreactors, United States
Stirred-tank Single-use Bioreactors Accounts for the Largest Share in the Single-use Bioreactors Market
The stirred-tank single-use bioreactors dominate the single-use bioreactors market. They are commonly employed for culturing biological agents such as cells, enzymes, or antibodies, and GMP production of monoclonal antibodies (MAb) therapeutics and other biological. Stirred-tank single-use bioreactors are mainly used to scale up a process from research and development scale to manufacturing scale. Available sizes range from 15 mL to 2000 L for single-use and larger than 2000 L for stainless steel. The benefits of good fluid mixing and oxygen transferability, easy scale-up, low operating costs, compliance with current good manufacturing practice requirements, good temperature control, and alternative impellers are some of the key factors bolstering its demand.
Competitive Landscape Analysis
Some of the key players operating in the market are Sartorius Stedim Biotech, Thermo Fisher Scientific, Danaher Corporation, and Merck KGaA.
Other Players Operating in the Single-use Bioreactors Market are (Indicative List):
ABEC
Cellexus
Celltainer Biotech BV
Distek Inc.
G&G Technologies Inc.
GPC Bio
New Horizon Biotechnology Inc.
PBS Biotech Inc.
Satake Chemical Equipment Mfg., Ltd.
Solida Biotech GmBH, among others
Introduction of Large Scale Single-use Bioreactors Set to Drive the Market
Traditionally, single-use bioreactors were restricted in size due to pressure challenges from the increased weight of the liquid medium in larger volume bags with 2,000 L being the upper limit. Therefore, if bio manufacturers required larger volumes, they had to run several systems in unison or opt for stainless-steel tanks.
However, in the last years, considering strong demand from pharmaceutical companies and contract development and manufacturing organizations (CDMOs), several single-use bioreactor manufacturers have launched large-scale single-use bioreactors which are expected to fuel the market growth in the coming years.
Aligned with this trend in March 2021, Thermo Fisher launched 3,000 L and 5,000 L HyPerforma DynaDrive single-use bioreactors. It is touted as next-level innovation in single-use bioreactors with unmatched design, scalability, and performance. The system provides improved performance and scalability to larger volumes and is suitable for fed-batch and perfusion processes.
Key Strategic Questions Addressed
What is the market size & forecast of the Single-Use Bioreactors Market?
What are historical, present, and forecasted market shares and growth rates of various segments and sub-segments of the Single-Use Bioreactors Market?
How is the funding landscape of the Single-Use Bioreactors Market?
What are the key trends defining the market?
What are the major factors impacting the market?
What are the opportunities prevailing in the market?
What are the key applications of the Single-Use Bioreactors Market?
Which region has the highest share in the global market? Which region is expected to witness the highest growth rate in the next 5 years?
Who are the major players operating in the market?
Who are the new players entering the market?
What are the key strategies adopted by players?
The study has been compiled based on extensive primary and secondary research.
Secondary Research (Indicative List)

Primary Research
To validate research findings (market size & forecasts, market segmentation, market dynamics, competitive landscape, key industry trends, etc.), extensive primary interviews were conducted with both supply and demand side stakeholders.
Supply Side Stakeholders:
Senior Management Level: CEOs, Presidents, Vice-Presidents, Directors, Chief Technology Officers, Chief Commercial Officers
Mid-Management Level: Product Managers, Sales Managers, Brand Managers, R&D Managers, Business Development Managers, Consultants
Demand Side Stakeholders:
Stakeholders in hospitals, medical device manufacturers, pharma/biotech companies, academic & research Institutes and other end users
Breakdown of Primary Interviews

Market Size Estimation
Both 'Top-Down and Bottom-Up Approaches' were used to derive market size estimates and forecasts
Data Triangulation
Research findings derived through secondary sources & internal analysis was validated with Primary Interviews, Internal Knowledge Repository and Company's Sales Data