Sleep Apnea Devices Market – The Future of Sleep Health
written by Medi-Tech Insights, Monday, June 6th, 2022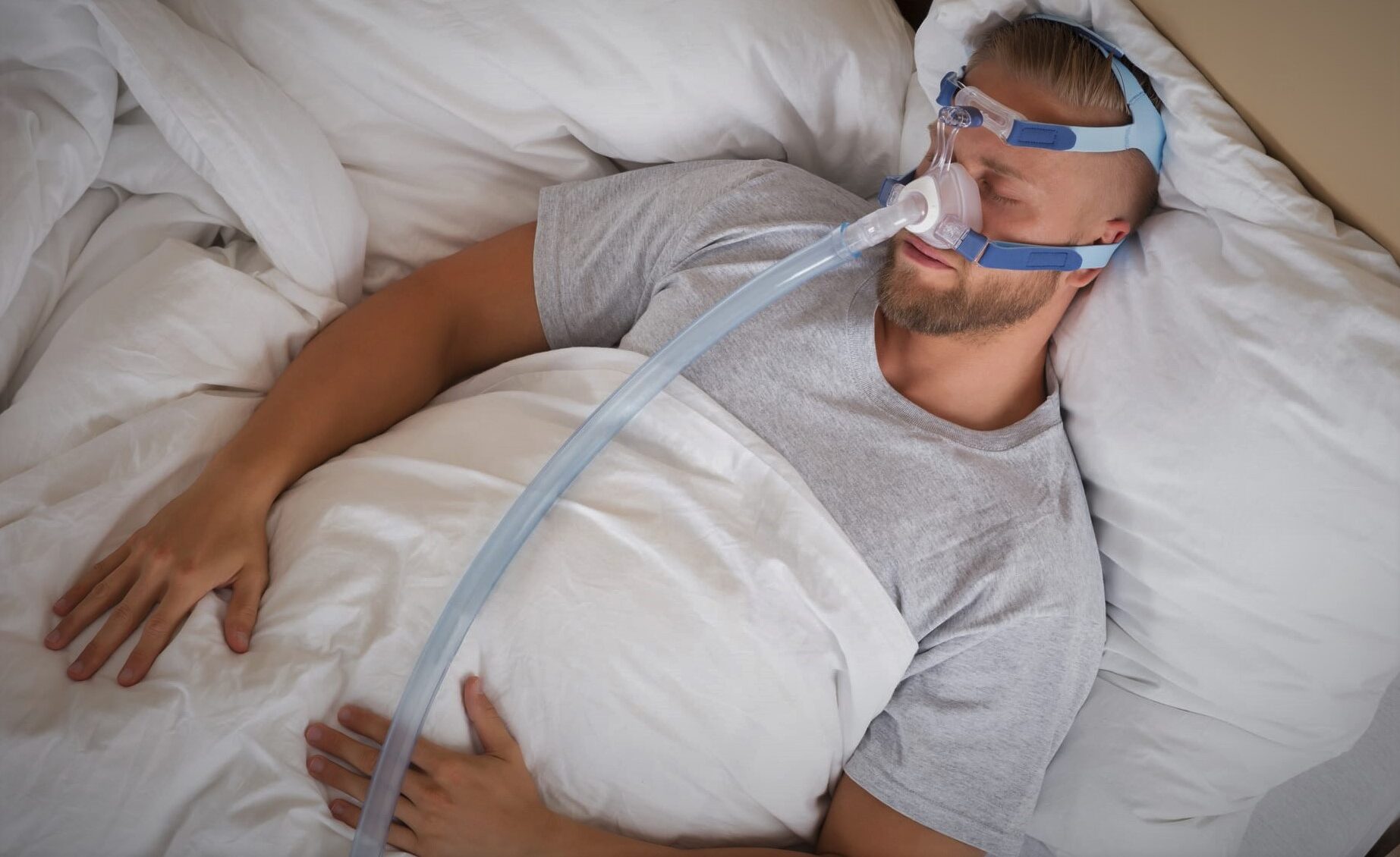 The Global Sleep Apnea Devices Market was valued at US$ 5.5 billion in 2021 and is set to witness a healthy growth rate of 7% in the next 5 years. A large pool of undiagnosed sleep apnea patients, a shift towards home-sleep testing, favorable reimbursement of sleep apnea devices in key markets such as the US, increasing awareness about the ill-effects of untreated sleep apnea, availability of funding/grants to revolutionize diagnosis & treatment for OSA, and foray of a number of companies into the sleep apnea market are some of the key factors driving the global sleep apnea devices market. However, the lack of patient compliance to treatment, especially CPAP therapy, is a key challenge that is expected to hamper the market's growth.
DESCRIPTION
Obstructive sleep apnea (OSA) is the most common form of sleep-disordered breathing (SDB). It is a partial or complete collapse of the upper airway caused by the relaxation of the muscles controlling the soft palate and tongue. Globally nearly one billion adults aged 30 to 69 years are estimated to have obstructive sleep apnea (OSA). The severity of sleep apnea is measured by the frequency of apnea or hypopnea events per hour, which is referred to as the Apnea-Hypopnea Index (AHI).
Normal Range: AHI < 5 events per hour
Mild Sleep Apnea: 5 ≤ AHI < 15 events per hour
Moderate Sleep Apnea: 15 ≤ AHI < 30 events per hour
Severe Sleep Apnea: AHI ≥ 30 events per hour
The prevalence of OSA has been increasing steadily, and as per estimates, it affects ~3% to 20% of the general population.
Technological Advancements Drives the Sleep Apnea Devices Market
The global sleep apnea devices market is a technology-driven market and is marked by constant product enhancements and innovations. For instance,
In October, 2021, AirAvant Medical introduced a new device called Bongo Rx for the treatment of obstructive sleep apnea (OSA). The device is touted as continuous positive airway pressure (CPAP) alternative and is clinically proven to treat mild to moderate OSA symptoms. It is inserted in the nostrils during sleep to create a seal to keep air flowing as the sleeper breathes in and out.
In August 2021, Resmed, launched AirSense 11, the company's next-generation PAP (positive airway pressure) device. AirSense 11 includes new features such as Personal Therapy Assistant and Care Check-In designed to provide tailored guidance to PAP users, helping ease them into therapy and comfortable nightly use. Other features include the availability of remote software updates so that users can enjoy the latest version of these tools every night.
In April, 2021, Somne, a digital health company, announced it is developing a revolutionary non-invasive alternative to CPAP. The device is worn around the neck and uses patented Variable Negative Pressure (UNEP) technology to provide therapy to patients while they sleep.
Shift Towards Home Sleep Apnea Test (HSAT) Fuels the Demand
The traditional way of sleep apnea testing required an overnight stay at a sleep lab. Sensors that monitored bodily functions such as heart, brain, muscle activity, and eye movements are placed on the chest, head, near eyelids, and legs of patients. Nasal devices and chest/stomach bands are also fitted to monitor and measure breathing patterns. Moreover, to monitor patients' overnight behavior, lab technicians also film the patient (with permission) while being asleep. However, the trend is fast-changing now and home sleep tests are now growing in popularity. A home sleep apnea test (HSAT) is an overnight test that is conducted outside the hospital or sleep lab. These tests are conducted using a special device that measures sleep patterns during the night. HSATs cost less, generally require only a few monitors & straps, and can take place in the comfort of a person's home.
A home sleep apnea test (HSAT) is financially more friendly. It costs ~ $200 to $600, which is relatively less than $800 to $3,000 for an overnight visit to a sleep lab. Also, insurers are increasingly requiring HSAT as a first step before paying for an in-lab sleep apnea test." – Product Manager, Leading Sleep Apnea Diagnostic Device Manufacturer, United States
Favorable Reimbursement of Sleep Apnea Devices in Key Markets
The diagnosis and treatment of obstructive sleep apnea in the US are covered when Medicare coverage criteria are met. Medicare Part B (Medical Insurance)  covers Type I, II, III, and IV sleep tests and devices if you have clinical signs and symptoms of sleep apnea.
In the US, the diagnosis of OSA is covered. Examples of covered diagnostic services include – Oximetry Testing, Polysomnography and Sleep Studies, and Home Sleep Studies.
The treatment of OSA is also covered in the US. Examples of covered treatments include – Continuous Positive Airway Pressure (CPAP), Respiratory Assist Devices including Bilevel Positive Airway Pressure (BiPAP), Mandibular Devices/Oral Appliances.
 Organic and Inorganic Growth Strategies Adopted by Players to Establish Their Foothold
The sleep apnea devices market is marked by the presence of both established and new players. Players operating in the market adopt both organic and inorganic growth strategies such as new product launches, and partnerships to garner market share. For instance,
In December 2021, ZOLL® Medical Corporation, completed the acquisition of Itamar™ Medical Ltd., a medical device and digital health company that provides at-home testing for sleep apnea.
In February 2021, GoPAPfree, a homecare provider of oral appliance therapy for obstructive sleep apnea launched a new oral appliance – O2Vent Optima. The patented and exclusive appliance is the only device with integrated airway technology and increases the response rate to sleep apnea therapy by 40% as compared to standard mouthguards. Clinical trials also found it to be the only device with a 100% response rate to snoring.
The sleep apnea devices market is a lucrative market that is set to witness decent growth in the coming years due to technological advancements in diagnostic and therapeutic sleep apnea devices, increasing awareness campaigns & initiatives run by governments and manufacturers across the globe, growing prominence & usage of oral appliances due to their relative ease of use, portability, and newer innovations such as compliance recorders that help in long-term follow-up and emerging technologies that remotely adjust the appliance to optimize upper airway patency.
Competitive Landscape Analysis: Sleep Apnea Devices Market
The sleep apnea devices market is marked by the presence of players such as ResMed, Philips Respironics, Fisher & Paykel Healthcare, SomnoMed, Itamar Medical, Inspire Medical Systems, Compumedics, Oventus Medical, Natus Medical, Drive DeVilbiss Healthcare, Whole You, BMC Medical, among others.
TABLE OF CONTENTS
Key Strategic Questions Addressed
What is the market size & forecast of the Sleep Apnea Devices Market?
What are the historical, present, and forecasted market shares and growth rates of various segments and sub-segments of the Sleep Apnea Market?
What are the key trends defining the market?
What are the major factors impacting the Sleep Apnea Devices Market?
What are the opportunities prevailing in the market?
Which region has the highest share in the global market? Which region is expected to witness the highest growth rate in the next 5 years?
Who are the major players operating in the market?
What are the key strategies adopted by players in Sleep Apnea Devices Market?
METHODOLOGY
The study has been compiled based on the extensive primary and secondary research.
Secondary Research (Indicative List)

Primary Research
To validate research findings (market size & forecasts, market segmentation, market dynamics, competitive landscape, key industry trends, etc.), extensive primary interviews were conducted with both supply and demand side stakeholders.
Supply Side Stakeholders:
Senior Management Level: CEOs, Presidents, Vice-Presidents, Directors, Chief Technology Officers, Chief Commercial Officers
Mid-Management Level: Product Managers, Sales Managers, Brand Managers, R&D Managers, Business Development Managers, Consultants
Demand Side Stakeholders:
Stakeholders in Sleep Laboratories & Hospitals, Home Care Settings/Individuals.
Breakdown of Primary Interviews

Market Size Estimation
Both 'Top-Down and Bottom-Up Approaches' were used to derive market size estimates and forecasts.
Data Triangulation
Research findings derived through secondary sources & internal analysis was validated with Primary Interviews, Internal Knowledge Repository and Company's Sales Data.
SAMPLE DELIVERABLES