Sports Medicine Market Size, Share, Trends, Demand & Growth Opportunities by 2027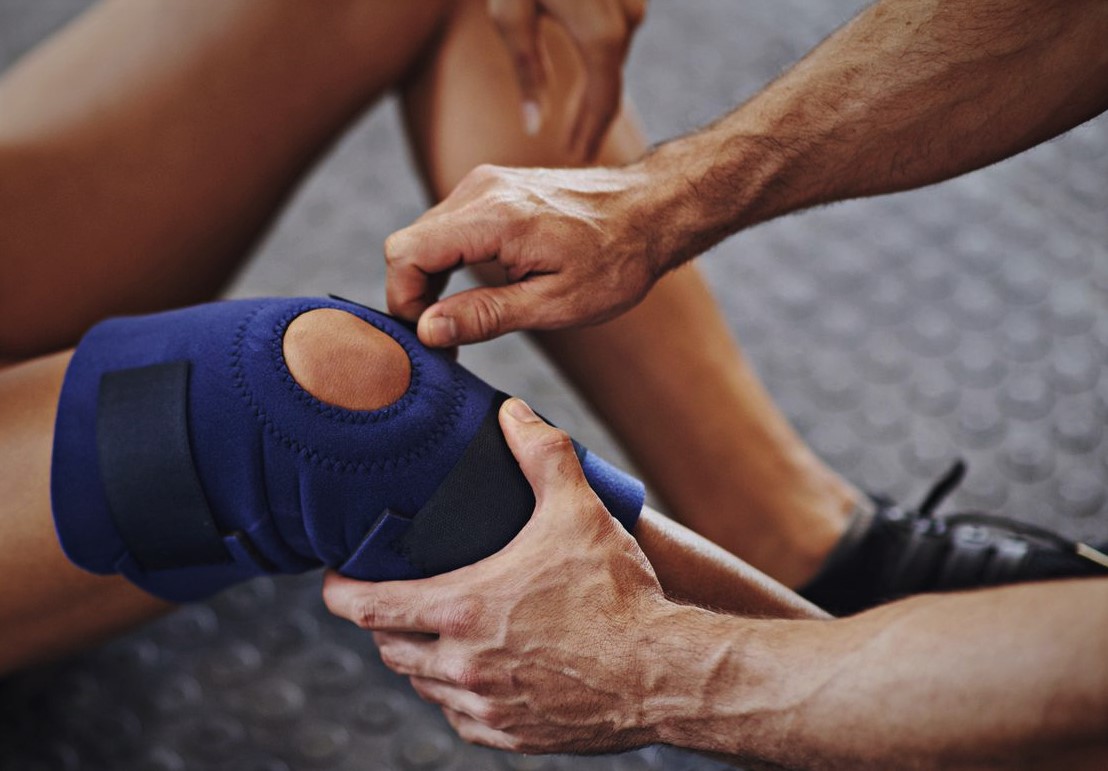 The Global Sports Medicine Market was valued at ~$7 billion in 2022 and is expected to grow at a rate of ~6% by 2027. Growing cases of sports injuries, technological advancements and new product innovations in sports medicine, rising demand for minimally invasive surgeries, development in regenerative medicine, and an increasing awareness on the importance of physical fitness and sports activities are some of the key factors driving the market growth.
Sports medicine is an umbrella term representing a broad array of specialties that bridge's the academic disciplines of medicine and physical education as well as the basic sciences. It also entails the treatment of damage to bone, cartilage, and tissue through minimally invasive procedures. The procedures, often in the knee, hip, and shoulder, allow patients to quickly return to their active lifestyles.
A Slowdown in the Demand for Sports Medicine Points to A Looming Recession
The recession's negative impact on young adults' physical activity highlights the need for policymakers to consider the impact of major economic downturns on the physical activity of young adults. Due to the looming recession, patients are expected to delay minimally invasive surgical procedures including sports surgeries until the future of the broader economy looks more promising. Considering the current economic and financial conditions, patients are expected to be less willing to incur the costs of these private pays or discretionary procedures and may choose to forgo such procedures or products and might consider trading down to alternative options. Companies will likely witness a slight drop in their orthopedic robotic system sales as hospitals might tighten their spending amid an economic slowdown and a looming recession risk.
Potential of Sports Medicines in the Treatment of Sports Injuries Boosts the Growth of the Global Sports Medicine Market
Sporting injuries are inevitable for anyone who actively engages in physical activity. People of all ages are more active than ever before and whenever they seek treatment for an injury or a degenerative condition, they expect a fast recovery and rapid return to activity.
Development in regenerative medicine in the sporting arena focuses predominantly on cartilage, tendon, ligament, meniscal, and skeletal muscle injuries. Technological advancements in the orthopedic field such as the 3D printing of implants and the introduction of bionic technology, and sensor technology in prosthetic limbs offer unprecedented growth opportunities. The future contains a trend toward prevention through genetics, nutrigenomics, and numerous monitors and wearables in sports medicine which is further expected to drive the market in the forecasted period.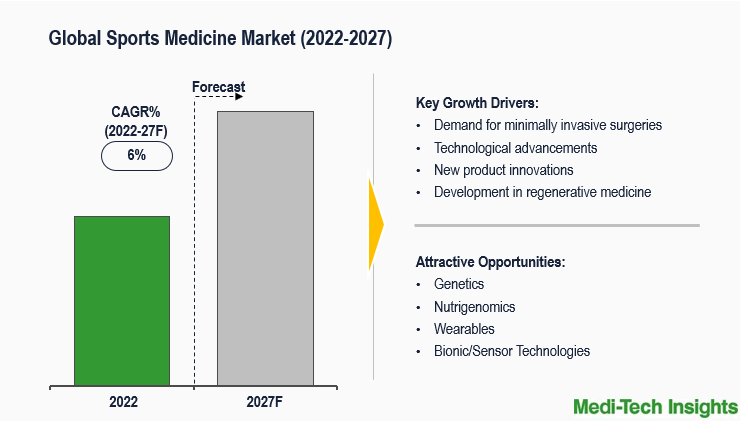 Increasing Emphasis on Developing New Advanced Sports Medicine Products
The field of sports medicine encompasses a wide variety of disciplines from orthopedics and physiotherapy to psychiatry and public health. There have been many recent advances in the products category of sports medicine such as rotator cuff repair, anterior cruciate ligament reconstruction, high altitude simulation training, anti-gravity treadmill, exoskeletons, bio-harnesses, smart fabrics, virtual and augmented reality and hip/knee arthroscopy that are revolutionizing the global sports medicine market. For instance,
In November 2022, Smith+Nephew announced the introduction of its JOURNEY II ROX Total Knee Solution – a reverse hybrid construct for total knee arthroplasty. This new procedural product solution aims to provide surgeons with the clinical advantage of advanced bearing material and anatomic design combined with the efficiency and potential long-term tibia fixation of a cementless knee.
In March 2022, DePuy Synthes, the Orthopaedics Company of Johnson & Johnson, announced the addition of two innovations to its kinematically advanced and proven ATTUNE Knee portfolio: the ATTUNE Cementless Fixed Bearing Knee with AFFIXIUM 3DP Technology and the ATTUNE Medial Stabilized Knee System.
Rising Incidence of Youth Sports Injuries Fuels the Global Sports Medicine Market 
More than 3.5 million children under the age 14 receive medical treatment for sports injuries each year. Young athletes especially those younger than 8 are more prone to sports injuries than adults due to ongoing growth spurts, slower reaction times, and still-developing hand-eye coordination. Injuries to the face or head are more common and account for 27% of high school sports injuries. Also, more than 775,000 children, ages 14 and younger, are treated in hospital emergency rooms for sports-related injuries each year. Sports injuries in children must be treated properly by using different sports medicine techniques so that children can get back to their regular activities and avoid developing any chronic pain or long-term injuries.
Key Market Constraints/Challenges: Sports Medicine Market
The inflated cost of sports medicine & other devices, shortages of skilled & trained professionals, and a global shortage of some raw materials & components are some of the other key factors that are likely to hamper the growth of the sports medicine market in the coming years.
North America is Expected to Continue to Hold a Major Share in the Global Sports Medicine Market
From a geographical perspective, North America holds a major market share of the sports medicine market. This can be mainly attributed to the growing incidence of sports-related injuries and muscle tears, the increased number of people participating in fitness regimens and sports, the rising usage of absorbable implants, and improved sports healthcare infrastructure in the region. However, the Asia-Pacific region is expected to witness a strong growth in the upcoming years due to a growing product innovations such as the development of minimally invasive arthroscopic devices and a shift from proactive to preventive care of sports injuries in the region.
Competitive Landscape Analysis: Sports Medicine Market
Some of the leading and established players operating in the global sports medicine market are as follows:-
Arthrex Inc.
Smith & Nephew Plc.
DePuy Synthes
Stryker Corporation
CONMED Corporation
Zimmer Biomet Holdings Inc
KARL STORZ
IntraVu
Mueller Sports Medicine
Oxford Performance Materials, Inc
Orthofix International N.V
Wright Medical Group
Organic and Inorganic Growth Strategies Adopted by Leading Players to Establish Their Foothold in the Sports Medicine Market
All key players operating in the sports medicine market are adopting both organic and inorganic growth strategies such as collaborations, acquisitions, and new product launches to garner a higher market share.
For instance,
In July 2022, Oxford Performance Materials, Inc (OPM) announced an agreement with Fuse Medical, Inc (Fuse) to develop new, world-class spinal, extremity, and sports medicine implant product lines utilizing OPM's patented OsteoFab PEKK technology.
In March 2022, DePuy Synthes, the Orthopaedics Company of Johnson & Johnson announced that their product INHANCE™ Shoulder System has received 510(k) clearance from the U.S. Food and Drug Administration (FDA) for use in reverse total shoulder arthroplasty procedures.
The sports medicine market is a growing market and is expected to gain further momentum in the upcoming years due to a strong emphasis on developing new minimally invasive products, investment in R&D to introduce several advanced products, increasing awareness regarding fitness regimes and sports activities, and aggressive organic and inorganic growth strategies followed by the market players.
Key Strategic Questions Addressed in this Report
What is the market size & forecast for the sports medicine market?
What are the historical, present, and forecasted market shares and growth rates of various segments and sub-segments of the Sports Medicine Market?
How has Covid-19 impacted the sports medicine market?
What are the major growth drivers, restraints/challenges impacting the global market?
What are the opportunities prevailing in the sports medicine market?
What is the investment landscape of sports medicine market?
Which region has the highest share in the global market? Which region is expected to witness the highest growth rate in the next 5 years?
Who are the major players operating in the market? What is the competitive positioning of key players in sports medicine market?
Who are the new players entering the sports medicine market?
What are the key strategies adopted by players in sports medicine market?
1. Research Methodology
1.1. Secondary Research
1.2. Primary Research
1.3. Market Estimation
1.4. Market Forecasting
2. Executive Summary
3. Market Overview
3.1. Market Dynamics
3.1.1. Drivers
3.1.2. Restraints
3.1.3. Opportunities
3.1.4. Market Trend
3.2. Industry Speaks
3.3. Technology Trends
4. COVID-19 Impact on Sports Medicine Market
5. Looming Recession (2023) – Key Challenges & Impact
6. Global Sports Medicine Market- Size & Forecast (2019-2027), By Product
6.1. Body Reconstruction
6.2. Body Support & Recovery
6.3. Body Monitoring & Evaluation
6.4. Accessories
7. Global Sports Medicine Market- Size & Forecast (2019-2027), By Application
7.1. Knee Injuries
7.2. Shoulder Injuries
7.3. Foot & Ankle Injuries
7.4. Back & Spine Injuries
7.5. Elbow & Wrist Injuries
7.6. Others
8. Global Sports Medicine Market- Size & Forecast (2019-2027), By Region
8.1. North America (U.S. & Canada)
8.2. Europe (UK, Germany, France, Italy, Spain, Rest of Europe)
8.3. Asia Pacific (China, India, Japan, Rest of Asia Pacific)
8.4. Rest of the World (Latin America, Middle East & Africa)
9. Competitive Landscape
9.1. Key Players and their Competitive Positioning
9.1.1. Market Share Analysis (2022)
9.1.2. Segment-wise Player Mapping
9.2. Key Strategies Assessment, By Player (2020-2022)
9.2.1. New Product & Service Launches
9.2.2. Partnerships, Agreements, & Collaborations
9.2.3. Mergers & Acquisitions
9.2.4. Geographic Expansion
10. Key Companies Scanned (Indicative List)
10.1. Arthrex
10.2. Smith & Nephew
10.3. DePuy Synthes
10.4. Stryker Corporation
10.5. Conmed Corporation
10.6. Zimmer Biomet Holdings Inc.
10.7. KARL STORZ
10.8. IntraVu
10.9. Mueller Sports Medicine
10.10. Orthofix International N. V
The study has been compiled based on the extensive primary and secondary research.
Secondary Research (Indicative List)

Primary Research
To validate research findings (market size & forecasts, market segmentation, market dynamics, competitive landscape, key industry trends, etc.), extensive primary interviews were conducted with both supply and demand side stakeholders.
Supply Side Stakeholders:
Senior Management Level: CEOs, Presidents, Vice-Presidents, Directors, Chief Technology Officers, Chief Commercial Officers
Mid-Management Level: Product Managers, Sales Managers, Brand Managers, R&D Managers, Business Development Managers, Consultants
Demand Side Stakeholders:
Stakeholders in Hospitals, Physiotherapy Centres, Clinics, Rehabilitation Centres, Ambulatory Surgery Centres, and Other End Users.
Breakdown of Primary Interviews

Market Size Estimation
Both 'Top-Down and Bottom-Up Approaches' were used to derive market size estimates and forecasts.
Data Triangulation
Research findings derived through secondary sources & internal analysis were validated with Primary Interviews, Internal Knowledge Repository, and Company Sales Data.