Tissue Diagnostics Market – A New Era for Cancer Diagnosis & Treatments
written by Medi-Tech Insights, Wednesday, August 17th, 2022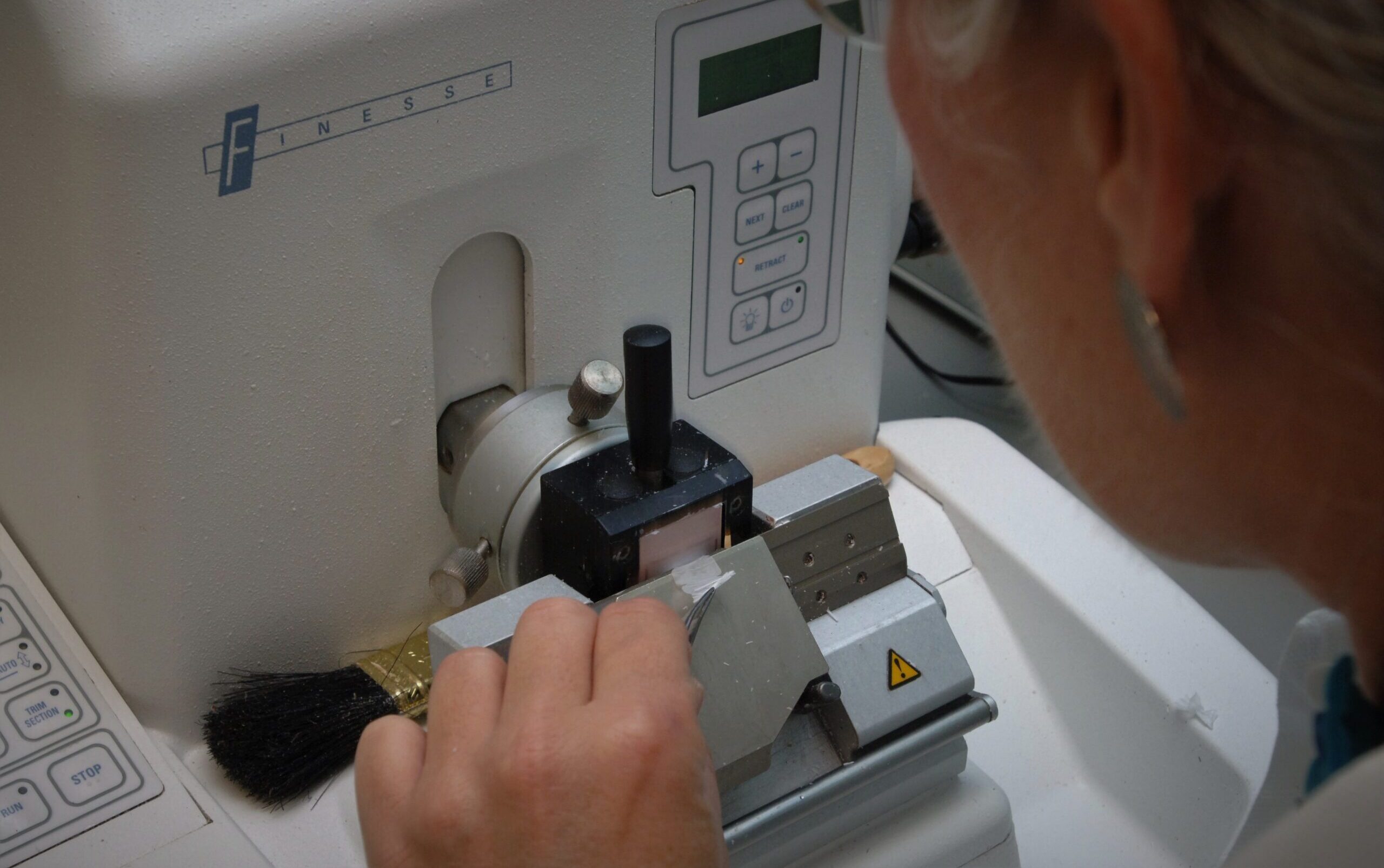 The Global Tissue Diagnostics Market is expected to grow at a rate of 7% by 2026. The rising prevalence of cancer and neoplastic cases, growing demand for personalized medicines, developing infrastructure for cancer diagnosis, technological advancement in tissue diagnostics, rising developments in consumables & instruments used in tissue diagnosis, and increasing demand for oncology screening are some of the key factors driving the global tissue diagnostics market.
DESCRIPTION
Tissue is defined as a group of cells or fluids that possess similar structures and function together to perform a specific job in the body. A tissue diagnosis is the diagnosis made when a piece of tissue is examined by a pathologist, to diagnose diseases based on tissues from organs and tumors. The process of removing and staining tissue for disease diagnostics, especially in oncology, has been practiced the same way for more than a century.
In today's world of network-based medicine, there are new advancements such as tissue-based companion diagnostics, automation, and the use of digital solutions at laboratories which enable this field to detect, visualize and monitor diseases more effectively and would lead to better diagnosis, treatments, and outcomes.
Growing Adoption of Tissue Diagnostics for Early Detection & Screening of Cancer Fuels the Tissue Diagnostics Market
Tissue-based diagnostic testing continues to serve as one of the gold standards for cancer diagnosis. No other technology can capture the disease's biological context and the critical parameters that factor into patient outcomes. From a biopsy, a pathologist can determine the type of cancer, the stage, and the degree to which cancer has invaded healthy tissue. Tissue diagnosis is considered an efficient method for the clinical diagnosis of these diseases. The developments in oncology and other areas of cancer research have immensely contributed to the use of tissue diagnosis. Recent advances in tissue diagnostics consumables & instruments have helped scientists compare tissue characteristics with patient information and how well the patient responds to certain drugs. The increased adoption of tissue diagnosis to understand the causes of cancer, identify targets for treatments, and discover biomarkers is expected to boost its demand in the coming years.
Technological Advancements in Digital Pathology Fuels the Demand for Tissue Diagnostics Market
With the surge in cancer caseloads, labs are challenged more than ever to provide fast, consistent, reproducible results from the lab to the pathologists to the physicians and their patients. Digital pathology can help reduce human error as well as produce precise diagnostic results in a short turnaround time. The processes involved in digital pathology allow to speed up routine tasks without reducing the quality of the execution of each task. The constant advancements in digital pathology are spurring the demand for tissue diagnostics. For instance,
In June 2022, Roche announced the launch of its next-generation VENTANA DP 600 slide scanner (CE-IVD marked). This high-capacity slide scanner produces excellent image quality of stained histology slides from patient tissue samples while providing ease of use and workflow flexibility for the pathology lab.
In May 2022, Leica Biosystems announced the launch of its compact, dual-retort tissue processor, the HistoCore PEGASUS Plus. For the first time, the technology will now be available to medium-sized laboratories, enabling them to optimize histopathology workflows.
In May 2021, Discovery Life Sciences™ (Discovery), the biospecimen and biomarker specialists™, announced the acquisition of Targos Molecular Pathology GmbH, Germany (Targos), one of the largest molecular pathology laboratories in Europe, to significantly expand its global tissue biomarker service.
Usage of Immunohistochemistry (IHC) Technology in Cancer Biomarker Research
The use of tissue or specimens in research is vital for medical science to advance. IHC is a hugely popular tool used in cancer research. Different types of cancer are associated with specific protein biomarkers that can be identified via IHC that serve as a powerful tool to investigate tumor development and responses. Using these techniques, researchers can identify the histogenesis of tumors, and stage tumors, predict tumor prognosis, and predict and monitor therapeutic response. Knowing the utilities and pitfalls of each tumor-associated biomarker is essential to avoiding potential diagnostic errors. These tests can be run quickly, with ease, and at a low cost compared to other diagnostic methods. IHC is thus considered a robust and reliable technique with a good panel of specific biomarkers and is ideal for rapid clinical diagnosis.
North America Holds a Major Share in Tissue Diagnostics Market but APAC Regions are expected to Witness Strong Growth
From a geographical perspective, North America currently holds a major share in the global tissue diagnostics market. North America is expected to continue to hold a major share in the coming years due to the growing prevalence of cancer, growing adoption of technologically advanced equipment and consumables, increasing healthcare expenditure, favorable reimbursement policies, and increasing awareness campaigns to minimize cancer incidence in the region. However, APAC is expected to witness strong growth in the coming years, due to the rising demand for digital pathology, rising awareness regarding the use of tissue diagnostic tests, a large patient pool, and a rise in the government initiative to develop healthcare infrastructure in this region.
Competitive Landscape Analysis: Tissue Diagnostics Market
Some of the key players operating in the tissue diagnostics market are Abbott Laboratories, F.Hoffmann-LA Roche Ltd, Danaher, Thermo Fisher Scientific, Agilent Technologies Inc., Merck KGaA, Sakura Finetek Japan Co. Ltd., BD, QIAGEN, Bio SB, BioGenex., Abcam plc., Cell Signaling Technology Inc., Koninklijke Philips N.V., The Menarini Group, Enzo Life Sciences Inc., Zenalux Biomedical Inc., Biocare Medical LLC., Genomic Health, Sigma Aldrich (Merck Group), Cancer Genetics Inc., bioMérieux SA, DiaGenic ASA, Hologic Inc., Histo-Line Laboratories, and Slee Medical GMBH, among others.
Organic and Inorganic Growth Strategies Adopted by Players to Establish Their Foothold in the Tissue Diagnostics Market
Players operating in the global tissue diagnostics market are adopting organic and inorganic growth strategies such as collaborations, acquisitions, and new product launches to garner market share. For instance,
In February 2022, Labcorp a leading global life sciences company announced the acquisition of Personal Genome Diagnostics Inc. (PGDx), a leader in cancer genomics with a portfolio of comprehensive liquid biopsy and tissue-based products.
In October 2021, Roche announced the launch of its AVENIO Tumor Tissue CGP Kit. The Kit complements the current CGP portfolio offered by Roche and Foundation Medicine and allows laboratories to expand their oncology research in-house.
In April 2021, Roche announced the launch of its Elecsys Anti-p53 immunoassay for the in vitro quantitative determination of anti-p53 antibodies. This test is used to aid physicians to diagnose throat cancer, bowel cancer, and breast cancer in patients, in conjunction with other diagnostic tests.
In March 2021, Roche announced the launch of its DISCOVERY Green HRP kit, the newest addition to the comprehensive collection of modular-based detection kits to identify and profile biomarkers and cell populations in tissue-based research.
The tissue diagnostics market is a growing market that is expected to gain further momentum in the coming years due to technological advancements in tissue diagnostics, new product launches, increasing awareness regarding tissue diagnostics tests, and aggressive organic and inorganic growth strategies followed by the players.
TABLE OF CONTENTS
Key Strategic Questions Addressed
What is the market size & forecast for the Tissue Diagnostics Market?
What are the historical, present, and forecasted market shares and growth rates of various segments and sub-segments of the Tissue Diagnostics Market?
How has Covid-19 impacted the Tissue Diagnostics Market?
What are the major growth drivers, restraints/challenges impacting the market?
What are the opportunities prevailing in the tissue diagnostics market?
What is the investment landscape of tissue diagnostics market?
Which region has the highest share in the global market? Which region is expected to witness the highest growth rate in the next 5 years?
Who are the major players operating in the market? What is the competitive positioning of key players?
Who are the new players entering the tissue diagnostics market?
What are the key strategies adopted by players working in tissue diagnostics market?
METHODOLOGY
The study has been compiled based on the extensive primary and secondary research.
Secondary Research (Indicative List)

Primary Research
To validate research findings (market size & forecasts, market segmentation, market dynamics, competitive landscape, key industry trends, etc.), extensive primary interviews were conducted with both supply and demand side stakeholders.
Supply Side Stakeholders:
Senior Management Level: CEOs, Presidents, Vice-Presidents, Directors, Chief Technology Officers, Chief Commercial Officers
Mid-Management Level: Product Managers, Sales Managers, Brand Managers, R&D Managers, Business Development Managers, Consultants
Demand Side Stakeholders:
Stakeholders in Hospitals, Diagnostics Laboratories, Contract Research Organizations, Research Organizations, and Other End Users.
Breakdown of Primary Interviews

Market Size Estimation
Both 'Top-Down and Bottom-Up Approaches' were used to derive market size estimates and forecasts.
Data Triangulation
Research findings derived through secondary sources & internal analysis were validated with Primary Interviews, Internal Knowledge Repository, and Company Sales Data.
SAMPLE DELIVERABLES