US Branded Generics Market Size, Shares, Growth, Trends & Opportunities 2027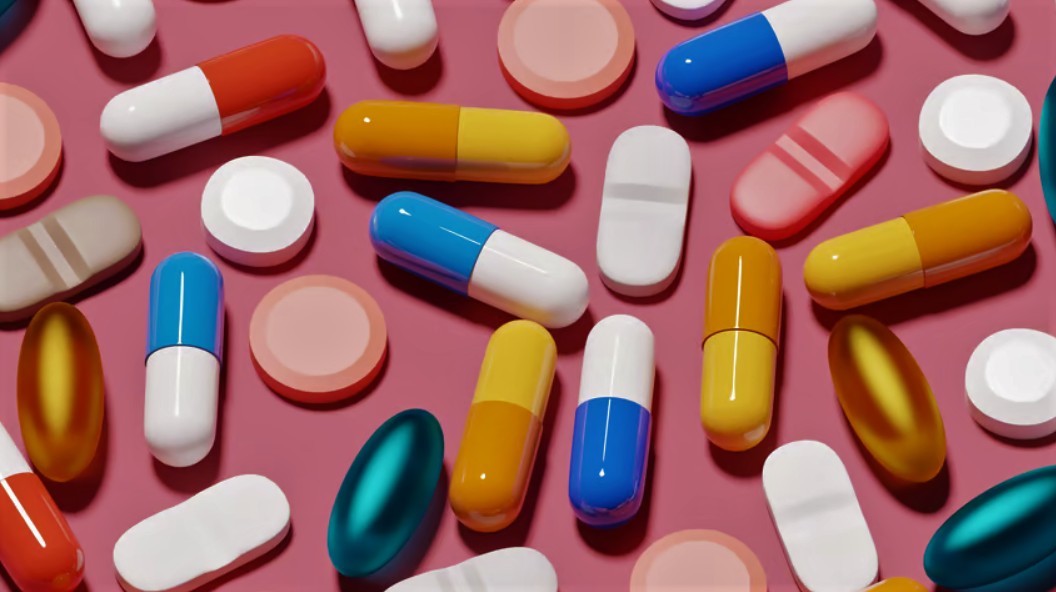 The US Branded Generics Market was valued at $19.1 billion in 2022 and is set to witness a growth rate of ~9-10% by 2027. Growing number of chronic diseases, surge in ANDA filings and approvals, channel consolidation & deep pricing pressure, portfolio rationalization by MNCs, patent expiry of major drugs, and foray of Indian players are some of the key factors driving the US branded generics market growth. However, higher costs compared to unbranded generics is one of the pivotal factors that are likely to impact the market growth.
Branded generics are generic drugs that are given a proprietary market name. It can be developed either by a generic drug firm or by the original manufacturer and can be marketed after the patent expiry of the original drug. They are sold by using a brand name instead of a chemical name. An abbreviated new drug application (ANDA) is submitted to the regulatory body for marketing branded generics and it should be therapeutically equivalent to the original drug for which the patent is expired.
Advantages Offered By Branded Generics Drives Their Adoption in the US Branded Generics Market
Due to the multiple advantages offered by branded generics, their adoption is expected to rise in the United States. Following are the advantages:-
They are sold as alternatives to brand-name drugs and are relatively less expensive
For combination drugs it is difficult to remember their generic names. Branded generics can be easily remembered.
Attract several consumers who prefer branded drugs only.
They provide quality assurance from well-established companies.
"Branded generics comprise only a small percentage of total generic prescriptions in the U.S. but they are more profitable than unbranded generics..…"- Tier I Branded Generic Manufacturer, USA
Foray of India Players Adds a Competitive Intensity to the US Branded Generics Market
The share of Indian players in the US branded generics market is expected to further increase in the next five years primarily due to the following:
High R&D Spend: Large Indian players continue to invest significantly in R&D. Leading Indian players have increased their R&D budgets over the last few years, indicating a good launch pipeline of these players
Entry of New Indian players: The U.S. market continues to see the entry of new players every year, and these companies are expected to further drive the share of Indian players in overall ANDA approvals
CDMO Entry: Few Indian CDMOs are also planning to enter the U.S. market
Focus of Indian players is on specialty/complex generics where competition is relatively lower and launching products early.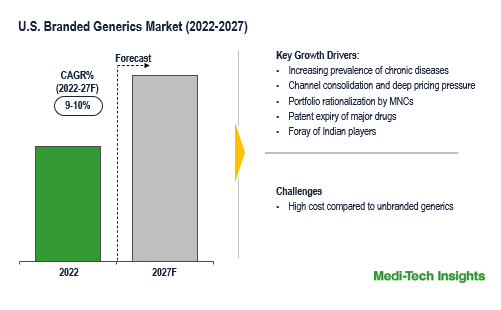 Unmet Patient Needs Across Indications Fuels the Growth of the US Branded Generics Market
The unmet patient needs in cardiovascular, gastroenterology,  diabetology, oncology, pain management, and dermatology therapeutic areas drives the US branded generics market. Other application areas that are also witnessing increased demand are women's health, neurology, ophthalmology, respiratory, hormonal, anti-psychotic, and infectious diseases.
Organic and Inorganic Growth Strategies Adopted by Leading Players to Establish Their Foothold in US Branded Generics Market
The leading players operating in the US branded generics market have adopted both organic and inorganic growth strategies such as acquisitions, and partnerships to garner a larger market share.
For instance,
In November 2021,  ANI Pharmaceuticals completed the acquisition of Novitium Pharma, significantly enhancing its R&D capabilities and scale of generics and CDMO businesses.
The outlook for the US branded generics market looks promising due to the patent expiry of major drugs, the growing prominence of Indian companies, relatively more profitability as compared to unbranded generics, and unmet patient needs across various therapeutic areas.
Competitive Landscape Analysis: US Branded Generics Market
The US branded generics market is marked by the presence of the prominent market players such as follows:-
Teva,
Mylan
Sandoz
Sun  Pharma
Hikma, among others
Key Strategic Questions Addressed in this Report
What is the market size & forecast of the US branded generics market?
What are the historical, present, and forecasted market shares and growth rates of various segments and sub-segments of the US branded generics market?
What are the key trends defining the US branded generics market?
What are the major factors impacting the US branded generics market?
What are the opportunities prevailing in the market?
Who are the major players operating in the US branded generics market?
What are the key strategies adopted by players operating in US branded generics market?
1. Research Methodology
1.1. Secondary Research
1.2. Primary Research
1.3. Market Estimation
1.4. Market Forecasting
2. Executive Summary
3. Market Overview
3.1. U.S. Generics Market: Introduction
3.1.1. Hatch-Waxman Act
3.1.2. ANDA Approval Trend
3.1.3. Assessment of Dosing Formulations, By Sales
3.2. Market Dynamics
3.2.1. Drivers
3.2.2. Restraints
3.3. Industry Speaks
4. Evolution U.S. Branded Generics Market
5. U.S. Branded Generics Market- Size & Forecast (2019-2027)
6. U.S. Branded Generics Market- Size & Forecast (2019-2027), By Application
6.1. Oncology
6.2. Cardiovascular Diseases
6.3. Diabetes
6.4. Gastrointestinal Diseases
6.5. Other Applications (Respiratory, Dermatology, Pain Management, among others)
7. Consolidation of Distributor Organizations
8. Evolution of Indian Players
9. Competitive Landscape
9.1. Key Players and their Competitive Positioning
10. Winning Imperatives: U.S. Branded Generics Market
The study has been compiled based on the extensive primary and secondary research.
Secondary Research (Indicative List)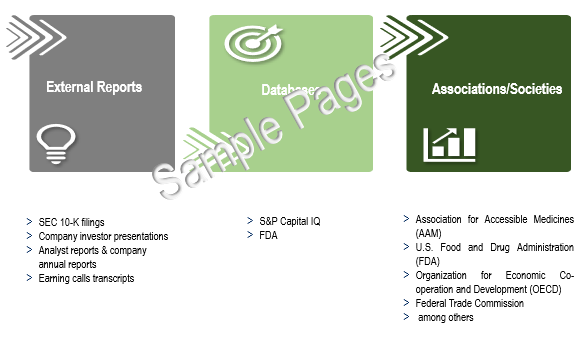 Primary Research
To validate research findings (market size & forecasts, market segmentation, market dynamics, competitive landscape, key industry trends, etc.), extensive primary interviews were conducted with both supply and demand side stakeholders.
Supply Side Stakeholders:
Senior Management Level: CEOs, Presidents, Vice-Presidents, Directors, Chief Technology Officers, Chief Commercial Officers
Mid-Management Level: Product Managers, Sales Managers, Brand Managers, R&D Managers, Business Development Managers, Consultants
Demand Side Stakeholders:
Stakeholders in Hospitals, Clinics and Other End Users.
Breakdown of Primary Interviews

Market Size Estimation
Both 'Top-Down and Bottom-Up Approaches' were used to derive market size estimates and forecasts.
Data Triangulation
Research findings derived through secondary sources & internal analysis were validated with Primary Interviews, Internal Knowledge Repository, and Company Sales Data.