Weight Management Market Size, Share, Trends, Growth & Developments by 2027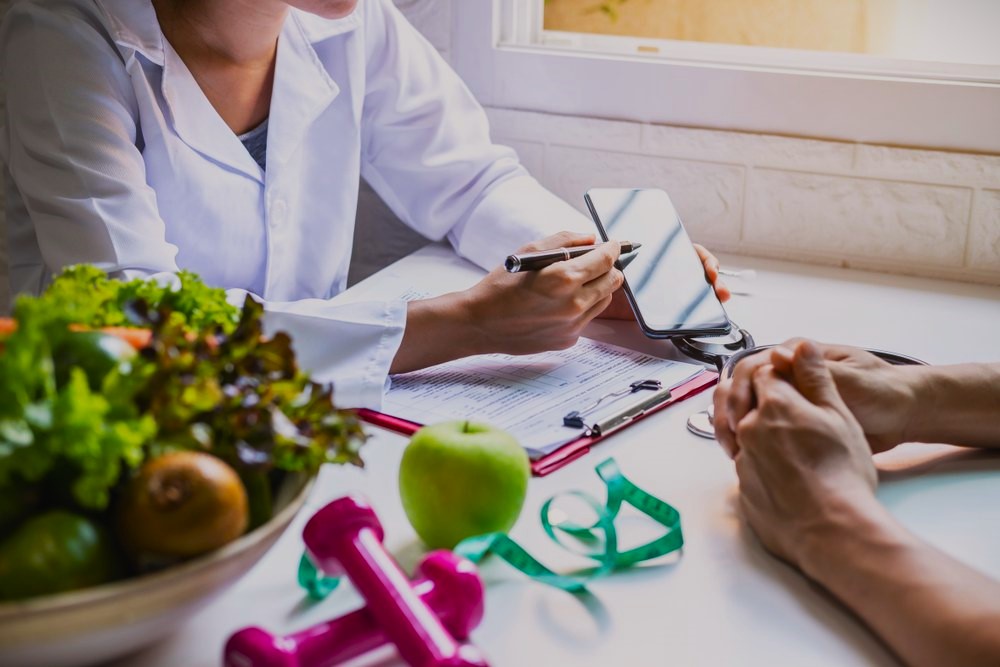 The Global Weight Management Market is expected to witness a high single-digit growth rate by 2027. The global market has experienced a significant growth due to major factors such as the rising obese population, rise in the number of bariatric surgeries, growing awareness on fitness, and demand for personalized weight management solutions.
Weight management is a crucial aspect of maintaining a healthy lifestyle. One of the fundamental aspects of weight management is maintaining a balanced diet. This involves consuming the right number of calories, nutrients, and portion control. Incorporating regular physical activity into one's routine is essential for weight management, burning calories, building muscle, and improving overall fitness. Lifestyle elements, including stress management, ensuring sufficient sleep, and reducing factors that may lead to weight gain or complicate weight management, also play a pivotal role in maintaining a healthy weight. To summarize, weight management involves a combination of healthy eating, regular physical activity, and making healthy lifestyle choices to achieve and sustain a desired weight or body composition.
Rising Obesity, Sedentary Lifestyle, and Growing Digitalization & Public Awareness on Fitness Fuels the Weight Management Market Growth
The prevalence of chronic illnesses linked to obesity, such as diabetes, hypertension, and orthopedic conditions, is widespread among individuals who are overweight or obese. This has driven the growth of the weight management industry, particularly as obesity rates continue to rise. Obesity represents a significant public health challenge, prompting pharmaceutical companies to create medications to address it. Several prescription drugs authorized by regulatory agencies are available in the market for obesity treatment. With growing awareness of the health risks associated with obesity, more people are seeking medical treatments, resulting in increased demand for these medications.
For instance,
In September 2023, Novo Nordisk revealed that Wegovy® (semaglutide injection) will be introduced in the UK via a controlled and limited launch. Nevertheless, due to Novo's inability to meet the high demand for Wegovy in the United States, the planned launch in most of Europe has been delayed.
Extended screen time, mainly due to television and computer usage, is contributing to a sedentary lifestyle among overweight or obese children, increasing their vulnerability to chronic diseases. This weight gain is worsened by the consumption of unhealthy fast food, reduced physical activity, and the stresses and time pressures of contemporary life. Consequently, the weight management industry is expanding in response to these challenges.
The easy accessibility of information, facilitated by globalization and digitalization, has heightened public awareness about various weight management approaches, including dietary products, supplements, exercise, and surgical procedures. Additionally, the rising acceptance of fitness facilities and dietary programs in developing countries is anticipated to present substantial growth prospects during the forecast period. Specifically, the GenX generation is poised to be a prominent target demographic for fitness clubs. Also, fitness clubs that provide premium amenities like advanced equipment, metabolic testing tools, and yoga studios are expected to provide lucrative opportunities for the weight management market in the upcoming period.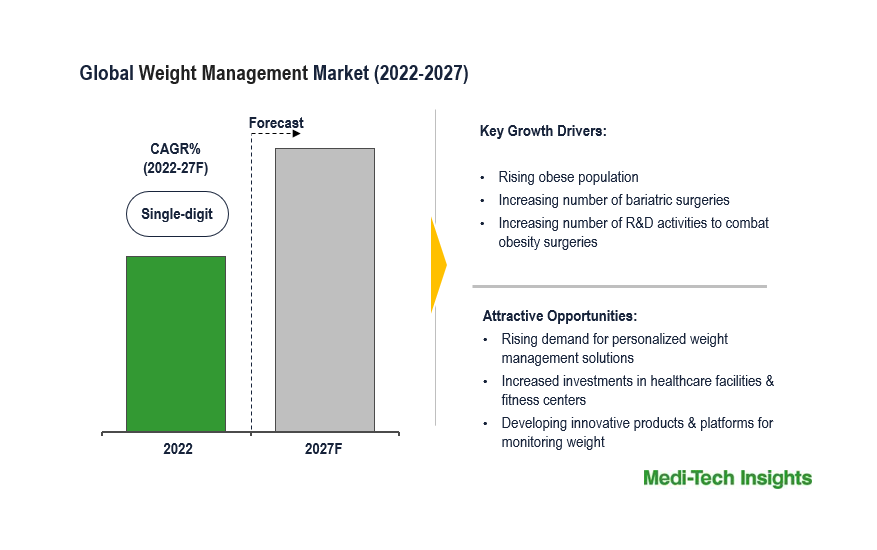 Fill out the "Quick Inquiry Form" to request a sample copy.
Preventive Healthcare and Wellness: Boosting the Demand in the Global Weight Management Market
The global weight management market is experiencing a rapid growth due to several significant factors. Primarily, the global increase in obesity rates and the associated health issues, such as diabetes, cardiovascular diseases, and joint problems, highlight the pressing need for effective weight management solutions. As people become more aware of the health risks linked to excess weight, they are actively seeking methods for achieving sustainable weight loss and maintaining healthier lifestyles. The rising recognition of the importance of preventive healthcare and wellness promotion encourages individuals to take proactive measures to address weight-related concerns before they develop into chronic conditions. This emphasis on prevention is fueling the demand for diverse weight management programs and services that cater to various needs and preferences.
The weight management industry is continually evolving. Recent trends include a shift towards holistic approaches that focus on overall health, and well-being, as well as the integration of technology through smartphone apps and wearable devices for tracking physical activity and nutrition. The weight management industry focuses on products and services designed to help people achieve and maintain a healthy weight. It includes a wide range of products and approaches, from dietary supplements and weight loss programs to fitness equipment and meal replacement products. Several companies are prominent in the weight management market, including pharmaceutical companies that produce weight loss medications, nutrition and supplement companies, fitness equipment manufacturers, and providers of weight loss and wellness programs.
For instance,
In March 2023, Viking Therapeutics recently disclosed the launch of a Phase I clinical research of its weight reduction drugs to assess VK2735, a dual glucagon-like peptide 1 (GLP-1) & glucose-dependent insulinotropic polypeptide (GIP) receptor agonist.
In March 2022, KaraMD introduced Pure Health Apple Cider Vinegar Gummies, which are vegan gummies formulated to encourage ketosis, regulate digestion, assist in weight management, and boost energy levels in the body.
Key Market Constraints/Challenges: Weight Management Market
Stringent regulations and labeling requirements pose hurdles for weight management product manufacturers and complying with these regulations can be costly and time-consuming for these businesses. Furthermore, addressing consumer expectations for quick fixes rather than finding sustainable approaches is a major challenge. The weight management market is highly competitive, thus making it difficult for companies to stand out. Shifting consumer preferences and economic disparities can also impact the market growth.
North America Accounts for the Largest Share of the Global Weight Management Market
North America holds a dominant position in the global weight management market owing to its well-developed healthcare infrastructure, extensive medication usage, increasing prevalence of chronic medical conditions like obesity, high cholesterol, diabetes, and heart diseases, along with a burgeoning research landscape.
On the other hand, the Asia-Pacific region is poised for a substantial growth during the forecast period which can be attributed to various factors such as heightened government initiatives to promote awareness, expanding research activities, the presence of vast untapped markets, a large population base, an upsurge in cardiovascular diseases, and an increasing demand for high-quality healthcare services within the region.
Competitive Landscape Analysis: Weight Management Market
The key players operating in the global weight management market are Novo Nordisk, Atkins Nutritionals, Inc., Herbalife Ltd., Nutrisystem Ltd., Kellogg Company, Olympus Corporation, The Gold's Gym International, Brunswick Corporation, Amer Sports, and Johnson Health Tech.
Organic and Inorganic Growth Strategies Adopted by the Key Players to Establish Their Foothold in the Global Weight Management Market
Players operating in this market are adopting both organic and inorganic growth strategies such as collaborations, and acquisitions to garner a larger market share.
For instance,
In September 2023, Novo Nordisk and UNICEF extended their ongoing partnership aimed at combatting global childhood overweight and obesity, which is a significant public health concern affecting numerous children worldwide. This collaboration, initiated in 2019, has been instrumental in implementing systemic changes to prevent childhood overweight and obesity.
In March 2023, Johnson Fitness & Wellness (JFW), the retail arm of Johnson Health Tech and the world's largest specialty fitness retailer, revealed its plans to establish 17 retail outlets as well as a commercial sales and service division in Texas, United States.
In September 2020, Life Fitness launched the Axiom Series, a diverse collection of strength equipment that comprises 10 single-exercise and eight dual-exercise sectorized machines, a dual adjustable pulley, and 12 benches and racks. It is designed to cater to a variety of fitness facilities, including health clubs, multi-unit housing, and hospitality venues. The Axiom Series stands out for its user-friendly biomechanics and visually appealing design, making it suitable for a global audience with diverse fitness requirements.
The global weight management market is expected to gain further momentum in the coming years due to rising awareness on health and wellness, coupled with the desire to maintain a healthy lifestyle, demand for weight management products, technological innovations, and aggressive organic and inorganic growth strategies followed by the key market players.
Key Strategic Questions Addressed in this Research Report are as follows:-
What is the market size & forecast for the global weight management market?
What are the historical, present, and forecasted market shares and growth rates of various segments and sub-segments of the global weight management market?
How has COVID-19 impacted the global weight management market?
What are the major growth drivers, restraints/challenges impacting the weight management market?
What are the opportunities prevailing in the weight management market?
What is the investment landscape of weight management market?
Which region has the highest share in the global market? Which region is expected to witness the highest growth rate in the next 5 years?
Who are the major players operating in the market? What is the competitive positioning of key players?
Who are the new players entering the weight management market?
What are the key strategies adopted by players operating in the weight management market?
1. Research Methodology
1.1. Secondary Research
1.2. Primary Research
1.3. Market Estimation
1.4. Market Forecasting
2. Executive Summary
3. Market Overview
3.1. Market Dynamics
3.1.1. Drivers
3.1.2. Restraints
3.1.3. Key Market Trends
3.2. Industry Speaks
4. Global Weight Management Market - Size & Forecast (2019-2027), By Equipment & Services
4.1. Equipment
4.1.1. Surgical Equipment
4.1.2. Fitness Equipment
4.1.3. Other Equipment
4.2. Services
4.2.1. Consulting Services
4.2.2. Fitness Center Services
4.2.3. Slimming Center Services
4.2.4. Other Services
5. Global Weight Management Market - Size & Forecast (2019-2027), By Region
5.1. North America (U.S. & Canada)
5.2. Europe (UK, Germany, France, Italy, Spain, Rest of Europe)
5.3. Asia Pacific (China, India, Japan, Rest of Asia Pacific)
5.4. Rest of the World (Latin America, Middle East & Africa)
6. Competitive Landscape
6.1. Key Players and their Competitive Positioning
6.1.1. Competitive Positioning of Key Players (2022)
6.1.2. Offerings Assessment, By Player
6.2. Key Strategies Assessment, By Player (2021-2023)
6.2.1. New Equipment and Service Launches
6.2.2. Partnerships, Agreements, & Collaborations
6.2.3. Mergers & Acquisitions
6.2.4. Geographic Expansion
7. Key Companies Scanned (Indicative List)
7.1. Atkins Nutritionals, Inc.
7.2. Herbalife Ltd.
7.3. Nutrisystem Ltd.
7.4. Kellogg Company
7.5. Olympus Corporation
7.6. The Gold's Gym International
7.7. Brunswick Corporation
7.8. Amer Sports
7.9. Johnson Health Tech
7.10. Other Prominent Players
The study has been compiled based on the extensive primary and secondary research.
Secondary Research (Indicative List)

Primary Research
To validate research findings (market size & forecasts, market segmentation, market dynamics, competitive landscape, key industry trends, etc.), extensive primary interviews were conducted with both supply and demand side stakeholders.
Supply Side Stakeholders:
Senior Management Level: CEOs, Presidents, Vice-Presidents, Directors, Chief Technology Officers, Chief Commercial Officers
Mid-Management Level: Product Managers, Sales Managers, Brand Managers, R&D Managers, Business Development Managers, Consultants
Demand Side Stakeholders:
Stakeholders in Nutritionists and Dietitians, Fitness Centers, and Medical Weight Loss Clinics, among others.
Breakdown of Primary Interviews

Market Size Estimation
Both 'Top-Down and Bottom-Up Approaches' were used to derive market size estimates and forecasts.
Data Triangulation
Research findings derived through secondary sources & internal analysis were validated with Primary Interviews, Internal Knowledge Repository, and Company Sales Data.