Augmented Reality (AR) and Virtual Reality (VR) in Healthcare Market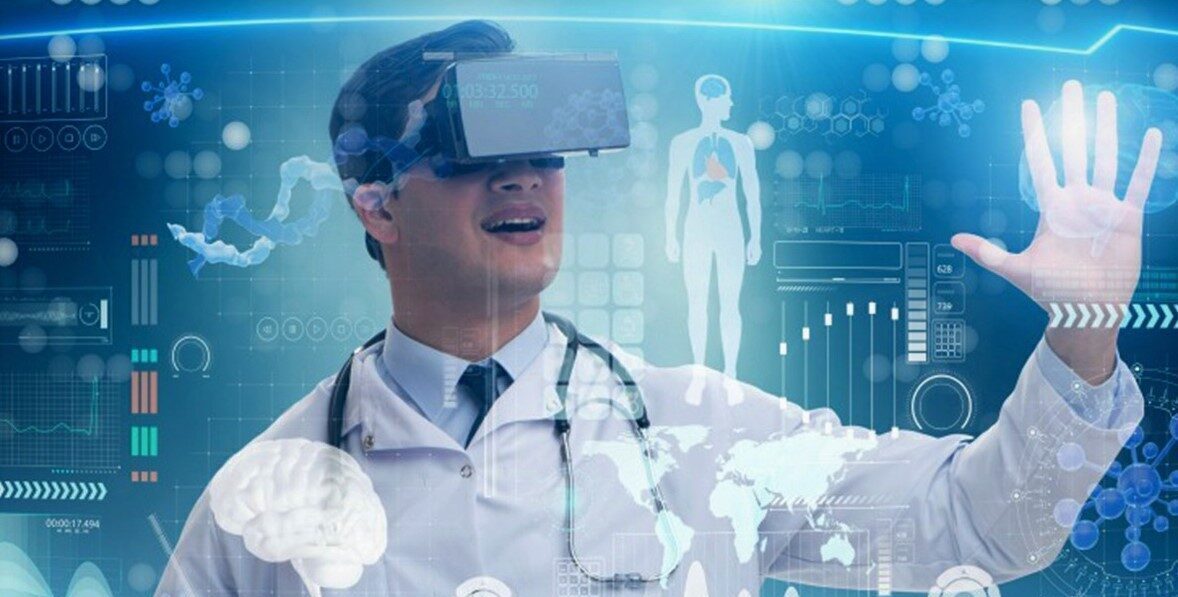 The global Augmented Reality (AR) and Virtual Reality (VR) in healthcare market is valued at ~$1.5 billion in 2020 and is expected to grow at a CAGR of >25% to cross $5 billion by 2025, driven by technological advancements and growing digitization, supporting government initiatives, significant number of start-ups entering into this space, wide scope of applications, and increasing partnerships/M&As and funding levels.
AR technology augments the real world, adding additional data to it whereas VR is a simulated, fully digital, computer-generated, 3D experiential environment. While AR and VR technologies were initially exclusively adopted by the gaming industry, various sectors including healthcare is increasingly recognizing its benefits and exploring the prospects of AR/VR for medical applications.
Significant Potential for AR and VR in Healthcare Market
AR and VR in healthcare is currently a niche market but offers huge growth potential. Some of the applications include medical training, surgical planning, pain management, patient care management, emergency treatment, post-traumatic stress treatment and mental health treatment. Moreover, VR can also help in timely detection of Alzheimer's and ascertaining early signs of schizophrenia. The scope of application of AR and VR is rapidly growing with increasing number of startups entering into this space to offer variety of hardware and software targeting different areas of healthcare. For instance, founded in 2020, Rey offers online VR-based therapeutic sessions for mental health management.
"The potential of AR and VR in healthcare is huge. Companies in this advanced technology field are constantly striving to surpass the challenges by developing accurate and explicit solutions that enable breakthroughs in the way treatment and diagnosis is done in the medical field." - Chief Executive, Provider of AR Platform for Surgery Guidance, US
Surging VC/PE Investments and Regulatory Approvals Accelerating Growth & Innovation in AR and VR in healthcare market
The Covid-19 pandemic induced the world to go virtual. Last couple of years have marked a turning point with several hyped technologies like AR/VR finally becoming a reality in healthcare, backed by surging VC investments and regulatory clearances. Some of the key recent developments in this market include:
In Nov 2021, the FDA approved AppliedVR's EaseVRx, a prescription-use immersive virtual reality (VR) system for chronic pain reduction
In May 2021, Heru, Inc., a US based developer of wearable AI-powered vision diagnostics and augmentation software, raised $30m in Series A funding
In April 2021, the FDA cleared Pixee Medical's AR smartglasses for guiding knee replacement surgeries
In Feb 2020, UK-based VR therapy company Oxford VR raised $12.5 million funding to increase its presence in the US and expand its behavioral health treatment pipeline
Regional Outlook – North America Leads the Adoption While EU is Not Far Behind
North America dominates the AR/VR in the healthcare market and is expected to witness fastest growth in the next 5 years. Major factors that are driving growth in this region are supporting healthcare IT infrastructure, greater adoption of advanced technologies, significant VC fundings, presence of large number of AR/VR companies/startups in the US and favorable government initiatives. For instance, The National Institute of Health of the U.S. government is offering funds for research in virtual reality in healthcare. Moreover, The Medical Extended Reality Program in the FDA's Center for Devices and Radiological Health (CDRH) conducts regulatory science research to help ensure patient access to innovative extended reality-based devices that are safe and effective.
Lack of VR and AR skilled professionals is a challenge in Europe but this region is catching up fast and countries like France, Germany, UK, Sweden, Netherlands and Italy are likely to offer vast growth opportunities for AR and VR in healthcare. As a part of its digital strategy, in 2020, the European Commission launched "The Virtual and Augmented Reality Industrial Coalition", a platform for structured dialogue between the European VR/AR ecosystem and policymakers. Moreover, Germany's ERDF-funded 'Healthy Reality' project is exploring how AR/VR can be used to improve healthcare in terms of new treatments, therapies and teaching methods.
 Competitive Landscape: Augmented Reality (AR) and Virtual Reality (VR) in Healthcare Market
The global AR and VR in healthcare market is highly competitive and fragmented. Some of the key and emerging players in this market include CAE Healthcare, GE Healthcare, Philips Healthcare, Microsoft, Siemens Healthineers, Intuitive Surgical, Psious, MindMaze, Virtualis, Oxford VR, Augmedics, Surgical Theater, EchoPixel, Medivis, Health Scholars, Vicarious Surgical, Touch Surgery, Propio Vision, Immersive Touch, OSSO VR, SentiAR, Medical Augmented Intelligence, SyncThink, XRHealth, and Karuna Labs among several others.
Key Strategic Questions Addressed
What is the market size & forecast of AR and VR in healthcare market?
What are historical, present, and forecasted market shares and growth rates of various segments and sub-segments of AR and VR in healthcare market?
How has Covid impacted the AR & VR in healthcare market?
What are the major growth drivers, restraints/challenges impacting the market?
What are the opportunities prevailing in the market?
Which region has the highest share in the global market? Which region is expected to witness highest growth rate in the next 5 years?
Who are the major players operating in the market? How is the competitive positioning of key players?
What are the key strategies adopted by players?
The study has been compiled based on the extensive primary and secondary research.
Secondary Research (Indicative List)

Primary Research
To validate research findings (market size & forecasts, market segmentation, market dynamics, competitive landscape, key industry trends, etc.), extensive primary interviews were conducted with both supply and demand side stakeholders.
Supply Side Stakeholders:
Senior Management Level: CEOs, Presidents, Vice-Presidents, Directors, Chief Technology Officers, Chief Commercial Officers
Mid-Management Level: Product Managers, Sales Managers, Brand Managers, R&D Managers, Business Development Managers, Consultants
Demand Side Stakeholders:
Stakeholders in Hospitals, Diagnostic Centers, Public Health Agencies, Behavioral/Mental Health Centers, Rehabilitation Centers, Medical Device Companies & Other End Users.
Breakdown of Primary Interviews

Market Size Estimation
Both 'Top-Down and Bottom-Up Approaches' were used to derive market size estimates and forecasts
Data Triangulation
Research findings derived through secondary sources & internal analysis was validated with Primary Interviews, Internal Knowledge Repository and Company's Sales Data