Prefilled Syringes Market Size, Share, Demand, Trends, Growth & Key Applications by 2027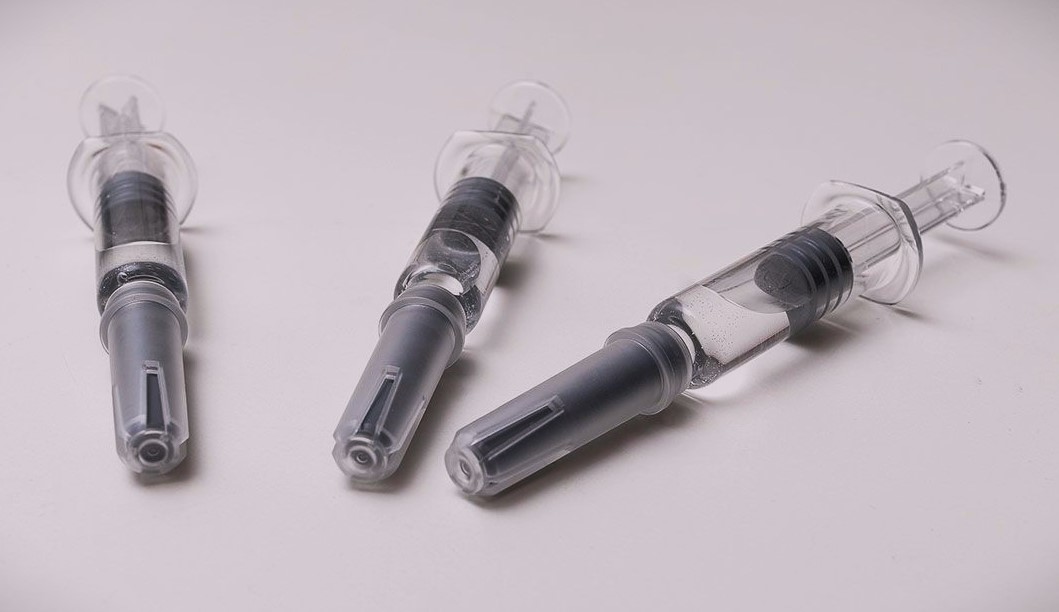 The Global Prefilled Syringes Market is expected to witness a high single-digit growth rate by 2027. The growth of the prefilled syringes market is driven by an increasing prevalence of diverse chronic diseases, a growing biologics and biosimilars market, a rising aging population, growing adoption of self-injecting parenteral devices, development of advanced, safe & convenient self-injectable syringes and supporting government regulations. To learn more about the research, fill out a quick inquiry for a sample report.
The global prefilled syringes market refers to the global industry involved in producing and distributing syringes that come pre-filled with medication or vaccines. Prefilled syringes offer various advantages, including accurate dosing, reduced risk of contamination, and ease of use, making them a popular choice for both healthcare providers and patients. There are different types of prefilled syringes, including glass and plastic syringes. The choice of syringe material depends on the medication and intended use. Prefilled syringes are used for various medications, including vaccines, insulin, anticoagulants, and biologics. They are also used in emergency medicine and for self-administration by patients with conditions like diabetes. They can improve patient compliance, reduce the risk of needlestick injuries, and minimize drug wastage. Prefilled syringes are also tamper-evident, enhancing medication security.
The Growing Role of Prefilled Syringes in Modern Medicine
The global prefilled syringes market is driven by major factors such as the rise in home care services, particularly among aging populations and individuals with chronic conditions, which has led to an escalated demand for prefilled syringes. These syringes are designed for ease of use and reduce the necessity for healthcare professionals to administer injections, making them a highly suitable choice for home care settings.
Prefilled syringes offer a user-friendly and convenient solution for patients needing regular injections, especially for medical conditions like diabetes, rheumatoid arthritis, and multiple sclerosis, where self-administration at home is common. Moreover, the reduced potential for medication errors is a crucial benefit. Prefilled syringes come pre-measured and pre-filled, minimizing the risk of dosing errors, thereby enhancing patient safety and ensuring accurate dosage administration, which makes them the preferred option over other syringes.
An increased utilization of biological drugs is another driving force. These drugs often demand precise and convenient injection methods, making prefilled syringes the ideal choice, given their suitability for delivering biologics that are increasingly used in treating various medical conditions.
Technological advancements, including innovations in syringe design, materials, safety features, and needle technologies, have enhanced the performance and usability of prefilled syringes, and their global adoption. Furthermore, regulatory support from agencies like the FDA and EMA, recognizing the safety and convenience of prefilled syringes, further boosts the prefilled syringes market's growth.
For instance,
In May 2023, Nexus Pharmaceuticals obtained FDA approval for single-dose prefilled syringes of Emerphed® (ephedrine sulfate injection), an essential treatment for significant hypotension during anesthesia. The approval covers two variants, 25mg/5mL and 50mg/10mL. The 10mL syringe is the first and only FDA-sanctioned ready-to-administer prefilled syringe in its class.
In April 2021, Novartis reported that the US Food and Drug Administration (FDA) had granted approval for the supplemental Biologics License Application for the Xolair® (omalizumab) prefilled syringe, enabling self-injection in eligible patients for all approved indications in the United States. Xolair stands as the sole FDA-approved biologic specifically developed to target and inhibit immunoglobulin E (IgE) for the management of conditions including moderate to severe persistent allergic asthma, chronic idiopathic urticaria (CIU), and nasal polyps.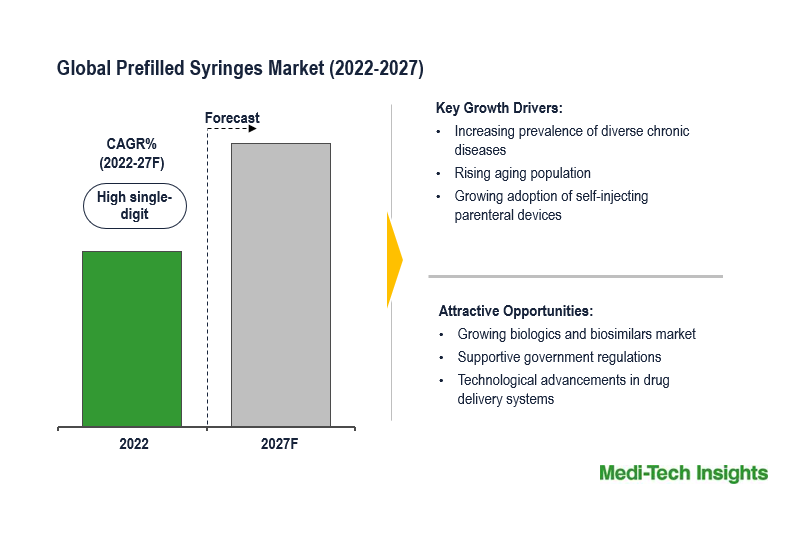 Fill out the "Quick Inquiry Form" to request a sample copy
Rising Demand for Prefilled Syringes: A Response to Global Health Needs
Prefilled syringes have a crucial role in reducing the risk of drug contamination. The conventional method of using a syringe to withdraw a dose from a drug vial inherently carries the potential for contamination due to unintentional mixing. The introduction of pre-sterilized syringes eliminates this risk, enhancing safety measures and eliminating the requirement for on-site vial cleaning and de-pyrogenation, marking a substantial advancement in this regard.
Autoimmune disorders, diabetes, and certain types of cancers can now be effectively managed through the use of auto-injectors and prefilled glass syringes. With the continuous advancements in drug technologies, especially in the realm of biologics, prefilled glass syringes and auto-injectors are becoming indispensable tools for supporting patients in their self-administration of medications outside clinical and hospital settings.
For instance,
In September 2022, BD (Becton, Dickinson and Company) unveiled an advanced glass prefillable syringe (PFS) that establishes a fresh benchmark in performance for vaccine PFS, featuring enhanced specifications for processability, aesthetics, contamination, and integrity. The innovative BD EffivaxTM Glass Prefillable Syringe was developed in partnership with prominent pharmaceutical firms to address the intricate and evolving requirements of vaccine production.
In May 2022, Terumo Pharmaceutical Solutions introduced pre-fillable syringe solutions tailored for demanding low-dose applications. The PLAJEX™ 0.5mL Luer Lock Silicone oil-free pre-fillable syringe is specially crafted to meet the specific needs of challenging low-dose Pre-Filled Syringe (PFS) products. It is ideally suited for high-value drug applications, including intravitreal injections, enabling its clients to get a secure, user-friendly, and efficient treatment choice for patients with ophthalmic disorders.
Growing global prevalence of diabetes stands out as a significant driving force behind the growing demand for prefilled syringes. Diabetes has emerged as a critical public health challenge with far-reaching implications for both public health and socioeconomic well-being. Patients with diabetes often rely on prefilled syringes to administer multiple insulin doses daily. The substantial patient population, the rising incidence of diabetes, and the demand for improved and safer insulin delivery devices are some of the key factors that are expected to drive the global prefilled syringes market in the forthcoming years.
An emergence of the COVID-19 pandemic and the associated constraints made it challenging for patients to access healthcare facilities. To address these challenges, pharmaceutical companies have introduced self-administered dosage forms to simplify the overall treatment process. It's important to note that the increasing global population, coupled with a shortage of healthcare resources, has paved the way for a broader adoption of self-administered dosage forms like prefilled syringes among patients. The urgency to develop vaccines and treatments for COVID-19 has driven significant impetus to the prefilled syringe market, fostering innovations in syringe design and fill/finish operations. Prefilled syringes streamline the injection process, reduce the risk of injury and cross-contamination, and offer enhanced dose accuracy.
Key Market Constraints/Challenges: Prefilled Syringes Market
The prefilled syringes market faces with various market challenges. These include meeting stringent regulatory standards, ensuring syringe materials are compatible with the drugs, and maintaining consistent quality and sterility throughout manufacturing. Additionally, challenges involve safeguarding the supply chain against disruptions, managing production costs to balance patient affordability, preserving proper packaging and storage conditions, designing user-friendly syringes, and staying competitive and innovative in a crowded market.
North America Accounts for the Largest Share of the Prefilled Syringes Market
The size of the prefilled syringes market varies across different regions, with typically more well-established services in developed countries. North America and Europe stand out as two of the largest markets for prefilled syringes market. Within the global market, North America takes the lead, primarily owing to the existence of an established prefilled syringe industry, driven by a robust presence of pharmaceutical and biotechnology firms. Growing preference for self-administered medications is a key driver behind the growing demand for prefilled syringes in the region.
However, the Asia-Pacific region is experiencing a fast growth in the prefilled syringes market, attributed to the growing healthcare infrastructure and an aging population. Countries like India and China, offering lower manufacturing costs, have become significant production and supply hubs, fueling market growth. Moreover, the APAC prefilled syringes market landscape is evolving as biologics and biosimilars gain traction in the region.
Competitive Landscape Analysis: Prefilled Syringes Market
Leading companies competing in the global prefilled syringes market are Gerresheimer AG, West Pharmaceutical Services Inc., BD, Abbott Laboratories, Bayer AG, Baxter International, NIPRO Pharma, TERUMO PHARMACEUTICAL SOLUTIONS, Stevanato Group, Pfizer Inc., and Catalent, Inc.
Organic and Inorganic Growth Strategies Adopted by Players to Establish Their Foothold in the Global Prefilled Syringes Market
Players operating in this market are adopting both organic and inorganic growth strategies such as entering into partnerships and collaborations, acquiring related firms, and growing manufacturing capabilities to garner a larger market share.
For instance,
In March 2023, Stevanato Group partnered with Recipharm to co-develop and manufacture pre-fillable syringes designed for a new Soft Mist Inhaler tailored for sensitive biological products. This collaboration includes Stevanato Group offering manufacturing assistance for the production of these syringes, employing its Alba® glass pre-fillable syringe combined with Recipharm's Integrated Spray Module (ISMTM) technology for their Soft Mist Inhaler, referred to as the Pre-Filled Syringe Inhaler (PFSITM)
In October 2022, SCHOTT Pharma commenced constructing a new production facility for prefillable glass syringes in Lukácsháza, Hungary. This expansion of capacity at the current site is expected to be finished by 2024, and it is designed to support the safe storage and administration of biologics, vaccines, and the latest mRNA-based medications using prefillable syringes
The global prefilled syringes market is expected to grow rapidly due to the rising aging population, growing awareness on the benefits of prefilled syringes among patients & healthcare professionals, technological innovations, and aggressive organic and inorganic growth strategies adopted by the key market players.
Key Strategic Questions Addressed in this Research Report are as follows:-
What is the market size & forecast for the global prefilled syringes market?
What are the historical, present, and forecasted market shares and growth rates of various segments and sub-segments of the prefilled syringes market?
How has COVID-19 impacted the global prefilled syringes market?
What are the major growth drivers, restraints/challenges impacting the prefilled syringes market?
What are the opportunities prevailing in the global market?
What is the investment landscape of the prefilled syringes market?
Which region has the highest share in the global prefilled syringes market? Which region is expected to witness the highest growth rate in the next 5 years?
Who are the major players operating in the market? What is the competitive positioning of key players?
Who are the new players entering the prefilled syringes market?
What are the key strategies adopted by players in global prefilled syringes market?
1. Research Methodology
1.1. Secondary Research
1.2. Primary Research
1.3. Market Estimation
1.4. Market Forecasting
2. Executive Summary
3. Market Overview
3.1. Market Dynamics
3.1.1. Drivers
3.1.2. Restraints
3.1.3. Key Market Trends
3.2. Industry Speaks
4. Key Revenue Pockets
5. Global Prefilled Syringes Market - Size & Forecast (2019-2027), By Type
5.1. Safety Syringes
5.2. Conventional Syringes
6. Global Prefilled Syringes Market - Size & Forecast (2019-2027), By Design
6.1. Single Chamber
6.2. Dual Chamber
6.3. Multiple Chamber
7. Global Prefilled Syringes Market - Size & Forecast (2019-2027), By Material
7.1. Glass
7.2. Plastic
8. Global Prefilled Syringes Market - Size & Forecast (2019-2027), By Application
8.1. Diabetes
8.2. Rheumatoid Arthritis
8.3. Anaphylaxis
8.4. Cancer
8.5. Others
9. Global Prefilled Syringes Market - Size & Forecast (2019-2027), By Region
9.1. North America (U.S. & Canada)
9.2. Europe (UK, Germany, France, Italy, Spain, Rest of Europe)
9.3. Asia Pacific (China, India, Japan, Rest of Asia Pacific)
9.4. Rest of the World (Latin America, Middle East & Africa)
10. Competitive Landscape
10.1. Key Players and their Competitive Positioning
10.1.1. Competitive Positioning of Key Players (2022)
10.1.2. Offerings Assessment, By Player
10.2. Key Strategies Assessment, By Player (2021-2023)
10.2.1. New Product Launches
10.2.2. Partnerships, Agreements, & Collaborations
10.2.3. Mergers & Acquisitions
10.2.4. Geographic Expansion
11. Key Companies Scanned (Indicative List)
11.1. Gerresheimer AG
11.2. West Pharmaceutical Services Inc.
11.3. BD, Abbott Laboratories
11.4. Baxter International
11.5. NIPRO Pharma
11.6. TERUMO PHARMACEUTICAL SOLUTIONS
11.7. Stevanato Group
11.8. Pfizer Inc.
11.9. Catalent Inc.
11.10. Other Prominent Players
The study has been compiled based on the extensive primary and secondary research.
Secondary Research (Indicative List)

Primary Research
To validate research findings (market size & forecasts, market segmentation, market dynamics, competitive landscape, key industry trends, etc.), extensive primary interviews were conducted with both supply and demand side stakeholders.
Supply Side Stakeholders:
Senior Management Level: CEOs, Presidents, Vice-Presidents, Directors, Chief Technology Officers, Chief Commercial Officers
Mid-Management Level: Product Managers, Sales Managers, Brand Managers, R&D Managers, Business Development Managers, Consultants
Demand Side Stakeholders:
Stakeholders in Hospitals, Laboratories, Academics & Research Institutes, Other End Users.
Breakdown of Primary Interviews

Market Size Estimation
Both 'Top-Down and Bottom-Up Approaches' were used to derive market size estimates and forecasts
Data Triangulation
Research findings derived through secondary sources & internal analysis was validated with Primary Interviews, Internal Knowledge Repository and Company's Sales Data