Diabetes Devices Market Size, Share, Growth and Analysis Report 2026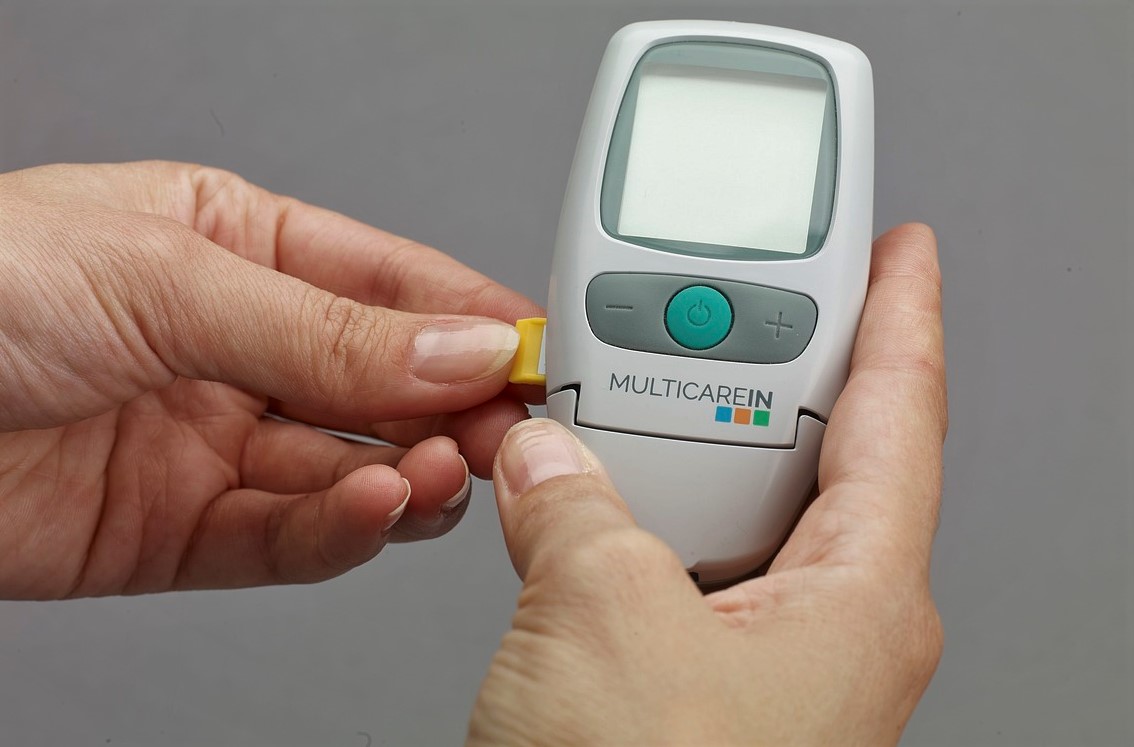 The Global Diabetes Devices Market is expected to grow at a rate of ~6% by 2026. The growing prevalence of diabetes, increasing health consciousness & awareness regarding diabetes, rising prevalence of obesity and unhealthy eating habits among the population, technological advancements in diabetes monitoring devices, and increasing adoption of insulin delivery devices are some of the key factors driving the diabetes devices market growth.
Diabetes Mellitus, also called diabetes, is a disease that affects an individual's ability to process blood sugar and utilize insulin. The result is increased levels of glucose in the blood, with an inability to feed the cells (causing them to starve). Diabetes is present in two major forms Type 1 Diabetes (T1D) and Type 2 Diabetes (T2D). Diabetes devices are devices that measure the blood glucose level in the body at regular intervals. Many types of devices fall under the category of diabetes care such as blood glucose monitoring devices and insulin delivery devices.
A Slowdown in the Demand for Diabetes Devices Points to A Looming Recession
The economic recession is expected to have a mixed effect on medical device companies. The ongoing economic downturn in the US and Europe can impact consumer spending on healthcare devices similar to what transpired in 2020 amid the COVID-19 pandemic. Many diabetes patients require chronic insulin to manage their disease. Therefore, devices like continuous glucose monitors and insulin pumps are necessary for patients to manage their diabetes. Considering the current economic and financial conditions, customers are expected to be less willing to incur the costs of buying new models or devices and might consider trading down to more affordable options. Sales of top-selling products used to treat and monitor the disease have dropped since the economic crisis accelerated last fall. There are even signs that some patients are choosing less-expensive insulin injections to save money. Sales have dipped slightly for blood glucose monitors and even test strips. In the space, Tandem Diabetes Care, an insulin pump maker, is the first one to directly attribute a slowdown in sales plagued by inflation and the recession fear.
Growing Adoption of Continuous Glucose Monitoring (CGM) Devices Drives the Global Diabetes Devices Market
A continuous glucose monitoring (CGM) device is a wearable technology designed to monitor glucose levels without finger pricks. It helps to manage Type 1 or Type 2 diabetes with fewer fingerstick tests. Continuous glucose monitors may be beneficial for people who need to monitor their sugar levels more frequently to see trends and patterns. This includes people on intensive insulin therapy and those with widely variable blood sugar levels. CGMs measure a person's blood sugar levels every few minutes at regular intervals. Sensors come with transmitters, which send readings to a receiver. Technological advancement in CGMs is increasing their adoption in the diabetes devices market.
For instance,
In September 2022, Cardiff University and GlucoRx announced the launch of the World's first non-invasive continuous glucose monitor, which will present a new era of needle-free monitoring for people with diabetes.
In April 2022, Dexcom launched Dexcom ONE Continuous Glucose Monitoring System in the UK. The Dexcom ONE system is an easy-to-use real-time CGM (rt-CGM) that is more affordable and accessible for people with diabetes in the UK.
Increasing Emphasis on Developing New Insulin Products
Insulin occupies a key role in the treatment of type 1 and types 2 diabetes. Currently available insulin delivery systems for the administration of insulin include insulin syringes, insulin infusion pumps, jet injectors, and insulin pens. The advantages of insulin pump therapy over multiple daily insulin injections (MDI) include better glycemic control, fewer hypoglycemic events, reduced glycemic variability, and improved quality of life. The rising demand for advanced insulin delivery devices supported by the high adoption of recently launched innovative smart devices and portable products is driving the demand for the diabetes devices market.
For instance,
In April 2022, Abbott entered into a partnership with CamDiab and Ypsomed. Under the terms of the partnership, the three companies plan to develop and commercialize an integrated automated insulin delivery (AID) system that is expected to lessen the difficulties of round-the-clock diabetes management for people with diabetes.
In March 2022, Novo Nordisk announced the launch of its smart insulin pens in the UK, providing diabetes patients within the NHS access to devices that can monitor and record dosing information.
Potential of Digitization in Diabetes Care Using Sensors, Wearables, and Mobile Devices Boosts the Diabetes Devices Market
The rapid developments in the wearable device and remote sensor market are driven predominantly by the miniaturization of sensors & circuitry and the improvements in functionality and processing power of mobile devices. A new wave of digital technologies offers promising solutions to help diabetic patients and their care providers monitor their progress and control their condition. Several mobile apps and tools have been developed that close the loop between blood glucose tracking and insulin delivery, and several digital platforms have emerged including DayTwo, Viome, Omada, and Glooko, among many others that are anticipated to boost the growth of digitization in diabetes care.
Covid-19 Impact on the Diabetes Devices Market
During the COVID-19 pandemic, the demand for diabetes devices continued to grow as a preventive measure to control glucose levels and complications in patients with diabetes mellitus. Diabetic patients are more likely to have serious complications from COVID-19 which include effects on glucose homeostasis, inflammation, altered immune status, and activation of the renin-angiotensin-aldosterone system (RAAS), thus continuous glucose monitoring becomes very important for these patients. The Covid-19 crisis also accelerated the progress toward digital, interconnected diabetes care, and personalized care.
Key Market Challenges: Diabetes Devices Market
The higher costs of CGM devices and reimbursement issues in developing countries are some of the key factors that are likely to hamper the growth of the diabetes devices market in the upcoming years.
North America is Expected to Continue to Hold a Major Share in the Diabetes Devices Market
From a geographical perspective, North America holds a major market share of the diabetes devices market. This can be mainly attributed to the growing prevalence of diabetes, growing adoption of technologically advanced products, rising awareness regarding diabetes self-management solutions, rising cases of obesity, less physical activity, and unhealthy food habits in the region. However, the Asia-Pacific region is expected to witness strong growth in the coming years due to a large diabetic & pre-diabetic patient pool, growing health concerns, rising awareness regarding diabetes care, and adoption of advanced diabetes devices in the region.
Competitive Landscape Analysis: Diabetes Devices Market
Some of the established players operating in the diabetes devices market are Medtronic Plc, Abbott Laboratories, F.Hoffmann-LA Roche Ltd, Dexcom Inc, Arkray Inc., Eli Lily & Company, Insulet Corporation, Tandem Diabetes Care Inc., Ypsomed, Ascensia Diabetes Care Holdings Ag, Novo Nordisk, Pendiq, Emperra GmbH E-Health Technologies, Senseonics, B. Braun Melsungen AG, Metronom, Nemaura Medical, BioLinq, Sanofi, LifeScan Inc., Valeritas Inc, and Becton Dickinson and Company, among others.
Organic and Inorganic Growth Strategies Adopted by Leading Market Players to Establish Their Foothold in the Diabetes Devices Market
All players operating in this global market are adopting organic and inorganic growth strategies such as collaborations, acquisitions, and new product launches to garner a higher market share.
For instance,
In August 2022, Insulet Corporation announced that they have received clearance from the U.S. Food and Drug Administration (FDA) for its Omnipod® 5 Automated Insulin Delivery System (Omnipod 5) for individuals aged two years and older with type 1 diabetes (T1D).
In February 2022, Terumo Corporation entered into an agreement with Diabeloop. Under the terms of the agreement, both companies aim to deliver automatic insulin delivery (AID) solutions in Europe. Also, companies will be integrating therapeutic artificial intelligence, to automate the treatment of type 1 diabetes to keep improving diabetes care.
The global diabetes devices market is a growing market and is expected to gain further momentum in the upcoming years due to a strong emphasis on developing new products, innovations in diabetes care technology, increasing awareness regarding diabetes self-management and care, and aggressive organic and inorganic growth strategies followed by the leading market players.
Explore and Find our Related Research Reports below:-
Key Strategic Questions Addressed
What is the market size & forecast for the diabetes devices market?
What are the historical, present, and forecasted market shares and growth rates of various segments and sub-segments of the diabetes devices market?
How has Covid-19 impacted the diabetes devices market?
What are the major growth drivers, restraints/challenges impacting the market?
What are the opportunities prevailing in the market?
What is the investment landscape of diabetes devices market?
Which region has the highest share in the global market? Which region is expected to witness the highest growth rate in the next 5 years?
Who are the major players operating in the market? What is the competitive positioning of key players?
Who are the new players entering the global diabetes devices market?
What are the key strategies adopted by leading players in diabetes devices market?
The study has been compiled based on the extensive primary and secondary research.
Secondary Research (Indicative List)

Primary Research
To validate research findings (market size & forecasts, market segmentation, market dynamics, competitive landscape, key industry trends, etc.), extensive primary interviews were conducted with both supply and demand side stakeholders.
Supply Side Stakeholders:
Senior Management Level: CEOs, Presidents, Vice-Presidents, Directors, Chief Technology Officers, Chief Commercial Officers
Mid-Management Level: Product Managers, Sales Managers, Brand Managers, R&D Managers, Business Development Managers, Consultants
Demand Side Stakeholders:
Stakeholders in Hospitals & Specialty Diabetes Clinics, Academic & Research Institutes, Self/Home Healthcare, and Other End Users.
Breakdown of Primary Interviews

Market Size Estimation
Both 'Top-Down and Bottom-Up Approaches' were used to derive market size estimates and forecasts.
Data Triangulation
Research findings derived through secondary sources & internal analysis were validated with Primary Interviews, Internal Knowledge Repository, and Company Sales Data.